Even two short years ago, Ken Crombie couldn't have imagined piloting an electric vehicle (EV) program for his quickly expanding building supply business. Fast-forward to now, and Crombie's not only hopeful about piloting electric flatbed delivery trucks equipped with fuel-free forklifts, he's downright determined to do so.
"Electrifying the fleet used to be a blue-sky concept, something I assumed only my largest competitors would ever venture into," says Crombie, who owns and operates a private, third-generation family business just north of the US-Canada border. "All that's changed. We need to understand what our new obligations will be as the federal government pushes towards net zero. Besides that, I really want our business to be part of the climate change solution."
At a micro level, industrial companies like Crombie's are on the front lines of a climate emergency spurring the push for carbon neutrality in North America and beyond. While entrepreneurs and startups fight climate change one EV at a time, larger organizations are exploring the best way to electrify their operations and deploy EV fleets on a grander scale. Regardless of size or scope, common factors connect all organizations charting an electric path, and chief among these factors is location.
"It gets really cold here in winter. Vehicle vendors I speak to are thinking about the temperature at our location as they decide where they'll test out equipment. They need to know how we'll house the trucks in winter," Crombie says. "They also need to understand the terrain we cover. Our delivery trucks navigate urban centers and rural farm fields in the course of the same day. That information is key to our decisions around going electric."
High-growth family enterprises with green ambitions or global delivery companies launching EV fleets. Ride-share and car rental companies determined to reduce their carbon footprints, or pharma giants working to electrify the way sales reps travel across territories. Whatever the business, and however it's structured, analyzing and operationalizing location data will be central to the successful rollout of EV fleets. Tomorrow's net-zero standouts are already taking this approach, using geographic information system (GIS) technology in three key stages of the process.
Map and Analyze Operations before Deploying EV Fleets
Road transportation accounts for 23 percent of total greenhouse gas (GHG) emissions in the US today. With the Biden administration pledging to cut GHG at least 50 percent from 2005 levels by 2030, transportation represents a major focus area. Electrifying fleets holds significant potential. In fact, one McKinsey report suggests that by 2030, fleet EVs could have a total cost of ownership 15 to 25 percent less than that of an equivalent fleet of internal-combustion engine vehicles. That's because the moderate price of electricity and high use of fleet vehicles allow organizations to quickly recoup higher up-front costs.
Like most product or service innovations, companies will roll out their EV fleets in stages; companies will need to analyze where and how the switch to EVs will affect operations and customers. When Amazon, for instance, announced the purchase of 100,000 custom electric vehicles to fuel deliveries, the program kicked off in Los Angeles before expanding to other cities.
Executives have used GIS to analyze business strategies for years—and now fleet planners can enlist the technology's analytical capabilities to plan a transition to electric vehicles. That includes mapping existing and planned operations to identify the best initial markets for electrification, assessing how many EVs to buy, and determining where to locate them. Whether the company is planning for mobile workers (from package delivery drivers to commercial pest controllers) or for a vehicle-focused business model (think rental car companies), this initial mapping is a chance to examine parameters like topography, population density, brand exposure, and consumer preferences for green business. Such analysis can inform decisions about how best to electrify the fleet.
For instance, EVs on hilly terrain use energy differently from those in flatter areas. Cold climates drain batteries more quickly than warm ones. In rural or remote areas, EVs might have to travel greater distances between customer stops on a single charge. And prospective clients and employees in certain geographies are more likely to consider EV fleet operations an appealing brand differentiator. Those conditions can be analyzed with GIS, delivering smart maps that help organizations plot fleet electrification in locations where it's likely to make the greatest impact.
Critically, GIS analysis can identify the need for new depots, distribution centers, or other facilities by mapping current operations against the charging infrastructure in a given geography. This location intelligence will also help executives map EV fleet expansion plans down the road.
Geographic and environmental context on an EV transition make for stronger strategic plans and better odds that the program will achieve green commitments and bottom-line benefits. The advanced analytics that GIS technology provides connects strategy with execution in ways humans simply cannot.
---
Use Location Analytics to Improve Processes once an EV Fleet Hits the Road
The COVID-19 pandemic didn't just slow economic activity in 2020—it also drove a 10 percent drop in this country's GHG emissions. Channeling that momentum into sustained progress will be challenging as the nation resumes prepandemic levels of economic activity and energy consumption. But organizations committed to cost savings and net-zero targets can use location analytics to manage and improve EV fleet strategies once they are launched.
Consider rental stalwart Hertz, which recently ordered an initial batch of 100,000 EVs. This massive investment will effectively position Hertz with the largest EV rental fleet in North America. It also demands an extensive network of EV charging stations across the company's global operations.
For companies in any industry, it's not enough to invest in electrifying a fleet in the right geography at the right time. Strategic intentions require clear plans, daily management, and continuous optimization. This is where location data can play a starring role.
By drawing on GIS-backed location intelligence, EV fleet managers can better align vehicle models and charging capacities with planned routes. Location data reveals where and how EVs are navigating the network, pinpointing possible optimizations to where and when they travel. Location intel can also be leveraged to redraw the lines around a sales rep's territory based on the distance between customers and the nature of the roads, weather, or temperature.
Similarly, a national EV manager might use GIS to identify markets where EVs most often require roadside service, and shift maintenance teams and facilities accordingly. Geographic analysis can highlight regions where there's a surge of battery replacement requests during winter, a dip in range, or other areas ripe for improvement.
GIS technology also empowers companies to plan; if data reveals that the average EV battery life in a given market is six years, procurement teams can make smart budgeting decisions, planning sell-offs and upgrades well in advance to capitalize on deals and incentives.
Taken together, these capabilities create benefits beyond fleet upkeep, optimization, and disposal. Grounding fleet management in location analytics generates data that enables the organization to balance customer expectations, net-zero targets, and bottom-line benefits.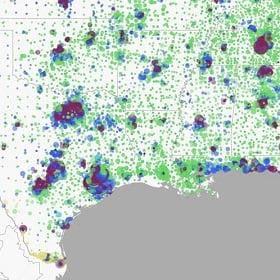 A GIS-powered dashboard tells a business how an EV fleet is performing under different circumstances so managers can tailor routes or sales regions accordingly.
---
Monitor Continuously and Communicate Clearly
The metrics and analytics culled at every stage of the electrification journey inform future decisions about the fleet—and the story a company communicates to stakeholders.
Coming out of the COP26 climate summit, governments agreed to strengthen national plans for reducing emissions. Against that backdrop, organizations working to electrify their fleets have an engaging environmental, social, and governance story to tell. But businesses can't communicate net-zero progress without first measuring results.
At rideshare company Uber, drivers of fully electric vehicles are now eligible for the Zero Emissions incentive, which pays out $1 on every trip, up to $4,000 annually. They also earn an extra $0.50 from riders who select Uber Green as their ride option. This is all designed to shift Uber toward a greener fleet. It's precisely the kind of outcome customers, stakeholders, and regulators are increasingly keen to understand.
Using location intelligence to track where (and by how much) a company reduces its carbon footprint is one way to tell a compelling, data-backed story. Communicating that outcome using smart maps and dashboards provides stakeholders a holistic glimpse into how a business is reducing pollution in specific communities around the world. That GIS-based "show, don't tell" approach—a capability that leading organizations consider instrumental in stakeholder engagement—helps businesses bolster sustainability ambitions with meaningful results.
With a GIS dashboard or story map illustrating a company's EV progress, executives can show potential partners the broader economic benefits of building out charging-station infrastructure—and ways to do so with greater equity in mind.
Using clear metrics to illuminate opportunities and reinforce progress transforms any company with an EV fleet into a strong potential partner on important and mutually beneficial initiatives.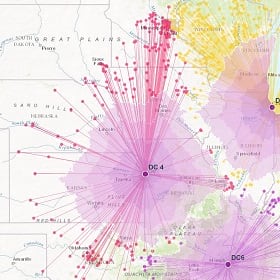 GIS technology can act as an agile control tower for an EV fleet, helping managers spot trends across the network.
---
Where Is the EV Fleet Going from Here?
Without data and insight to support the path toward an EV fleet, good intentions are simply not enough. That's just as true for the small business or startup looking to make a relatively local impact as it is for the global giant set on transforming the transportation game. Both require the kind of location intelligence that today's technology provides.
In Canada, factors like climate and temperature will continue to shape decisions on the snow-covered highways and back roads Crombie's fleet navigates. As it stands, he may need to invest in new warehousing to ensure his yard is prepared to host an EV fleet. "We're realistic," he says. "We may have to put capital behind our intentions to really resonate with the kind of supplier who sees our potential for building an electric fleet. That's okay. We're in this for the long haul and there will be benefits for the environment, and for our business, if we get this right."
Like the vehicle suppliers he's negotiating with now, Crombie recognizes that having solid data to plan and measure outcomes will count for a lot. Integrating multiple datasets from different fields, and extracting vital insight, can help organizations move plans for an EV fleet from theoretical to practical. Drawing on location analysis at every stage of the process will ensure bottom-line benefits for the company and the planet.