Vibrant communities are driven by location
---
Public agencies need solutions that maximize limited resources, modernize operations, and engage the public. Our software as a service (SaaS) offering includes a collection of location-based solutions that enhance government services through immersive online destinations.
Plan for tomorrow. Launch solutions today.
Solve business challenges
---
Use accessible solutions designed for your agency.
Gain insight
---
Visualize data for deeper understanding.
Increase collaboration
---
Engage the public and key stakeholders.
Sustainable deployments
---
Leverage scalable cloud-based technology.
How it works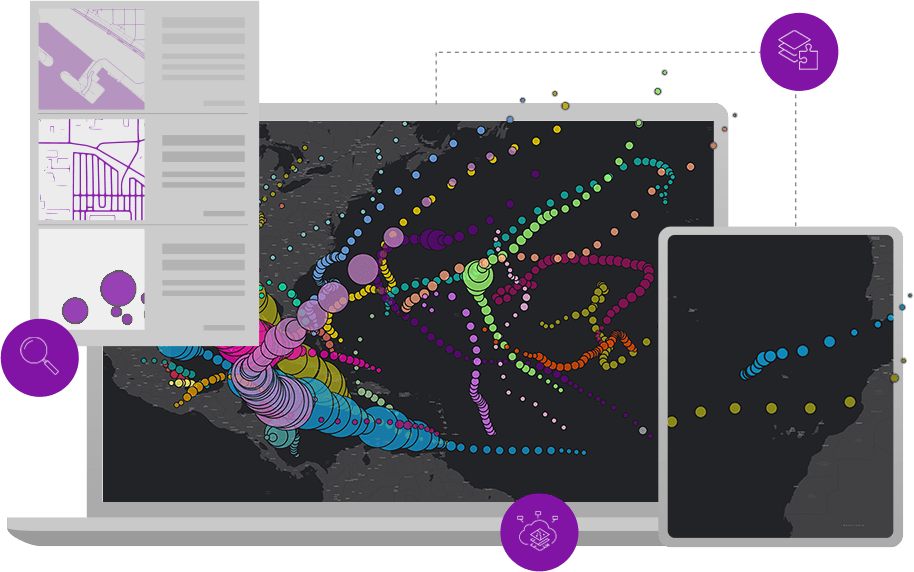 License your ArcGIS software
ArcGIS Solutions leverage contemporary ArcGIS capabilities licensed by your organization and help you apply these capabilities to business needs.
Search for a solution
Explore a collection of ArcGIS Solutions that can help you manage data, gain insights, communicate with your community, and provide digital services.
Deploy a solution
Quickly deploy one of the ArcGIS Solutions to your ArcGIS organization, configure it to meet your needs, and load your information.
What's included
---
Esri's cloud-based local government software offering includes everything you need to get started. Reduce the burden on your staff, engage the public, and transform your agency in no time.
Local government solutions
Explore a collection of configurable ArcGIS Solutions that align with your business needs.
Core technology: ArcGIS Online
ArcGIS Online is the core technology for your GIS platform. It supports data and application management, identity management, security, and a variety of visualization tools.
Content and data
Browse our library of verified data that can be used to supplement your own records.
Online training and technical assistance
Expand your understanding of the technology with online training that caters to any level of expertise. Engage with other ArcGIS users on the Esri Community or reach out to Technical Support for assistance with your software.
Trusted by over 20,000 local government leaders
Webinar
Turnkey solutions for your organization
Date: Available on demand
Location: Online
Cost: Free
Language: English
Versatile, simple, and affordable—ArcGIS Solutions transform local government operations. See how the technology works and learn more about how White Hall, Illinois, changed the way they worked for good.

case study
Enhancing Civic Participation
---
See how the City of Arlington, Texas, became a leader in community engagement with a simple, integrated solution backed by Esri technology.
Solutions for every initiative
---
Implement a collection of focused maps and apps to help address challenges in your organization.
---
For more information about cloud-based local government software, please complete the form and a representative will be in touch.