It's that time of year again – new versions of ArcGIS Enterprise, ArcGIS Pro, ArcGIS Online, and several other ArcGIS products and apps are here! Read on for a comprehensive look at what's new across all Esri products.
ArcGIS Enterprise
ArcGIS Enterprise 10.9.1 is a long-term support release that builds upon previous releases and introduces new features, apps, and improved functionality. Here are some highlights:
Now, you can publish from cloud data warehouses, including Google BigQuery, Snowflake, and Amazon Web Services (AWS) Redshift. This feature will leverage ArcGIS Pro 2.9's ability to create query layers and publish corresponding map services to ArcGIS Enterprise.
This release of ArcGIS Enterprise will be the last to support ArcMap-based services on Windows and Linux. ArcGIS Server 10.9.1 will include the ability to remove the ArcMap Runtime, which includes the ability to exclude Python 2.7 from an installation. This option is available for fresh both installs and upgrades. This option should be considered if an organization has security protocols in place in which Python 2.7 can no longer be installed or if you are ready to make the move to the ArcGIS Pro-based runtime. There is also a technical paper which can be found here if you need it.
ArcGIS Dashboards is now included in the ArcGIS Enterprise portal. ArcGIS Dashboards enables you to convey information by presenting location-based analytics using intuitive and interactive data visualizations on a single screen. For details, check out this blog, or keep scrolling to read more about ArcGIS Dashboards in the section below.
The new Map Viewer, formerly known as Map Viewer Beta, will now come installed with ArcGIS Enterprise. Try out the intuitive look and layout, new configuration options for pop-ups, and additional options for symbology.
Now, ArcGIS Enterprise on Kubernetes includes support for running on Google Kubernetes Engine (GKE). This is an addition to the existing support for managed Kubernetes services on Amazon AWS Elastic Kubernetes Service (EKS) and Microsoft Azure Kubernetes Service (AKS), as well as private cloud environment support on Red Hat OpenShift.
For a deeper dive into all the new features and additions, check out the What's new in ArcGIS Enterprise 10.9.1 blog. Plus, you can stay up to date on the latest information by signing up for our What's New in ArcGIS Enterprise newsletter.
ArcGIS Pro
As part of the ArcGIS 2021 Q4 release, ArcGIS Pro brings an all-new set of GIS capabilities to your already advanced toolkit. Experience new features, performance improvements, and productivity enhancements all inside ArcGIS Pro today. Here are some highlights:
In this release of ArcGIS Pro, you can use feature clustering to dynamically aggregate point features with changes to scale and extent. You can then control the amount of clustering by setting a scale threshold and the distance between clusters. Clusters are represented with a single symbol, unique values, proportional symbols, or unclassed colors symbology based on a summary statistic field. Clusters include a categorical or numeric text symbol representing the summary statistic field or the result of an expression. You can share a clustered feature layer as a web feature layer or map image layer to ArcGIS Online or ArcGIS Enterprise, and consume the web layer in ArcGIS Pro.
Animated marker symbol layers can now be added to symbols to add movement to otherwise static data in a map or scene. The speed, direction, and synchronicity of the animation are controlled by properties of the marker symbol layer or by attribute-driven symbology. You can make your own animated symbols from animated GIF (.gif) or glTF (.glTF) files, or start with animated symbols in the system styles and modify them as necessary.
Catch up on everything "Pro" through the recent What's New in ArcGIS Pro 2.9 video today.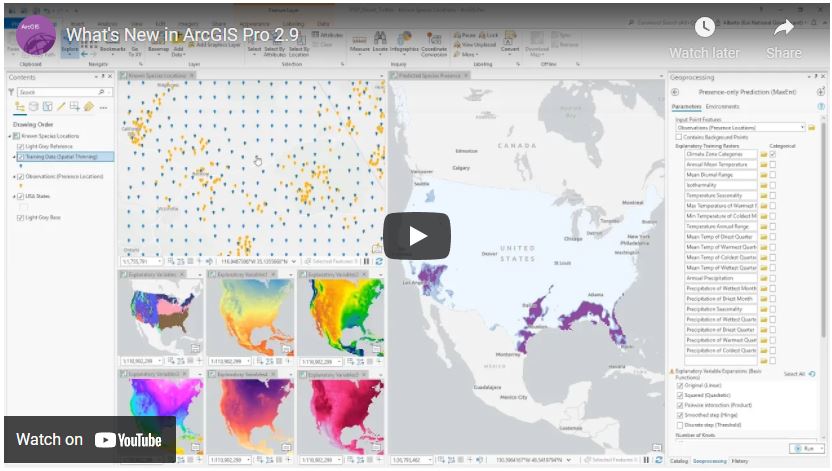 ArcGIS Online
With the September 2021 update, ArcGIS Online gained additional Map Viewer capabilities including charts, layer effects, and feature display order. Add charts (line, bar, histograms, or scatterplots) to your map to help discover patterns, trends, and relationships in data. Layer effects include both familiar and novel graphic techniques and can be applied without changing your layer's original style. Set the feature display order to control the order in which overlapping features in a feature layer are drawn on the map.
For more information, check out the What's new in ArcGIS Online (September 2021) blog.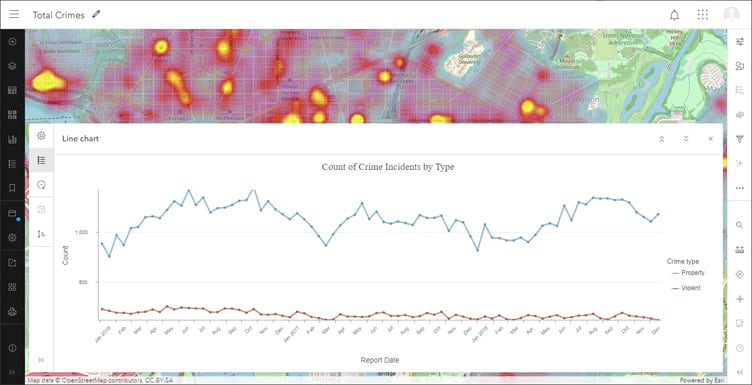 Introducing ArcGIS Knowledge
ArcGIS Knowledge connects ArcGIS Pro to the enterprise graph store, enabling users to explore and analyze spatial, nonspatial, unstructured, and structured data to accelerate decision-making. Developed to seamlessly connect analysts to the data they need and the analytical tools they trust, ArcGIS Knowledge empowers collaborative all source investigations and sharing of information across the enterprise. Analysts can visualize information through multiple perspectives like maps, link charts, histograms, and entity cards to solve spatial and nonspatial problems. ArcGIS Knowledge is a cost-effective and flexible way to add enterprise knowledge graph analytics to your existing ArcGIS investment.
For more information, visit the website.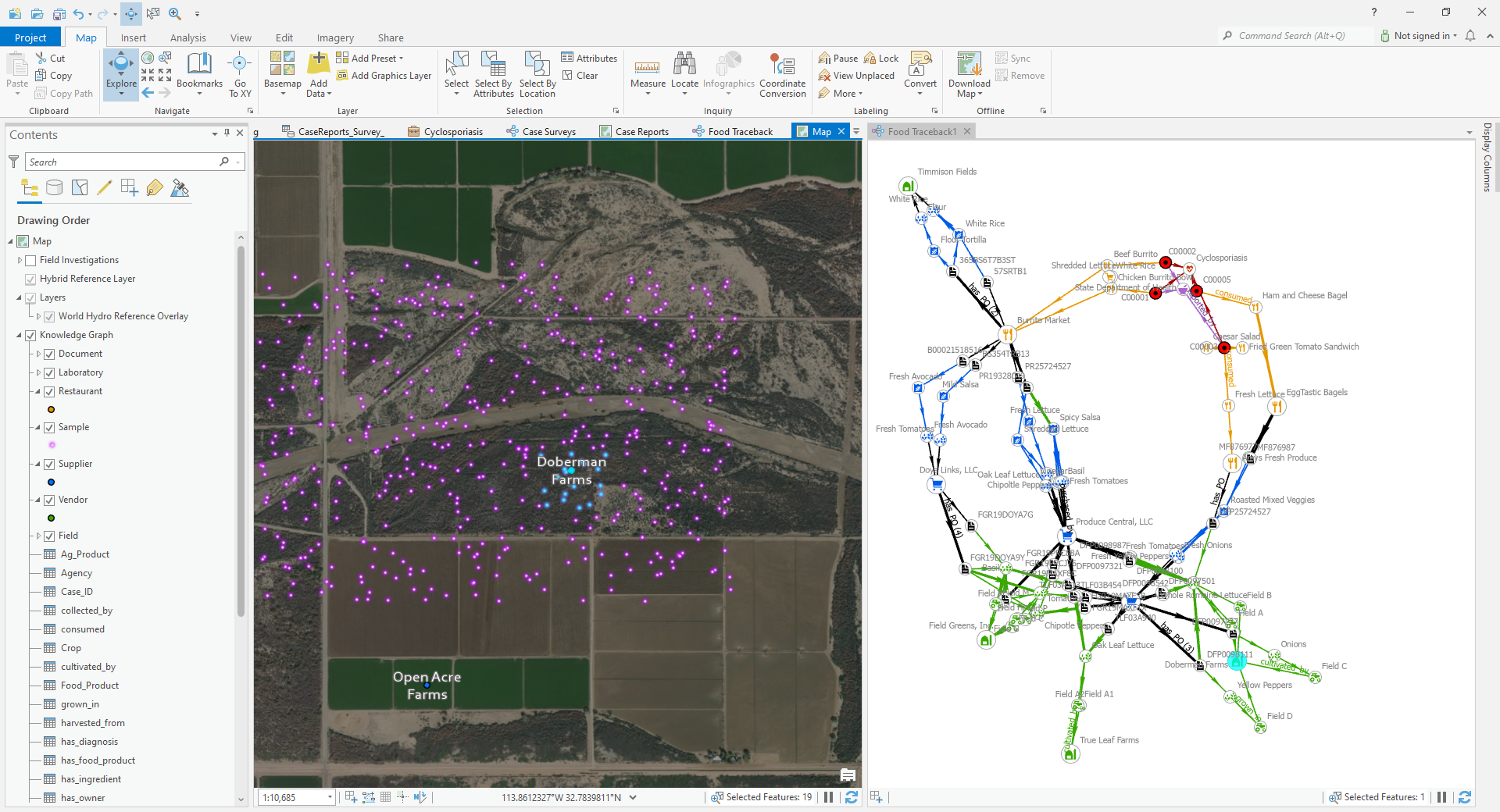 ArcGIS Mission
ArcGIS Mission is an all-inclusive command and control software that streamlines operations while providing teams tactical situational awareness of an operating environment. The ArcGIS Mission 10.9.1 release (November 2021) continues to streamline team operations with enhancements focusing on speed and ease-of-use while creating and connecting missions, plus enhanced communications functionality. Here are some highlights:
Quickly add users to a mission by leveraging existing portal groups or by uploading a CSV of existing portal usernames. Use your Mission Responder device's QR code reader to quickly connect to your mission.
Enhance your communications with improved availability information, including dynamic status updates. Now, you can chat with texts, sketches, and attachments can now be organized by chat thread for ease of use. You can also integrate ArcGIS Mission Responder with a third-party sensor to for optimized report submission.
Read more about this release on the blog.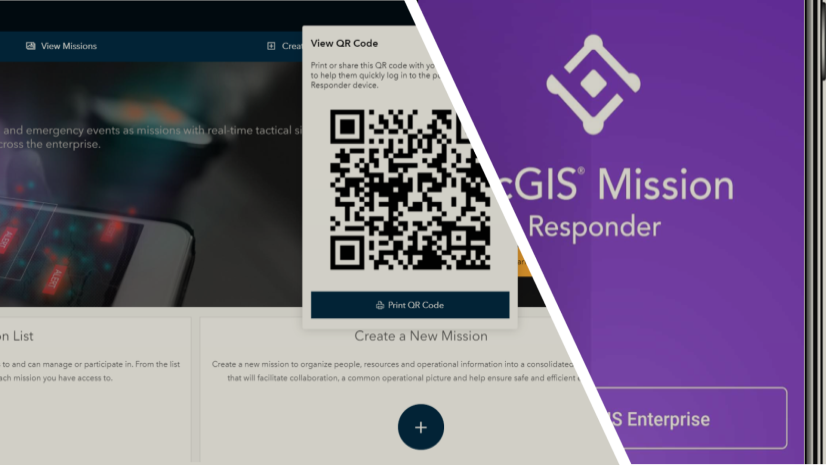 ArcGIS Earth
The ArcGIS Earth team is excited to deliver a new release of ArcGIS Earth this November. Administrators can now save and manage ArcGIS Earth configuration files in ArcGIS Enterprise. Additionally, this new release brings support for geopackage, mobile map package, enhanced 3D visualization, and user interface updates.
Check out the release blog for more details.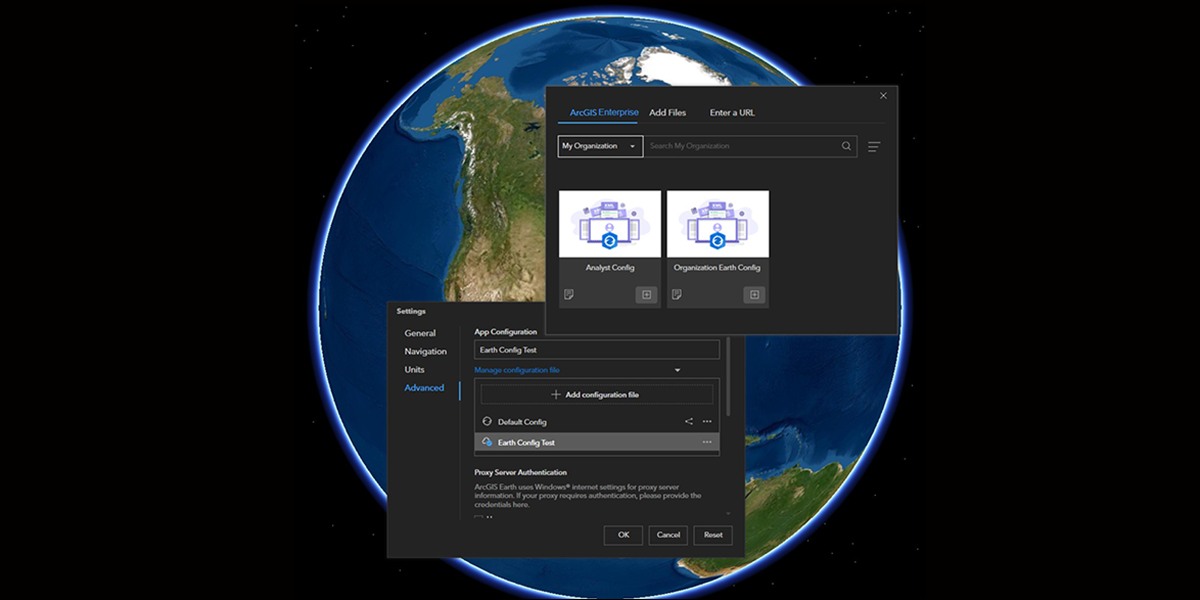 ArcGIS Enterprise Sites
Using ArcGIS Enterprise Sites, you can create and personalize your own websites to share GIS data with non-GIS users. The latest release of Enterprise Sites introduces a set of redesigned pages that bring focus to your data through full-screen map and tabular displays. For a closer look at the metadata, users can navigate to a full details page where, depending on its settings, users can create their own maps and stories with the data or download it for their own use.
For more information, see How ArcGIS Hub and ArcGIS Enterprise Sites makes it simple to share engaging content.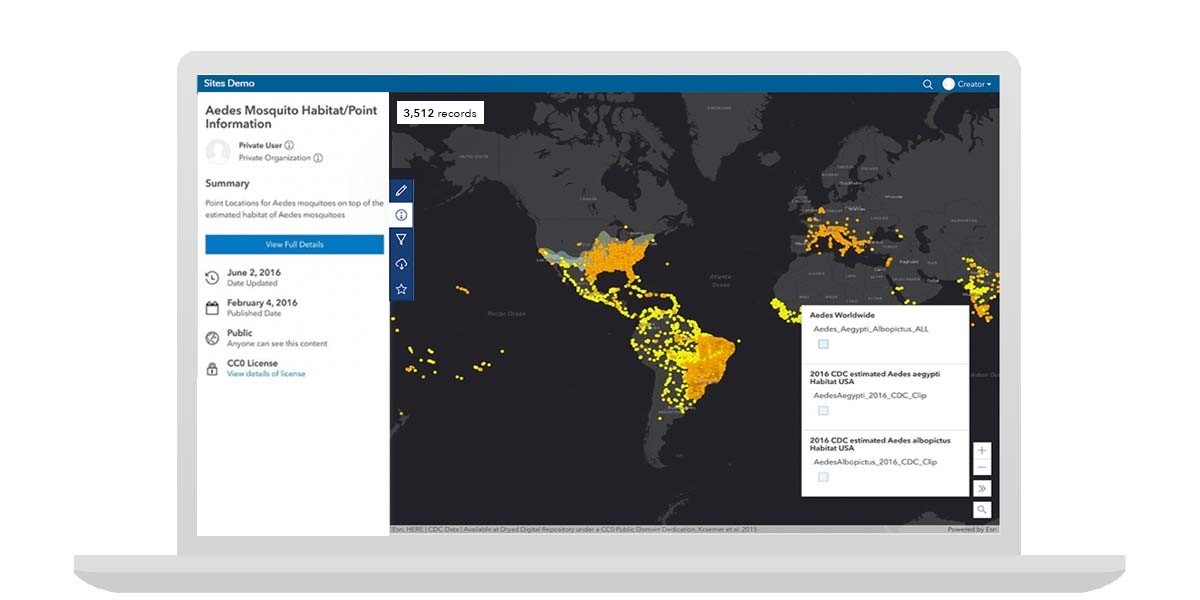 ArcGIS StoryMaps
ArcGIS StoryMaps is available in ArcGIS Enterprise 10.8.1 and higher. It gives you the freedom to tell engaging narratives with interactive maps and digital content like videos, audio and imagery. ArcGIS StoryMaps also makes it easy to share your ArcGIS content, like surveys, apps and dashboards, as well as websites and other online content in a collection as a single URL.
New storytelling capabilities in the ArcGIS Enterprise 10.9.1 release include:
A new timeline block with your choice of three layouts (waterfall, single side, and condensed).
Two new quote styles are available in the theme builder, and you can set the alignment for any of the available quote styles.
Two new collection layouts, magazine and journal, are available in the design panel.
Administrators can configure approved themes for organization members to use on the organization settings page.
Also, ArcGIS StoryMaps now allows you to:
Use an ArcGIS feature service data to populate your map tour
Add audio clips and buttons to map tour place descriptions
Use Google Fonts in a theme
Access the color picker in the text formatting toolbar
Configure the story language to improve readers' experience
Add ArcGIS Survey123 forms to a collection
Of course, many more enhancements, bug fixes and performance improvements have been made for a better storytelling and reading experience.
You can stay up to date on the latest information by signing up for our What's New in ArcGIS StoryMaps newsletter or read the latest blog post.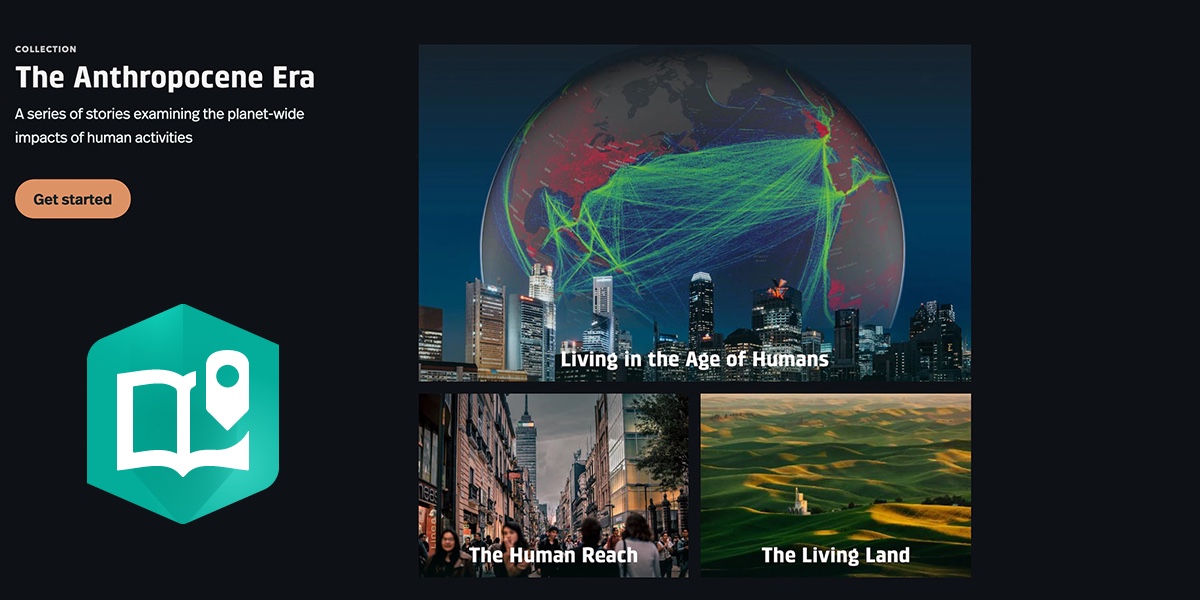 Esri Story Maps
After years of creating stories in templates, it's time to say goodbye to the classic Esri Story Maps templates. In line with this ArcGIS Enterprise release, Esri Story Maps will receive very limited updates and no new features will be added to the product.
Fortunately, your published stories will continue to exist. You can continue to create new stories and edit existing ones in the builder, but they may not perform as expected in the future as they are in extended support mode. Only critical updates will be made in the classic Esri Story Maps while new features and capabilities will be regularly added to ArcGIS StoryMaps.
Several resources exist to help you make the switch to ArcGIS StoryMaps: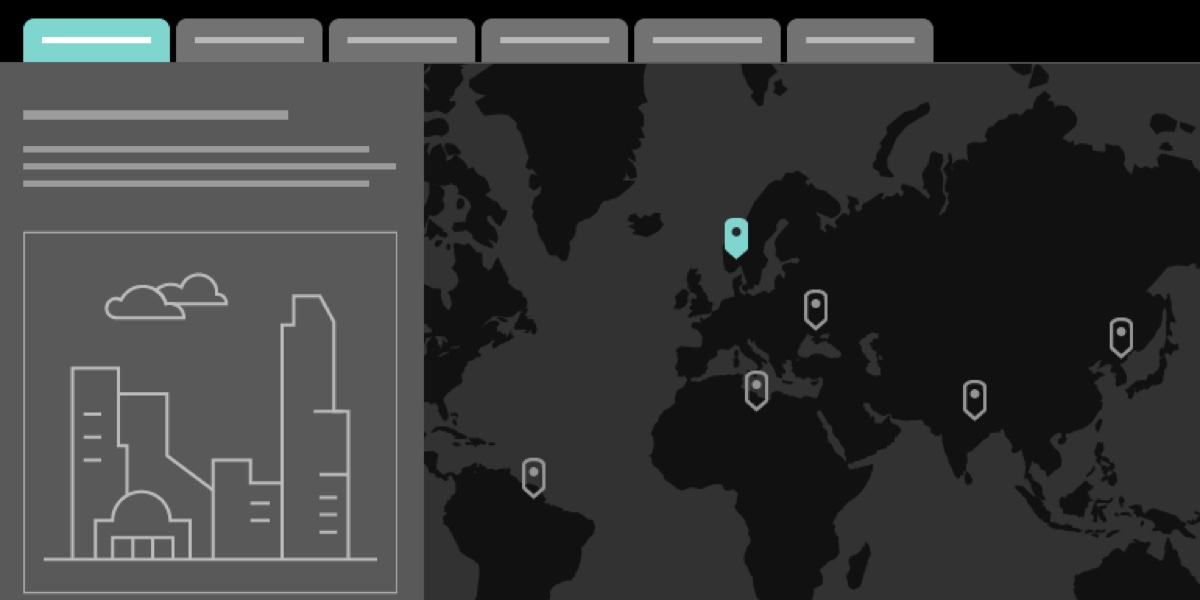 ArcGIS Image Analyst Extension for ArcGIS Pro 2.9
ArcGIS Image Analyst extension for ArcGIS Pro is releasing enhancements to deep learning, motion imagery, multidimensional analysis and stereo mapping in the November 2021 release.
Deep learning has several improvements in this update. The labelling tool has been simplified for users working with large amounts of imagery where each image represents a single class. This tool previously required users to draw features around an object in order to label it. Now, users can just select the image, assign a class label and apply it to the whole image.
As with every release, the number of models to support users' workflows continue to increase. New models such as MMDetection and Pix2PixHD have now been added to ArcGIS Pro. Additionally, two new object tracking deep learning models (Deep Sort and Siam Mask) have been introduced to train your own model to track objects of interest.
Check out the blog for more details on all the new features today.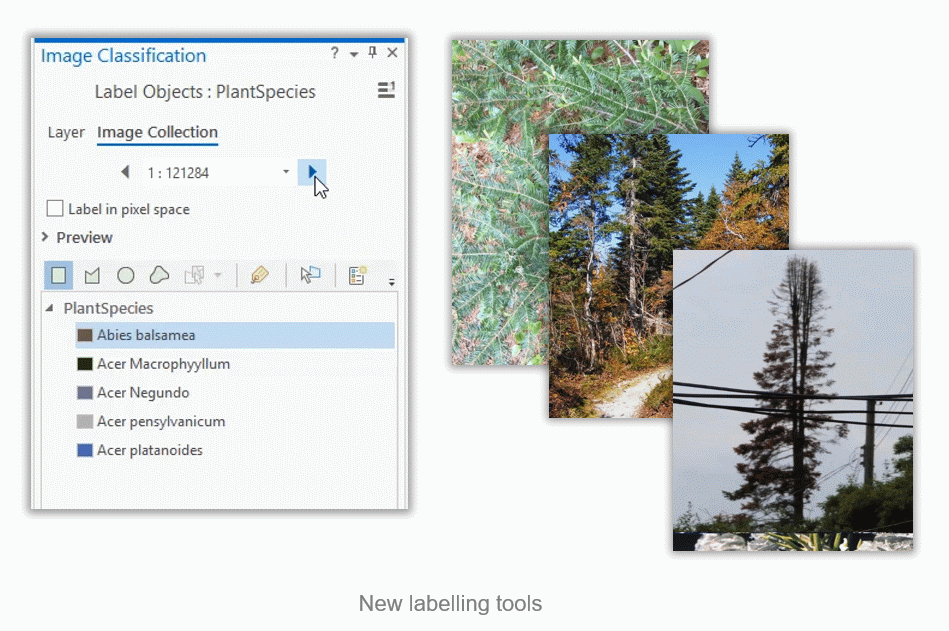 ArcGIS Pro Intelligence
ArcGIS Pro Intelligence is built for the intelligence analyst. Intelligence analysts working in the military, for civilian intelligence agencies, in law enforcement, and in the private sector are using the 2D and 3D maps, link analysis, timelines, imagery exploitation, and graphs to uncover patterns, trends, and relationships to inform decision-making. ArcGIS Pro Intelligence scales to meet your mission whether you need to understand pattern of life, conduct movement analysis, or provide investigative support. ArcGIS Pro Intelligence is interoperable and extensible, supporting your data integration strategy across multiple domains, in connected, disconnected, and air-gapped networks.
The ArcGIS Pro Intelligence 2.9 release highlights include:
New Start Experience: The new in-product start experience includes new product resources, new card types, new search and sort capabilities, and new view types. These enhancements make it easier to get started, and enables you to personalize your experience.
New Movement Analysis tools: Aide pattern of life analysis to save analysts time by making sense of vast amounts of data.

The new "Select Movement Tracks" tool enables users to draw areas of interest (AOI) on a map and discover how the tracks led to the AOI and where they went next.
The new "Find Frequented Locations" tool identifies areas where movement tracks have dwelled for multiple time periods and aggregates those based on a track identifier.
Read the release article here for more information.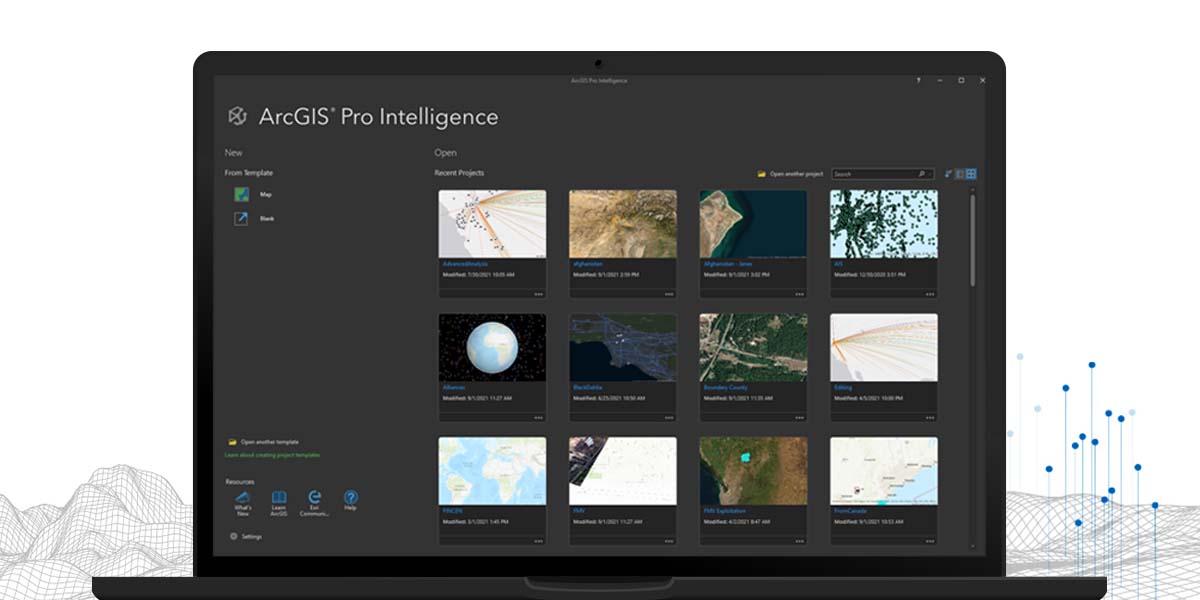 ArcGIS Survey123
ArcGIS Survey123 is a complete, form-centric system providing sophisticated data collection, workflow automation, analysis and reporting capabilities. Organizations around the world use it to replace paper forms and obsolete data collection workflows. Survey123 excels at a wide range of uses from online research surveys to field asset inventories and inspections.
ArcGIS Enterprise administrators can host the ArcGIS Survey123 website and Survey123 REST API in their own infrastructure with the new Survey123 web installer. This release incorporates all the functional enhancements of the 3.13 Survey123 update, including support for the new address question type, web designer improvements and accessibility enhancements for web surveys. The Survey123 website provides the latest functionality independent of your ArcGIS Enterprise version and is available for download on My Esri.
Enterprise Quick Links:
ArcGIS Excalibur
ArcGIS Excalibur is a web-based application that transforms the way analysts search, discover, and work with imagery by unifying geospatial and imagery-based views into a single integrated experience. Excalibur has the power to improve daily decision-making across organizations.
The November 2021 release highlights include:
GeoEnriched Observation Layers: When a GeoEnrichment definition is configured with your observation layer, it will automatically add information from a related context layer to the existing observation layer, saving time and preventing potential "copy and paste" errors.
Export and download image workflows: Using the new Export Image tool, analysts can now save an image as an image snapshot for presentations or briefings, or download the full resolution source image and its supported files from the map focus panel or image focus view for additional analysis in other applications.
Automated pixel-based comparisons: The new Detect Change tool uses multiple raster functions to conduct automated pixel-based comparisons between two images selected in the image metadata table, making comparing changes between two images easier and less daunting.
Read the release article here for more information.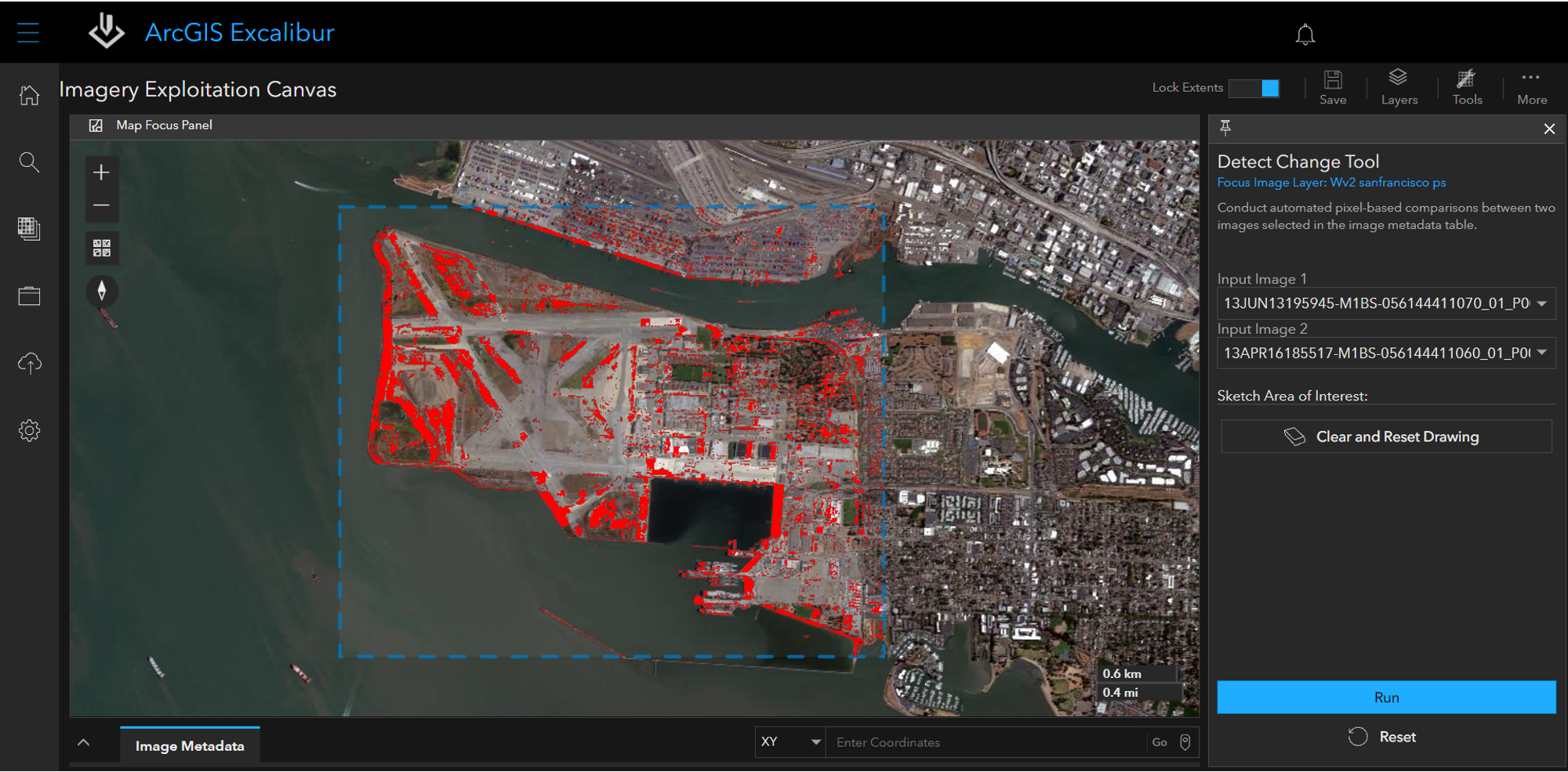 ArcGIS Dashboards
As you probably saw above, the 10.9.1 release of ArcGIS Enterprise includes the release of a new version of ArcGIS Dashboards. The previous version of ArcGIS Dashboards is now ArcGIS Dashboards Classic, and the URL for ArcGIS Dashboards is now <yourPortalURL>/apps/dashboards/. You can read more about this change in the documentation, or check out these additional highlights:
The list and indicator elements can now take advantage of a new advanced formatting option to customize how data points render using expressions created with ArcGIS Arcade.
Data expressions can now be created to power data-driven elements. Using Arcade, you can create feature sets to unlock new insights in your data by combining, modeling, and enhancing your existing data.
You can now use selection-based display to configure an element to only render when a selection is made elsewhere on the dashboard.
Pop-ups in a map element have a more consistent design between what was configured in the web map, including Arcade expressions and image rotations.
Now that you've had an overview of everything that's new with this release, dive in and get started!
For all the latest product information, visit the ArcGIS Blog homepage.