If you create and share digital content, you know how important it is to put your audience first. Many people who use ArcGIS Hub have sites that allow them to connect with public audiences, including stakeholders, residents, and volunteers. But making content easy to find and useful to a range of audiences takes time and work.
Since 2014, content, including data and documents, has accounted for more than 25% of traffic through all Hub sites. Originally designed to provide developers with fast access to downloadable files and APIs, these content preview pages provide limited functionality to general, non-technical audiences.
To make content more engaging, we're excited to announce a redesigned approach to how ArcGIS Hub handles the content you share. Read on to learn more.
Immersive, full-screen displays
Sharing content is one thing; making it engaging is another. ArcGIS Hub uses the entire screen to bring focus to your content, encouraging people to start exploring, no matter what size device they're using.
Map views
Spatial data, including feature layers and shapefiles, instantly appear on a full-screen map, so that you can clearly see trends across the map's extent.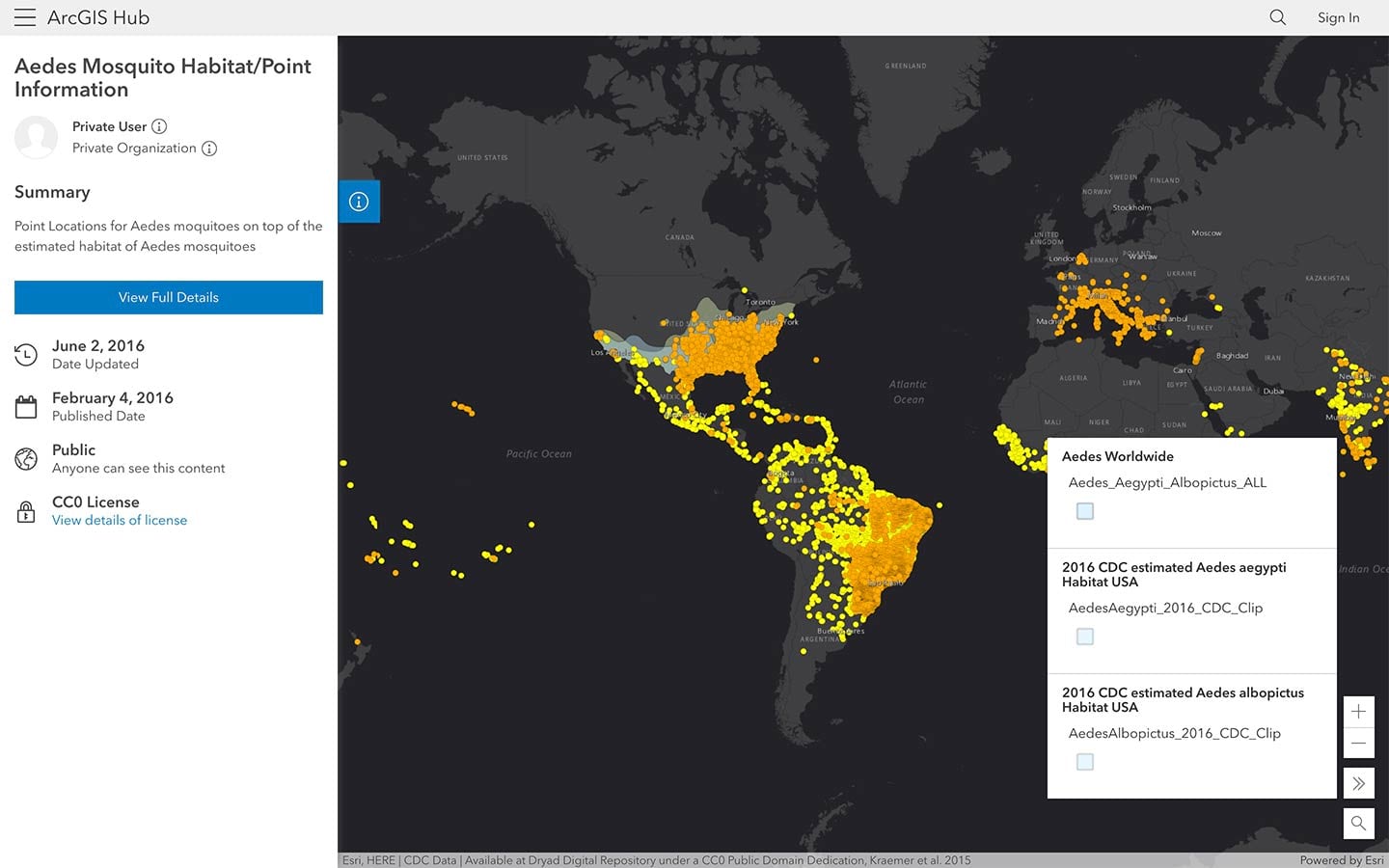 To explore, pan or zoom to a specific location. For details, simply click on a feature to open a pop-up window of attribute data. The collapsible side panel allows you to scan key metadata, access filtering tools, and view supported download formats.
Table views
For a different perspective, switch to the map's table view for a deeper dive into the data. All non-spatial data are automatically displayed as full-screen tables that you can sort and filter by attribute.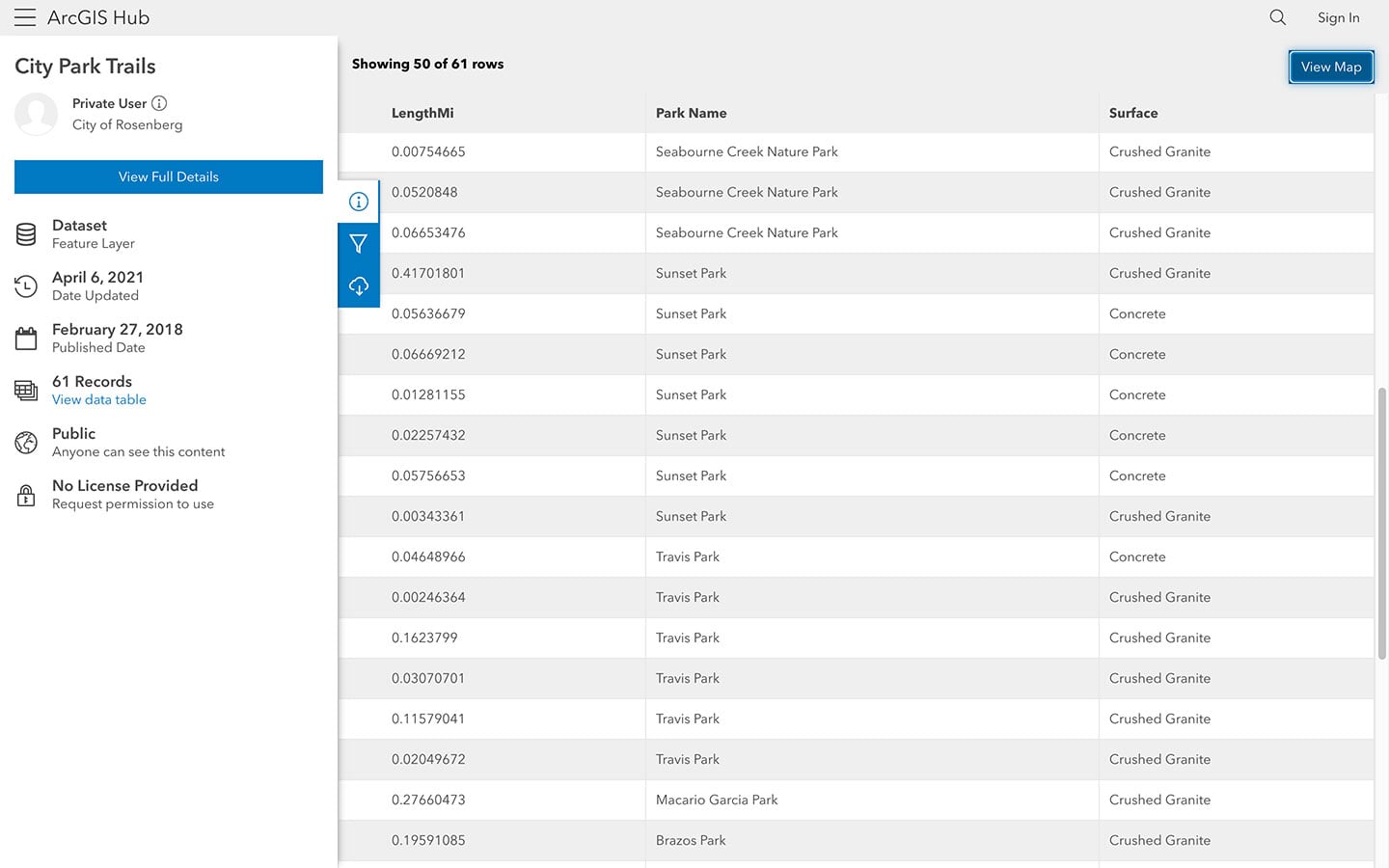 Any filters or selections made in map view are automatically applied to the table, making it easy to add or deselect a feature prior to download. When you're ready to download an entire dataset or a filtered portion, use the side panel to access the data in its available file formats.
Document views
With support for PDF files, people can also view documents in full-screen without having to download the file or open it in a new tab.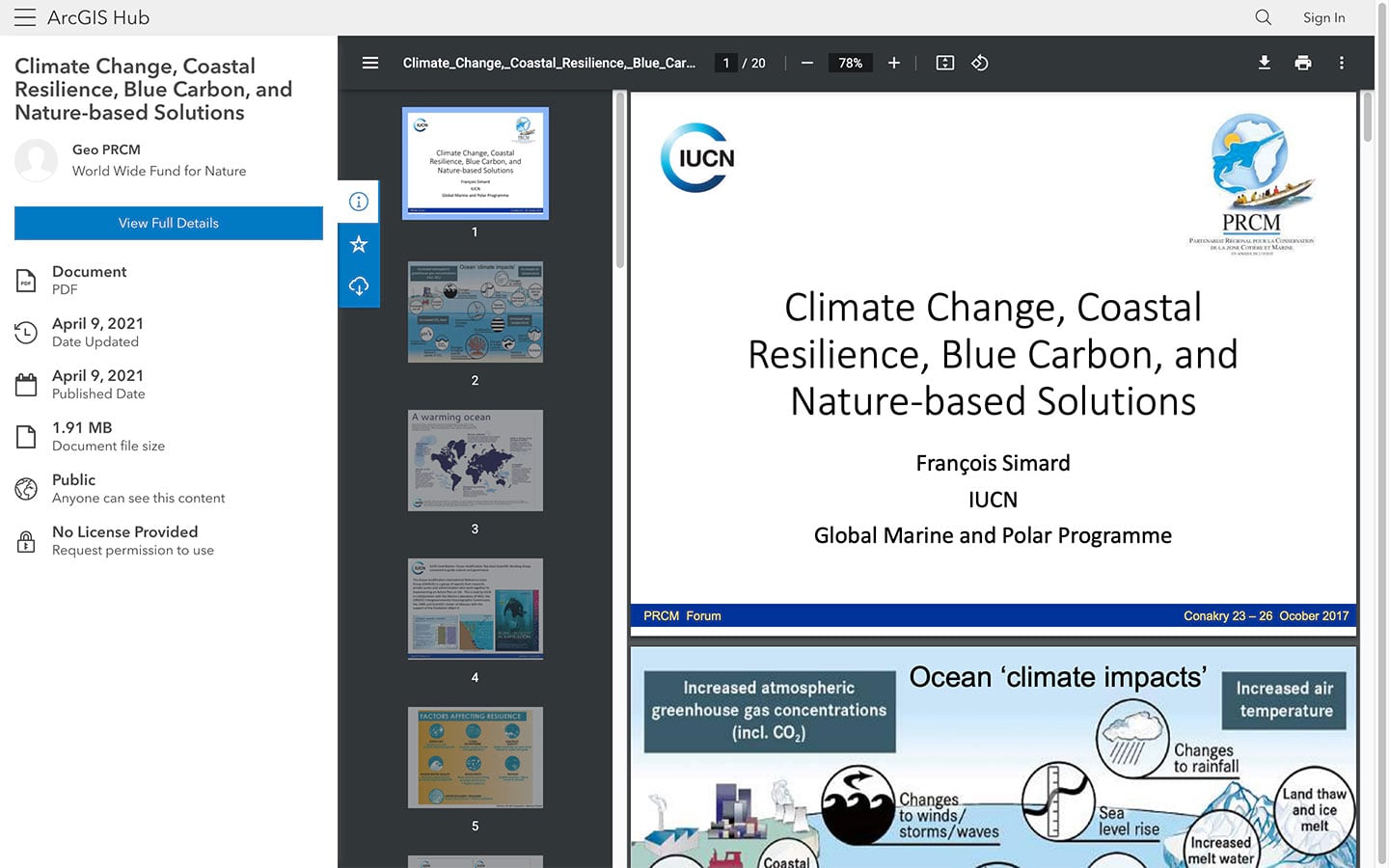 Viewers can zoom in and out, rotate, print, and download a PDF, just as they would when viewing the file elsewhere in a browser.
Advanced filters and smart styling options
Options to apply filters and style by attribute allow you to quickly visualize trends and patterns.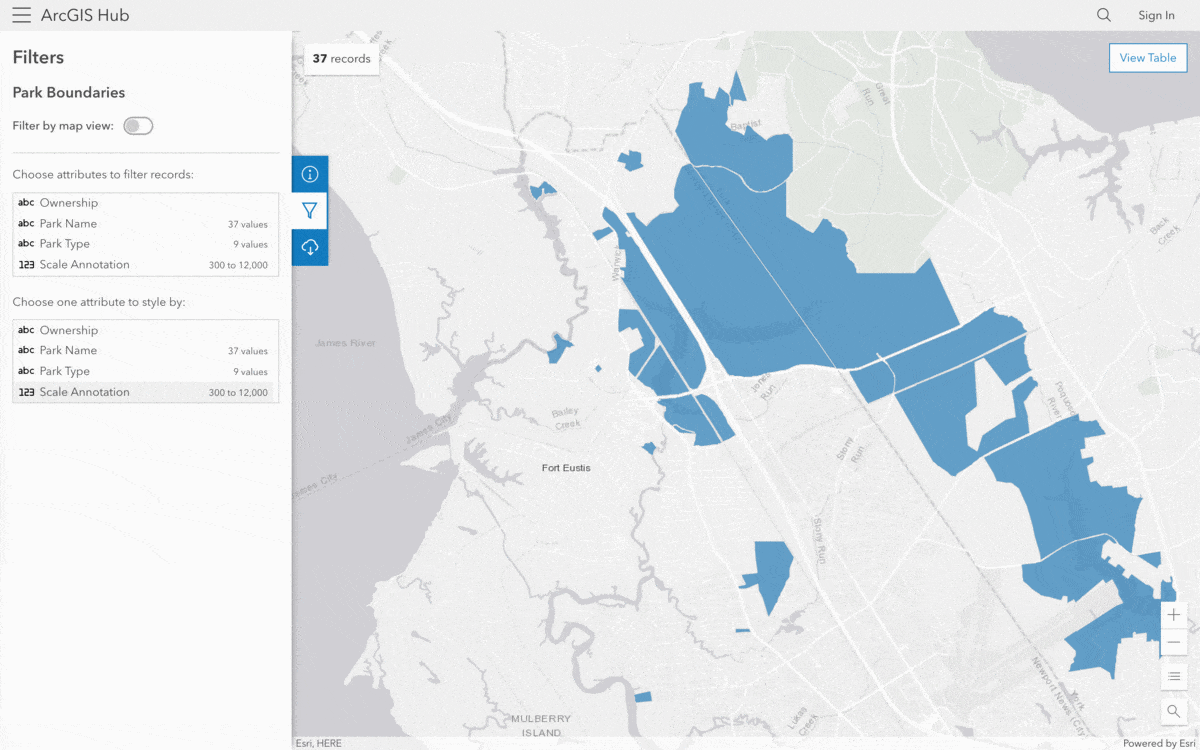 Anytime you apply filters or styling to data, the URL for the page updates automatically so that you can share your same view with others.
Full access to metadata and key actions
Now that data, documents, and tables have their own, full-screen pages, details are included on an additional full details page. This About view provides a comprehensive look at the item's metadata and includes links to viewing the data in ArcGIS Web Map Viewer or StoryMaps.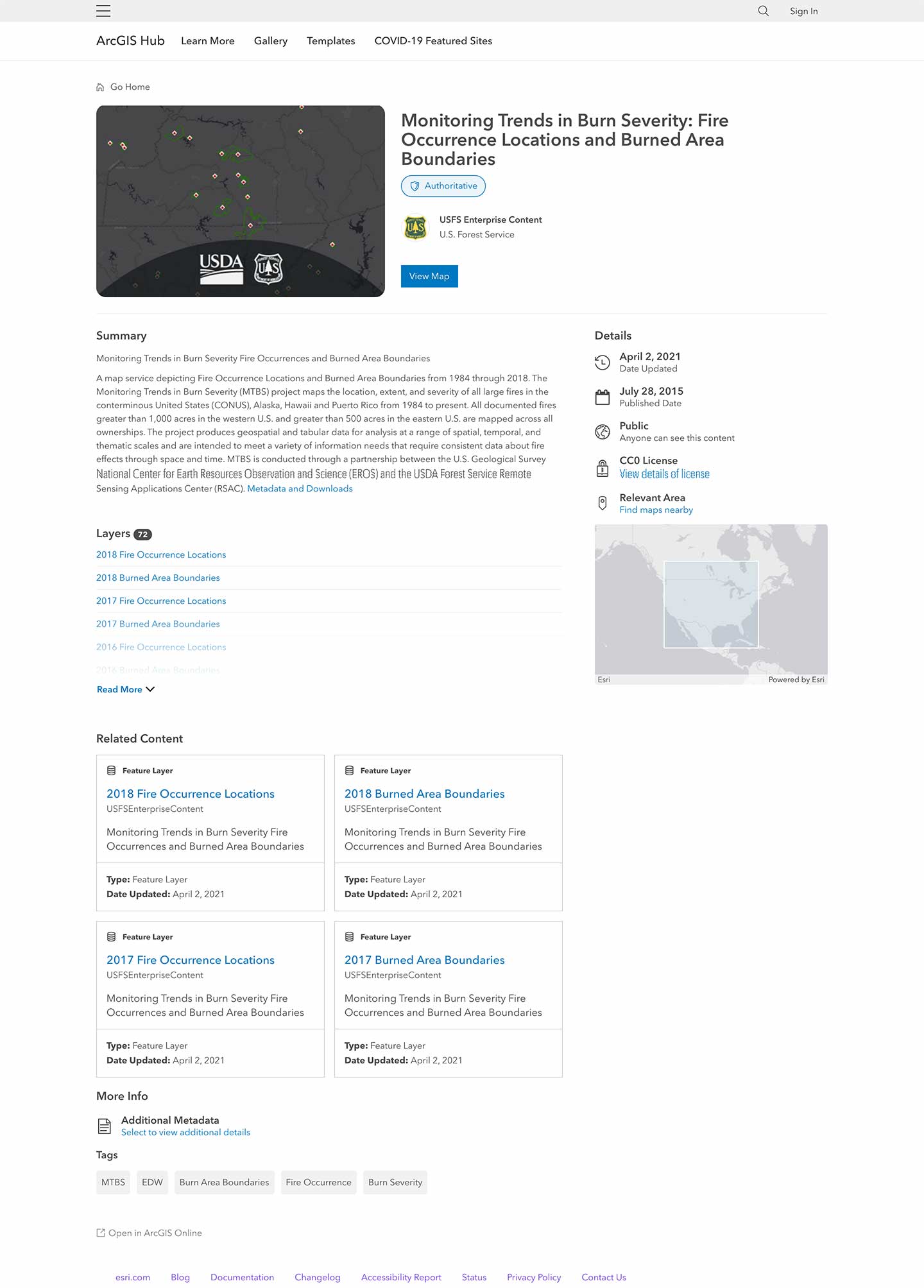 Content types, like apps, surveys, and events, that don't include an explore view appear by default on a new full details pages so that all content, regardless of type, has a newly improved user-experience.
More ways to download data and explore APIs
Visitors to your site can now access options to download data using the new downloads button available on the sidebar. By clicking this button, people can view which file formats are available for the data and start downloading a complete dataset or a filtered version.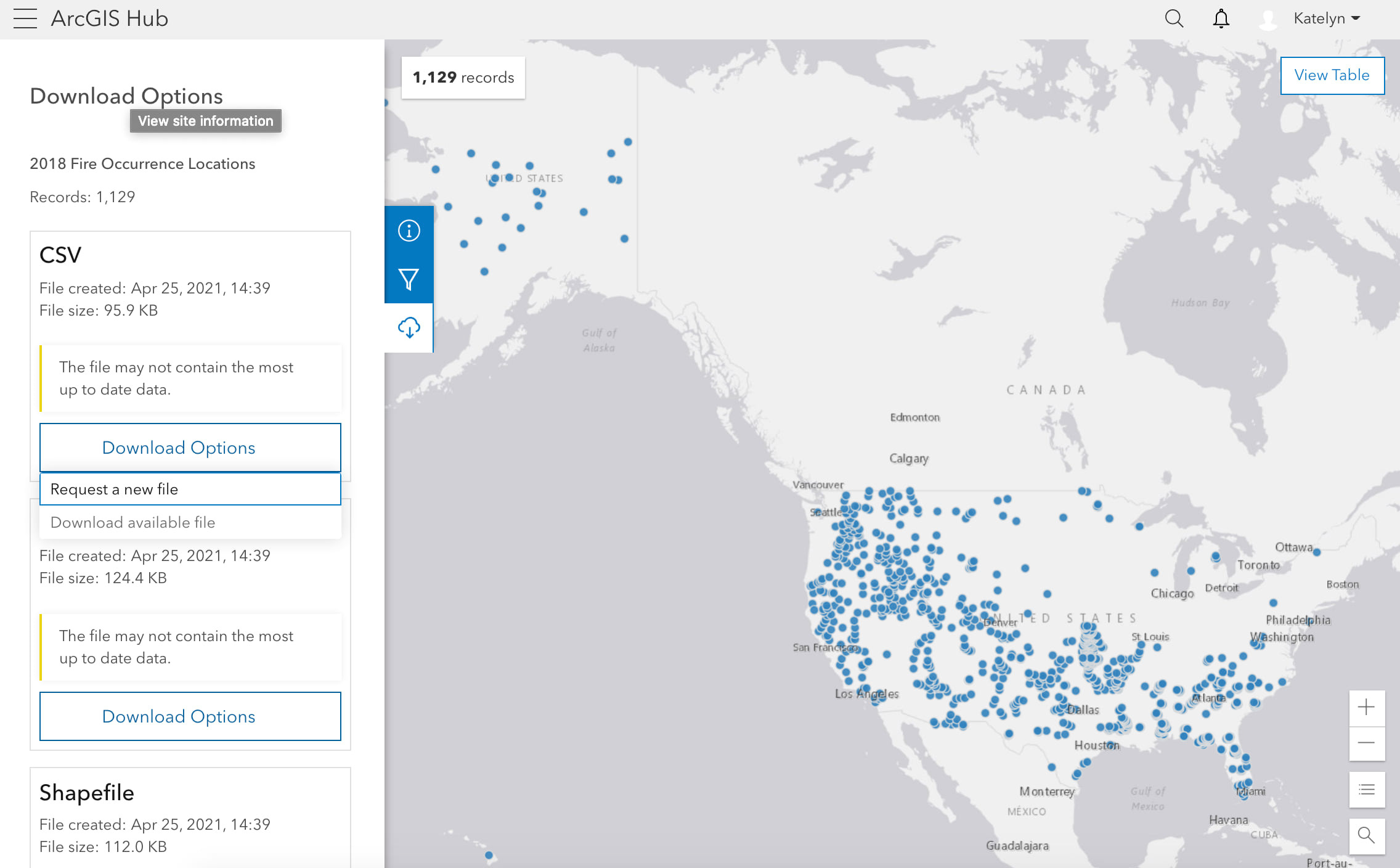 Each supported file format now includes the options to proceed with currently available data or to request the newest version of the file. Generating large, updated files may take some time, so visitors can track the status of their download by watching its progression on the sidebar.
API Explorer
People can also access a dataset's APIs in the following locations:
When viewing an explore view (default view for most data), people can click the info button to open the side panel where they will find a link that states I want to use this. This opens options to provide a GeoService, OGC WFS, or OGC WMS link. They can also customize a query with an additional option to Open in API Explorer.
When viewing full details, there will be an I want to section… that you can use to select View API Resources. This will bring up the same options available on the side panel when on an explore view.
The API Explorer link provided in these options is directed to the /api route (e.g. data/:id/api).
Other updates coming soon
While many of these upcoming enhancements focus on your audiences, ArcGIS Hub included additional updates for its users to create and collaborate. The following updates are also launching on May 25, 2021.
Discover more templates
Each template now has a designated page that shows what's included in the template so that you can easily preview content and share it with your team.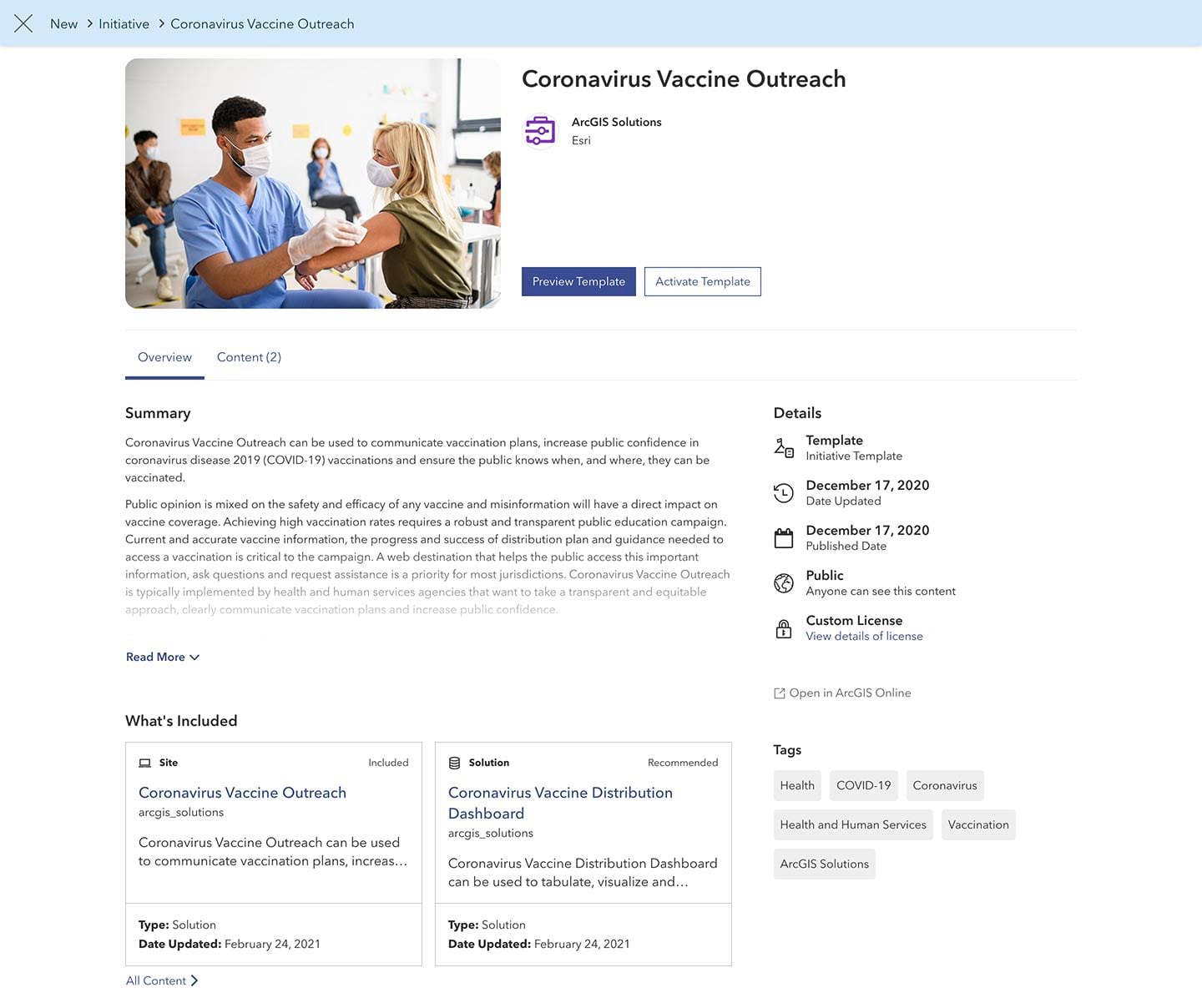 You can use templates to support your own internal and public service processes using any of the pre-designed apps, stories, websites, surveys, and maps included in the ArcGIS Hub Template Gallery.
Try it out
Want to learn more? Head over to the ✨demo site✨ where you can take a look at some examples and read our FAQs.