Updated January 6, 2020: Whether you're new to ArcGIS StoryMaps or have been using it since its days in beta testing, there's always room to improve your storytelling skills. This list of short, simple tips will help you get the most out of the story builder, especially when it comes to smaller features you may have overlooked. I'll be adding more tips periodically, too, so be sure to check back every now and again if you find these tidbits helpful. Now, keep scrolling to learn how to:
Add media to a minimal cover
Hide a story's published date
Change an express map's basemap
Toggle your map legend on or off
Adjust layer names for the maps in your story
Reorder numbered points in an express map
Add alternative text to your media
Specify embedded content height with iframe code
Add your logo to the header of your story
Link to a specific item in a collection
____________
Add media to a minimal cover
The minimal cover is a great option for how-to articles, thought pieces, or press-release-style updates. For these kinds of stories, the subject is what will hook your readers most, so a big, dramatic cover image can be overkill. But, if you want to keep the emphasis on your title and still add a little visual flair, you do have that option.
In your story, open the design panel, select Minimal from the list of cover options, and close the design panel. Above your title, in the upper right corner of your story, you'll see + Add cover media. Click it to upload a photo or video. Your media will display in a panoramic aspect ratio; for images, you can open the Properties menu and move the focal point to the area of the image you want to be visible across screen sizes.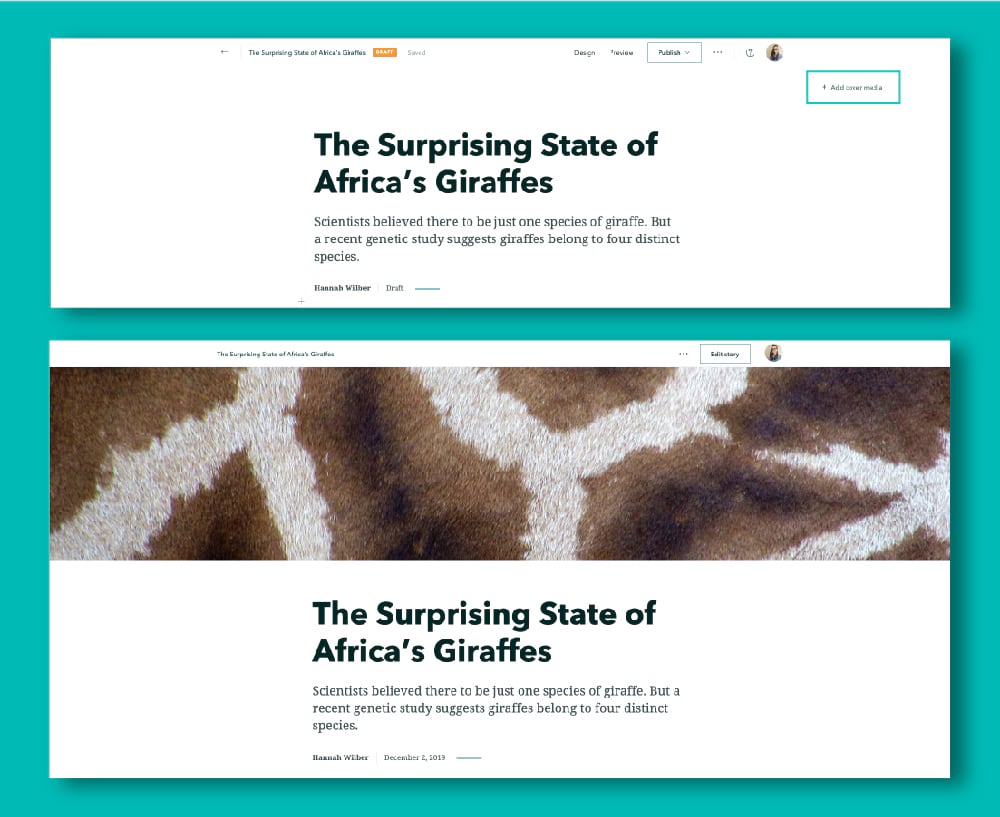 Hide a story's published date
While the StoryMaps builder will automatically update the date in your story's cover every time you publish, you have the ability to hide this information if you'd prefer. This can be useful if you've made an evergreen resource that will stay relevant no matter how many weeks, months, or years have passed since you created it.
To remove the published date from your cover, open the story builder and expand the More actions menu in the story header. From there, select Story settings and simply check the box to hide the date on the cover. Click Save and poof, the date will vanish, but you can add it back any time.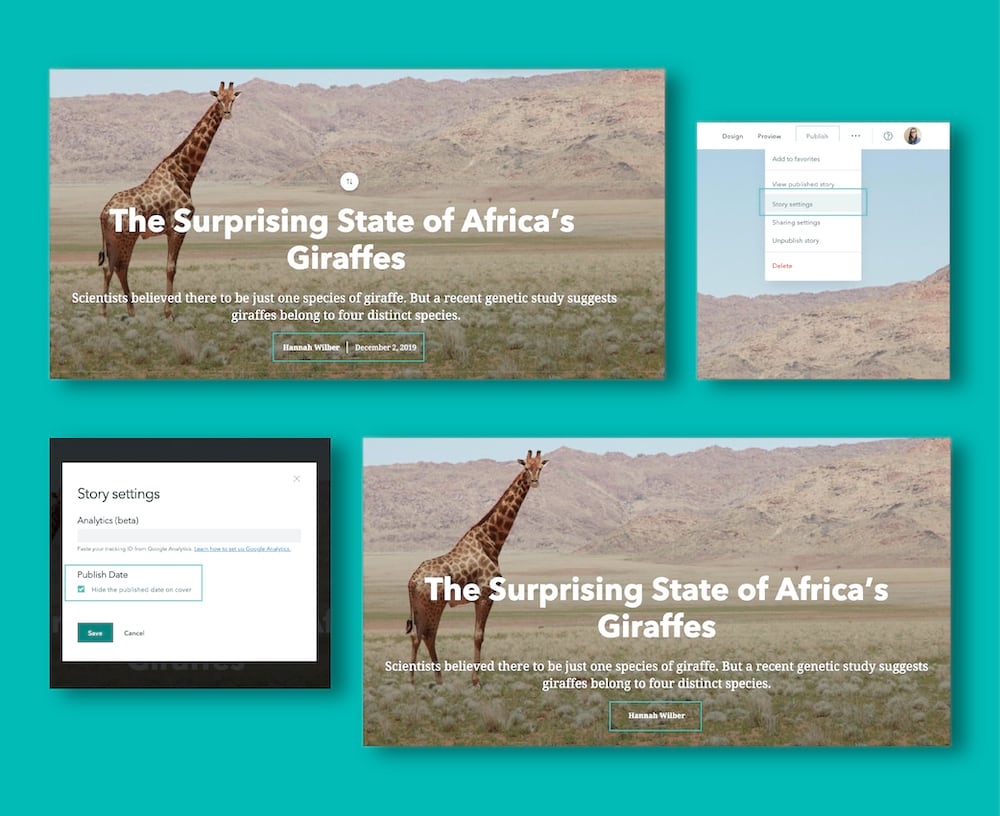 Change an express map's basemap
The style of express maps is automatically synced with your story's theme, so you can always be confident that they'll harmonize with the rest of your content. But did you know you can choose from a few different basemaps when creating one of these simple maps? Each theme comes with two vector basemaps that fit your theme's aesthetic, plus the satellite imagery basemap for instances where your readers need a literal bird's eye view.
To change your map's basemap, open the map designer and navigate to the Settings tab on the side panel. There you'll find your three basemap options—just pick whichever one best suits your needs and click Place map to save your changes.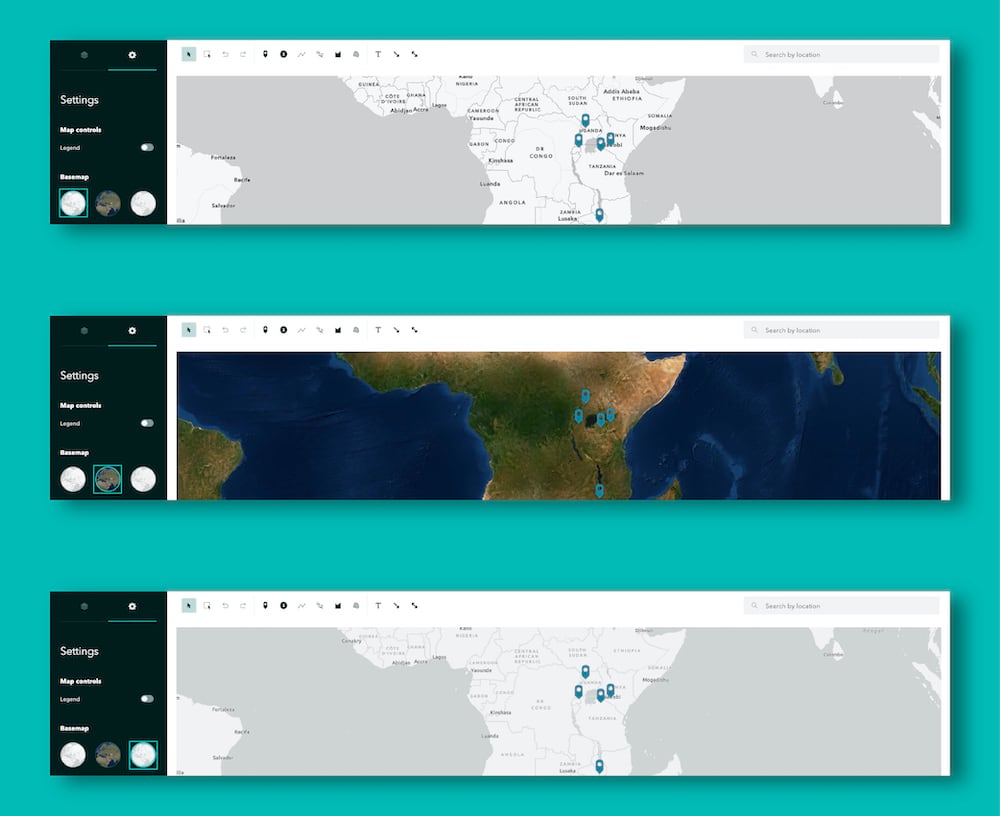 Toggle your map legend on or off
Some maps display a variety of data, so your readers will need a legend to make sense of what's what. Other maps, meanwhile, are nice and straightforward, and it can be nice to hide the map legend in these instances to reduce visual clutter.
Turning a legend on our off is the same whether you're configuring a web map, 3D scene, or an express map. Start by opening the map designer and navigating to the Settings tab of the side panel. There, you'll see a switch to show or hide the legend; simply toggle it on or off depending on your map needs. Your map will update instantly to reflect this change.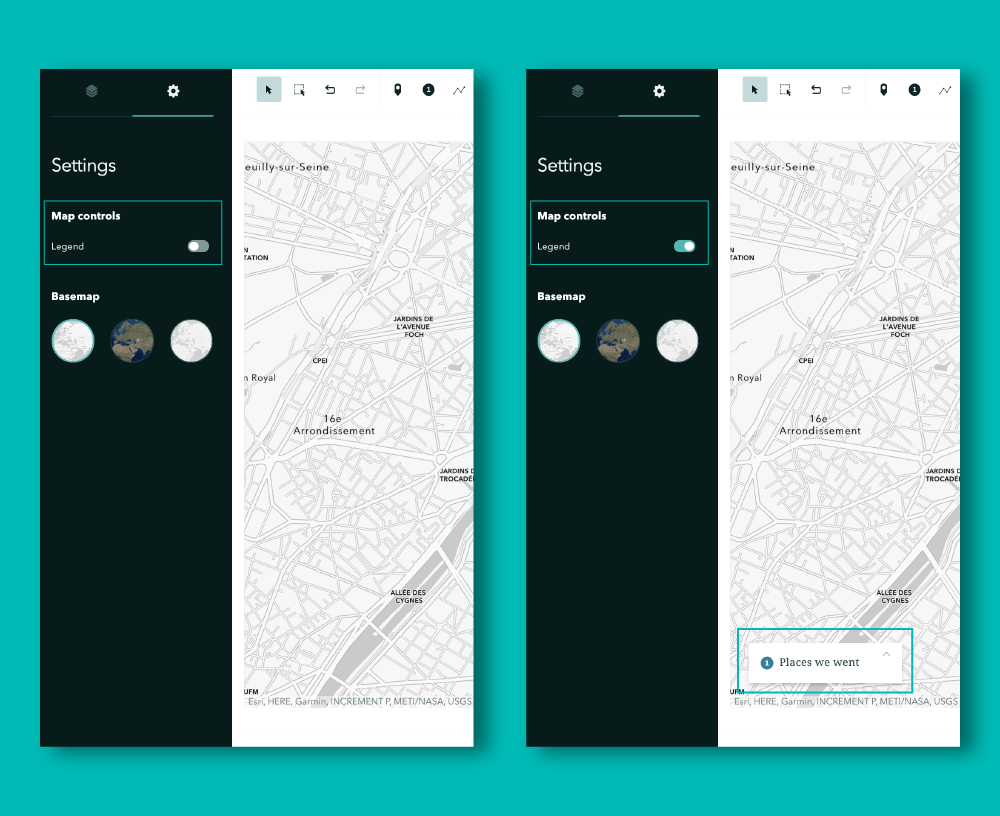 Adjust layer names for the maps in your story
Have you ever wanted to adjust the layer name as it appears in a map legend for a particular story, but not have that change affect the map in other places? Maybe the layer name is really long, or the story is for a particular audience that's used to specific terminology. Whatever the reason, customizing map legend terms in your story maps is 100 percent possible.
To adjust the name of a specific layer, open the map designer and locate that layer in the Map layers tab of the side panel. Click on the layer name to activate the text editor, then rename that layer however you like. If your legend is turned on, you can see the new layer name appear right there in the map designer; your readers will also see it once you publish your story. Click Place map to save your changes when you're done.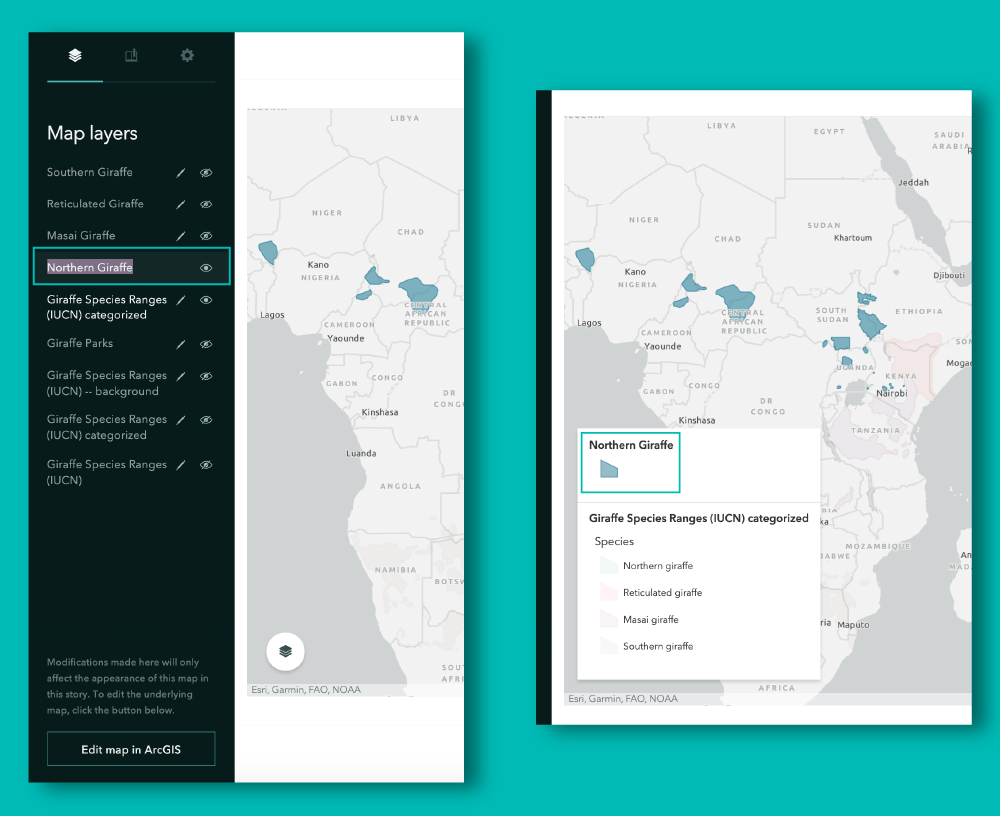 Reorder numbered points in an express map
Say you have an express map with five numbered points representing places you visited on your latest vacation. You added the points for each place in the order in which you visited them, but now you've changed your mind and want the numbers to serve as a ranking for enjoyment at each destination. Don't panic, there's no need to delete your points and start over. In the Map layers tab of the map designer's side panel you'll see your points listed with point one at the top and point five at the bottom. To reorder your list, click and drag the point name for each place, dropping them into your preferred sequence. The numbers for each point on your map will update as you make changes in the side panel, and all that pop-up information you already added for each point is preserved just as you had it.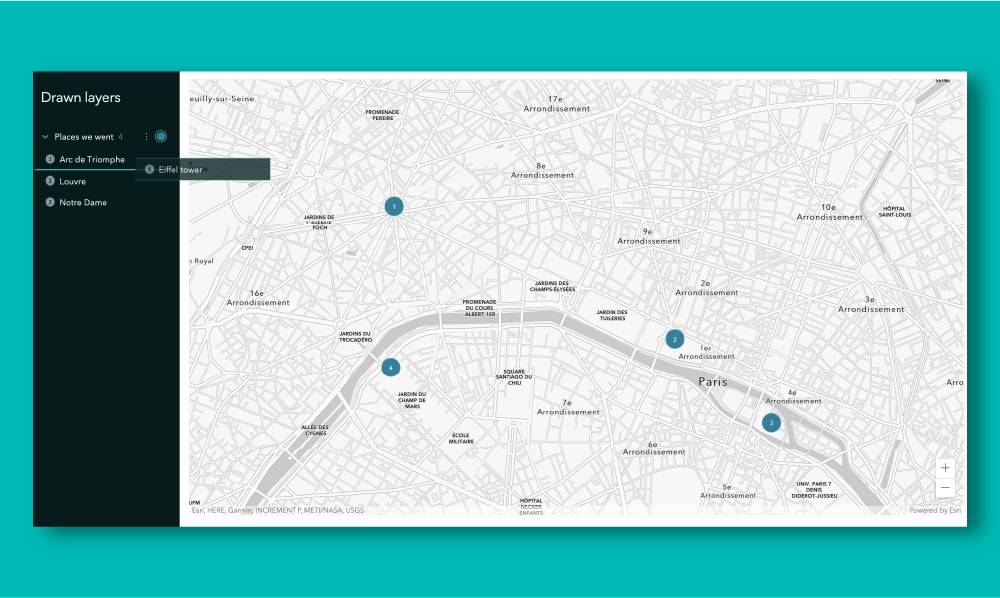 Add alternative text to your media
Making your content accessible is an important part of authoring inclusive stories. That's why we've designed StoryMaps to meet common accessibility standards. We've also included features to help authors cater to individuals using assistive technology like screen readers. Alternative text is one of these features—you should use it to describe any functional media in your story so that those with visual impairments can still follow along.
Adding alternative text to any piece of media is simple. Just open the Properties panel for that piece of content (you may need to hover over it to reveal the media toolbar) and the field to enter your description is front and center. Click Save when you're done and you're good to go.
Specify the height of embedded content with iframe code
When embedding external web content in your story, the story builder will automatically set the size of any content you add. However, when adding embedded content as an iframe, you can use height and width parameters to ensure your content displays at your desired aspect ratio. This is especially useful if you have tall content—like a form where you want the full list of questions to appear without the reader needing to scroll within the embed frame.
The width of the iframe you add is controlled by the block size you select, but you can specify your content's height or aspect ratio if you'd like it to be something other than 16:9 (the ratio the builder automatically uses).
Here's an example of an iframe code with height and width parameters set manually.
In the code snippet above, the author has chosen to define an aspect ratio of 3×5 for their dashboard; they could have also done this by using set pixel amounts or percents for both height and width (so long as their units match).
To adjust only the height and of your content, set the width to 100 percent, and specify your desired height in pixels: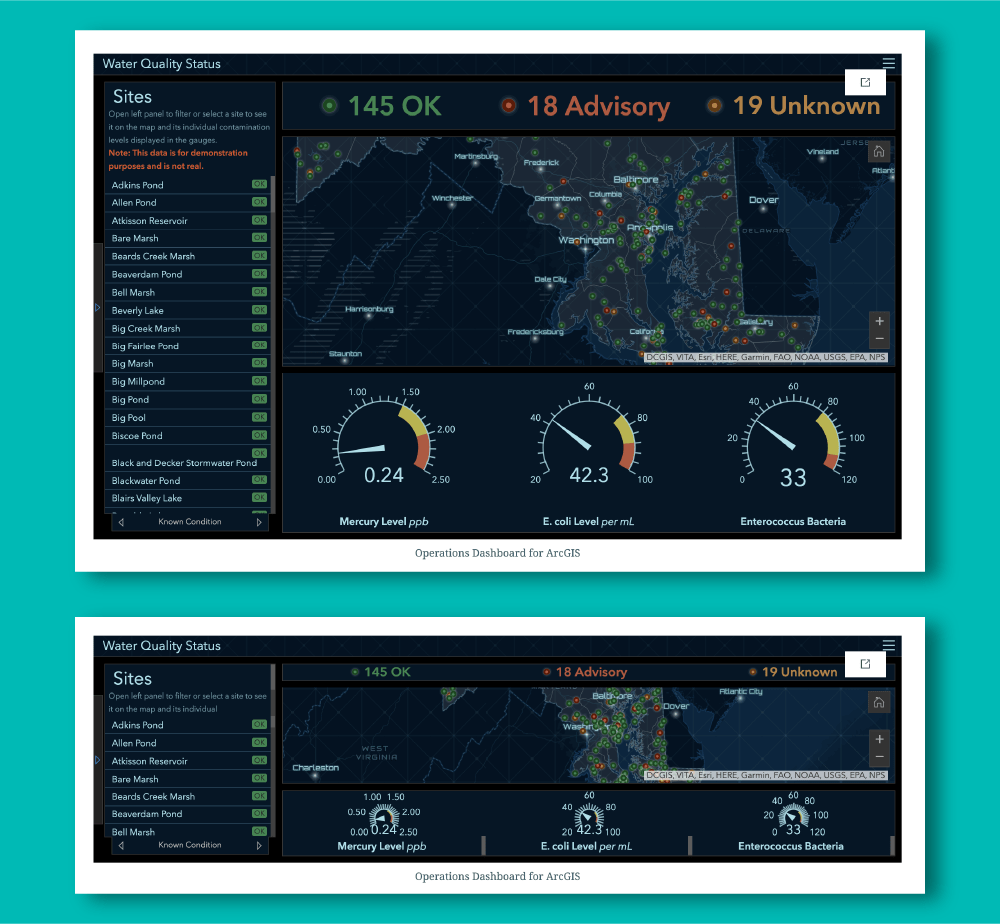 Add your logo to the header of your story
Branding can be an important element of a polished story map, and nothing more clearly shows off your brand than a logo. If you want, you can have your logo appear in the header of your story, right next to the title, so it's always visible as readers scroll through your narrative.
To do this, enter the builder for your story and click Design in the header. At the bottom of the design panel you'll find the option to upload a logo; click the + and select your desired image. Once it's uploaded, you'll see it appear in the top corner of your story. You'll also see additional fields appear at the bottom of the design panel—use these to add alternative text for your logo and to link it to a website of your choosing.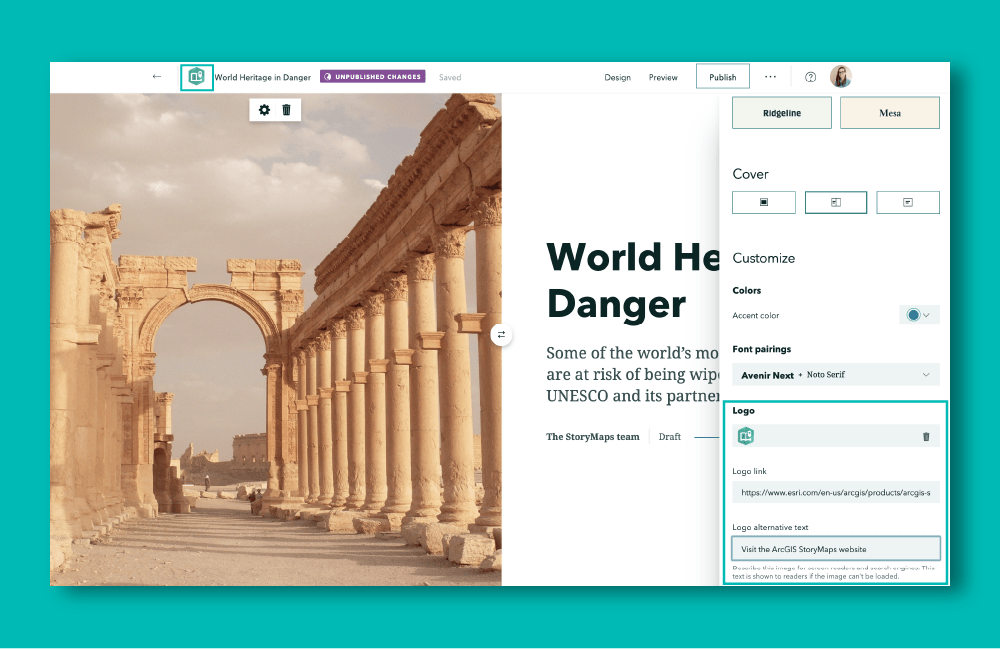 Link to a specific item in a collection
Collections are useful for bundling together related stories and other ArcGIS apps. You can share links with your audience that send them to the collection overview (where they'll see a gallery of cards for each item available to them) or to the presentation view (where they'll see items one-by-one as full-page interactives). The general presentation view link will always open to the first item in the collection. If, however, you'd like to point readers to a specific item, you can also generate a link that will open the presentation view on that app or story.
There are two ways you can generate this link. The first is by navigating to the collection overview, clicking on the card of the item to which you want to direct your readers, and simply copying the URL from your browser once the presentation view loads.
You'll notice that this link includes /present, indicating that you're pointing to the presentation view of a collection. It also includes ?item=n, where n is the number of the item in that collection. So, if you want a bit of a shortcut for linking to a specific collection item—let's say the fourth item, for example—simply grab the collection link and add /present?item=4 to the end of the URL (or whatever number applies to your desired item).
If you're not sure of the item's number in the collection, simply open the presentation view, navigate to your item of choice, and you'll see the specific item number in the header alongside the total number of items in the collection.