Whether you're new to ArcGIS StoryMaps or have been using it since its days in beta testing, there's always room to improve your storytelling skills. This list of short, simple tips will help you get the most out of the story builder, especially when it comes to smaller features you may have overlooked. I'll be adding more tips periodically, too, so be sure to check back every now and again if you find these tidbits helpful.
____________
Add media to a minimal cover
The minimal cover is a great option for how-to articles, thought pieces, or press-release-style updates. For these kinds of stories, the subject is what will hook your readers most, so a big, dramatic cover image can be overkill. But, if you want to keep the emphasis on your title and still add a little visual flair, you do have that option.
In your story, open the design panel, select Minimal from the list of cover options, and close the design panel. Above your title, in the upper right corner of your story, you'll see + Add cover media. Click it to upload a photo or video. Your media will display in a panoramic aspect ratio; for images, you can open the Properties menu and move the focal point to the area of the image you want to be visible across screen sizes.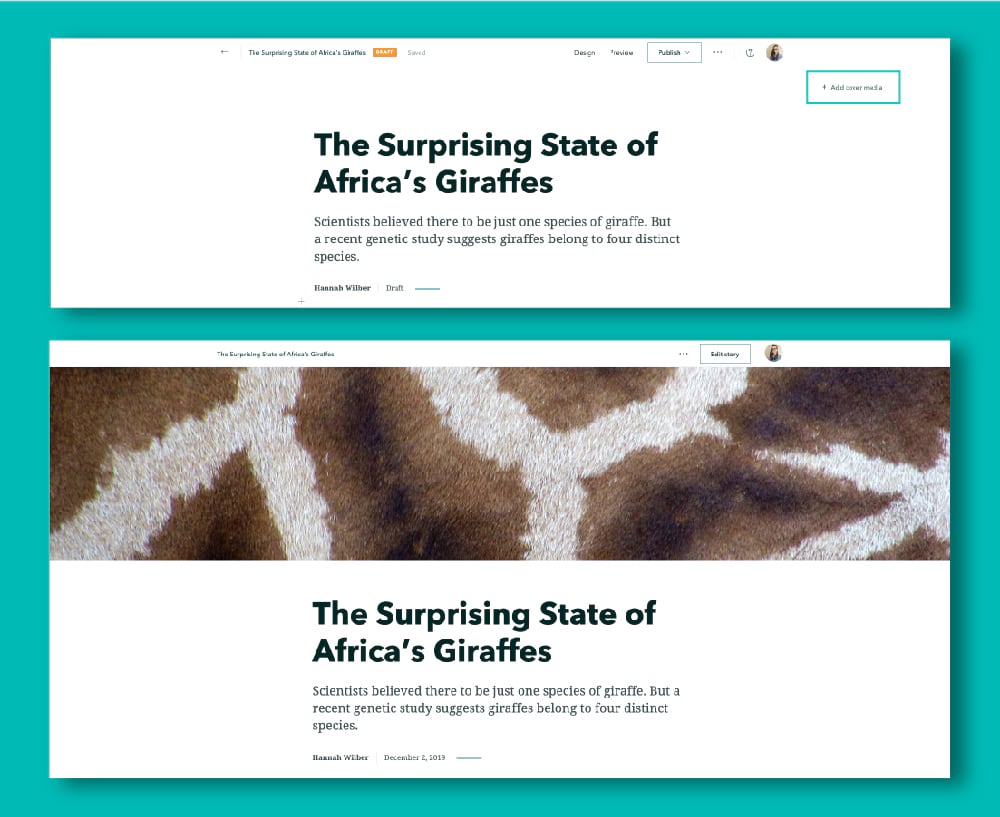 Hide a story's published date
While the StoryMaps builder will automatically update the date in your story's cover every time you publish, you have the ability to hide this information if you'd prefer. This can be useful if you've made an evergreen resource that will stay relevant no matter how many weeks, months, or years have passed since you created it.
To remove the published date from your cover, open the story builder and expand the More actions menu in the story header. From there, select Story settings and simply check the box to hide the date on the cover. Click Save and poof, the date will vanish, but you can add it back any time.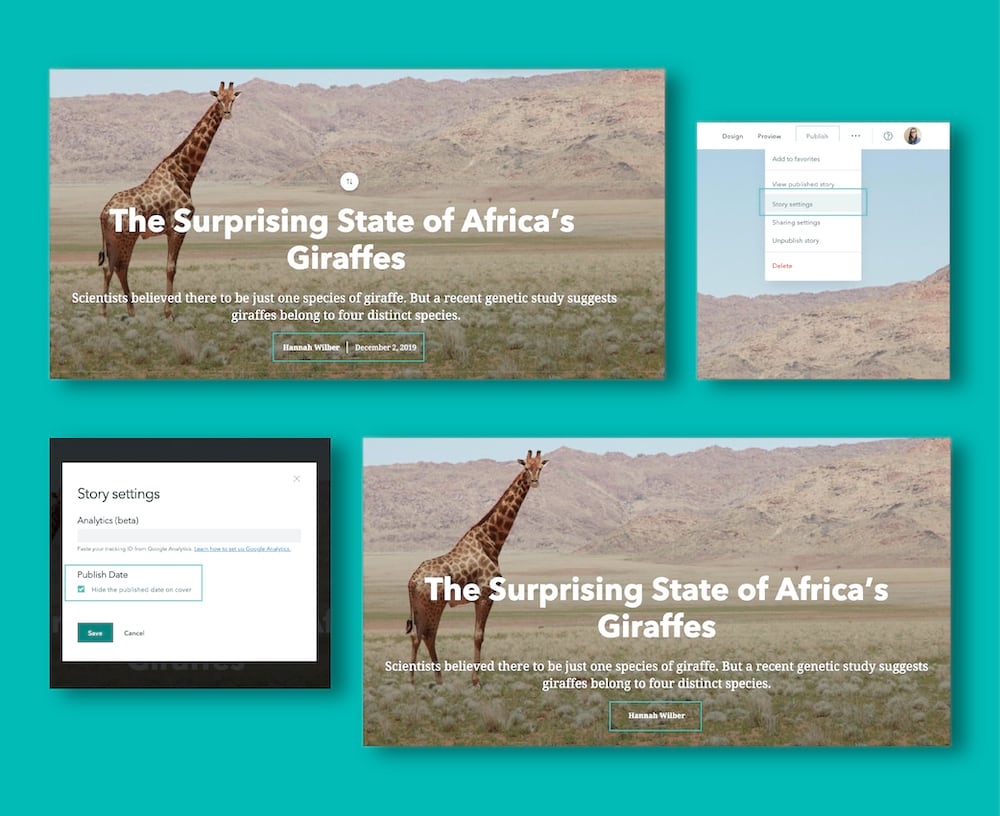 Change an express map's basemap
The style of express maps is automatically synced with your story's theme, so you can always be confident that they'll harmonize with the rest of your content. But did you know you can choose from a few different basemaps when creating one of these simple maps? Each theme comes with two vector basemaps that fit your theme's aesthetic, plus the satellite imagery basemap for instances where your readers need a literal bird's eye view.
To change your map's basemap, open the map designer and navigate to the Settings tab on the side panel. There you'll find your three basemap options—just pick whichever one best suits your needs and click Place map to save your changes.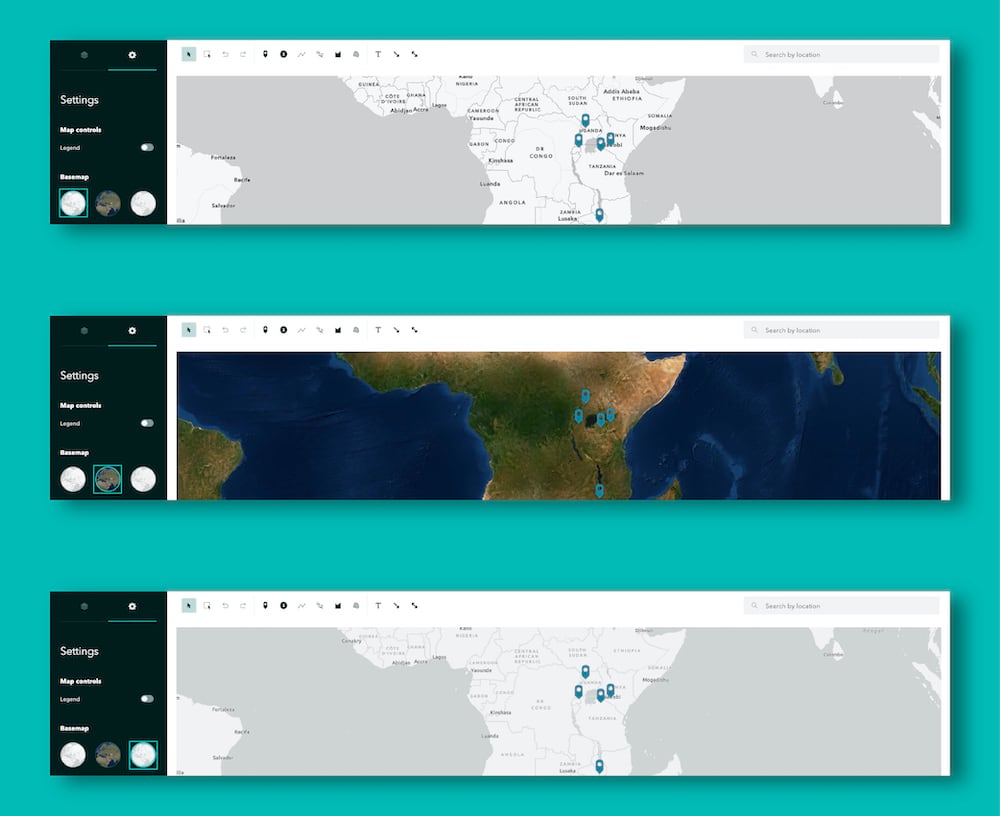 Add alternative text to your media
Making your content accessible is an important part of authoring inclusive stories. That's why we've designed StoryMaps to meet common accessibility standards. We've also included features to help authors cater to individuals using assistive technology like screen readers. Alternative text is one of these features—you should use it to describe any functional media in your story so that those with visual impairments can still follow along.
Adding alternative text to any piece of media is simple. Just open the Properties panel for that piece of content (you may need to hover over it to reveal the media toolbar) and the field to enter your description is front and center. Click Save when you're done and you're good to go.
Linking to a specific item in a collection
Collections are useful for bundling together related stories and other ArcGIS apps. You can share links with your audience that send them to the collection overview (where they'll see a gallery of cards for each item available to them) or to the presentation view (where they'll see items one-by-one as full-page interactives). The general presentation view link will always open to the first item in the collection. If, however, you'd like to point readers to a specific item, you can also generate a link that will open the presentation view on that app or story.
There are two ways you can generate this link. The first is by navigating to the collection overview, clicking on the card of the item to which you want to direct your readers, and simply copying the URL from your browser once the presentation view loads.
You'll notice that this link includes /present, indicating that you're pointing to the presentation view of a collection. It also includes ?item=n, where n is the number of the item in that collection. So, if you want a bit of a shortcut for linking to a specific collection item—let's say the fourth item, for example—simply grab the collection link and add /present?item=4 to the end of the URL (or whatever number applies to your desired item).
If you're not sure of the item's number in the collection, simply open the presentation view, navigate to your item of choice, and you'll see the specific item number in the header alongside the total number of items in the collection.