Updated December 8, 2017:  The Esri Vector Basemaps were recently updated to a new version (v2). The best way to access them in ArcGIS Online is through the Esri owned Vector Basemaps group, which contains the latest set of web maps and tile layers. See What's New in Esri Vector Basemaps (December 2017) for information related to this update.
—
This latest blog related to the Esri Vector Basemaps reports on a bunch of updates made to the vector tile set published on ArcGIS.com. These changes include dozens of new and updated data for contributed communities and other areas of the map along with improvements to style files for map display. Stay up-to-date on announced changes to the Vector Tile Basemaps through this summary of our blogs.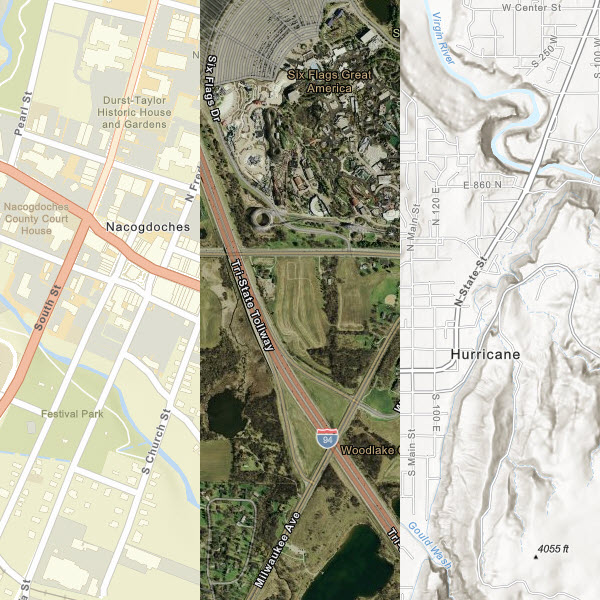 Recently updated data contributors from Nacogdoches, TX; Lake County, IL; and Hurricane, UT as seen in Vector web map styles:  Streets (with Relief), Imagery Hybrid, and Terrain with Labels.
–
Improvements to Map Styles
We continue to make improvements to the Vector Basemap styles. Some present more of an impact than others, but in general, these changes will provide a better user experience when using the maps. One of the fixes improved two of our Street Map styles (Streets and Streets with Relief). It eliminated "floating" shields at mid-scales (i.e. road shields displaying without any underlying road linework unless you zoomed in another level).
More detail on our style specifications is available in the Esri Vector Basemaps Reference Document.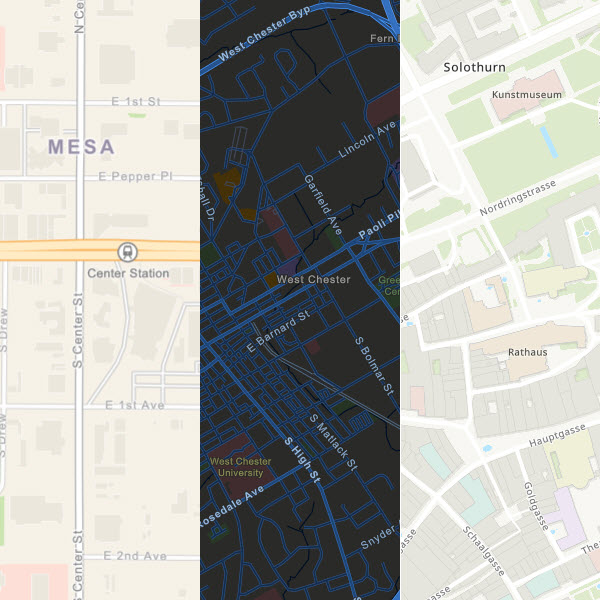 Recently updated data contributors from Mesa, AZ; Chester County, PA; and Kanton Solothurn, Switzerland as seen in Vector web map styles:  Navigation, Streets (Night), and Topographic.
–
Impact of Style Changes
Because this round of updates makes changes to the map styles, there may be some impact in your use of the maps. These three scenarios will help define what, if any, impact the most recent changes will have.
Are you using one or more of the Esri Web Maps?
Are you using one or more of the Esri vector Tile Layers?
If you are using Tile Layers, did you make any style customization to the root.json file?
Web Maps



If you are using any of the web maps from the Esri Vector Basemaps group, you won't have to do anything differently to be able to use new vector basemap styles. The web maps include the latest tile layers with updated data, features and styles.
Tile Layers



If you are using one of the vector Tile Layers in a map you created, your map will continue to work with that tile layer. The new features and style changes will display in your map.
Customized Tile Layers



If you are using a tile layer copied from one of the Esri vector Tile Layers, whether or not you made any customization to the root.json, your maps will continue to work and will display the new data updates. The one difference is your copy or customized layer will not take advantage of the updated styles (such as the new coastline feature and others as listed above). We recommend you update any tile layer copies with the latest vector tile layers. Any user customization will need to be reapplied in the root.json style now associated with this style layer.
–
Contributed Data Additions
We've expanded our use of OpenStreetMap data to now include new large-scale content in China, North and South Korea, Laos, and a refresh of OSM data across parts of Africa. This example shows our Street map in Beijing, China (current image above previous). Since we create one single vector tile set used by all the map styles, this additional OSM content is now available in our other vector map styles as well!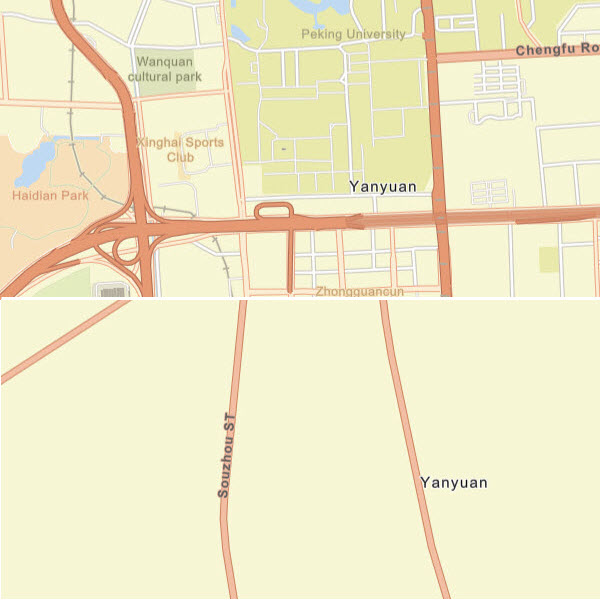 In addition to updated OSM data, the following community contributors provided new and updated data that was added to the vector basemap tiles since we
last blogged about vector map updates:
Bellingham, WA
Bismarck, ND
Brazoria County, TX
Brookings County, SD
Buckeye, AZ
Chester County, PA
Coconino County, AZ
Comal County, TX
Coon Rapids, MN
Denmark
Duke University, NC
Franklin, TN
Geneva, Switzerland
Golden Valley, MN
Greenville, SC
Hartford, CT
Helsingborgs Stad, Sweden
Hobbs, NM
Hurricane, UT
Island County, WA
Kenton Co, KY
Kokomo, IN
Lake County, IL
Lake County, IN
Littleton, CO
Lynnwood, WA
Manhattan Beach, CA
Mesa, AZ
Metropolitan District (Hartford), CT
Mobile, AL
Nacogdoches, TX
New Zealand
Novi, MI
Port of Long Beach, CA
Richardson, TX
Richfield, MN
Rockville, MD
San Marcos, TX
Skagit County, WA
Sonoma County, CA
South Portland, ME
Spokane County, WA
Spokane, WA
Stark County, OH
Story County, IA
Swiss Kantons
(Solothurn, Basel-Landschaft, Basel-Stadt, and Glarus)
Tampa, FL
Vermont
Wallops Flight Facility (NASA), VA
Westbrook, ME
Yavapai County, AZ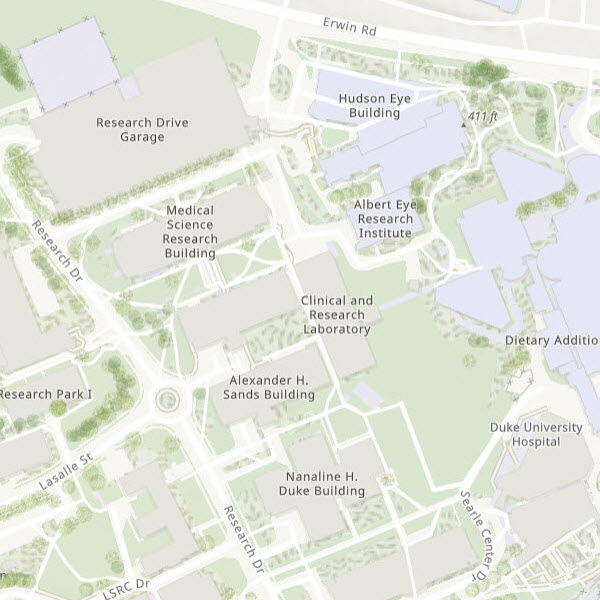 Through Esri's Community Maps Program your organization can contribute its local geographic content to Esri's Living Atlas of the World. The data will be published and hosted by Esri as part of ArcGIS Online maps and layers. Map image above shows the detailed contribution of data from Duke University, Durham, NC, including special area of interest features like trees, ground cover, pedestrian paths, and more.