Here's a tidy summary of the latest advances for ArcGIS Hub for the latter half of 2022, up to about now. Some of these updates are so new and shiny you may not have seen or used them yet. Read on to see what's new in ArcGIS Hub.

Set up your site to shine
New button details

– The New button

provide

s more information on what you can directly create in Hub. For instance, from the Content Library, it

includes:

App, Content,

Feedback, and Event with

a

de

scription

for each option.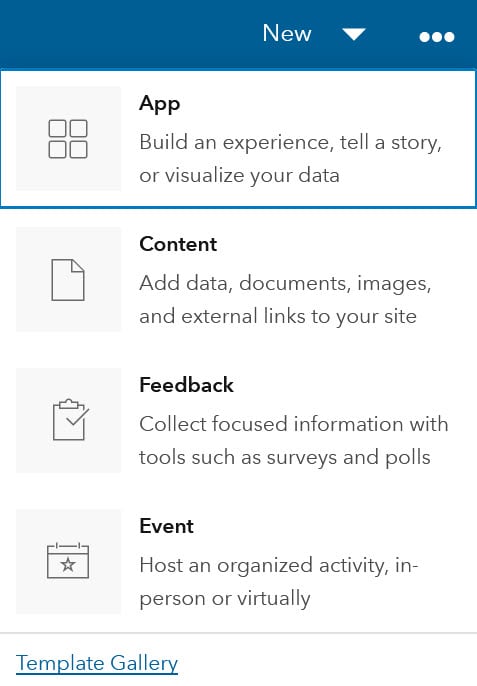 Preview Hub sites and pages by device type-

After you're made some edits, it's easy to check how the site or page draft will display on desktop, tablet, and mobile devices. From the layout editor, select the 'Save' menu, then "Preview Draft." This way, you can make sure your carefully crafted content is suitable for the most common screen sizes.  

 

Redesigned user profile

– Hub has simplified and improved the user profile! Your profile now includes a bio, quick access to recent content and teams, and tabs for quick navigation to your Teams or groups, Content, and Favorites. You can conveniently browse or search for any team or group, or content that you own. Visitors to a profile will also see a new look, including indication if the profile is private.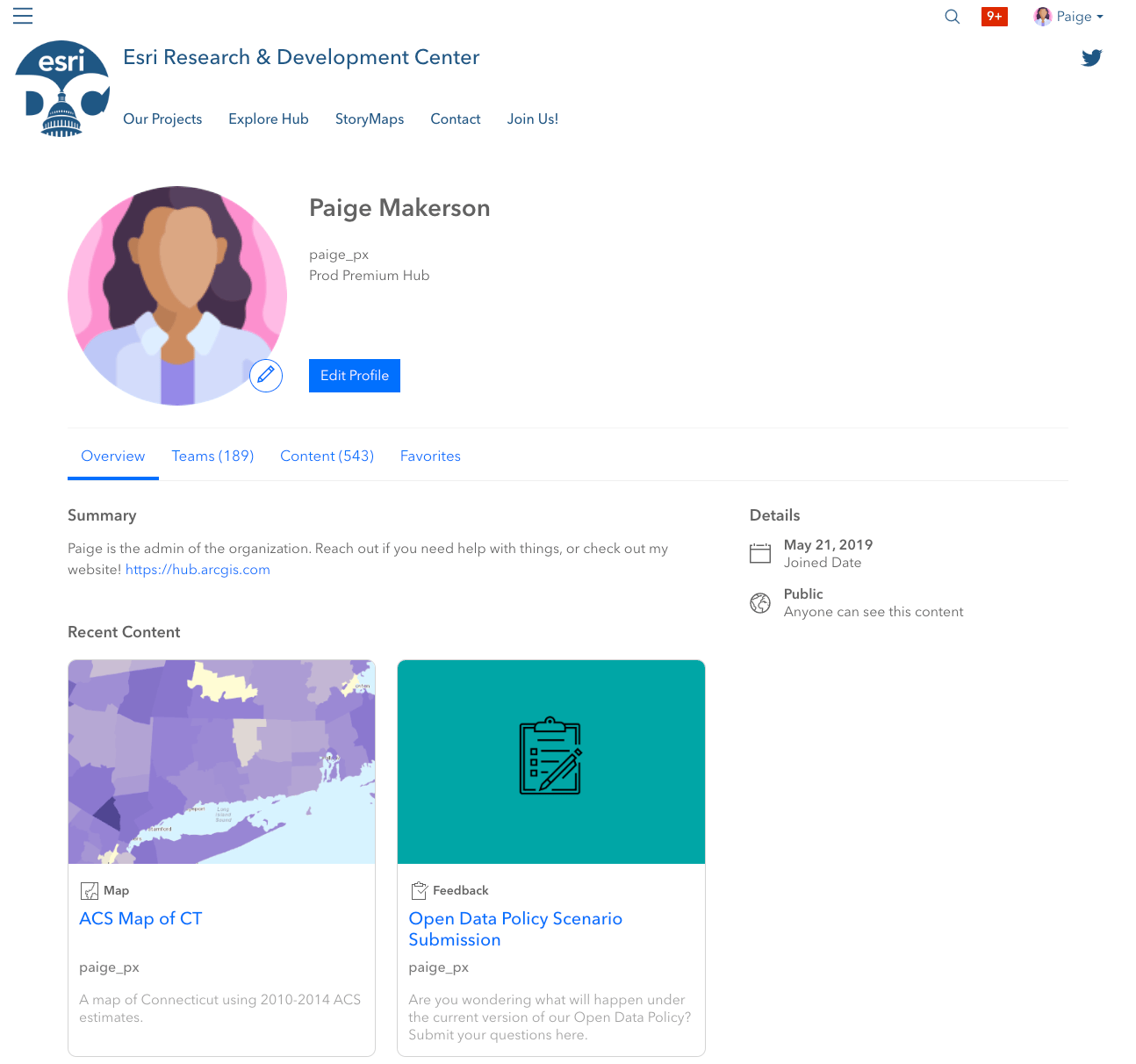 Light the way with layout cards
Text card and Calcite Design system

– The text card templates (e.g., the Button, Wide Card, Cards, and Accordion options you can add in a text card using the "+" insert button) are now built with

Calcite

components instead of HTML snippets. These components will be easier to modify and maintain. 

 

Share map and iframe cards

– Just toggle sharing on or off in the card's options. A site visitor can click on the "share" button, to copy a link that will go directly to that card on the site.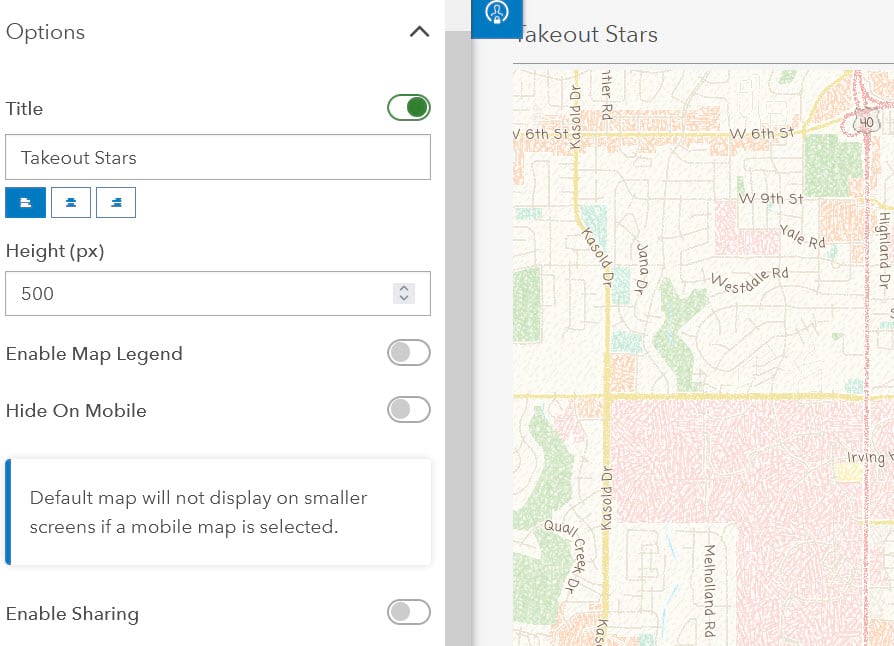 Gallery card changes

– Item thumbnail ratios are respected for all card configurations. Text is centered on all card configurations for consistency. You will also see subtle, visual differences with Appearance settings such as softer drop shadows. See examples of these changes in the

Esri Community post

.

 

Provide catalog browsing via

the search card

–

You can configure a "Browse" button on the search card, which will send site visitors to the search page so they can browse all items in a content library. Simply locate the Search card in the layout editor and toggle on the "Show Browse Button."

 
Optimize the use of your polished site
Use web analytics

– You can track usage of your Hub site with a range of tools. These include Universal Analytics (UA), Google Analytics 4 (GA4), and additional analytics providers. Site editors can configure the new GA4 option alongside the legacy UA option on the same site to facilitate moving to GA4 (UA set to retire July 2023). Configure web analytics in your Hub site Settings > Tracking & Consent.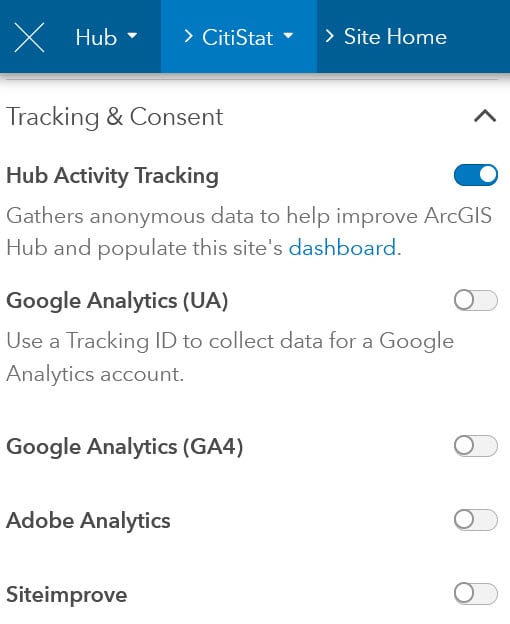 Domain redirects

– Site editors can now configure a domain redirect on their site. If you edit or change your site's primary (custom or default) domain, you can set up a redirect URL. 

 

Custom meta tags

– Hub site editors can add Custom meta tags in the site-editor panel to guide users to your site (help improve search engine optimization).

 
Let's wrap it up
The Hub team releases updates on a weekly basis so be on the lookout for fresh fixes, bugs that are addressed, and exciting new additions to the software. Speaking of that, here's what's new in ArcGIS Hub part 2! Scan our changelog for a succinct list of these frequent updates. You can turn to the Hub web help for more in-depth information and workflows.
Check out this upcoming webinar on Maximizing Volunteer Impact with ArcGIS Hub. As always, we welcome your questions and comments on the ArcGIS Hub Community page.  
Images (non-screenshots) are from Unsplash (Card by Markus Winkler) and Pexels (Banner by Pixabay)