Geographic Information Systems (GIS) have been a tremendous part of the way that paper maps have evolved into current technology.  GIS is helping governments, organizations and students think spatially, and to speak the language of mapping.  We at Esri really appreciate how GIS has made the joy of exploration and understanding more accessible to a wider audience, and our users have produced and shared maps and visualizations from around the world.  Now, we can explore other worlds!
We've recently developed the ability to use other planetary coordinate systems with a 3D globe, and the timing couldn't be better as we anticipate the landing of the Perseverance rover.  Digital elevation models, precise imagery and spatial data representing previous rover landing sites all display accurately under the Martian coordinate system, and this 3D application enables your exploration of the Martian surface.  We've included a few tools that we thought would help you better understand the shape and scale of Mars, and to quickly find information on the previous landing sites.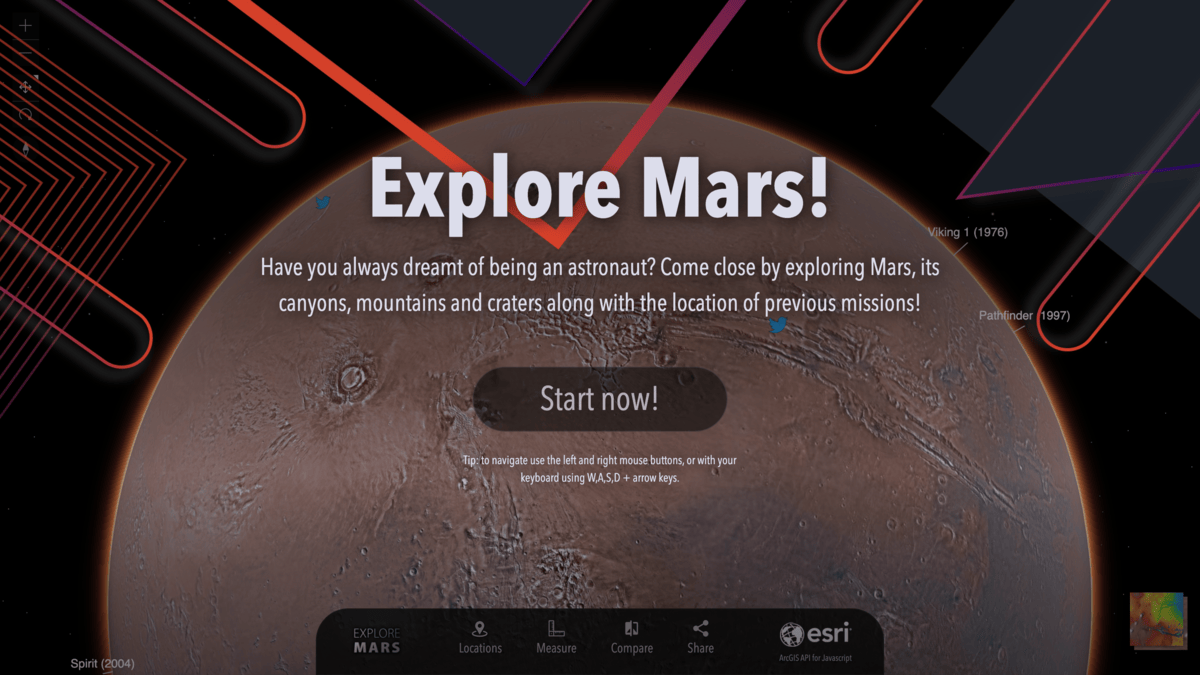 Locations
Perseverance, Curiosity and Opportunity all have landing sites and paths that you can easily explore by selecting that Rover from the Locations setting.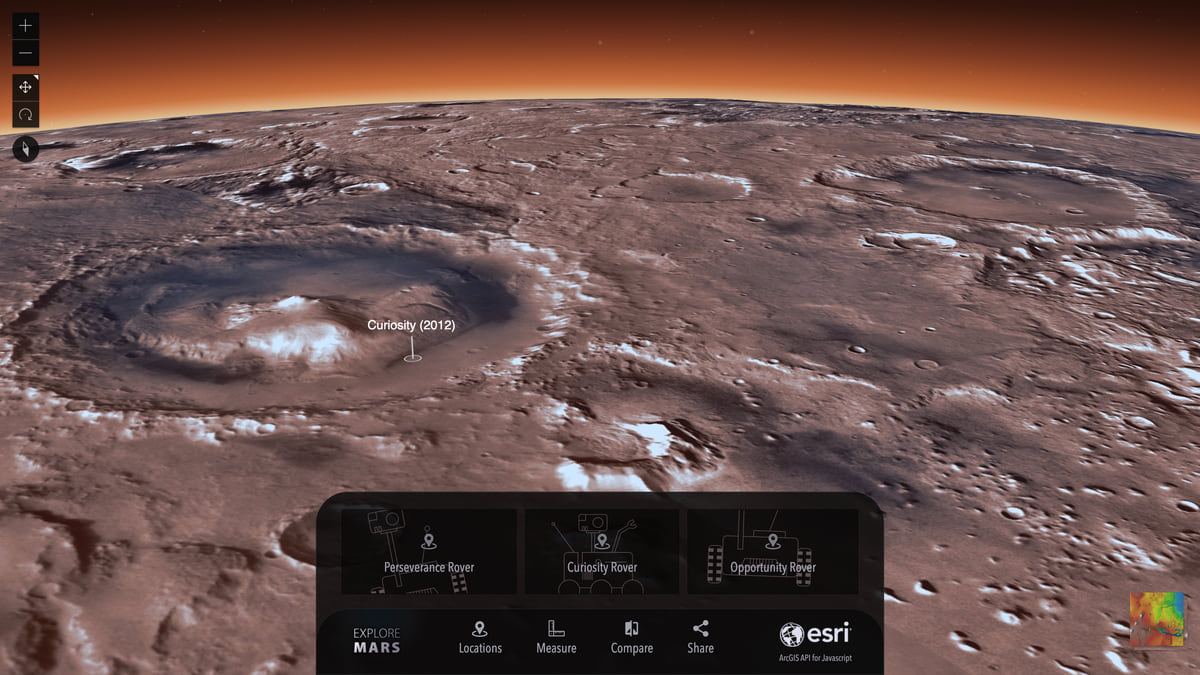 Measure
Measurement tools are a helpful first step to answer some basic questions:  "How big is that crater?" "How tall is that mountain?"  As we're utilizing the Martian coordinate system for display, the data is accurately displayed based on the real size of the planet. We offer three measurement tools for you to work with, and all of these can display results in different unit measurements:
Line: From a distance, you can draw a line along the surface of Mars that will curve to measure longer geodesic length.  You can also zoom into a crater, for example, and measure a straight line that will also measure horizontal and vertical distances.
Area: You can draw a polygon to learn surface area and perimeter.  Double-click to finish the polygon and see the area and perimeter.
Elevation: You can draw several line segments to understand the elevation with a profile graph.  The graph starts to show as you're drawing the lines, and you can double-click to see the finished result.  This is useful to understand what Perseverance's path will look like as it will traverse some hilly terrain.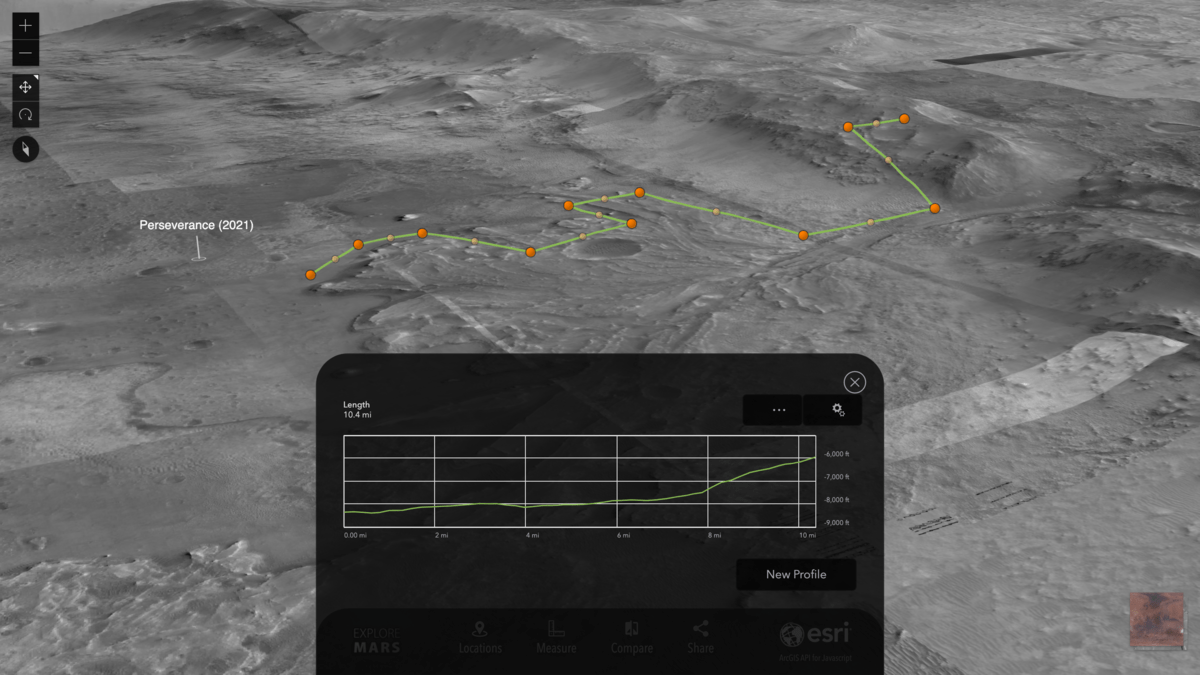 Compare
So much of our spatial understanding is based on making comparisons with what we already know.  To better understand Mars, we thought it would make sense to overlay known 2D and 3D features to give you a better sense of scale.
Regions: You can place countries and states (regions) in their true size on Mars to help you imagine size and scale.  What would a road trip across Mars look like?  Place and rotate your favorite region on Mars, and make sure to plan some good sightseeing!  It's surprising for many to learn that Mars is smaller than Earth. You can really see that with Texas on Mars (below).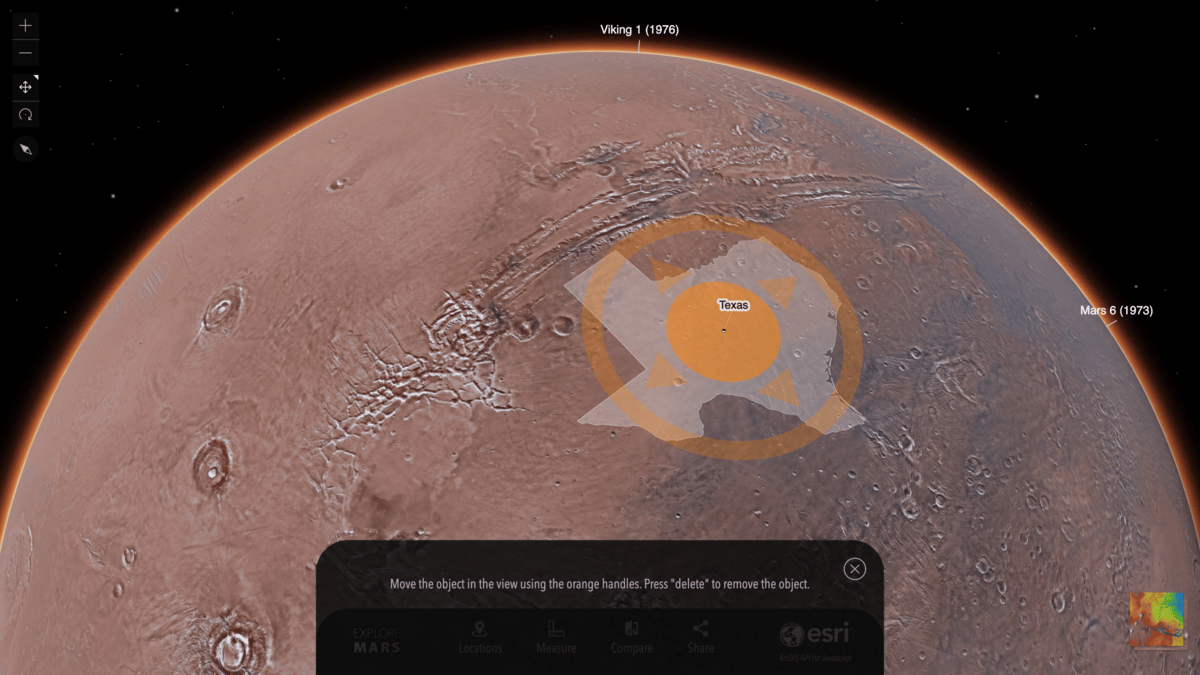 3D Objects:  Ever wonder what an iconic city or geographic feature would look like on Mars?  Now you can find out!  Buildings and mountains are an especially valuable reference point for height, and you can now place the Grand Canyon inside the Valles Marineris to understand the tremendous depth of one of the largest canyons in the Solar System.  You can also take a snapshot of New York City with a Martian background.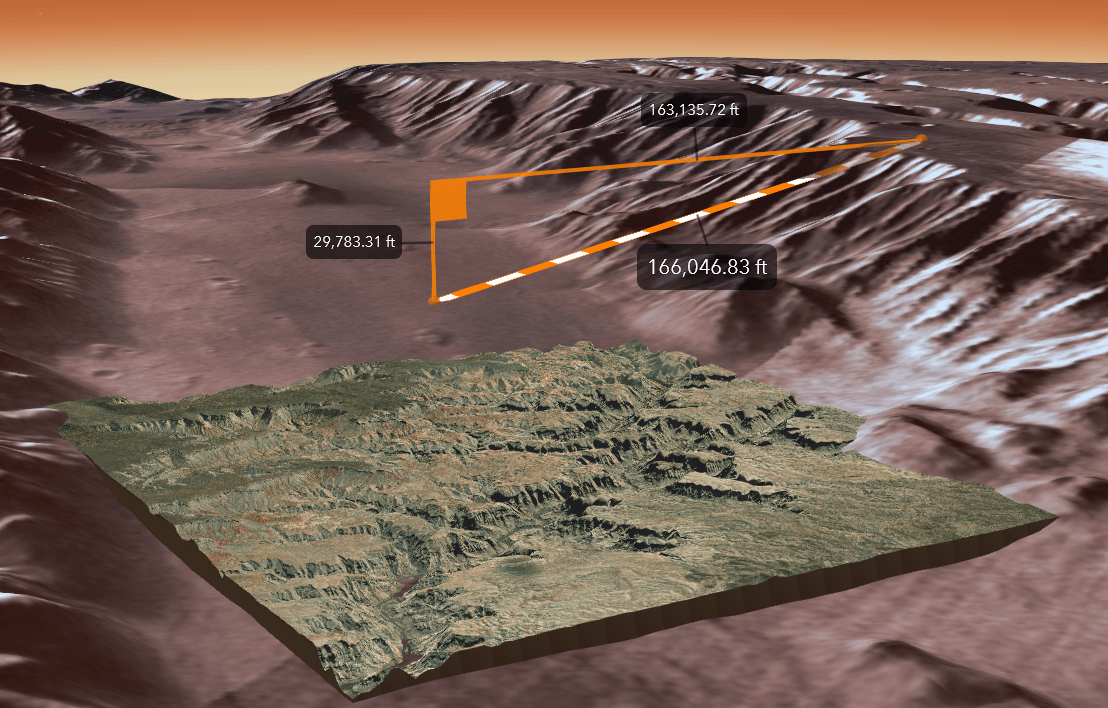 Share
As you're travelling vicariously along Mars, share what you're finding with a quick snapshot on Twitter.  This will make it easy for your friends and followers to see your point of view and explore Mars for themselves!
Enjoy the exploration!