Updated December 8, 2017:  The Esri Vector Basemaps were recently updated to a new version (v2). The best way to access them in ArcGIS Online is through the Esri owned Vector Basemaps group, which contains the latest set of web maps and tile layers. See What's New in Esri Vector Basemaps (December 2017) for information related to this update.
—
With this latest update, there is a handful of news to report on the Esri Vector Basemaps. The vector maps now display at larger scales. There's a new styling app called mapstyler. Data contributions from more than two dozen communities were added to the tiles. For these and other vector basemap related topics, visit and bookmark this link.
.
Expanded LOD
The display of the vector basemaps is expanded to match the largest scale display of other basemaps, like World Imagery, with this release. This allows all vector basemap styles, including Imagery Hybrid (below), to continue to display content in the Map Viewer down to Level 23 (approximately 1:71).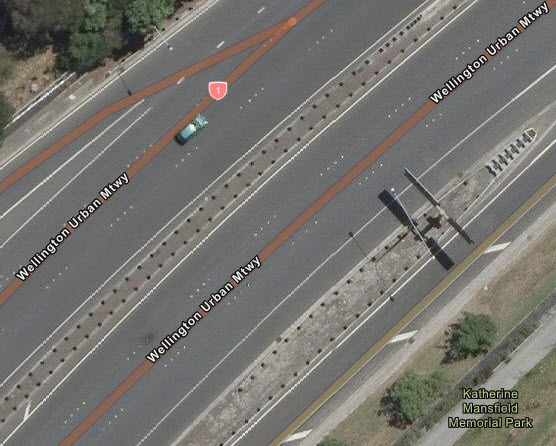 Introducing mapstyler – a new app from Esri UK Map Labs
Mapstyler is a new app from our colleagues at Esri UK Map Labs. It offers a couple different ways to quickly restyle the Dark Gray Canvas vector basemap. Their full blog is found here, or take a look at some highlights of this tool.
We have published an updated version of mapstyler that can be found at http://esriuk.com/mapstyler. As well as being able to drag and drop an image, there is a colour option that gives you a colour palette as a starting point that you can then tweak. With both styling methods, you can save your styled map as an item in your ArcGIS Online account by clicking the heart in the top right. There's currently no mobile support so you'll need to be at a computer to use it. The code can be found on GitHub at https://github.com/maplabs/mapstyler.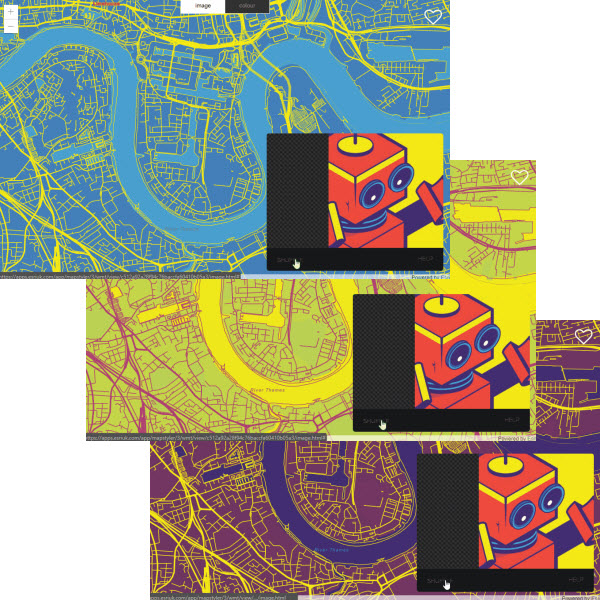 Drag and drop example using an image, above. Click shuffle to cycle through different image color combinations. Color picker and palette editor option, below.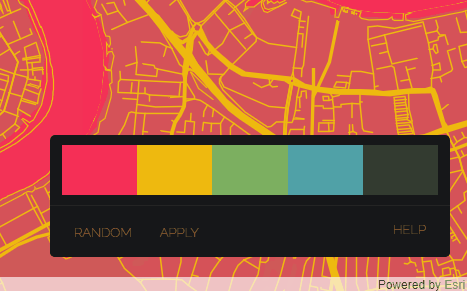 After making color changes with mapstyler and saving a copy of the tile layer to your ArcGIS.com account, you can use the new styled map as is in your maps and apps. Or use it as a starting point to complete your design changes in one of our other vector basemap editor apps. Or you can just use these other two editors and start from any of the Esri Vector Basemap styles.
Vector Style Editor (beta) – Editor based on making changes to map layer style settings or changes by color. This editor is more menu driven rather than code-based editing. Edits are displayed in real time in a preview map and can be saved out to the tile layer in your ArcGIS Online account.
Vector Style JSON Editor (beta) – Allows you to make style edits to a vector tile layer from your ArcGIS Online account. The edits are applied directly to the JSON code and can be applied to the layer and viewed on screen prior to saving the changes to your account.
The Reference Document is a resource to help you become familiar with the layer structure and naming conventions of the Esri Vector Basemaps.
.
Featured Use Case of Esri Vector Basemaps
This month, we're featuring the Idaho Fish & Game Hunt Planner which uses the Esri Vector Topographic web map as their default basemap. This interactive map, available at their Map Center, features data overlays covering topics such as wildlife management and hunting zones as well as campground points with pop-up information, emergency road closures, wildfire-related layers, and more.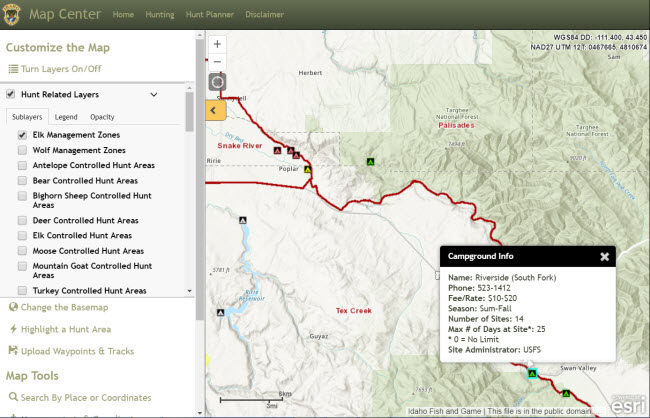 Hunt Planner Map Center  Make your own maps. Pan, zoom and overlay layers including hunt boundaries, topography, aerial photos and land management.
2017 Hunt Area Map Index  Find the hunt boundary you are looking for and jump directly to maps and information.
.
Data Updates and Community Contributions
As we continue to update data in our vector basemaps, there are some changes to make note of in this latest release. We updated our HERE map data across Europe and added content from contributions through our Community Maps Program. These updates also appear in our WGS84 vector maps available in the same styles as the Web Mercator versions.
Here's the list of 20 new communities (bold) and 11 updated communities contributing data in this current vector tile set release. Visit this site for more information on the benefits of and steps to contribute your authoritative data to the Esri Basemaps and the Living Atlas.
Aiken County, SC
Binghamton University, NY
Bozeman, MT
Cambridge, MA
Clear Creek County, CO
Cuyahoga County, OH
Decatur, IL
Goodyear, AZ
Lawrence, KS
Longview, TX
Mansfield County, OH
McLean County, IL
Mesa, AZ
Minneapolis, MN
Missouri Dept. Conservation
Murray City, UT
Natural Resources Canada
Normal, IL
Old Orchard Beach, ME
Ontario, Canada
Parks Canada
Perth, Australia
Philadelphia, PA
Pontiac Twp (IL) High School
Roseville, CA
Sangamon County, IL
Somerset County, NJ
South Dakota State Univ.
Toronto, Ontario, Canada
Westminster, CO
Woodland, CA
 
Vector basemap new contributor: Normal, IL provided buildings, land use polygons, parcels, points of interest, special area of interest, trails, waterbodies, and waterlines. Many of these features are seen in this Topographic map presentation of Illinois State University, as well as in the other vector map styles.
.
Organization Administration
As previously reported, organization administrators can choose to use Esri vector basemaps as the default in the Map Viewer and Scene Viewer basemap galleries. Check Use Esri vector basemaps in supported ArcGIS apps in the Map tab under Edit Settings.
Those accessing the Esri Vector Basemap web maps will always be connected to the latest vector tile layers. If you created maps or apps during the beta period of the Esri Vector Basemaps (June 2015-December 2016) and haven't updated the underlying tile layers, you are not using the most current style or tile set. The current URL is:
https://basemaps.arcgis.com/v1/arcgis/rest/services/World_Basemap/VectorTileServer
The URL for beta layers has "b1″ or "b2″ instead of the production "v1″. This URL can be found on the lower right of any of vector tile layer item page (World Navigation Map for example). If you are using layers with the "b1″ or "b2″ URL (beta layers), it is recommended that you update to the current production layers. Older tile layers also carry "mature support" in their title.