The coronavirus (COVID-19) pandemic has significantly impacted the workforce of many organizations.  As business and government leaders think about employees returning to work and locations reopening to the public, location-based data helps them understand the extent of the epidemic near their business locations, improve internal business operations that ensure the health and safety of all individuals in their facilities, take steps to control health risks quickly, and engage key stakeholders.
Today, ArcGIS users can deploy a series of solutions designed to help organizations safely return to, and remain in, the workplace during the COVID-19 pandemic.  You can deploy the solutions as a comprehensive location-based system that can be used to understand workforce capacity, organize a reopening strategy, develop health safety plans, and conduct health screenings. Or, select an individual solution that meets your organization's specific needs.
Understand Workforce and Facility Status
The rapid switch of office workers to home offices, frequently changing government regulations, and employee inability to report to work has made it difficult for organizations to understand the capacity of their workforce during the COVID-19 pandemic. Organizations need to know who is able to work, and where employees are working from, to make business continuity decisions.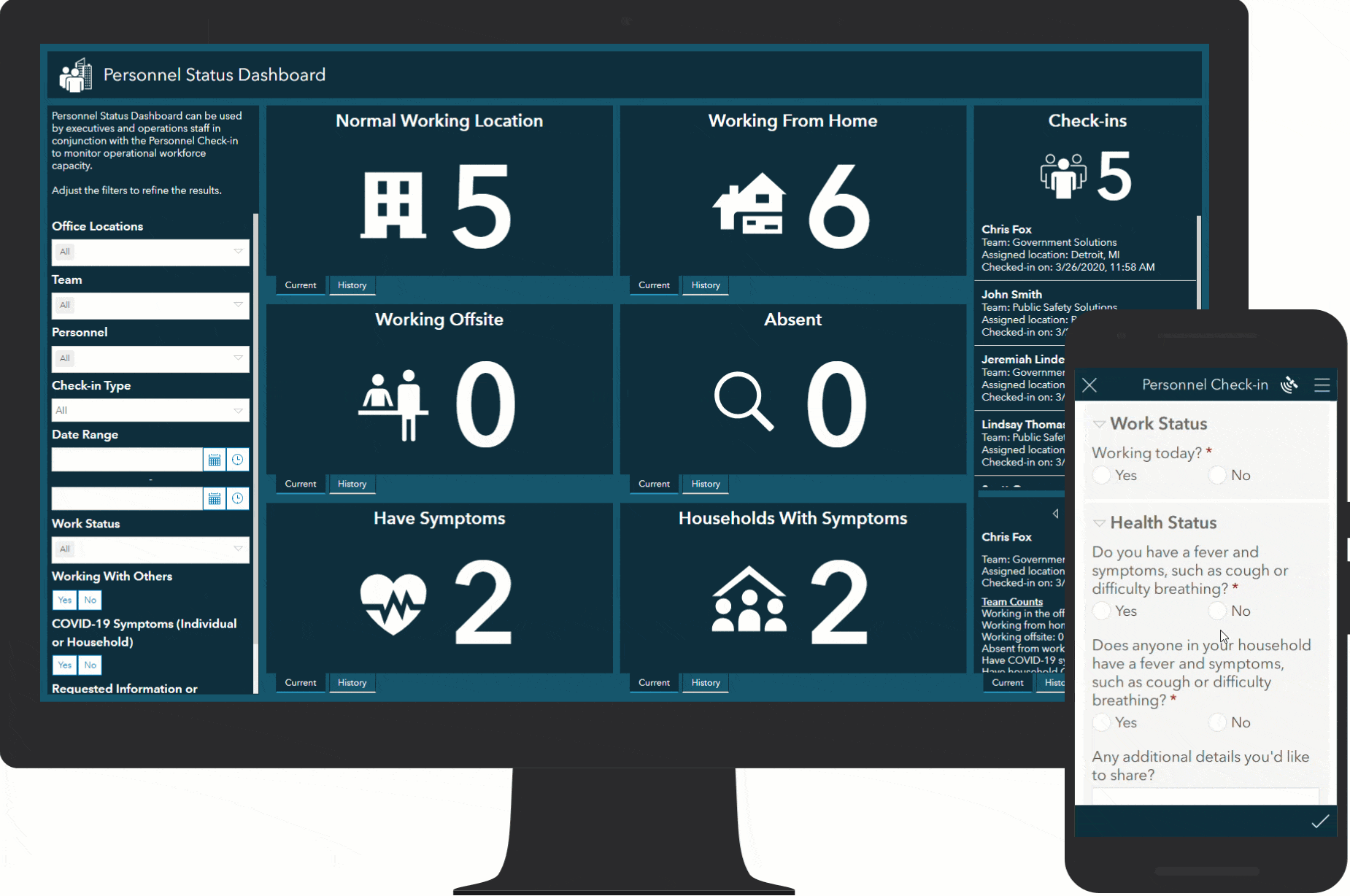 The COVID-19 pandemic has impacted facilities managed by many organizations through reduced staffing levels, changes to customer access, government mandated closures, and other disruptions.  As the pandemic continues and health restrictions evolve, organizations need a dynamic way to understand the status of their facilities and the ability to share facility information internally and externally as appropriate.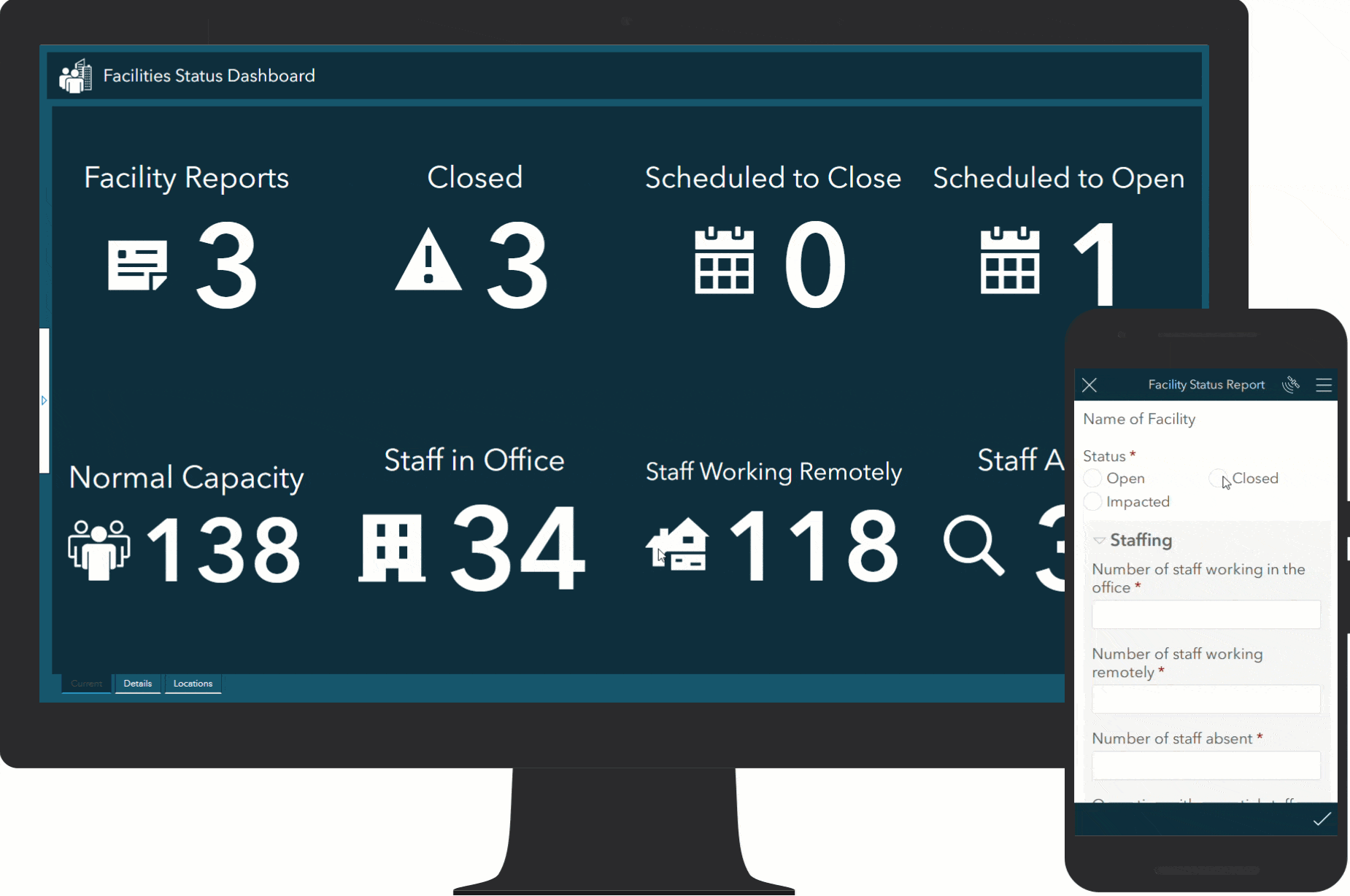 The Coronavirus Business Continuity solution can be used by businesses, utilities, and government agencies to maintain business operations and share authoritative information with customers and stakeholders during the COVID-19 pandemic.
Learn more about the Business Continuity solution.
Plan Reopening
In the United States, reopening plans align with the lifting of stay-at-home or shelter-in-place orders and other specific requirements set forth by state, local, and tribal governments. Employers need to continually monitor COVID-19 case trends and appropriate health restrictions for updated information about ongoing community transmission, mitigation measures, as well as, best practices for worker protection.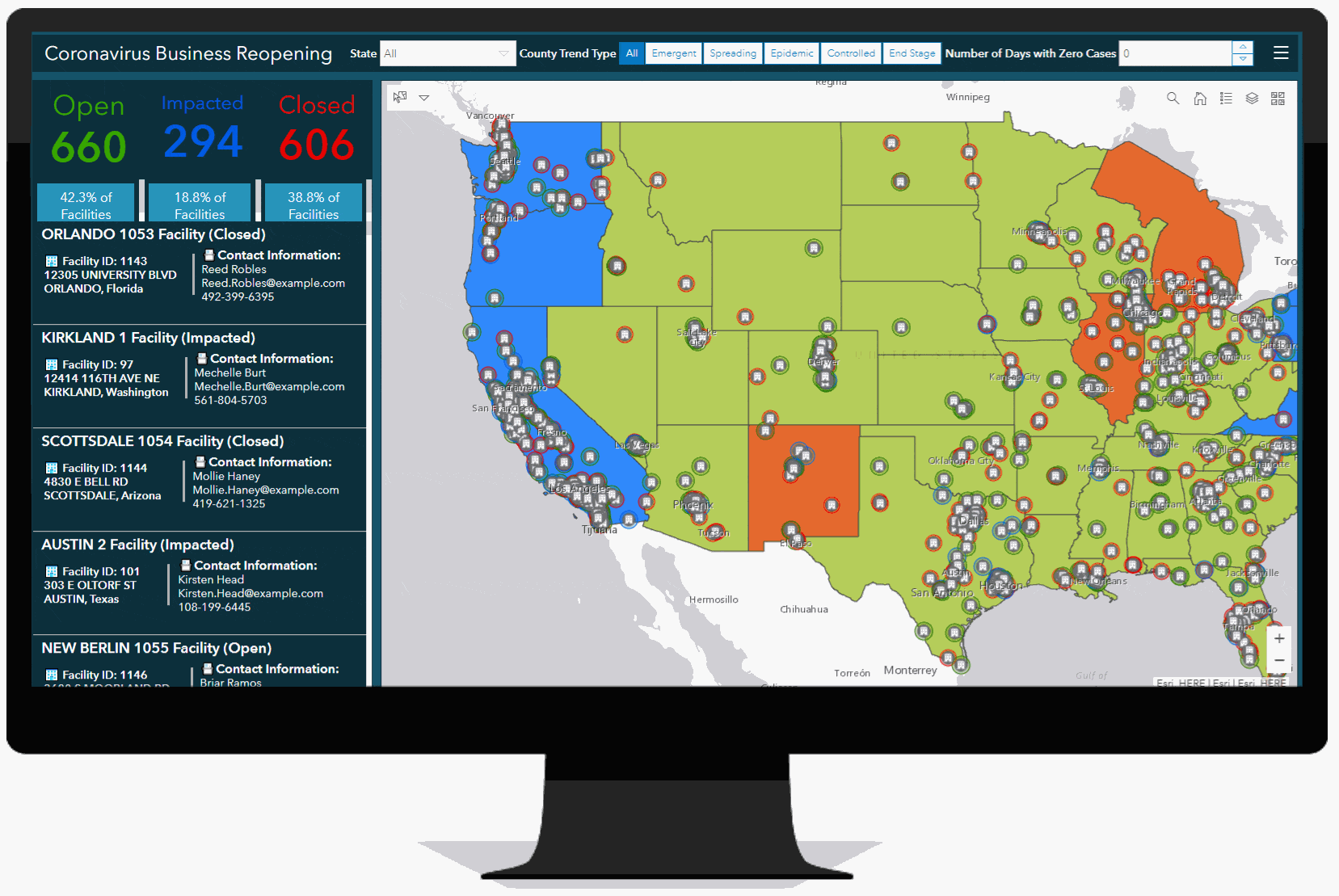 The Coronavirus Business Reopening solution can be used by businesses, utilities, and government agencies during the COVID-19 pandemic to guide the reopening of locations that reside in multiple jurisdictions.
Learn more about the Business Reopening solution.
Develop Health Safety Plans
As businesses, governments, universities, and other organizations begin plans to reopen, creating health safety plans for each site or facility is critically important to a safe reopening. The plans lay out preventative measures taken to ensure potential health issues are responded to in a timely, safe, and effective manner.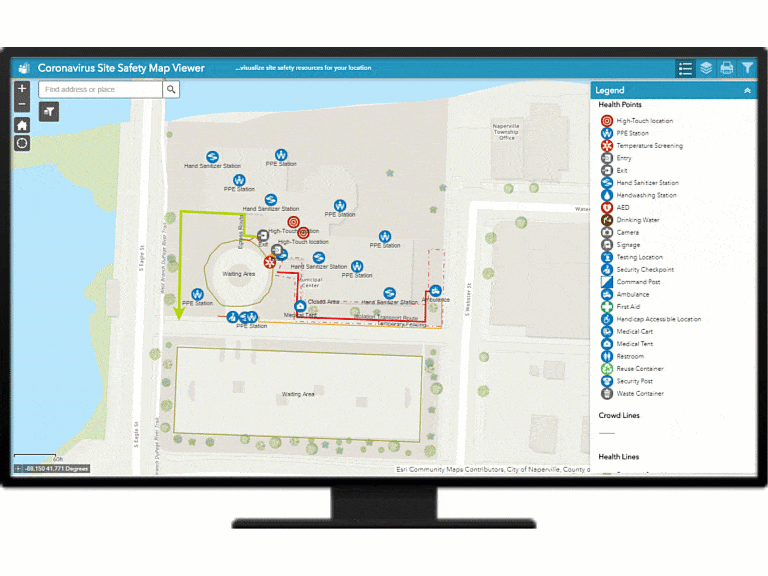 The Coronavirus Site Safety solution can be used to create a COVID-19 health safety plan (for example, temperature screening locations, handwashing or sanitizer stations, personal protective equipment (PPE) stations, isolation areas, etc.), estimate crowd capacities and monitor social distancing, track cleaning and disinfecting, monitor restocking of PPE stations, and report coronavirus-related problems and issues.
Learn more about the Site Safety solution.
Conduct Health Screenings
As a businesses, governments, universities, and other organizations reopen, they are taking measures to prevent the spread of coronavirus.  Many are asking employees and visitors to attest each day that they are symptom-free and requiring a temperature check before permitting access to a building, facility, or site.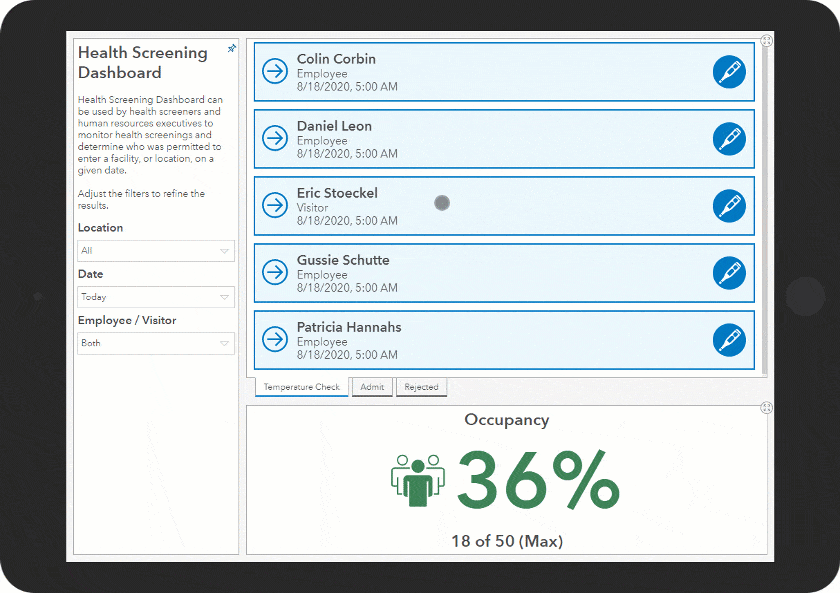 The Coronavirus Health Screening solution can be used to conduct COVID-19 employee and visitor health screenings, record the result of a temperature checks, and track who was permitted to enter a facility, or location, on a given date.
Learn more about the Health Screening solution.
Additional Resources
New to ArcGIS?  Contact the team at Esri to learn how your organization can leverage ArcGIS and the Returning to the Workplace solutions.
If you are an existing ArcGIS user, visit the ArcGIS Solution site to learn more about the coronavirus solutions and how you can quickly deploy these solutions for your organization.  For questions and feedback, chat with us on GeoNet or contact Esri Support Services.
Finally, Esri is providing several resources to help organizations combat the coronavirus.  The COVID-19 GIS Hub is the place to access additional resources and to request GIS assistance from Esri.