Every healthcare journey is unique. Yet, when viewed from a macro perspective, these individual pathways reveal patterns, gaps, and opportunities that can be addressed to create a more resilient healthcare system – a system that is convenient and accessible, where people get check-ups and screenings, and the cost of care diminishes. Enter the world of network adequacy and optimization—a multidimensional domain connecting geography with healthcare, where providers and patients converge, and disparities in access to care are brought to the forefront. This blog invites you to explore this dynamic realm and uncover the transformative potential of geographic information system (GIS) technology in shaping future healthcare trajectories.
Understanding Network Adequacy & Its Intricacies
At its core, network adequacy represents a standard. It ensures that health plans meet specific criteria, whether set by state or federal authorities. These criteria are meant to ensure that insurance plan members can access their entitled benefits without undue hardship.
However, defining "adequacy" is more complex than it appears:
Standards vary. A fragmented approach exists with no universal benchmark, resulting in varied standards across federal entities and states. Although most entities generally include (1) travel times and distances between plan members and providers, (2) provider-to-enrollee ratios, and (3) appointment wait times, the determination of what is considered reasonably accessible for each measure can be different from regulator to regulator.
Divergent stakeholder goals complicate the situation. Insurers, focused on controlling costs, might design networks that, although economical, may lack comprehensive coverage. On the other hand, governmental entities strive for enhanced coverage quality, ensuring citizens have access to the best possible care.
Such challenges are underpinned by multiple influencing factors: geographic accessibility, capacity constraints, fluctuating costs, quality of care, and an ever-evolving regulatory landscape. Still, amid these complexities, the goal remains constant: improve health outcomes for the population.
Why GIS is Indispensable in This Journey?
The beauty of GIS lies in its precision and depth. It provides an indispensable perspective, allowing healthcare providers and planners to gauge patient access across diverse metrics:
Travel Considerations: Time, distance, and mode of transportation (acknowledging that not all individuals drive) become critical factors. Whether it's public transit in urban areas or walking cycling and other forms of commute in rural areas, GIS accounts for them all.
Dynamic Real-time Analyses: Traffic patterns, service availability fluctuations, and demographic shifts are continually evolving. GIS ensures that these dynamic elements are integrated into analyses, ensuring real-time relevancy.
Unmask Disparities: Health disparities often become evident when viewed through the GIS lens. With GIS and network accessibility data as a foundation for robust network health analyses, healthcare delivery can move from adequate to optimized.
It's worth noting at this stage that not all GIS technology systems are the same. It's critical to assess a system's ability to geocode addresses with high precision and ensure that travel calculations are made using an accurate street network. If these are not correct, how can you be sure you're really solving for access problems?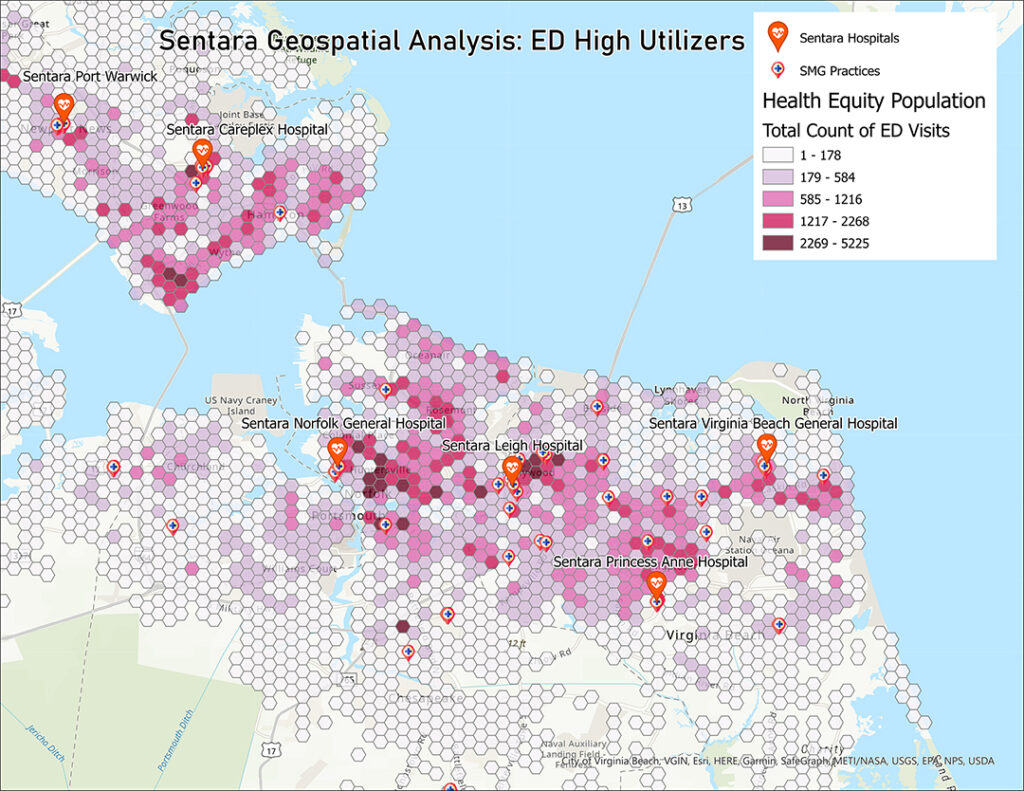 How GIS Transforms Healthcare Landscapes
Beyond the intricate calculations surrounding geographic access to healthcare lies the transformative potential of spatial data science in optimizing network configurations, making informed staffing decisions, and identifying growth avenues. Applying GIS as an analytical tool, healthcare organizations can tap into a wellspring of opportunities:
Data-Driven Visualization: Integrating diverse datasets—from demographics to claims, and from referrals to surveys—GIS provides a holistic view of network health, bringing to light latent patterns and trends.
Strategic Optimization: Gaps, overlaps, and imbalances become discernible, enabling strategic realignments. Whether it's recalibrating provider networks or understanding patient clusters, GIS provides actionable insights, ensuring that network health is not just maintained but enhanced.
Championing Health Equity: Beyond operational efficiencies, GIS stands as a beacon for health equity. It aids in mapping care access, spotlighting underserved communities, and tailoring interventions to bridge gaps. The goal is not just access but equitable access, ensuring that every individual, irrespective of their geographic or socioeconomic status, receives quality care.
Regulatory Compliance & Future-Proofing: As regulations evolve—like the recent requirement to increase collaboration with Essential Community Providers (ECPs) to 35% or the impending CMS mandate for network transparency—GIS equips healthcare entities with the data and insights needed to remain compliant, while also charting a course for future growth.
Increase your RFP Success Rate: With a robust provider network and a proven dedication to network adequacy and optimization, you'll gain a competitive advantage when crafting responses to Requests for Proposals (RFPs).
The convergence of GIS with healthcare is not just timely; it's transformative. In a rapidly evolving healthcare landscape, the value of GIS in streamlining network health and promoting health equity cannot be understated. The opportunity to leverage this powerful tool is immense. Let's embark on this transformative journey together.
Let's talk about your network's health. Write to us at healthinfo@esri.com.