We've been a bit busy getting ready for "code complete" for ArcGIS Earth 1.0.  I've had a few more questions from users about how different types of content can be used in ArcGIS Earth beta and there are a couple of nuances that we haven't talked about yet.
Partner hosted content
We have several partners who are already sharing content for trial through ArcGIS Online and we'll be encouraging more to participate, especially as we improve the ArcGIS Marketplace next year.  Many of you have seen the Pictometry San Francisco buildings that were referenced in one of my last posts.
The pattern for partners (or customers) to share 3D and 2D content with their ecosystem is to establish an Organization in ArcGIS Online or in a Portal for ArcGIS Server that is outside a firewall, invite ecosystem participants (customers or partners) to their Organization, and then to share services into that Organization that can only be seen by participants.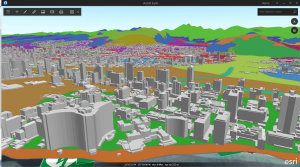 Note that to share 3D content, such as the 3D building scene layer shown in this example, you'll need to publish the content from ArcGIS Pro to an on premises Portal for ArcGIS Server federated with Server (10.3.1 or later).  We are looking at hosting such content in ArcGIS Online in the future.
Living Atlas Content
Some Living Atlas content is not publicly shared and is available only to users with named user accounts (details available elsewhere).  Esri customers and ArcGIS Online trial users can find restricted data layers in ArcGIS Online through ArcGIS Earth and will be prompted to enter their credentials before the data is added to Earth.  Living Atlas content that is limited to named users can include curated and modeled ecological content, world traffic services, weather services, curated imagery services and more.
Video demo
Here's a quick look at working with partner and Living Atlas content in ArcGIS Earth 1.0 beta. In this case, we're working with some data provided courtesy of CyberCity 3D.
[youtube width="425″ height="300″]https://www.youtube.com/watch?v=YsiehZJaOII[/embedyt]
If you haven't downloaded Earth yet, the beta is available here.  Let us know what else we can share to help you learn about ArcGIS Earth!