In the last several years, Esri has put significant development into helping users consume, create, explore, analyze, and share 3D GIS data.  Users can automagically grow 3D data from 2D using procedural rules.  Users can sketch their own 3D shapes.  Partners are now producing 3D content in the OGC® I3S Community Standard specification.  Customers are engaging with service providers and content creators to collect and generate 3D GIS data to describe their cities, construction sites, and every other aspect of the real world.
One of the requests that we receive consistently is for more information about how users can describe the 3D content that they need to acquire or purchase.  In the broader 3D market that includes GIS but also film and game technologies, there are multiple descriptors and definitions for 3D content, some of which were designed for industries that have different performance constraints and analytical demands than the GIS market. Because of technology, creation techniques, and target application or user experience, the detail and informational content in a model can differ considerably for models that represent the same types of real-world assets.

To help the conversation between users, content providers, and Esri, we've put together a whitepaper that discusses some of the challenges that users have when describing 3D assets to be used in GIS.  The paper proposes new terminology, including the Graphic Complexity Index (GCI), to help users characterize content that they want to apply in GIS visualization and analysis experiences.  The whitepaper is now live on esri.com.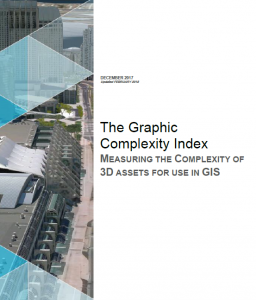 The whitepaper is intended to be an exploration of many of the considerations that go into specifying and describing 3D models for use in GIS applications.  We have introduced concepts to start a discussion about how users can best describe 3D GIS model assets for creation and acquisition.  The information in the paper may also help users understand how the same 3D model content may perform across different experiences on the web, on the desktop, and on mobile device applications.
The whitepaper is available here: https://bit.ly/3BcR5lQ