In this latest update to ArcGIS Online and Scene Viewer, you can now measure in 3D; we improved scene layer performance significantly; and we added the ability to insert custom symbols to your scenes.
Measure
You can now measure distances in 3D between two points with Scene Viewer. This new interactive tool lets you dynamically calculate distances as you move over features, terrain, buildings or point clouds in your scenes. With just one action, you can measure the direct, horizontal and vertical distances. You can also choose different units and leverage laser lines to guide your measurements. To adjust your measurements, simply hover over either endpoint and drag. Read about measure in the doc here.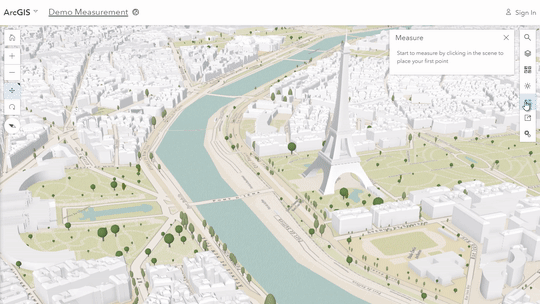 B
B
Scene Layer Performance
We have significantly improved scene layer performance in this release. Your building (3D Object) and integrated mesh scene layers now load up to 50% faster and display front-to-back when loading.
How did we do this? Three main improvements:
Caching

: Once 3D data is downloaded and processed we temporarily store it in IndexedDB so previously viewed areas will reload quicker.

Front-to-back

: We optimized parallel streaming of i3s nodes and data so scene layers load faster and in priority order.

Progressive Loading

: Integrated mesh scene layers now download an intermediate level of detail (LOD) first d then refine to more detailed LOD.
We also made additional performance optimizations and will cover these details in a dedicated blog very soon.
Here is a sample video showing the improvements we have made to integrated mesh scene layer performance.
We also have another video showing the improved performance in a web scene using buildings in New York City.
B
B.
Use custom 3D object symbols
You can now place your own 3D models such as desks and furniture, fire hydrants, or planes in your scenes with Scene Viewer. With the upcoming release of ArcGIS Pro 2.1 in early 2018, you will be able to publish your custom 3D symbols to your ArcGIS Online organization. Once configured, you will find these custom symbols in the Scene Viewer point symbol gallery along with Esri default symbols. Read more about 3D symbols in Scene Viewer here.

B
B
Marketplace Subscription Content
Under the Add Layers pane in Scene Viewer, you will see Subscription Content if your organization assigned licenses for the data layers.
B
B
Experimental Mobile Support
Finally, Scene Viewer introduces experimental mobile support on phones and tablets. We will continue to evolve mobile support in upcoming releases. See the mobile requirements for more info.
Russ