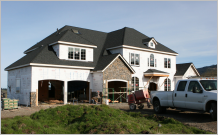 New construction is everywhere in Montgomery County, Maryland, and officials in that suburban area near Washington, D.C., want to ensure that all those new buildings are in sync with community planning.
To do so, regional planners are examining new construction permits. They want to examine how these building trends change over space and time.
In Get Started with Insights for ArcGIS, a new ArcGIS Online lesson from Learn ArcGIS, you will assume the role of a regional planner trying to understand these changes and how they impact Montgomery County. You will get a trial use of Insights for ArcGIS, a web-based, data analytics workbench that allows you to explore spatial and non-spatial questions — as well as discovering new questions that Insights for ArcGIS unearths.
In the 60-minute lesson, you will first create a new workbook and explore permit data using ArcGIS Living Atlas of the World, a global collection of data and maps. You'll then detect patterns to discover why growth is occurring. Finally, you'll share your analysis online.