FYI: Web AppBuilder for ArcGIS v2.7 Developer Edition is now available for download from the ArcGIS Developer's Site.

This update includes the new capabilities that were part of the Web AppBuilder for ArcGIS release embedded in ArcGIS Online last month. Please see this blog post for more details, What's New in Web AppBuilder for ArcGIS (December 2017).
Additional enhancements in this Developer Edition release: the help documentation has been augmented to help developers better work with Web AppBuilder. Two new help topics were added:
About release versions — Web AppBuilder has three release formats: ArcGIS Online, ArcGIS Enterprise, and Developer Edition. This new table shows the relationship(s) between these releases and associated ArcGIS API for JavaScript version.
What's new archive — A compiled list of "What's new" from previous Web AppBuilder Developer Edition releases.
Lastly, a small note was added to the beginning of each individual widget help topic to show when the widget was added to Developer Edition. For example, the Analysis widget was added to Developer Edition v1.1.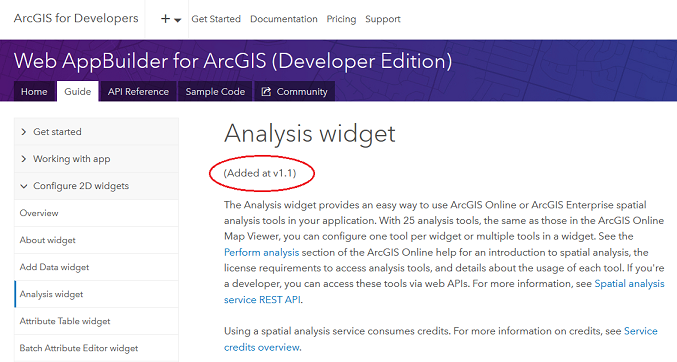 For a more concise list of new functionality in Developer Edition v2.7, please see the help topic: What's new in version 2.7.
Sincerely,
The Web AppBuilder for ArcGIS Dev team