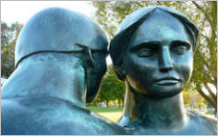 Telling stories is an art as old as speech itself — but an updated Learn ArcGIS lesson will show you how to add interactive maps, multimedia content, and text to the stories you tell.
Get Started with Story Maps is a two-hour lesson that guides you through creating three different types of Story Maps — Story Map Tour, Story Map Cascade, and Story Map Journal. It also includes a series of Story Map examples and explanations.
Learn ArcGIS lessons are meant to be completed sequentially; however, Get Started with Story Maps allows you to pick the module you want.