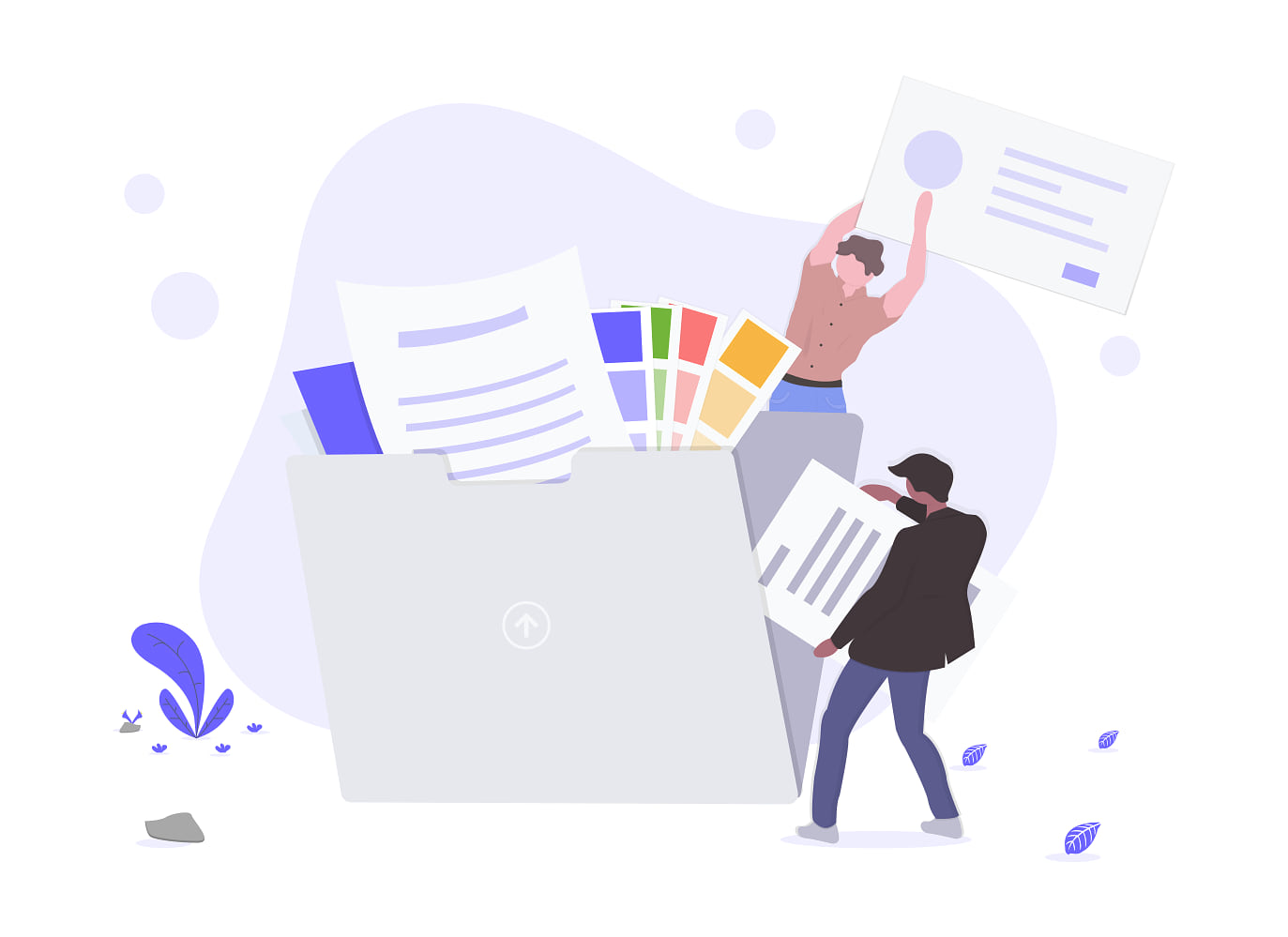 ArcGIS Hub is a community engagement platform. Organizations, such as local governments and non-profits, can use ArcGIS Hub to collaborate with stakeholders, share important updates and generate feedback on public projects, plans, and goals.
We closed out 2019 by integrating Survey123 into our workflows, so that teams can more quickly gain insight and incorporate feedback as part of the work they do with ArcGIS Hub. In 2020, one of our goals is to make it fast and simple for you to share that work with the right audience. That's why today, we're happy to announce a series of enhancements for creating and adding content to your sites and initiatives.
In this post, we'll check out these new workflows and go over some basics to help you start sharing your own content.
Create new content
ArcGIS Hub supports a variety of content (item types including documents, web maps, feature services, etc.). While many of these items must be created using their respective applications, one of our newest workflows provides you with several options to create something new for your site or initiative within the context of hub.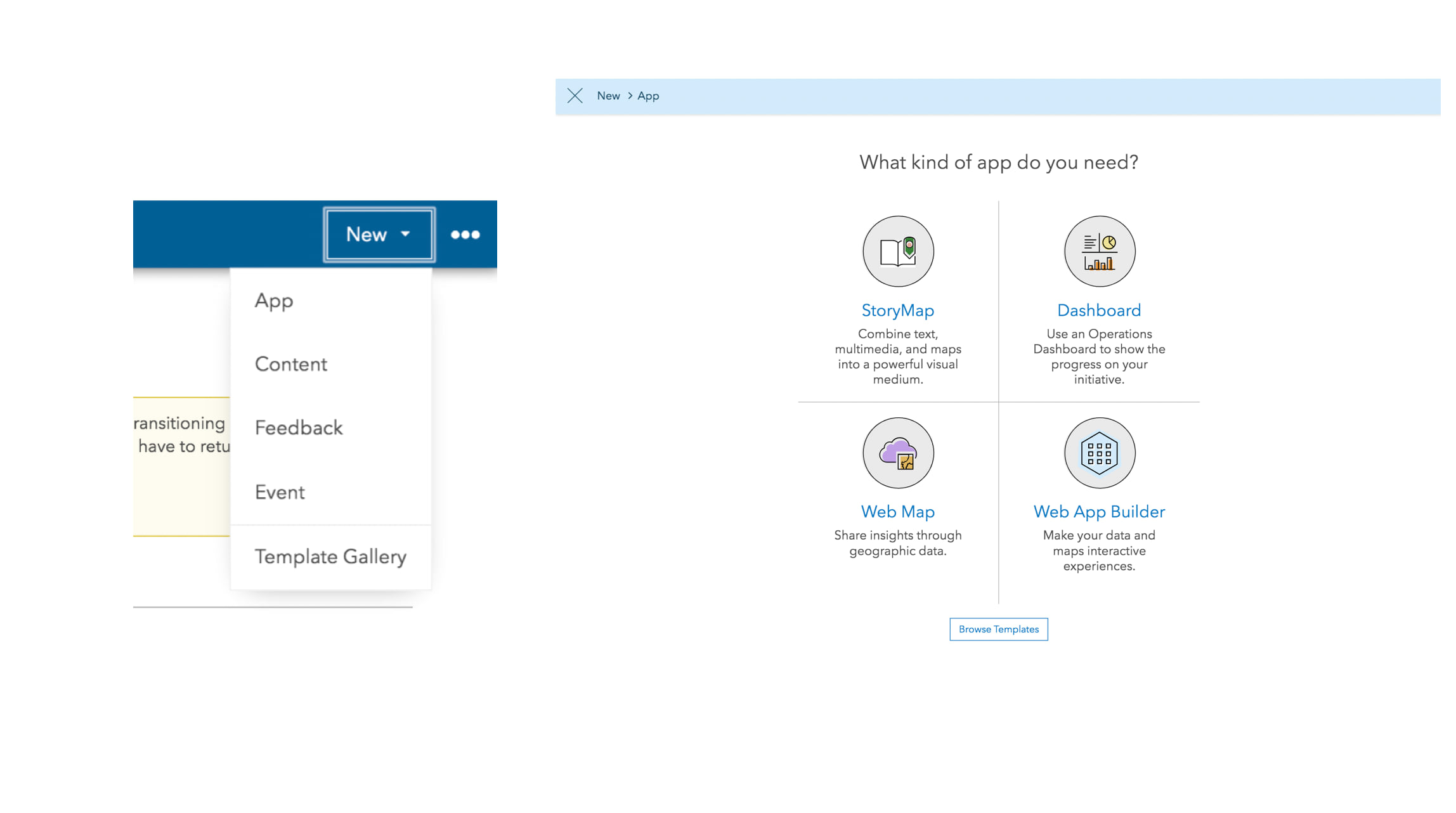 To  check it out, open a site or initiative in edit mode and head to its Content Library. Then, click the new "New" button for fast access to the following options:
App- Create a new StoryMap, Web App Builder, Web Map, or Operations Dashboard.
Content- Go here to upload a file or register a link.
Feedback- Create a new survey or sign-up form.
Event- Share details about an upcoming meeting or get-together, including online access for those who can't make it in-person.
Template Gallery- View templates created by others in your organization or the public and choose one relevant to your work.
Add content with a URL
When you create or upload new content for a site or initiative, the item is stored in your organization's ArcGIS Online cloud-based subscription. That's why you can use the Add Existing button in the Content Library to quickly select items that you or one of your colleagues has already created.
Starting now, you can also quickly register links to content hosted somewhere other than your ArcGIS Online organization.
For example, if you're using ArcGIS Hub to share an open or internal data catalog, you can add content using a link for a feature service, document, or dataset that is hosted somewhere else, including government websites. The full list of supported file types includes the following: CSV, SHP, GeoJSON, ArcGIS Feature Service, XLS, PDF, PNG, JPEG, Document Link.
When you register a link, we'll check the file type provided at the end of the item's URL, but if we can't recognize it you can still add the item manually by selecting the file type dropdown menu.
Get started with the basics
Ready to share some content? Let's review some basics on what you'll need and how you can get started today.
First, you'll need an initiative.
Every initiative you create includes a site, providing you with a blank canvas to share items, include a search bar, craft a message or narrative, add surveys, and create a calendar of events.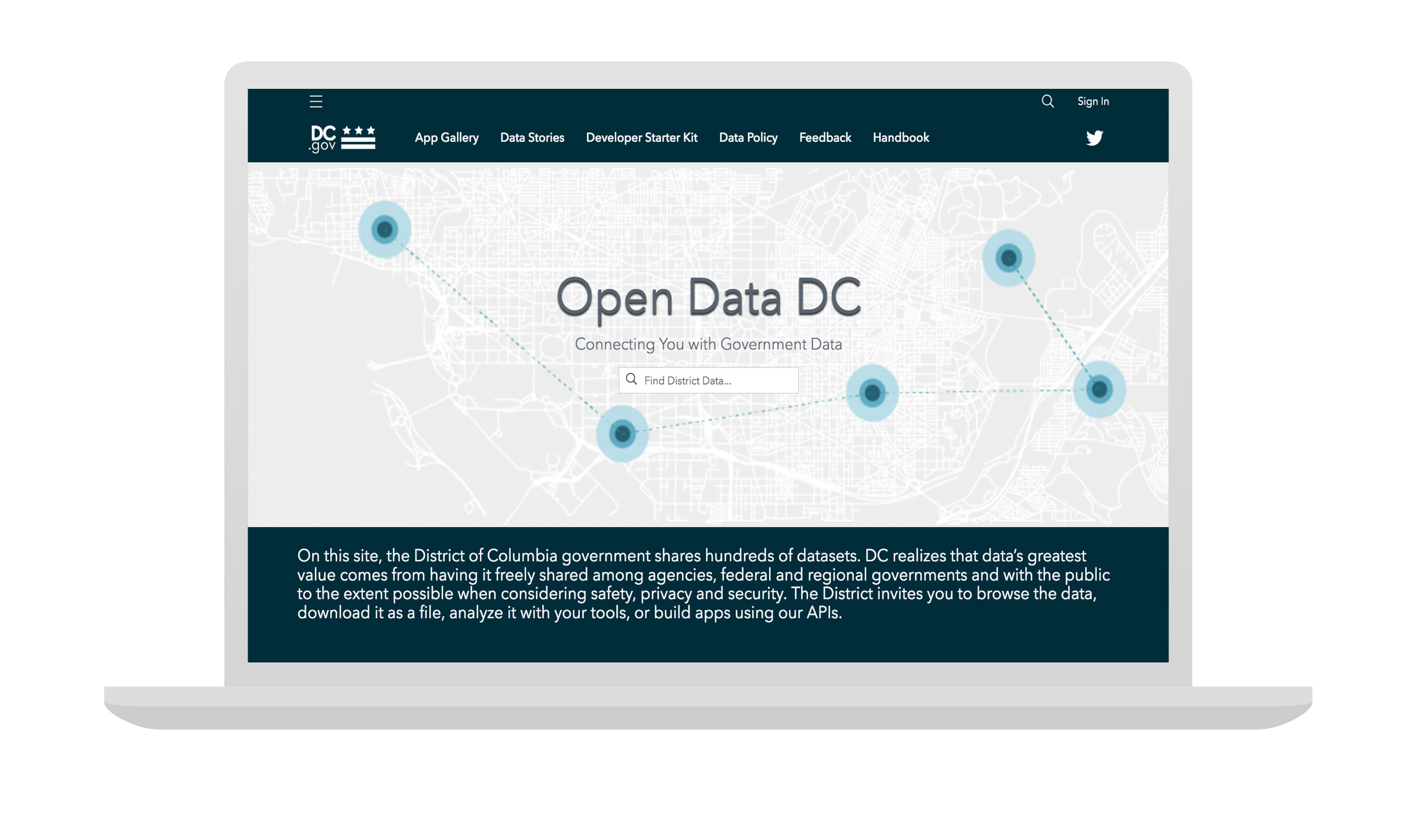 Organizations can also use an initiative to build data portals to give people across teams and in the community access to securely download data in a variety of formats. With easy-to-configure branding and navigation tools, you can seamlessly integrate your initiatives with each other and as part of your organization's larger web-experience.

Initiatives are available with ArcGIS Hub premium. If your organization hasn't licensed it yet, you can get started by
creating a site
with ArcGIS Hub basic which is available with all subscriptions to ArcGIS Online. It does not include support for supporting teams, community accounts, template initiatives and apps, and events.
Content upload workflows
Once you have an initiative (or site), you can choose from the following workflows to add items to its Content Library: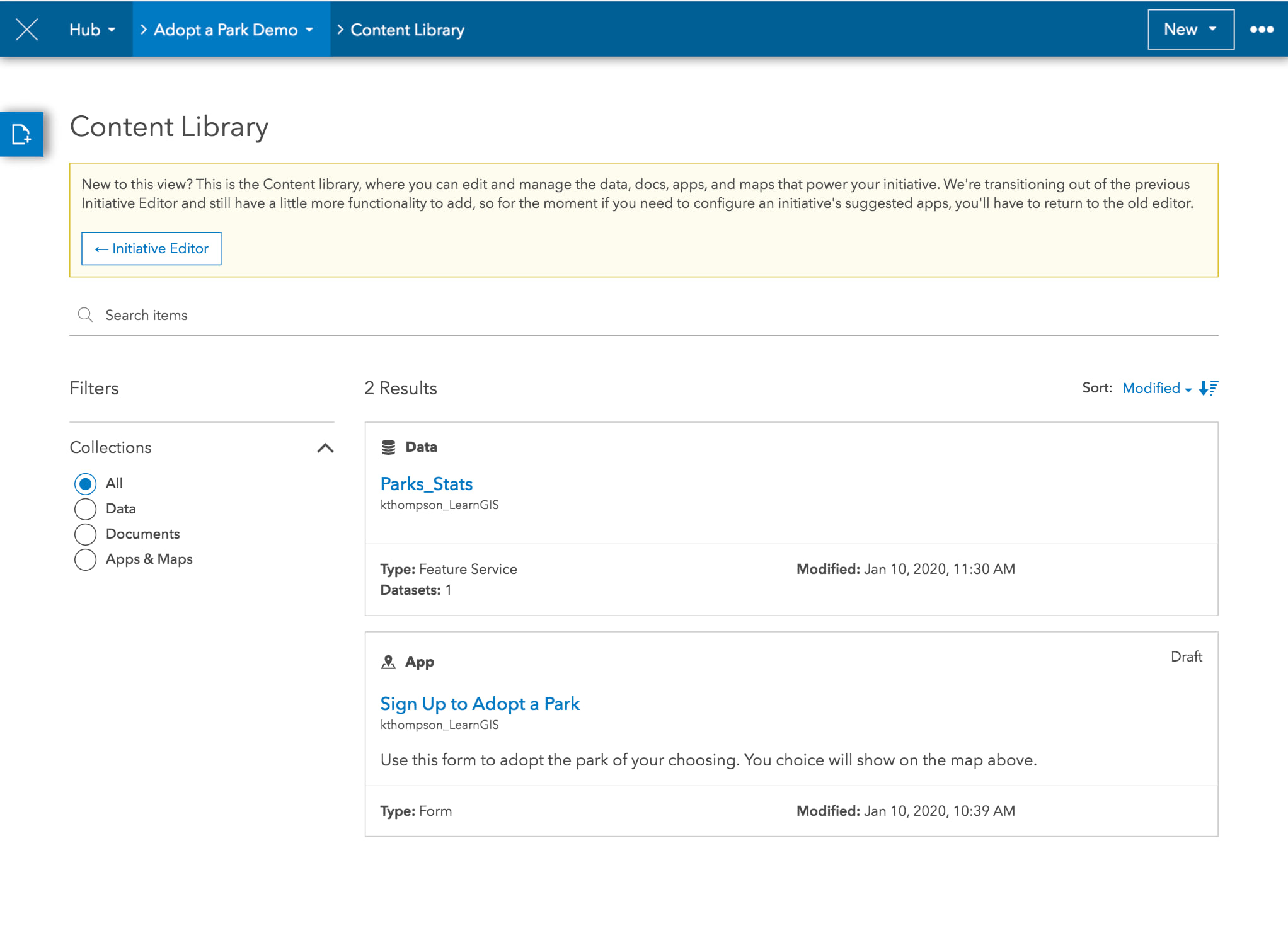 The Content Library
Every site and initiative includes a Content Library. This catalog of content is powered by two default groups: the content group and the core team group. People added to a core team become members of both the content group and the core team group. The content and core team groups are how you can manage initiative content and collaborate with team members to keep items updated. It's also how you can repurpose existing content used by other teams and departments.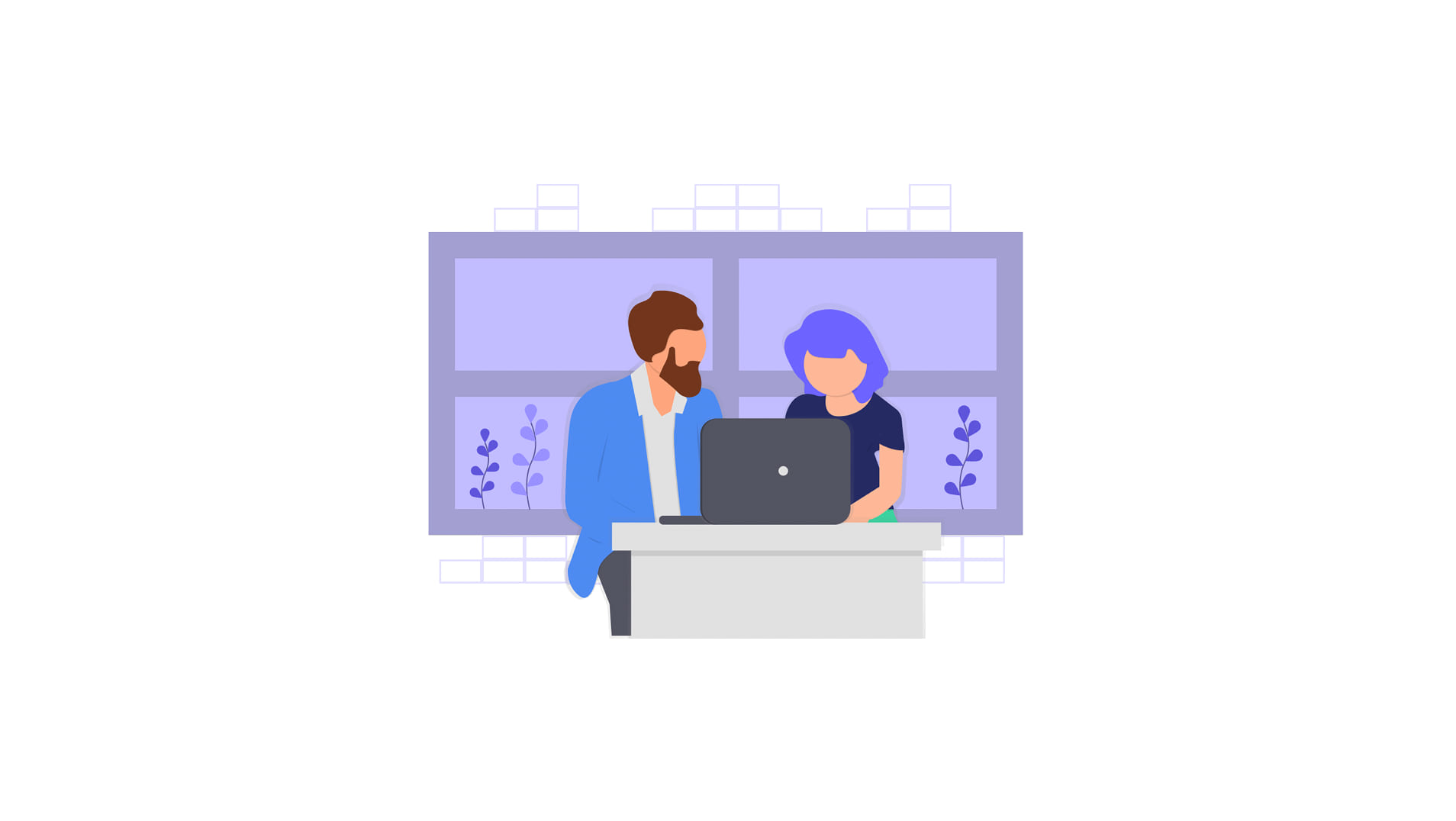 For example, if you want to organize content related to a public project, including a web map, PDF documents of past open forum meetings, a survey, and several internal datasets, you can start an initiative and add these items to the Content Library. You and your core team members can use these items when designing the layout of your site and any of its pages. Members of the public can explore this content and search for related items using the initiative's site. Only core team members and other internal members will be able to search for and download internally shared items.
Setting view and edit access to content
To manage who can see and edit your initiative's content, you must adjust each item's sharing settings and choose a group or groups to which it can belong.
At the item level, you can set view access to just core team members, people within your organization, or the public.
Groups can be shared in the same way. By default, new content you create and your initiative's core team and content groups are shared privately (with the core team), until you're ready to raise their visibility to a wider audience.
Since items and groups have separate sharing settings, every item can be shared differently than the next. This means that a content group can include both public and privately shared items. Only people with whom the item is shared will be able to access the item in search or view it on a site (even if this site is public).
The Content group
By default, all items added to a site or initiative (via URL, add new, and add existing workflows) are automatically shared to the content group. At the moment, however, files uploaded through ArcGIS Online must be added to the content group or core team group manually.
Members of an initiative's core team will have view-only rights to content belonging to this group, including items shared by other members. They will have no ability to edit or remove content unless it's their own.
The Core Team group
To make an item editable by others, the item must also be shared to the initiative's core team group (a group that has been enabled with update capabilities). Sharing items to this group requires additional action after adding the items to the content library.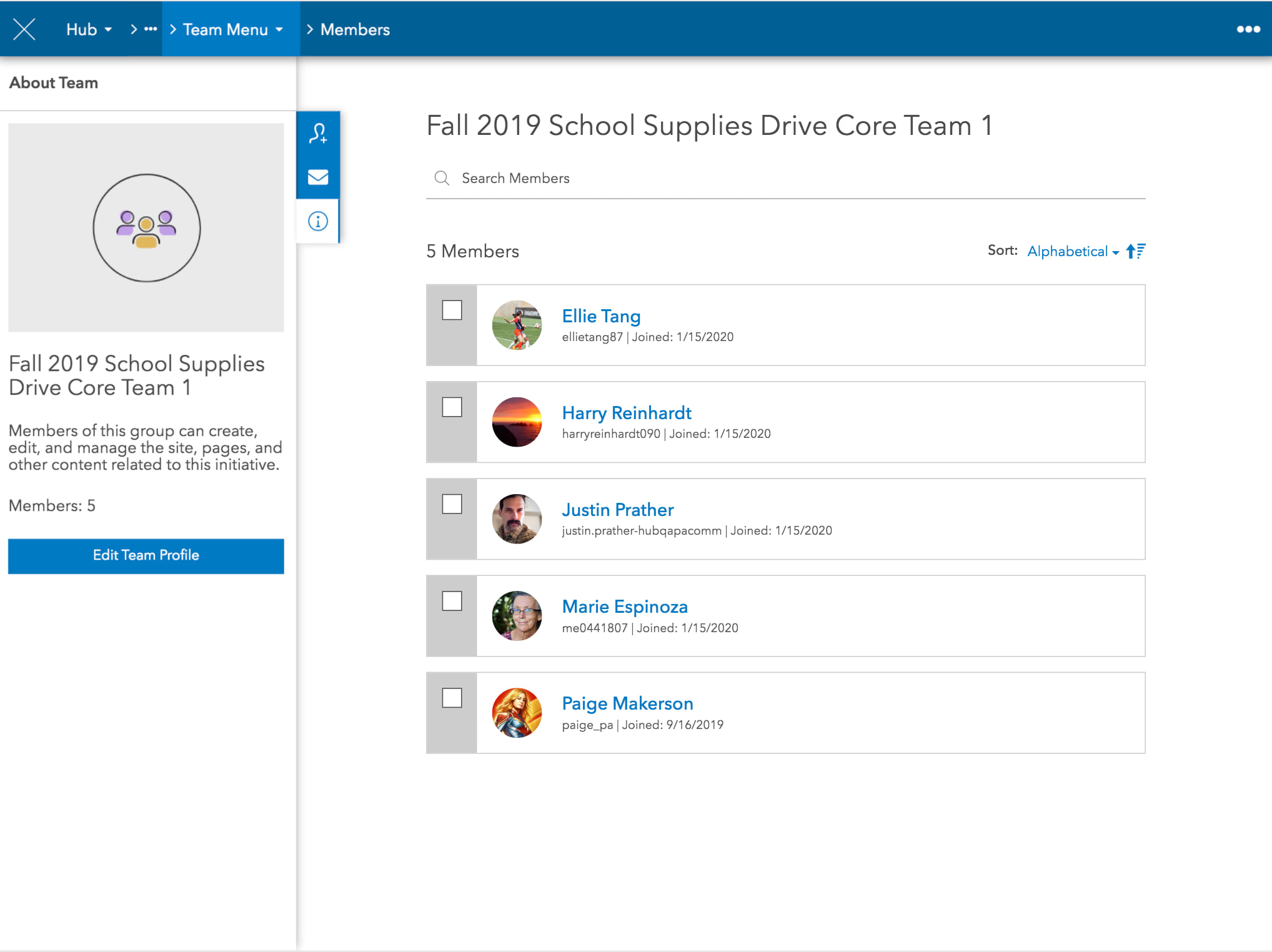 A core team is activated for an initiative only if the person who originally created the initiative has the administrative privilege to Create with update capabilities assigned to their user role. If you have this privilege, you can activate a core team for an initiative by opening a site or initiative in edit mode, and clicking Teams in the second dropdown menu. By default, all initiatives, sites, pages, and surveys are automatically shared to this group so that you don't have to manually share these items with the core team.
To share an item with the core team group or to raise the visibility of an item (to the organization or the public) within the content group, you must go to ArcGIS Online and follow these steps:
Open a site or initiative in edit mode.
Click the more button at the far right of the edit navigation bar.
Click Edit in ArcGIS Online.
Click Content.
Select your item from the list and click its sharing button.
Choose to set the sharing level to Owner, Organization, or Everyone (public).
You can also click Edit group sharing under Set group sharing to share the item with additional groups.
Click Save and return to ArcGIS Hub.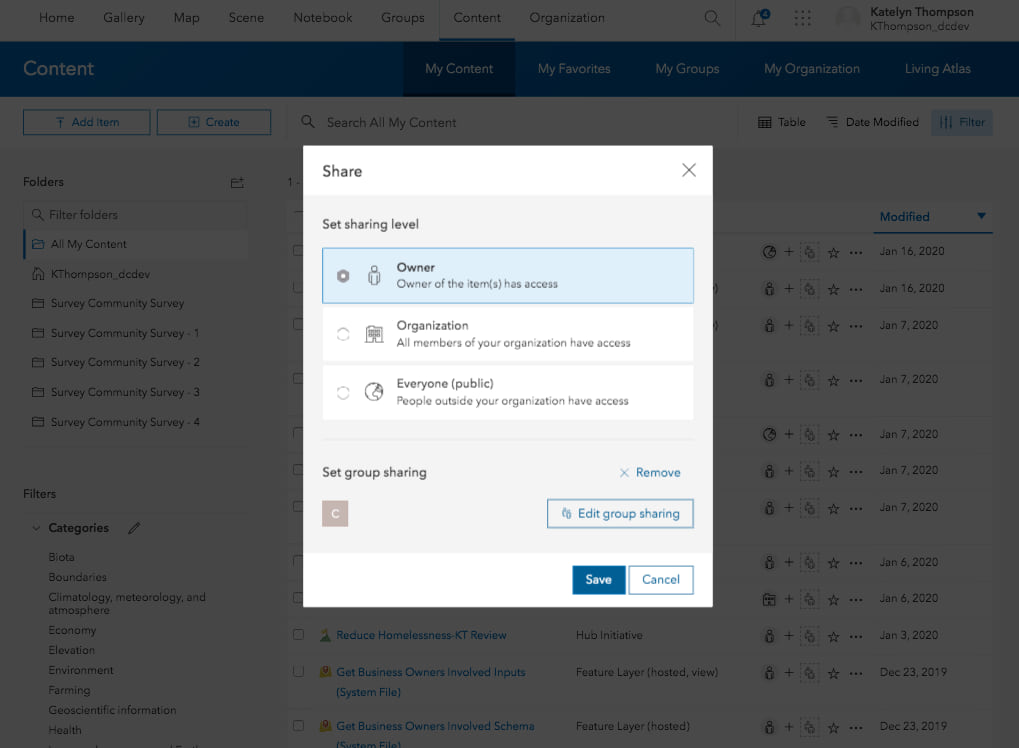 Make your content discoverable with Metadata
Taking the time to add thoughtful and accurate metadata makes a world of difference for the people who search for, use, and download any content or data shared on your site. Metadata includes important information like attribution, source, description, and tags which can help people find the content that's right for them.
Today, you can quickly add metadata to any item uploaded to ArcGIS Hub using a URL.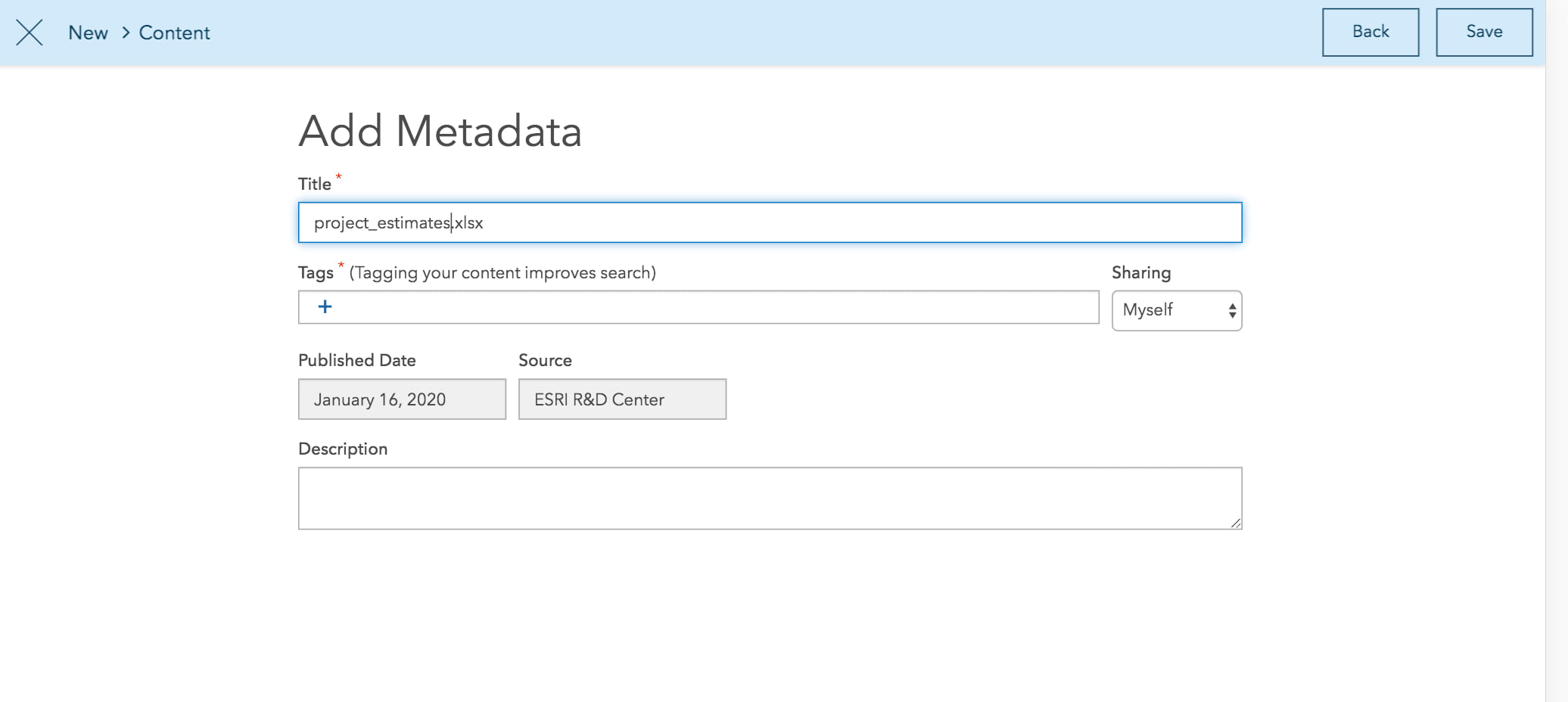 You can also edit the metadata for other items in your Content Library by accessing the item's Overview page in ArcGIS Online. For more information, see Metadata.
Additional resources
For additional information about content, including required privileges, open data configuration, supported items, and more, see Content FAQs.
Your insight and feedback helped guide us in 2019. To get involved this year, we encourage you to join the ArcGIS Hub User Lab and join the discussion on GeoNet by posting any feedback or questions. You can also sign up for our newsletter to get monthly updates about new features, hubs we love, and tips and tricks.