Working in 3D can help you extend your 2D maps to communicate with a more human voice. You can present more realistic objects within the context of the real world, removing interpretation and driving more informed decisions faster, especially with nontechnical audiences. Whether you're just getting started or looking for more in-depth tools, 3D GIS can benefit your work. Here are a few suggestions of 3D resources to try.
Get started
If you're new to 3D GIS, a guided tour of a web scene is a good place to start. All you need is an internet connection and a modern desktop browser such as Firefox or Chrome.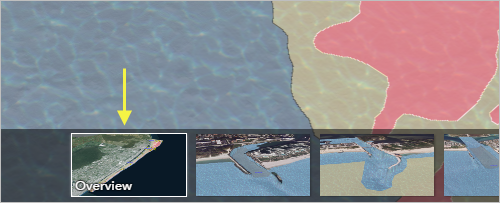 A bird's eye view can be a useful way to give someone a meaningful perspective of your subject area
How quickly can you create a new 3D scene that includes changing 2D symbols into 3D objects? Start to finish in less than 10 minutes.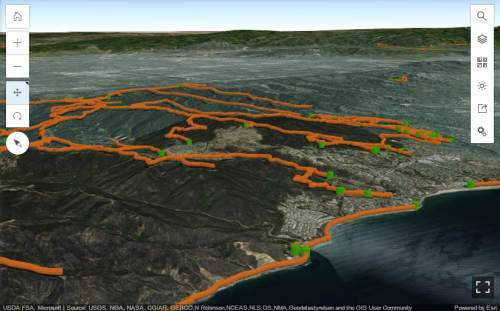 In minutes you can make your trails and trailheads stand up in a scene
2D maps are valuable for data workflows such as editing features. With ArcGIS Pro, you can visualize 2D and 3D side by side. This side-by-side view lets you see how your work in one view can impact the other view in real time. For example, if you add proposed building footprints to a 2D map, you can see the visual impact in a 3D scene.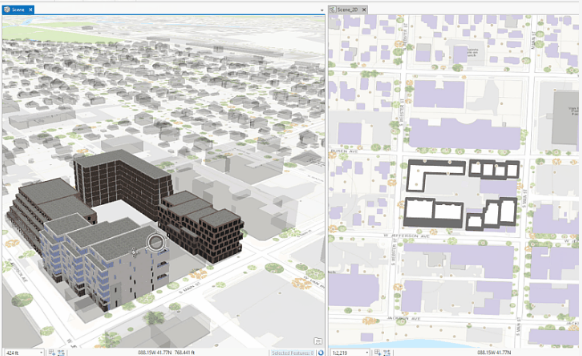 Linked views in ArcGIS Pro let you explore the same building data in 2D and 3D
For more ways to get started, try ArcGIS Learn 3D exercises.



ArcGIS Learn has several lessons to help you get started in 3D
Go more in-depth
If you're already familiar with the basics of 3D GIS, you may wonder what else is possible. Using scenes in Story Maps can be a great way to enhance your narrative with 3D visualizations.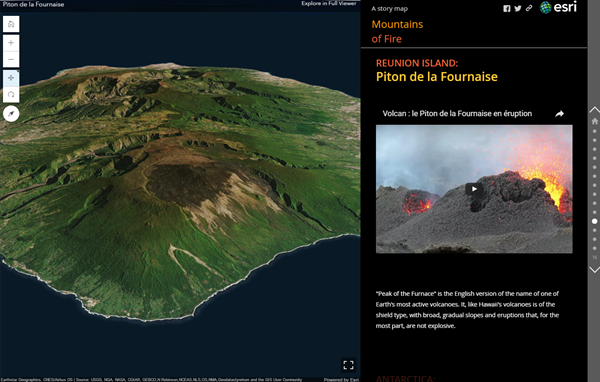 Presented in 3D, the world's deadliest and most active volcanoes come alive in Story Maps
3D hot spot analysis can help you understand space-time trends by stacking data to visualize persistent patterns such as car crashes.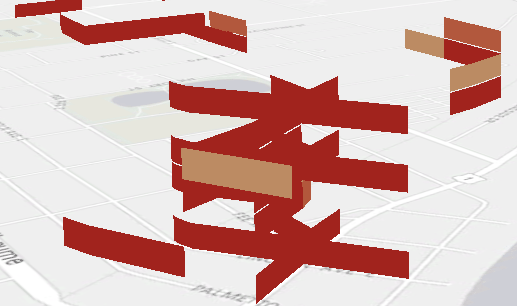 3D hot spots can help you predict where and when car crashes occur
If you're a city planner or architect, using a 3D solution to visualize proposed developments can help your community make informed decisions about the impact of your proposal. Adjusting daylight, illustrating shadows, and adding realistic trees are easy and powerful features to include in 3D-based proposals.
3D city proposals present realistic objects and remove interpretation
If you're ready to take urban planning to a new level of precision, CityEngine lets you create 3D cityscapes limited only by your imagination.
Turn simple masses into 3D buildings that appear to be from the real world
Comfortable with hexbins and extruding 2D features into 3D multipatches? Want your data to pop in an eye-catching and immersive way? See where 3D hexagonal cartograms can take you.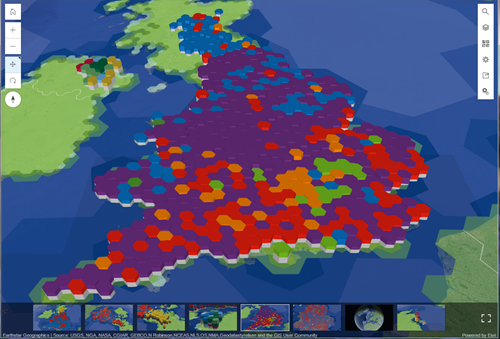 Even election data can take on a rich and artistic flair in 3D
And for developers looking to extend their GIS work into 3D, you can use the 4.x series of ArcGIS API for JavaScript to build custom 3D web apps.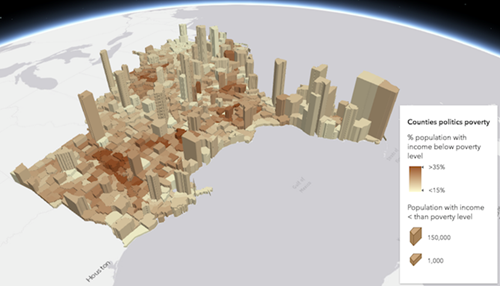 Where will you go with custom 3D visualizations?
For more inspiration, browse ready-to-use scenes in Living Atlas of the World and read additional 3D GIS blog articles.