Use image management workflow samples, now updated for ArcGIS Pro 2.6 and ArcGIS Desktop 10.8.1, to streamline and automate best practices for managing imagery in ArcGIS.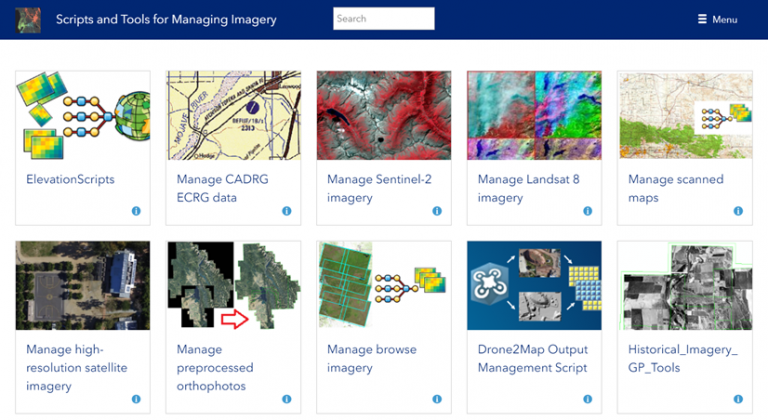 Mosaic datasets are a powerful tool for managing collections of imagery. Created in ArcGIS Pro, they perform on-the-fly mosaicking and raster processing, simplify metadata management, can be shared as image services, and more. Mosaic datasets are also flexible and configurable—they can be optimized for almost any type of imagery.
Fine-tuning how to create and configure mosaic datasets for your specific imagery, though, can be a time-consuming process. Image management workflow samples—which include Python scripts, geoprocessing tools, sample data, and batch files optimized for common data types—do a lot of the hard work for you.
Image management workflow samples and MDCS
Image management workflow samples are data type-specific image management tools built around the Mosaic Dataset Configuration Script (MDCS). MDCS is an open-source, community-supported Python script that creates a mosaic dataset, populates it with data, and sets all the required parameters for your specific data. Using an XML configuration file as input, you can fine-tune and automate your image management process for virtually any type of raster data. This is especially useful when you're working with large datasets or recurring workflows.
What are image management workflow samples?
The image management workflow samples, already optimized for common data types, provide even more support than MDCS. Each sample package includes:
The MDCS script and MDCS configuration files for a specific data type. Best practices for managing different data types are built in to each configuration file, taking some of the guesswork out of the image management process.
Geoprocessing tools customized for each data type. That means you can run MDCS (and other included GP tools) either as a command-line Python script or via the tool's user interface.
Sample data and batch files to make it easier to try the image management tools. For many datasets and applications these tools will work out-of-the-box; for others it's a small leap to customize the tools for your data and your workflow.
Currently, there are image management workflow samples for the following data types:
Preprocessed orthophotos
High-resolution satellite imagery
Landsat 8 imagery
Sentinel-2 imagery
Scanned maps
Historical imagery
CADRG ECRG data
Elevation data
Browse imagery
Drone2Map for ArcGIS output
Next steps
Download one of the image management workflow samples to get started. You can also find additional resources supporting specific image management workflows, such as managing elevation data or preprocessed orthophotos, on the Imagery Workflows website. Finally, explore more custom tools for working with imagery in the Imagery Workflows group on ArcGIS Online.