If this is your first time attending the Esri Developer Summit, we have compiled a few tips for you.  If it isn't, these tips will help refresh your memory. It's been a while since we've last seen each other!
We hope you are as excited as we are. Palm Springs is a very welcoming and enjoyable city. Best of all… it's going to be full of developers like you! 😄
Before the event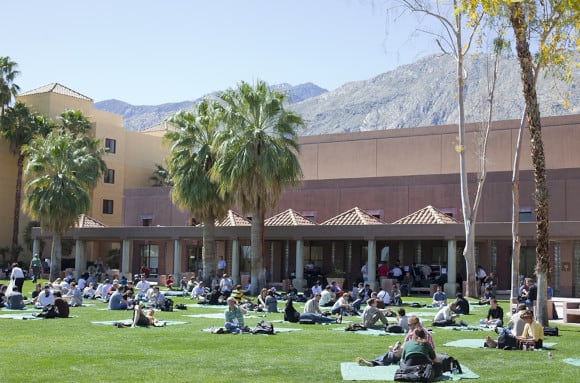 📱 Install and take some time to try the Esri Events app (iOS | Android), which includes many useful features. You can save the talks you plan to attend and add session reminders. You will always have your agenda handy!
🗓️ Plan the sessions you want to attend. Prioritize the ones you think apply to you the most.
📶  Check your telecom provider rates. International travelers might not have internet access, so be sure to plan accordingly.
☀️ Bring sunscreen and sunglasses for lunch! 😎  Palm Springs is normally very sunny and warm; however, it's also a good idea to bring a pullover for inside the convention center, which tends to be cool.
#️⃣  Join the conversation with other attendees and Esri staff. We are using the #DevSummit hashtag.
🗺️ Check the convention center indoor map
During the event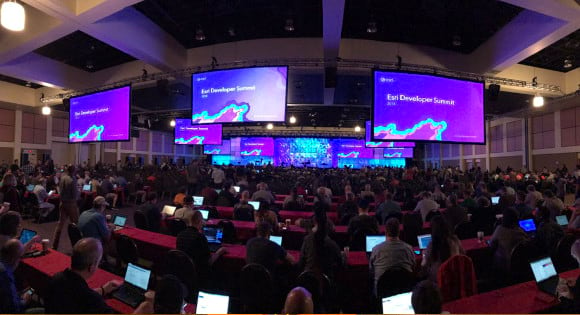 🛏️ Wake up early on plenary days. Front row seats, and those with a table, fill up quickly.
📝 Take notes. You will hear a lot of ideas during a session. You may also have some unanswered questions, or will want to jot down contact details and URLs. You can use the mobile app to take notes about sessions, speakers, exhibitors, and sponsors, which you can export afterwards.
🙋‍♀️ Ask questions and share experiences! Seriously. Don't be shy. Take the opportunity to ask any questions you may have. Developers and Esri staff are willing to help you.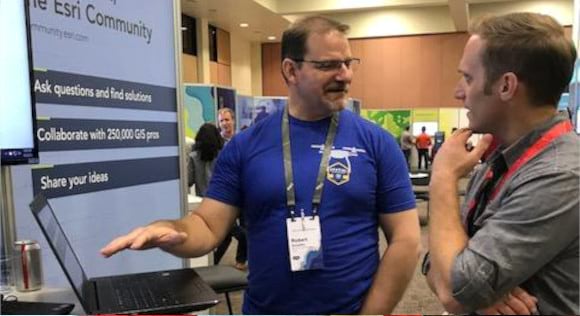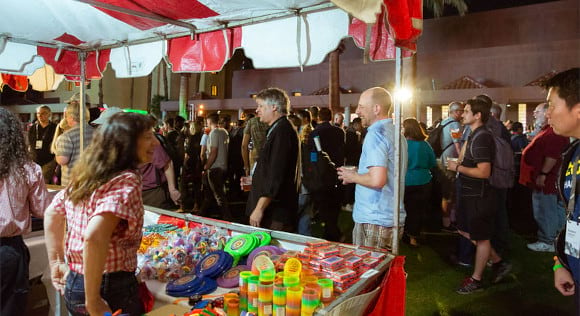 👨‍💻  Schedule a 30-minute code review. Consider having a one-on-one meeting with Esri staff to discuss the current state of your app, get practical ideas, etc.
👥  Attend "Meet the Teams". Maybe you couldn't get all your answers after your talks, or just want to meet the engineers behind our technologies. On Tuesday, March 8th, at 6:30 PM you will have two hours to spend with Esri's development teams (drinks and food will be provided).
🏃  Meet other developers. There are many awesome developers like you attending, including some of the most active contributors to the Esri Community. A great place to start is SpeedGeeking on Tuesday, March 8th, from 4:00-5:30 PM. You will hear awesome 5-minute lightning talks from developers and Esri staff!
🤔 Make use of the showcase area. It is one of the best places to share experiences and ask questions to Esri staff in a relaxed environment.
💬  Don't miss out on unique moments. Many sessions will be recorded. So, on occasion, it may be worthwhile to continue a conversation 😉.
Post-event
🙏  Rate the session and give us feedback. Sometimes you won't have time during the event. But, please, when you can (during down time, on the return trip…), fill out the forms located in the mobile app and tell us how we can improve.
🧹 Process, clean up your notes, and follow up. Digest your notes and define the things you need to do next.
Meet the Developer Experience team
Last but not least, some of us from the Developer Experience team will be in the ArcGIS Platform booth at the Showcase Area. We are excited to meet you! Our team is in charge of the developer.arcgis.com website, building developer tools, creating educational resources, and more. We are committed to providing the best developer experience possible. We would love to hear from you about:
😩 The challenges you face while developing, finding resources, etc.
🎓 Your experience and ideas on what we can do better.
🎁 The solutions you are working on.
We also have some ideas about which we would like to hear your feedback. If you want to contact us, our contact details are below.

If you would like to see more photos, here you can see the ones from the Esri DevSummit 2017: Party (Thursday night), Plenary & Keynote.