We are pleased to announce the release of a new ArcGIS Field Maps app for Make (formerly known as Integromat). Using the new Field Maps Make app, you can easily connect ArcGIS Field Maps with many other apps and services to perform an action immediately after data is submitted. By doing so, you can streamline field workflows by automating repetitive tasks or triggering important business processes when events happen in the field.
Examples include:
Notifying and scheduling asset inspections — When a mobile worker submits an asset inspection using Field Maps, the next inspection can be scheduled automatically and an email notification can be sent to the supervisor indicating the work has been completed.
Automating condition assessment reports — When an engineer captures critical infrastructure at a construction site using Field Maps, properly formatted reports can be generated automatically that contain information about the site, along with form details for each piece of captured information.
A webhook allows an application to provide other applications with event-driven information. Make has a built-in Field Maps app that allows you to integrate Field Maps into a webhook workflow. You can integrate the Field Maps app in the following ways:
Trigger a webhook — The Watch Features trigger watches for features that are added, edited, or deleted in the Field Maps mobile app. Including edits to related features and tables.
Make an API Call — The Make an API Call action allows you to make API requests to ArcGIS web services.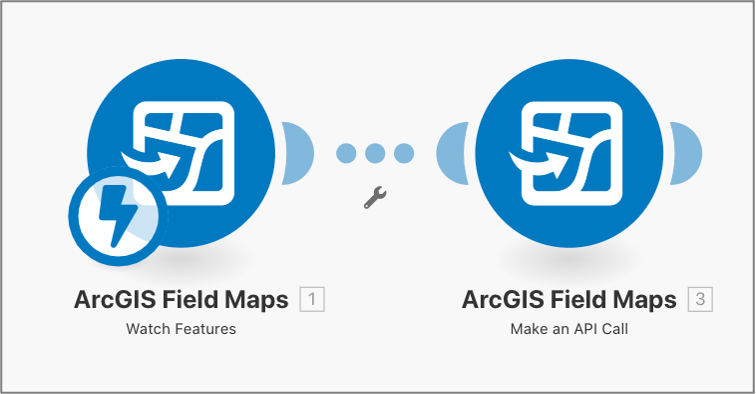 Please read our documentation for more information about setting up webhooks in Make. For a step-by-step tutorial with screenshots, see the Automate email notifications for field updates blog post.
The Field Maps app only supports hosted feature services within ArcGIS Online and is not currently supported on ArcGIS Enterprise hosted or non-hosted feature services. Webhooks will be supported in a future release of ArcGIS Enterprise