The Portfolio app is a web app template that will be coming out of beta at the June 2021 release. Portfolio is an ArcGIS Instant Apps template that can be used for many purposes, such as a map atlas to showcase a collection of web maps, or assembling maps and apps in one place that could be shared as public information after a natural disaster. The app is accompanied by many tools to support content exploration, such as the map location tool, play button functionality to automatically scroll from section to section, and an introduction panel to help introduce the app to viewers. The updates to Portfolio include the following:
Support for additional content types
Option to include a cover page
Ability to define a location for web maps and web scenes to open to on load of the app
New control panel to host app tools such as the share tool, information panel, and map location tool
Add sections to a Portfolio app
Portfolio is designed to support various types of ArcGIS content, images, and videos as sections in the app. Sections can be added by browsing for content, uploading a file, and entering a URL.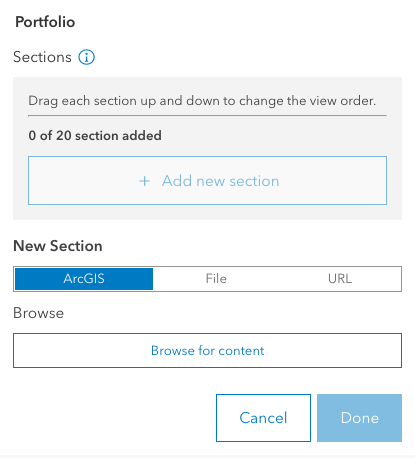 The following types of content can be added by browsing for content:
ArcGIS Online web maps and web scenes, ArcGIS Instant Apps, ArcGIS Configurable Apps, ArcGIS Experience Builder apps, ArcGIS StoryMaps stories, ArcGIS Dashboards, ArcGIS Hub sites, ArcGIS Insights pages, and ArcGIS Survey123 forms. PDF files, along with PNG and JPEG images, can be added by choosing File. All ArcGIS content that is mentioned above can be added through a URL, in addition to YouTube and Vimeo video links.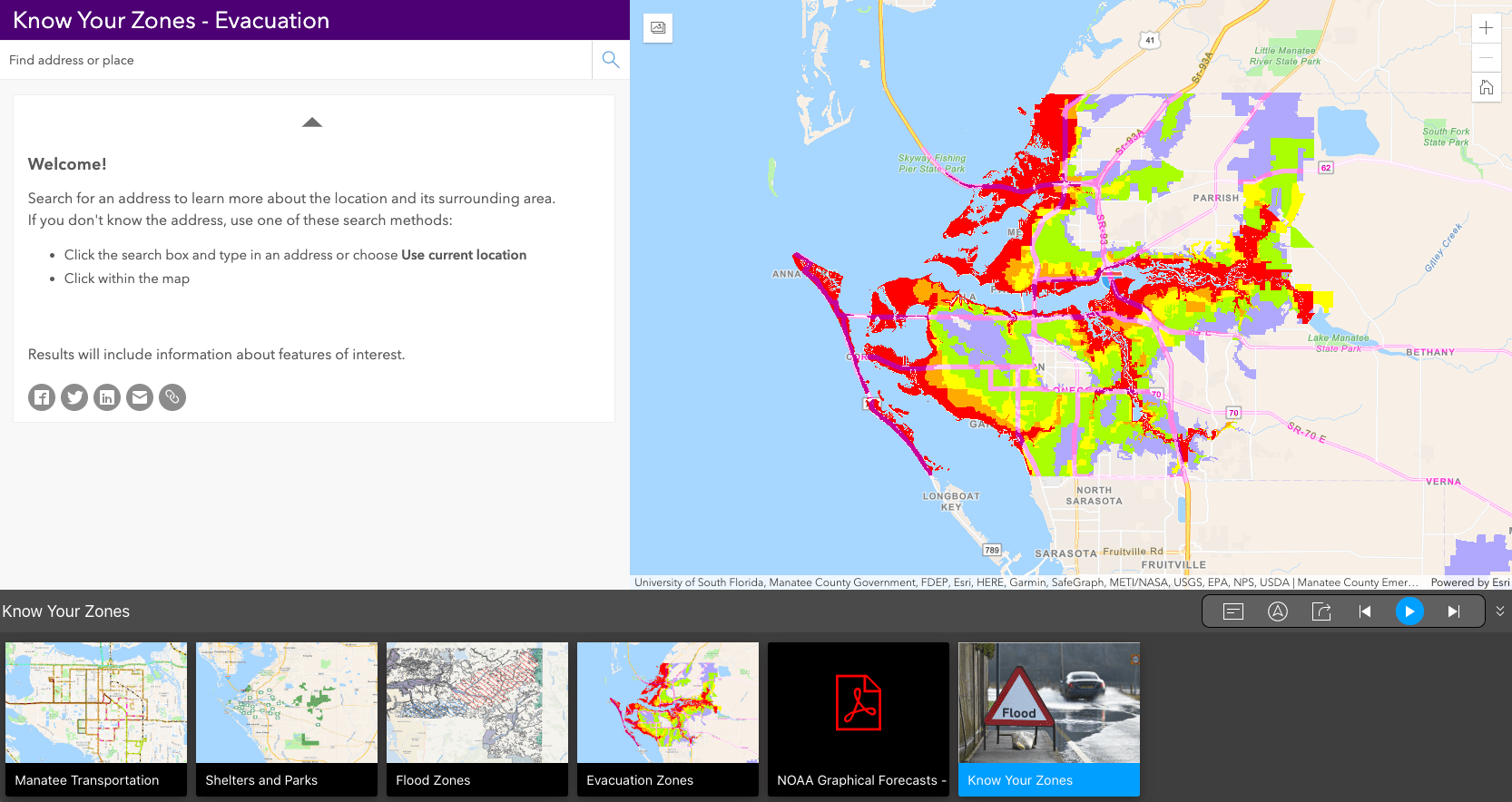 Introduce your app
Another new feature included in Portfolio is the option to create a cover page. The cover page will appear during the load of the app to introduce the main topic or purpose of an app. From there, a viewer of the app can click the "enter" button at the bottom of the cover page to begin exploring the app. Cover page settings include options to add a title and subtitle, change the title and subtitle text color, update button text and button text color, and set a background color or background image.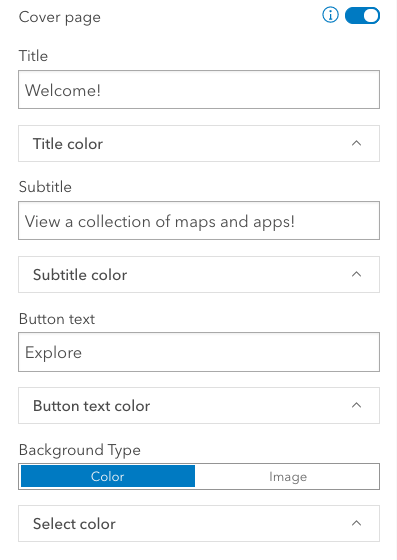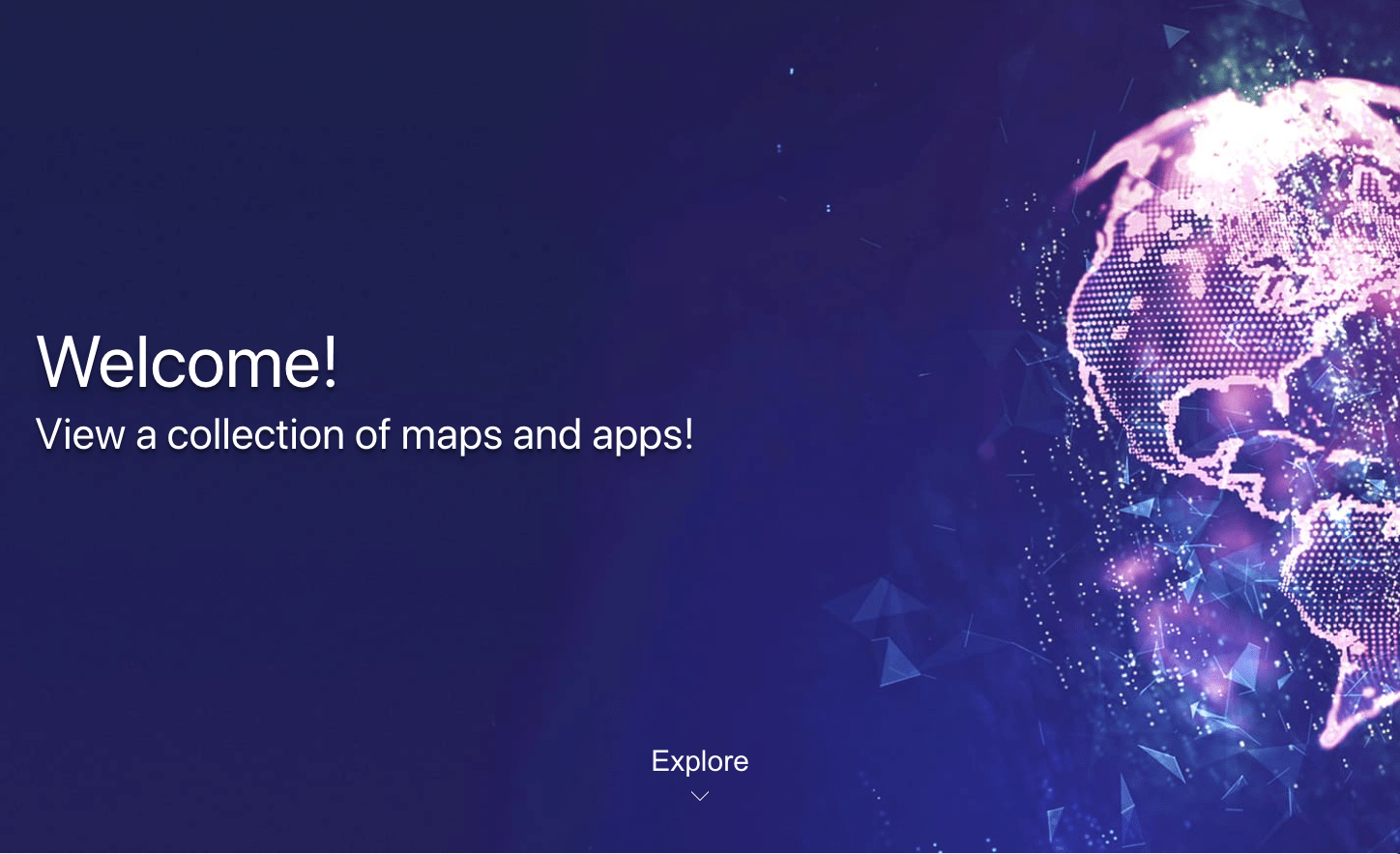 Define a location to center on
The Portfolio app includes two settings that can be used to center maps and scenes on a chosen location. The search location setting, when enabled, will display a search tool that app viewers can use to set an initial location that will be honored in web maps and web scenes in the app.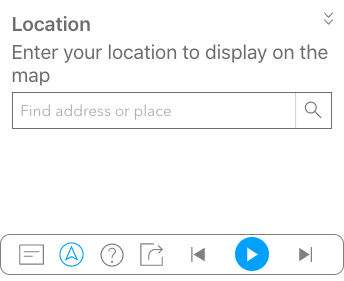 The Define Location tool allows app authors to make this choice with the ability to set a location that maps and scenes will open to on the load of the app.
Navigate the Portfolio app
Tools available in Portfolio can be enabled to improve a viewer's ability to interact with an app, including cover page, introduction panel, search location, auto play options, and sharing tools. All these tools can be found on the new and improved control panel.

All the tools that would be added to the app are now located in one central area in the navigation bar.
Portfolio sample app
To access the app outside this blog article please click here: https://webapps.maps.arcgis.com/apps/instant/portfolio/index.html?appid=87c3b52e2c24488ebfc6cb4d3bcf86cf