We are excited to announce the latest update of ArcGIS Maps for Power BI, included in the Microsoft Power BI December 2018 update. This update offers several improvements for all users and extra features for Plus subscribers. Here are some highlights.
New features for all ArcGIS Maps for Power BI users
Find locations with similar attributes: The Find Similar tool is a powerful way to identify important locations in your data. You begin by selecting one or more points of interest, or reference locations, defining up to five dimensions that you want to use in analysis. Find Similar then calculates the ten locations on your map that are most like the reference locations you defined. You can then use Infographics cards to learn more about the demographics around each of your results, create drive-time areas to get a sense of what is within driving distance of each of these locations, or even use the Find Similar tool itself to filter your report and gain more insights. Most importantly, all the calculation is done locally on your machine, so you can be sure your confidential data remains protected.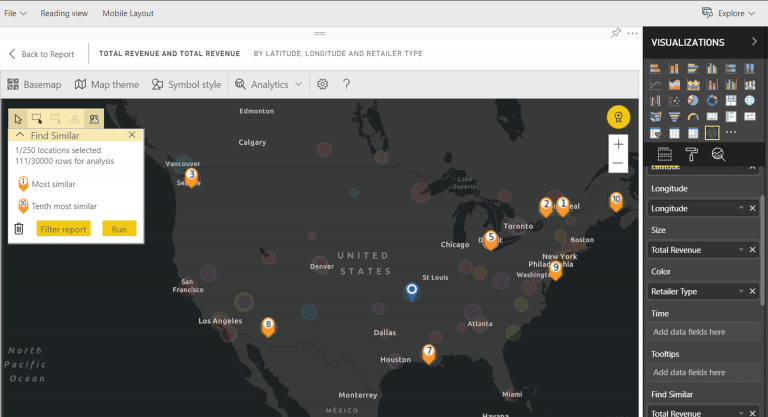 Boundary data for over 130 countries: The Location type tool allows you to create maps using standard administrative boundaries for over 130 countries. To improve the accuracy of your data analysis, we've made even more boundary data available. For example, you can now find boundary data for eleven-digit SLA codes for Australia, in addition to the standard seven-digit codes.
Better user interface: We understand that a little more space on the map can be very useful. You can now just hover over the selection tool icon to expand the entire toolbar. What's more, tabs in the side pane scroll so you can easily see the entire text.
More for ArcGIS Maps for Power BI Plus subscribers
Our Plus subscribers get all the new features listed above. and much more:
Infographic data for over 130 countries: The ArcGIS Maps for Power BI Plus subscription unlocks access to a lot more Esri-curated geographic content.  Plus subscribers can now access even more infographic data on income, expense, race, education, health and other demographics.
Pin maps with up to 5000 addresses:  ArcGIS maps for Power BI lets you geocode up to 1,500 addresses per map, but with a Plus subscription, you can do even more with your data and add up to 5,000 addresses to every map. Plus users can now seamlessly pin maps with as many as 5000 addresses on dashboards.
Learn more about ArcGIS Maps for Power BI on our website or get the help you need to get started. Join the ArcGIS Maps for Power BI community to find answers to all your questions, share ideas, and get the latest updates.
Commenting is not enabled for this article.