We are excited to announce that ArcGIS Workflow Manager is now available for managing work in a cloud-based environment. With Workflow Manager, business processes can be standardized to automate repeatable workflows, drive production efficiency, reduce errors, and improve performance.
Workflow Manager is a flexible system that dynamically integrates processes, tools, and people to complete work. It provides a framework for synchronizing changes, providing updates and feedback in real-time, and supporting collaborative work in one centralized location.
Key functionality
Workflow Manager is a unique system that can seamlessly integrate with ArcGIS and third-party systems, allowing you to create workflows that suit your organization's needs.
You can use Workflow Manager to:
Build and design workflows using an intuitive, drag-and-drop interface. Workflow Manager comes with a library of pre-configured steps, each with their own properties to perform unique tasks. Use steps to open a project in ArcGIS Pro, send a request to a REST endpoint, collect ArcGIS Survey123 surveys, and more.
Create job templates with custom properties to standardize repetitive business workflows. Job templates can be configured with their own extended properties and diagrams. Reuse job templates or configure them to create jobs automatically.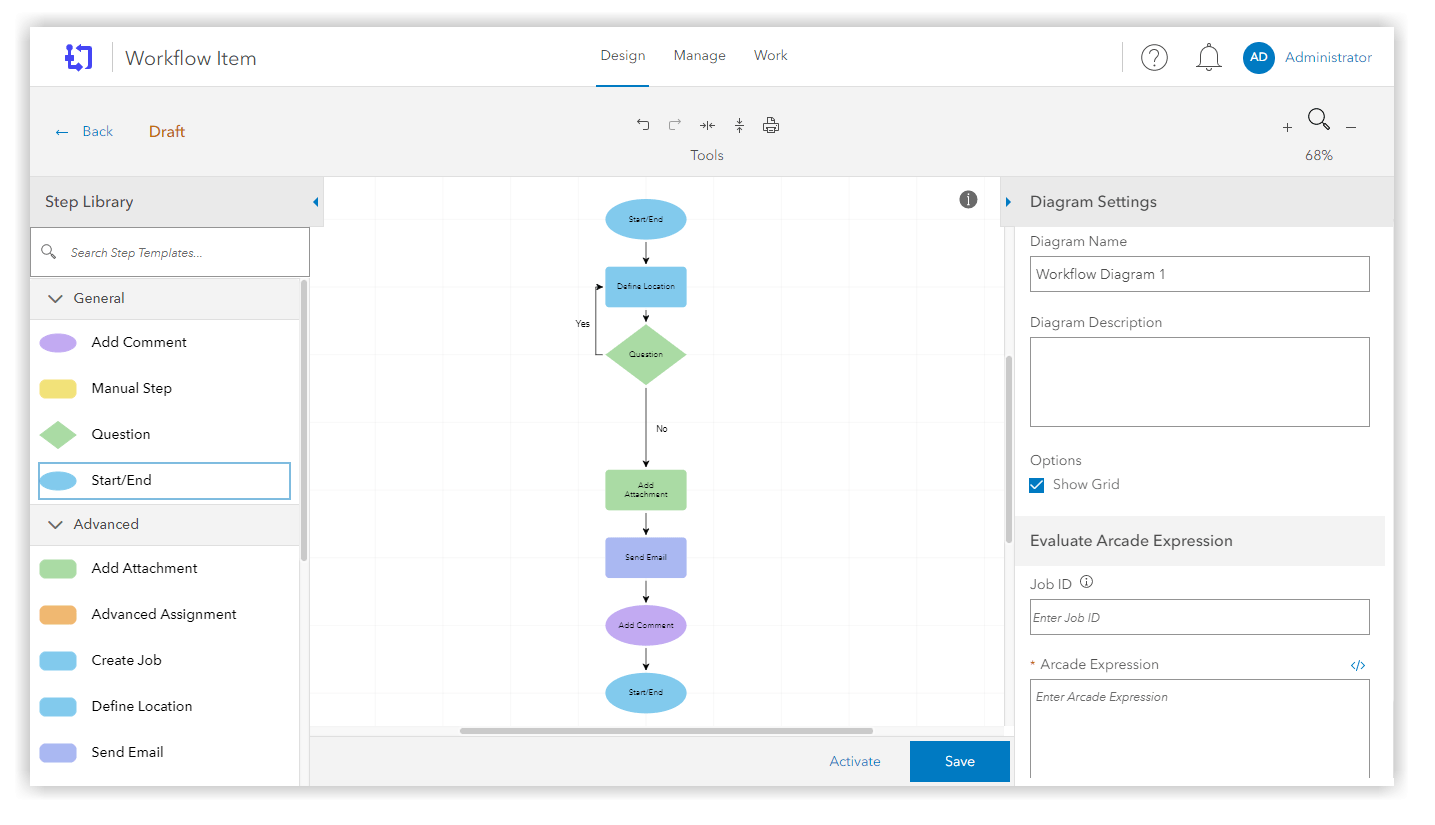 Configure Workflow Manager with the ArcGIS Survey123 webhook to automatically create jobs when surveys are submitted.
Monitor the status of jobs in real-time to generate your own reports or integrate with other Esri technology, like ArcGIS Dashboards.
Use ArcGIS Experience Builder to create custom widgets that can create jobs in Workflow Manager.
Set jobs to automatically assign work to users and groups, or schedule steps to run on their own.
Associate jobs with a geographic location to visualize jobs on a map and define where work needs to be completed.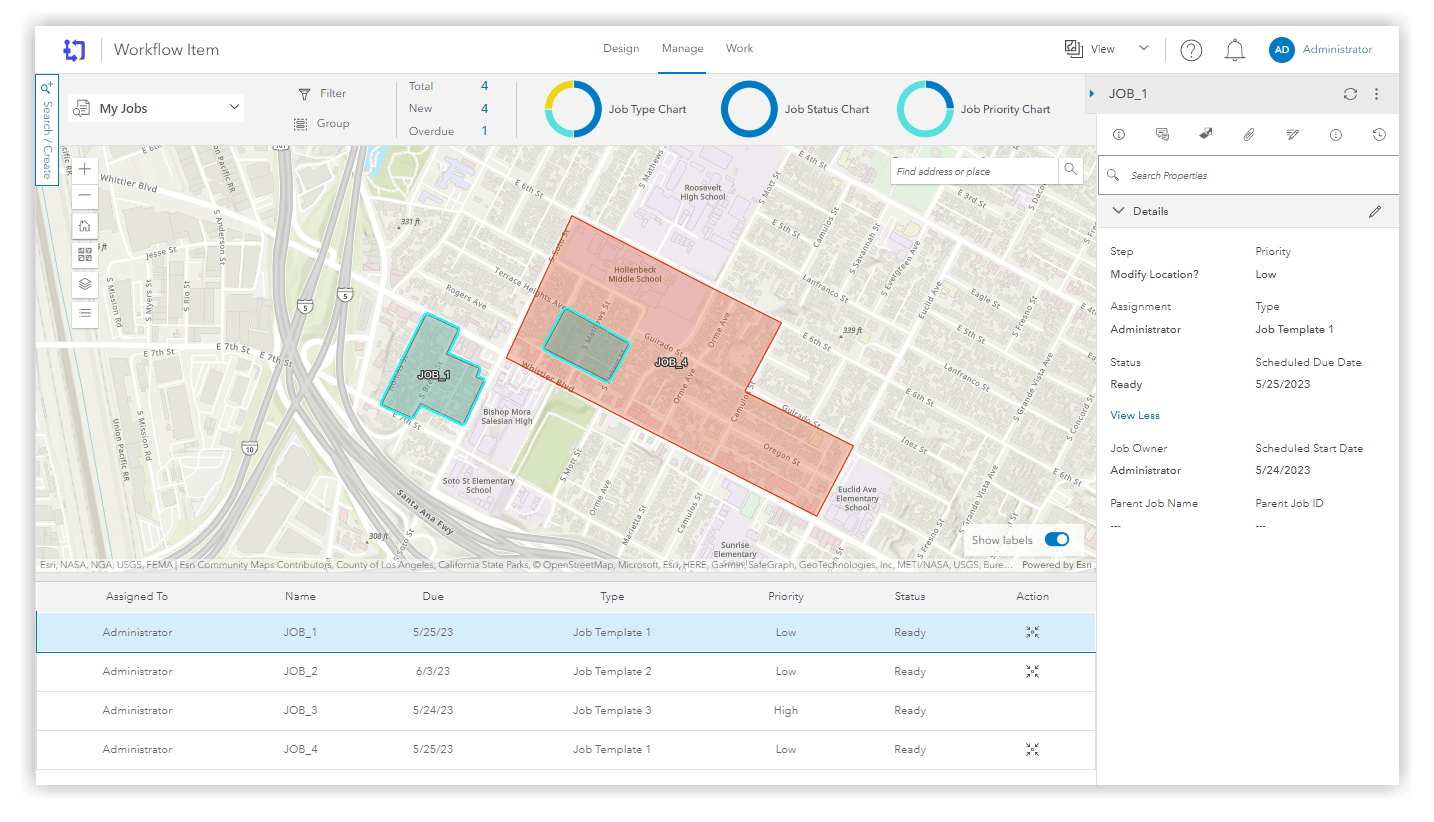 Use ArcGIS Arcade expressions to dynamically populate input values for steps, update job properties, route workflows, or assign steps to others.
Configure your job templates to automatically send email notifications to workflow users when jobs are completed or when steps fail to run.
Whether you prefer to work in ArcGIS Pro or the web app, Workflow Manager allows you to work seamlessly across ArcGIS environments.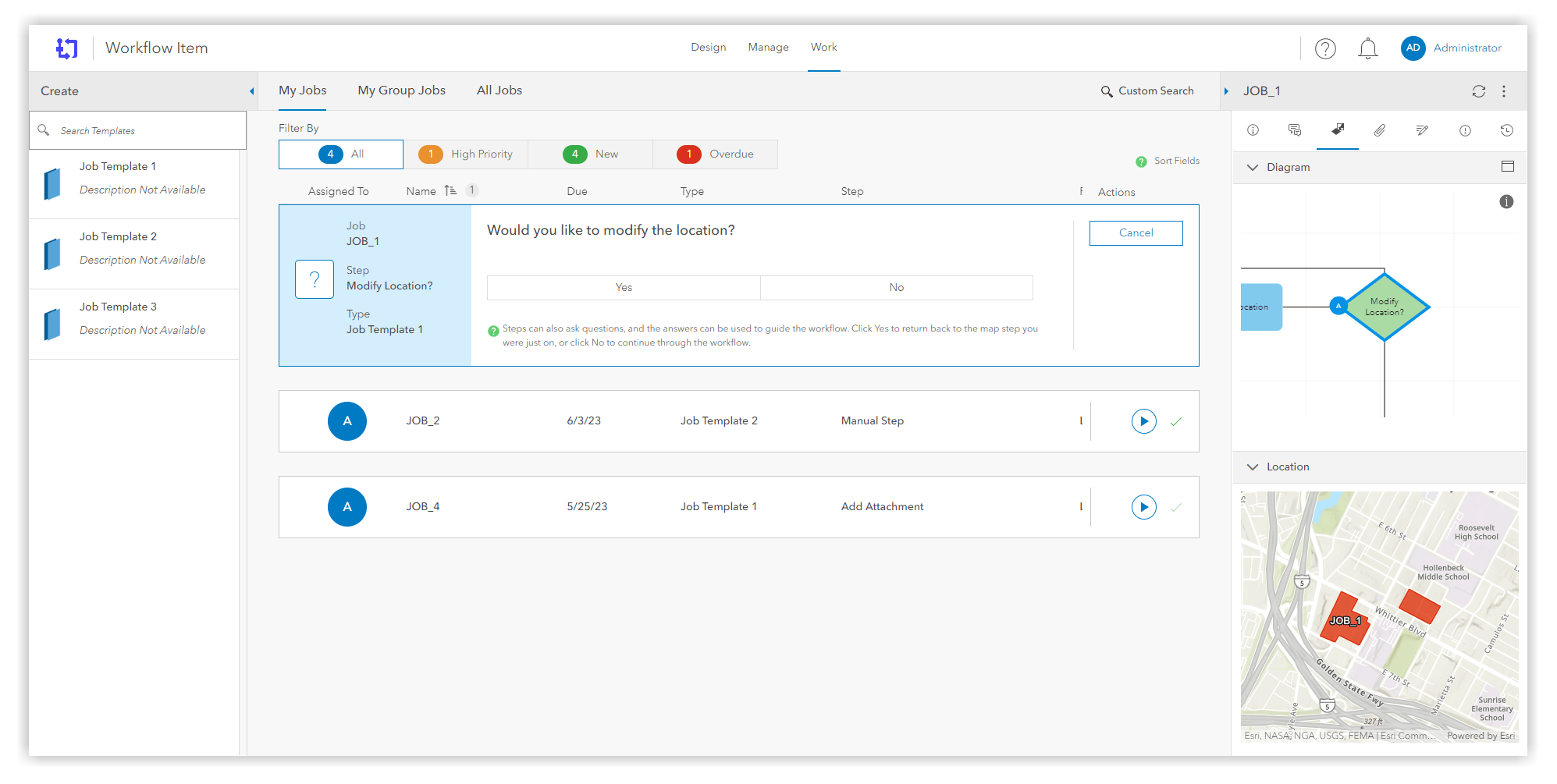 Learn more about ArcGIS Workflow Manager
ArcGIS Workflow Manager is now available as a standard and advanced organization extension. Contact your Esri account manager to learn about licensing options.
Want to learn more about what you can do with ArcGIS Workflow Manager? Check out our Resources for ArcGIS Workflow Manager blog to discover more and connect with us.