2018 is here and the online retail giant Amazon is ready to bring prosperity into a new city. Its hunt for second headquarters location has urged a rush among cities vying for the honor. Amazon has narrowed its top 20 finalists based on some factors listed below and many more:
Metropolitan areas with a population of over 1 million
Within 45 minutes of an international airport
Proximity to major highways and arterial roads 1–3 miles
Up to 8 million square feet of office space for future expansion
A stable and business-friendly environment
Access to mass transit routes
Atlanta, as a metropolitan area, is on the shortlist to become the home of Amazon's HQ2. Let's see how we can understand and visualize these factors for metro Atlanta from a data perspective using ArcGIS Business Analyst.
Population Growth
Current population of metro Atlanta is over 5.8 million. Annual growth rate for total population, households, and families is in the range of 1.2% to 1.4% which is 1.5 to 2 times of the population growth for the US average. Having the Amazon HQ2 could increase this population growth even more.
Easy population growth exploration using the data-drilling feature in Business Analyst
 Transit and Highway Accessibility
Metropolitan Atlanta Rapid Transit Authority (MARTA), one of the largest transit in the country, currently branches out from downtown Atlanta to serve 3 major metropolitan counties and approx. 450,300 people. MARTA is at the beginning of an historic expansion. If Amazon comes into Atlanta, the process might speed up to create and better serve a well-connected Atlanta.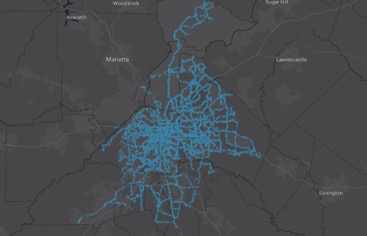 Quarter-mile service area around MARTA stops created in ArcGIS
Three of the interstate highways converge in Atlanta, making it (along with Hartsfield-Jackson Atlanta International Airport) the transportation hub of the southeast. Atlanta is one of only five cities in the nation to be served by three separate interstate highways.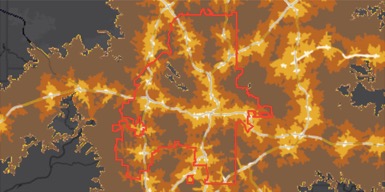 Atlanta's major and auxiliary highway connections and areas within 10 minutes of an exit
Housing Market
More population growth both permanent and floating would require faster housing construction to meet the increased demand. While opening up a 500,000+ sq. ft. project not only opens primary jobs but several secondary jobs, it creates a gush in housing construction in the near future.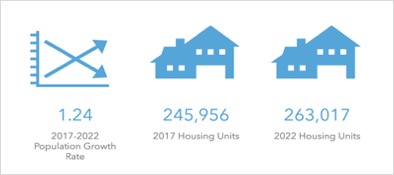 Simple visualization created using custom icons and panels in Business Analyst
 Real Estate Prices
Atlanta home prices have been increasing the last few years. If Amazon comes to Atlanta, the price increases may be modest initially, but might skyrocket eventually – similar to Seattle!

Comparison of Atlanta and Seattle housing market trend using Line chart in Business Analyst
Employment
The growth in the service sector including health care, food and beverage, lodging, and other services is very likely to go hand-in-hand with the growth in high tech employment.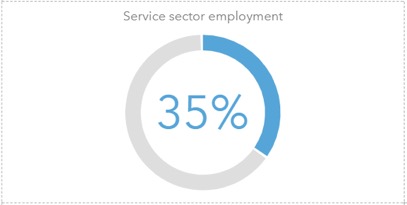 A gauge chart showing that services are a significant source of employment
 Summary of Metro Atlanta Demographics
Metro Atlanta, major population center of 5.8M and ready access to the world's busiest airport has several other key advantages that appeal Amazon; such as home to Georgia Tech and young tech workers – offering access to talent without competition, affordable housing market, substantial cultural mix, and hub of major interstate highways and railroad networks.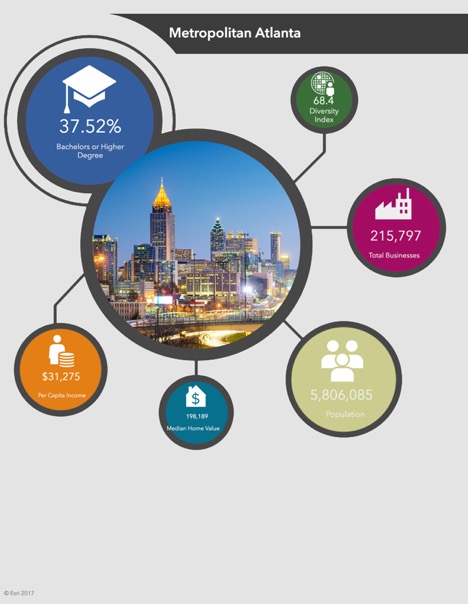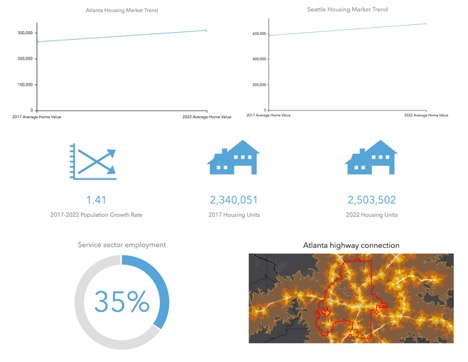 While Atlanta is a strong contender and Amazon HQ2 can provide 50,000 jobs and $5B investment for local economy development, it could bring some potential challenges in the long term.
Note: All the visualizations above were created using the data included and infographics capability in ArcGIS Business Analyst. Learn more.
 References:
Commenting is not enabled for this article.