By Aileen Buckley, Esri Cartographer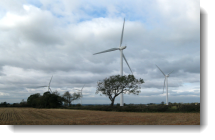 A new try-it-yourself-for-free project has been posted to the Learn ArcGIS web site! In the I Can See for Miles and Miles project, we use the example of a wind farm in the English Midlands to show how GIS can be used to identify areas from which the proposed wind turbines would be visible. In this project, you'll perform a viewshed analysis for a wind farm that was proposed for development in the District of Rugby and County of Warwickshire in the United Kingdom.
Project Workflow: Create a viewshed from a set of input points that designate the location of four turbines on a proposed wind farm. For this viewshed, use the tip of the blade at its highest as the height of the observed objects. Create a second viewshed using zero (the base of the turbines) as the height of the observed objects. Compare the two viewsheds. Explore the table for the viewsheds and change the symbology of the viewshed to display the Frequency field so you can see where only one turbine can be seen, two can be seen, three can be seen, or all four can be seen.
Author: Aileen Buckley
Platform: ArcGIS Online
Time: 30 minutes
Level: Beginner (also appropriate for grades 9 to 12)
Skills: Create Viewsheds online analysis tools
Geography: The Midlands of the United Kingdom, near Rugby
Build skills in these areas:
Using the ArcGIS Online spatial analysis tool to find viewsheds
Sharing your web map with others