The ArcGIS Developer Program has arrived! It's a new, improved developer experience designed to be simple and flexible while giving you access to the software and tools you need when developing your solutions. As part of the ArcGIS Developer Program, we have introduced a new ArcGIS Developer Subscription that has plans tailored to what you do with the ArcGIS platform.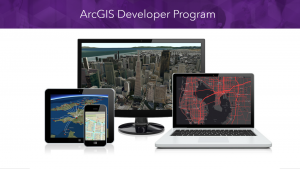 What does this mean for existing customers?
Customers who already had a free or paid developer subscription are officially a member of this new no-cost program. Your existing developer subscription has automatically rolled over to the new developer subscription with an Essentials plan. This is effective immediately. You will notice only a name change to your plan and receive the same developer resources you are accustomed to today. Paid developer plans are now referred to as "deployment" plans. Access your new developer program to view all available plans.
If you have an Esri Developer Network (EDN) subscription you are eligible for an applicable plan effective immediately. The term date of your subscription will remain the same so you can take advantage of the additional software for the remainder of your current term. In addition, access to your existing EDN software usage remains uninterrupted.  Activate your new Subscription today.
If you aren't an existing customer what are you waiting for? Sign up for free today!
Commenting is not enabled for this article.