Quick announcement: Web AppBuilder for ArcGIS v2.3 Developer Edition is now available for download from the ArcGIS Developers Site.
This release includes many new capabilities that were recently added to the embedded Web AppBuilder for ArcGIS in ArcGIS Online in Dec 2016. Highlights include:
A new Extent Navigate widget which enables navigating the map to its previous or next extents;
The Add Data widget now supports adding local data such as shapefiles, CSV, GPX, and GeoJSON;
The Attribute Table widget can display attachments;
The Directions widget now supports predefined start and end stops, and displays the default travel modes at runtime when the travel mode URL is not specifically configured;
The Filter and Query widgets support the ability to filter values by all applicable expressions in addition to the previous expressions;
The Info Summary widget enables you to group features based on renderer and it has been improved to better support the many different Web AppBuilder themes.
The Query widget: when running a query against a related table, all the related features can be highlighted on the map and listed in the panel; you can also change the symbol at runtime to highlight the query result differently on the map;
The Situational Awareness widget: you can create snapshots of location and supporting analyzed info; add count to each tab; save point and line locations (in addition to polygons); and provide multiple input locations for analysis.
For more details, please review this blog post: What's New in Web AppBuilder for ArcGIS (December 2016).
We also wanted to mention that many new example customer apps have been added to the Web AppBuilder for ArcGIS Live Sites Showcase, please check out the great work by our user community!!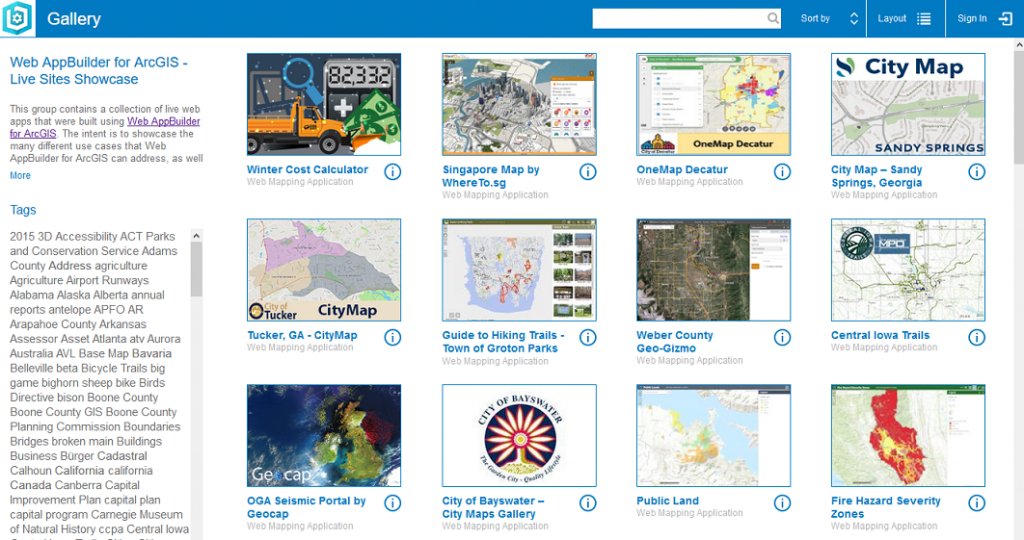 If you have a public facing web app built on Web AppBuilder for ArcGIS and would like to share it, please send an email to Derek Law (dlaw@esri.com).
Sincerely,
The Web AppBuilder for ArcGIS Dev team