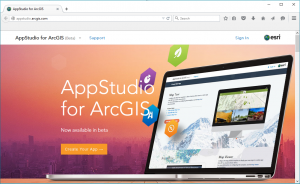 AppStudio for ArcGIS (Beta 3) is now publicly available, directly from the product site. Application to join the esri early adopter community is no longer required. Go to http://appstudio.arcgis.com to and sign in with a Named User account to download AppStudio for ArcGIS.
You can also now create an app directly on the web. Choose one of the featured apps and configure it for your own use. Build installation files and a landing page all on the web, and get ready to distribute your own native app or download AppStudio Player from either  Google Play or the App Store to run your app on your Android or iOS device.
In the 4 weeks since the Beta 3 has been public:
2 customer apps have already been published to stores – The UK Geological Societies 100 Great Geosites, and NSG's Taste of Auckland (for the upcoming NZ User Conference)
There have been 300 build requests per week made to the cloud Make service
There are a few known issues with Beta 3 that we are working to address, but with these few tips, you can still continue to work on your own great apps :
The Settings > Properties page in AppStudio for ArcGIS (Desktop Edition), freezes when you are signed in. To edit the properties be sure NOT to sign in.
When you download an app in AppStudio for ArcGIS (Desktop Edition) or in Player, the thumbnail may not appear immediately. Click the refresh button to display the thumbnail.
The templates are not translated yet.