If you want to share your map with others, using configurable apps is easy, and preferable to sharing using the Map Viewer. But if you need to share a map quickly, you don't have to take the extra steps to configure, save, and share the application. If the app preview meets your needs, you can "quick share" directly from preview by following the steps below. This is especially useful when collaborating with others over a project, or sending information quickly to your boss or decision makers.
Quick share
You can "quick share" your map using an app by following these steps.
Step 1 – Save and Share your map. To share with others you must share your map publicly, or within your organization. Limit sharing to within your organization only if you want to quick-share privately with another member.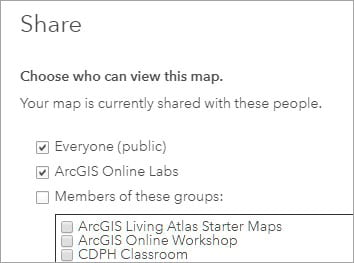 Step 2 – Click Create A Web App to view the available app templates.

Step 3 – Find the template you want, and click to select it.
Tip: for focusing on the map, use one of the ones in the Showcase a Map category.
Step 4 – Click Preview. This opens your map in the default configuration for the template.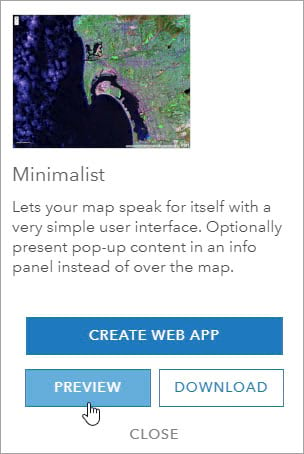 Step 5 – Copy and paste the URL to quickly share the app with others.

You can email or message the link, it's the quickest way to share your map via an app.
Examples
Here's a few quick share examples. Note that the default tools vary in each app, and that your map might take advantage of those. For example, the map includes bookmarks, and the Basic Viewer default configuration includes a bookmark navigation tool. Others include basemap toggles, layer controls, and other capabilities. So experiment, and see which quick share app works best for your needs.
Shared using the Map Viewer (original map)
More information
For more information see Create apps from maps.
This post was originally published August 13, 2015, and has been updated.
Commenting is not enabled for this article.