ArcGIS Knowledge is live at the Esri Federal GIS Conference in Washington, DC February 6-9 after its debut at last year's virtual federal conference. We are excited to share multiple opportunities at the conference to learn more, get the latest product updates, and come talk with our team about all things knowledge graphs, graph analytics and connected data.
We are especially interested to hear how you are using this extended capability for ArcGIS Enterprise.
Consider this blog your cheat sheet for all things ArcGIS Knowledge at FedGIS.
General Sessions (Feb 7-8)
Everyone: Catch the new ArcGIS Knowledge demos at the Plenary session first thing Tuesday morning from a customer and Esri staff.
GIS Analysts and Managers: Looking to get started connecting the dots with ArcGIS Knowledge? Check out one of the 101-style overview sessions on Tuesday or Wednesday. If you want to go beyond the basics stop by the intermediate session late Wednesday afternoon. If you have unstructured text data relevant to a project, come by this Tuesday session to learn how to ingest using NLP and work with data from documents in a knowledge graph.
All Source Analysts: Learn how the new, purpose-built ArcGIS AllSource desktop application works with ArcGIS Knowledge enterprise capability to support operational intelligence (Wednesday) and how human movement spatial analysis can complement link analysis within one application (Tuesday or Wednesday).
User Presentations
Public Health Data and System Modernization with ArcGIS: Georgia Department of Public Health is leading the way in the use of knowledge graphs in the world of integrated public health surveillance. Come hear how Michael Bryan, the Director of Maternal and Child Health Epidemiology, has helped his organization overcome data fusion barriers to support public health surveillance with ArcGIS Knowledge and Senzing an Esri Business Partner with technology for identity resolution.
Data & Info Sharing: Taxonomies & Ontologies in Critical Infrastructure Protection. The Cybersecurity and Infrastructure Security Agency (CISA) has a critical infrastructure data taxonomy (IDT), or a common language for the infrastructure protection community and industry partners to use. Using knowledge graphs in ArcGIS, this presentation will highlight the benefits of a taxonomy for linking and enhancing critical infrastructure visualization and analysis.
Special Sessions (Additional Registration Required)
Developers: Monday's pre-conference overview session introduces you to ArcGIS Knowledge and building custom apps in JavaScript and analysis notebooks in Python.
Classified Session: For analysts with special clearances, be sure to also look for the ArcGIS Knowledge session in the FedGIS Classified Session on Thursday.
See below for more details about the sessions, or click for all ArcGIS Knowledge sessions in the live detailed agenda. Come experience ArcGIS Knowledge in action!
Come talk to us at the Expo!
Find us in the ArcGIS Products section on the Expo floor. Several ArcGIS Knowledge product team members will be there during the Expo hours, which are:
Tue, Feb 7   |  12:00 p.m. – 6:30 p.m. EST
Wed, Feb 8  |  10:45 a.m. – 5:00 p.m. EST
Be sure to also talk to Esri Partners at the Expo, such Quiet Professionals (516) and Voyager Search (B10), that have developed special products and expertise using ArcGIS Knowledge.
More Questions? Schedule a meeting by emailing us at KnowledgeatFedGIS@esri.com.
Plenary Session
Be sure to start off with the plenary session where you'll hear from Jack Dangermond, see presentations from the federal user community and experience the latest technology demonstrations from Esri staff. ArcGIS Knowledge is one of the many products and capabilities expected to be shown in the plenary. Keep your eyes peeled for the presenters from the U.S. Department of State.
When and where?
Tuesday, Feb 7 | 08:30 AM – 10:30 AM PDT | Convention Center Exhibit Halls FGH
ArcGIS Knowledge Sessions
Connect the Dots with ArcGIS Knowledge: An Introduction to Graph and Link Analysis
Some of the biggest challenges organizations face today are data fusion and discovery: how to quickly find the right information and analyze it in the right context. This session will introduce ArcGIS Knowledge, the knowledge graph and graph analysis capability for ArcGIS Enterprise and ArcGIS Pro that makes it easy to create, discover, and explore connections in data. Learn how a knowledge graph works, discover how ArcGIS Knowledge empowers link analysis workflows, and explore new capabilities for working with connected data in link charts and maps.
Presented by Ty Fitzpatrick and Megan Banaski
When and where?
Tuesday, Feb 7  | 3:00 PM – 4:00 PM EST | Salon I
Wednesday, Feb 8  | 11:00 AM – 12:00 PM EST | Room 152 A
ArcGIS Knowledge: Beyond the Basics of Graph Data and Link Analysis
Learn how ArcGIS Knowledge can help integrate new graph analytics along with existing spatial analysis methods to more deeply understand how and why things are related. Especially if you are familiar with link analysis or ArcGIS Pro, this session will take you through an end-to-end workflow for integrating data from multiple sources into a knowledge graph, deriving real-world relationships from spatial analysis, and applying new tools for analyzing direct and indirect connections in the data.
Presented by Amy Clarke and Tim Murphy
When and where?
Wednesday, Feb 8  | 
4:00 PM – 5:00 PM EST  | 
Room 102 A
Building Web Applications and Notebooks with ArcGIS Knowledge
*Additional Registration Required
In this session, we'll cover working with ArcGIS Knowledge graphs using the ArcGIS APIs for JavaScript and Python. We'll demonstrate how to use the latest functionality to build notebooks and web applications that interact with your graph. You'll see how to explore and analyze your graph data through searches and queries, and modify that data by editing your graph.
Presented by Megan Banaski and Emma Tait
Products: ArcGIS API for JavaScript, ArcGIS API for Python, ArcGIS Knowledge, ArcGIS Pro
When and where?
Monday, Feb 6  |  3:30 PM – 4:30 PM EST  |  Room 102 B 

Sessions with ArcGIS Knowledge + Other Products
Working with Unstructured Text Data in ArcGIS
In this session, we'll explore analysis tools for working with unstructured text across ArcGIS. Come learn about the new Text Analysis toolset, part of the GeoAI toolbox, which is designed to work with unstructured text data using Natural Language Processing (NLP) techniques. You'll be introduced to unstructured text data and its intersection with GIS and gain an understanding of how entity extraction can augment and add context to GIS data to enable workflows like link analysis. Lastly, we'll explore how we can extend and automate unstructured analysis workflows using ArcGIS LocateXT, ArcGIS Knowledge, and the ArcGIS API for Python.
Presented by Parker Hornstein and Amy Clarke
Products: ArcGIS API for Python, ArcGIS Knowledge, ArcGIS Pro
When and where?
Tuesday, Feb 7  |  1:45 PM – 2:45 PM EST  |  Room 140 B
Analyzing Movement Data with ArcGIS
A GIS is the ideal system to analyze and exploit movement data. Whether your data comes from cell phone positions, GPS tags, or even artificial intelligence (AI) detections from video, ArcGIS provides a robust and flexible suite of tools that enables actionable analysis at any scale. Attend this session to learn how ArcGIS is used to characterize activity, automate your analysis, and share your results to solve your activity-based intelligence problems on both the desktop and the web.
Presented by John Fry, Parker Hornstein, and Thomas Bryn
Products: ArcGIS API for Python, ArcGIS Knowledge, ArcGIS Pro
When and where?
Tuesday, Feb 7  |  4:15 PM – 5:15 PM EST  |  Room 145 B
Wednesday, Feb 8  |  11:00 AM – 12:00 PM EST  |  Room 103 A
Supporting Intelligence Operations Using ArcGIS
With the abundance of data available to today's intelligence analysts, synthesizing information and extracting relevant content is complex. The ArcGIS system includes applications specifically designed to support intelligence operations by analyzing and visualizing data in new and compelling ways. In this session, you will learn how to use tools such as ArcGIS Knowledge and ArcGIS AllSource to derive valuable intelligence from real-world datasets. See how ArcGIS can give analysts the competitive advantage.
Presented by Julia Bell and Marques Munson
Products: ArcGIS Knowledge, ArcGIS Pro Intelligence
When and where?
Wednesday, Feb 8  |  4:00 PM – 5:00 PM EST  |  Room 152 A
ArcGIS Enterprise: What's New
This session will touch on ArcGIS Knowledge and new read support for existing Neo4j Enterprise graph databases, also known as User Managed NoSQL data stores.
ArcGIS Enterprise is continually evolving with new functionality and enhancements. From administrative improvements to mapping and data management, there will be something for everyone in the organization that interacts with ArcGIS Enterprise. Learn how to harness these new capabilities to advance and expand your organization's use of ArcGIS Enterprise. Join us at this session for details and demonstrations on what's new in recent releases.
Presented by Julia Bell, Scott Cecilio
When and where?
Tuesday, Feb 7  |  1:45 PM – 2:45 PM EST  |  Salon G
Wednesday, Feb 8  |  8:30 AM – 9:30 AM EST  |  Room 152 A
ArcGIS Pro: What's New
This session will tour some of the latest enhancements to ArcGIS Pro. We will showcase the highlights, from improvements in performance and productivity to the introduction of new tools like the new Color Vision Deficiency Simulator tool or new functionality like ArcGIS Knowledge. Come learn how to leverage these recent enhancements to visualize, manage, analyze, export, and share your work more effectively.
Presented by Lain Graham and Thomas Bryn
When and where?
Tuesday, Feb 7  |  3:00 PM – 4:00 PM EST  |  Room 146 C
Wednesday, Feb 8  |  1:30 PM – 2:30 PM EST  |  Room 152 A
Can't make it to the event?
Check out these demo videos for more information!
In this demo, we used ArcGIS Knowledge to track Direct Relief shipments of critical medication to Louisiana residents during Hurricane Ida to understand where the medicines were distributed, the impact to affected communities and how Direct Relief could be best prepared for the next disaster.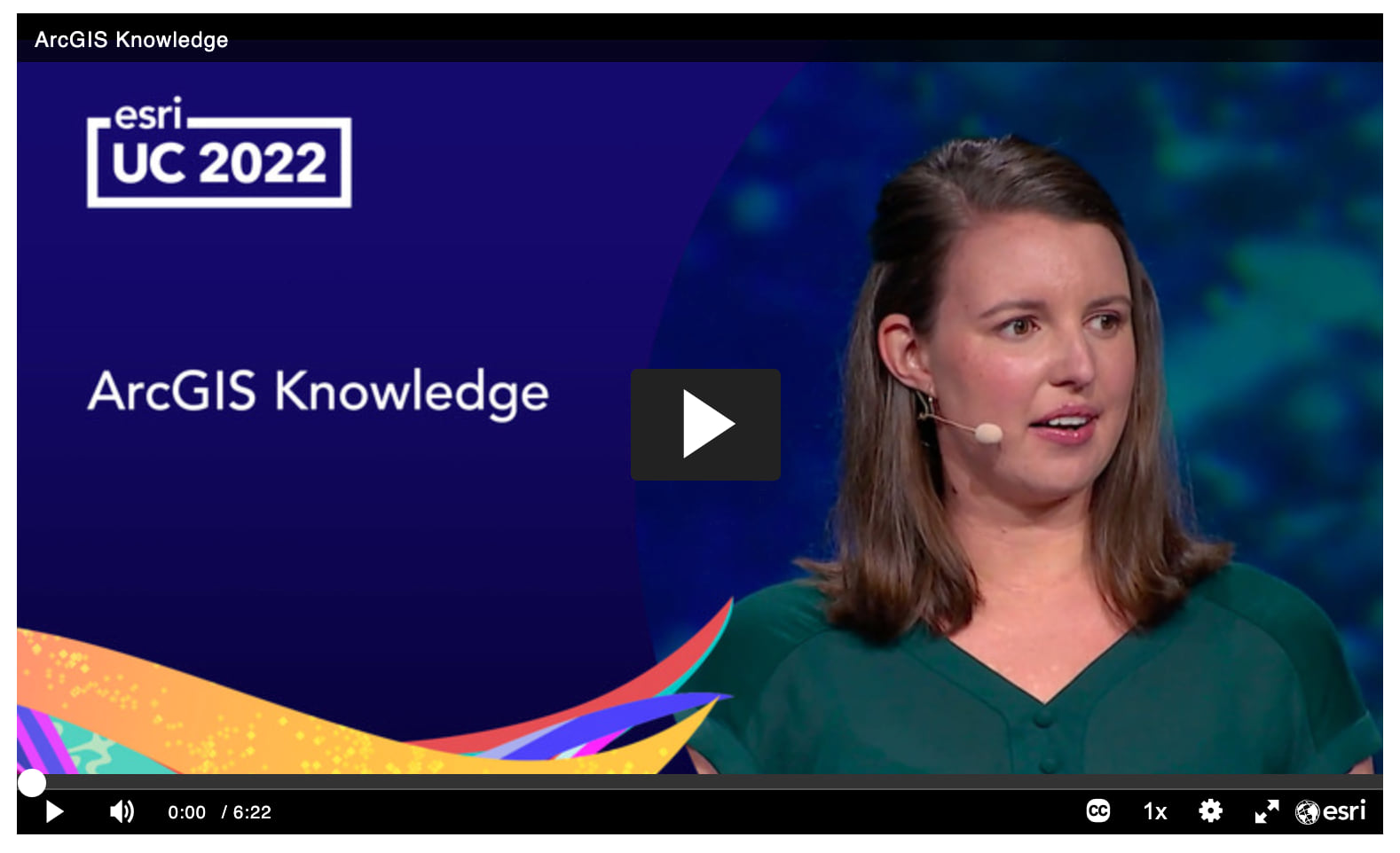 In this first look demonstration,
watch as Amy Clarke unveils new ArcGIS Knowledge capabilities that integrate knowledge graphs and analytics to connect spatial and non-spatial data through entities and relationships.