With the Fall 2023 release, the new metadata editor is officially out of Beta.
Metadata, sometimes referred to as data about data, provides useful context for data. Having good metadata makes it easier to find and use quality data, increases accessibility, and ensures effective content sharing.
The new metadata editor provides a streamlined metadata editing experience, with quick visibility of one's metadata based on the metadata style configured. As highlighted in the Summer 2023 release, the new editor allows you to:
Quickly complete what's needed, creating essential metadata compliant with international open standards
Complete more robust documentation, including optional metadata elements
Search and find metadata elements
Add thumbnails to items
View, download, and overwrite metadata records
Enable Metadata for your Organization
Administrators can enable and configure metadata settings for their organization, allowing item owners to edit metadata for their items based on the metadata style configured. Once metadata is enabled, item owners and administrators will have access to the new and classic metadata editors from the item's details page.

Check out the new Editor
Once metadata is enabled, item owners and administrators can navigate to their item's details page to explore the new metadata editor. What you should know:
The new editor is the default option when editing metadata
Enabling metadata for an organization provides access to both the new and the classic metadata editor
There are two metadata tabs: Essential metadata and All metadata. Essential metadata includes all the required elements for the organization's metadata style
The search feature provides a way to find matching metadata elements
The new metadata editor incorporates validation messages, displaying completed metadata elements with a green checkmark
The redesigned and streamlined metadata form provides an improved metadata editing and viewing experience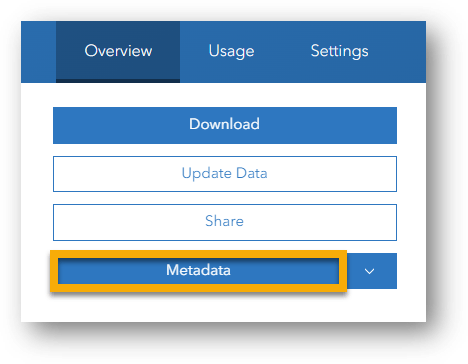 The new metadata editor makes editing great metadata seamless. Once administrators configure the organization's metadata style, the new editor provides an overall view of the required elements from the Essential metadata tab. Using metadata standards, the new editor has an internal validator that enables you to complete your metadata while navigating through the metadata elements. Additionally, item owners and administrators can now add item thumbnails from the new editor. We are excited to release the new metadata editor and thrilled for you to try it!
The long-term goal is to reduce the complexity, enhance, and unify the metadata editing experience across the ArcGIS platform. As you explore the new editor, look out for future enhancements in the road ahead. Share your feedback on the Metadata, Catalogs and Search Esri Community.