A basemap provides the geographic context for the layers you want to display in a map. When you create a new map or scene, you can choose which basemap you want using the basemap gallery.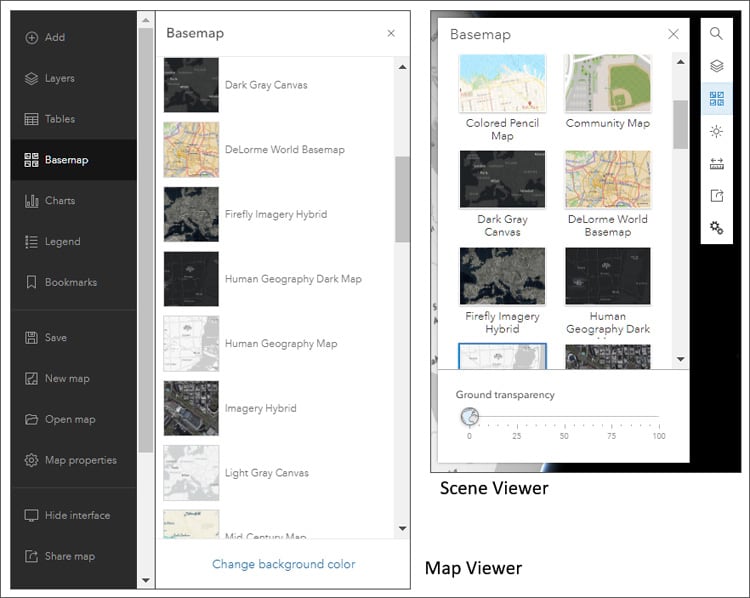 By default, the gallery contains a pre-defined set of basemaps from Esri, and is based upon the region you have set for your organization. As an administrator of your organization, you can change which basemaps your organization uses by creating a custom basemap gallery. The custom basemap gallery can include a combination of your own basemaps, plus Esri basemaps. The steps to create a custom basemap gallery are:
Create a group for your custom basemap gallery.
Add maps you want to use as basemaps to the group.
Set the group as your organization's basemap gallery.
Follow the detailed steps below to create a custom basemap gallery for your organization.
Create a group for your basemaps
Create a group that will contain the maps you want to use in your custom basemap gallery. The contents of this group will be shown in the basemap gallery for the Map Viewer or Scene Viewer.
Step 1 – From the Groups tab, click Create group.

Step 2 – Complete the Group Details.
a – Add a group name.
b – Add a Summary description for the group.
c – Add one or more tags.
d – Add a thumbnail for the group (optional, but recommended).
Consider the other group settings, although in this case the rest of the default settings are fine. Ensure that the group is viewable by Everyone (Public) or by People in the organization.

Click Create Group when finished.

Tip: After the group has been created, it's a good idea and a best practice to complete the group description.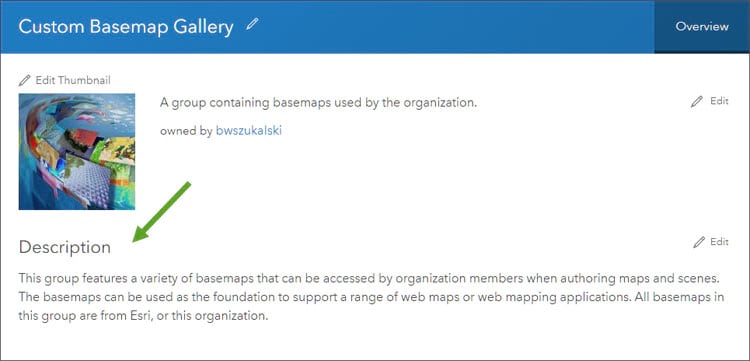 Add maps to the group
Now that you have created a group for your custom basemap gallery, you can add maps to the group. Any map you add will become one of your basemap choices.
You can author maps specifically for use as basemaps. Note that operational layers (anything above the basemap layer group in Content) will not display when used as a basemap. To move a layer to your basemap group, in the Layers pane click the layer actions (…) and choose Move to Basemap.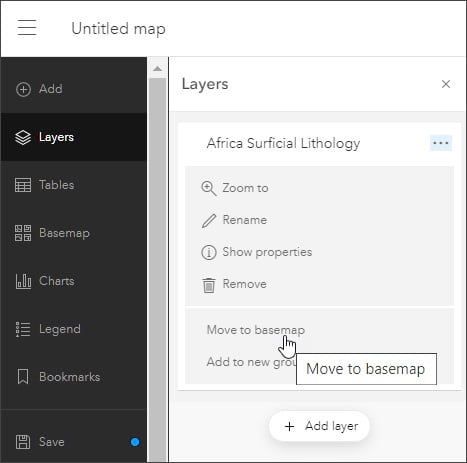 In the basemaps pane you can also Add Layer.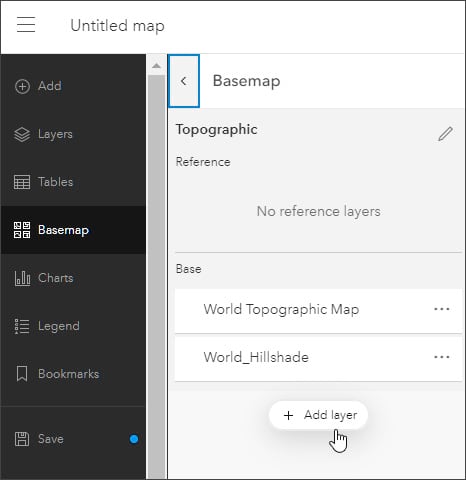 When finished, save the map, ensuring that the map and all layers are shared publicly.
You can also add maps from the ArcGIS Living Atlas of the World, use existing maps in your organization, or even choose publicly shared maps from outside your organization. To ensure your custom basemaps don't inadvertently disappear, it's a best practice to use Living Atlas maps or author and manage your own maps for use as basemaps.
To add a map to your basemap group, follow these steps.
Step 1 – Open the item page for the web map you want to add to your basemap group.
Step 2 – Click Share.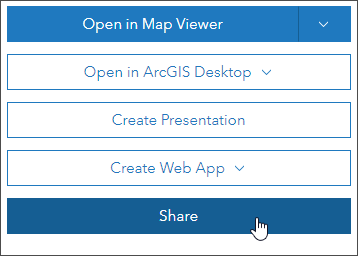 Step 3 – Click Edit group sharing.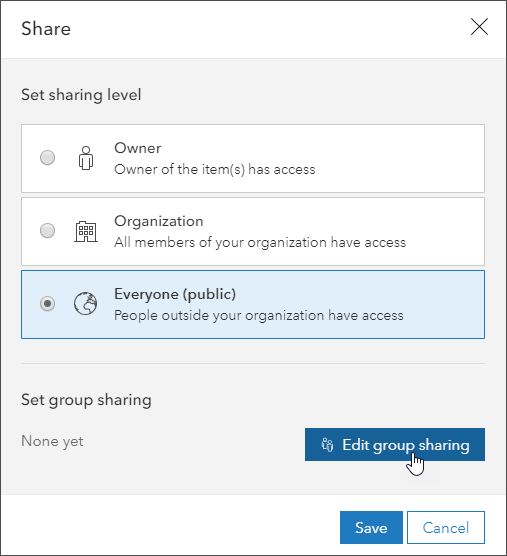 Step 4 – Select your organization's custom basemap group, then click OK.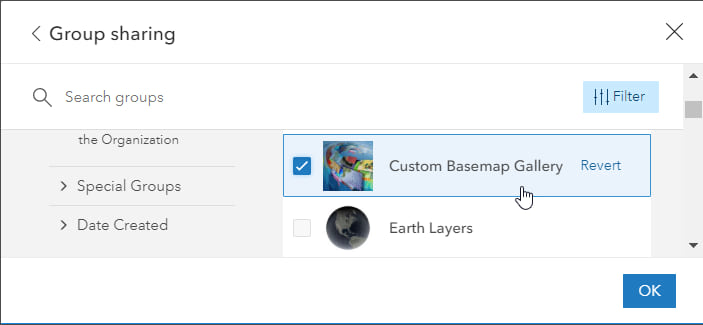 Step 5 – Click Save. The map has been shared to your basemap gallery group.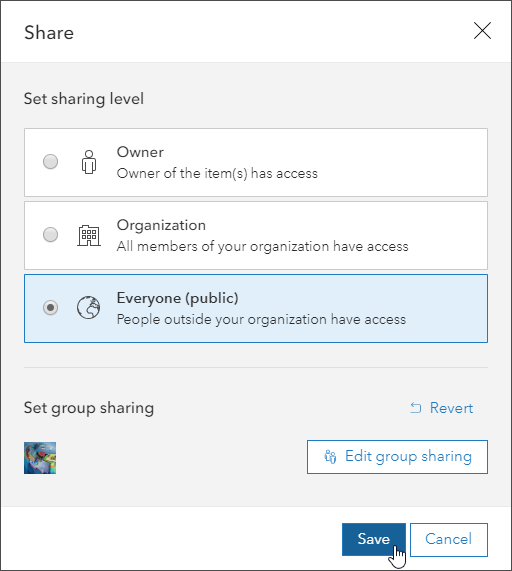 Set the group as the basemap gallery
Now that you've collected the maps you want to use in a group, you can set the group as the Basemap Gallery source for your organization. To enable your custom Basemap Gallery, follow these steps.
Step 1 – Go to your organizations Settings, and open the Map tab.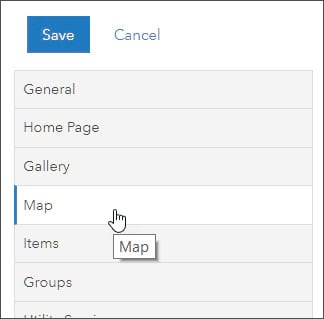 Step 2 – In the Basemap Gallery section, do the following.
a – Select your custom basemap gallery group from the dropdown list.
b – Choose the Esri default vector or raster basemaps to add to your gallery. This is optional, but if you only have a few custom basemaps in your gallery you can add the default Esri basemaps to complete your gallery. Vector basemaps are recommended.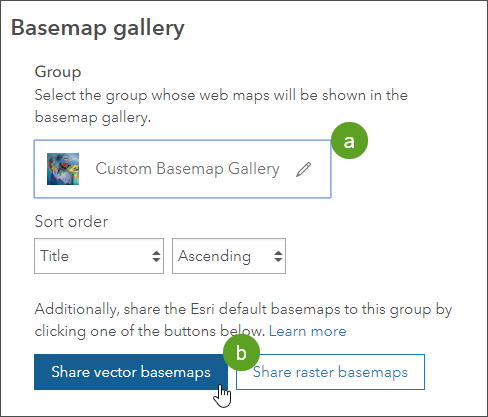 You've successfully created a custom basemap gallery, which will appear in all apps.
Summary & tips
A custom basemap gallery can be useful for a variety of reasons. Since the basemap determines the projection of the map, you can add basemaps that support your local projection standard.
A custom gallery also provides flexibility. For example, rather than use Esri's predefined Living Atlas basemap collection, you can build your own gallery by choosing from available Living Atlas basemaps. You can also use the Style Editor to craft your own unique basemaps based on Esri vector basemaps. Or, author your own basemaps using unique layers published by your organization.
When making your own basemaps, ensure that the maps and all layers are shared publicly. Set the delete protection to ensure that your maps and layers are not inadvertently deleted.
More information
For more information see the following ArcGIS Online Help topics.
This post was originally published on September 10, 2019, and has been updated.
Commenting is not enabled for this article.