ArcGIS Online includes features that make it easy to protect your items to ensure that you don't accidentally delete them and break applications, make copies of your work, have viewers download your data, or get unwanted comments. Here's an overview of how you can protect your items from unwanted downloads and changes.
Prevent accidental deletion
You can use groups, folders, and tags to help identify key layers, maps, or other items that you don't want to inadvertently delete. But the most surefire way to prevent accidental deletion is to toggle Delete Protection.
In the item pages, (1) click the Settings tab, (2) check the box to Prevent this item from being accidentally deleted, and (3) Save.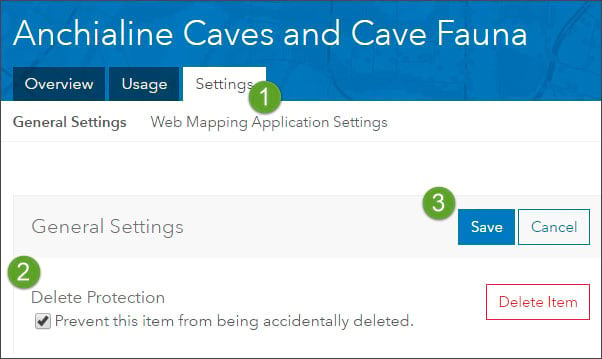 See How to prevent accidental deletion for more information.
Prevent others from copying your maps
You can control whether others can save copies of your maps using the Save As property. In the item pages click Settings, then scroll down to Web Map Settings. Check or uncheck Allow others to save a copy of this item, then click Save.

Prevent exporting feature layers
In feature layer item pages, Export To allows users to export features in a variety of formats.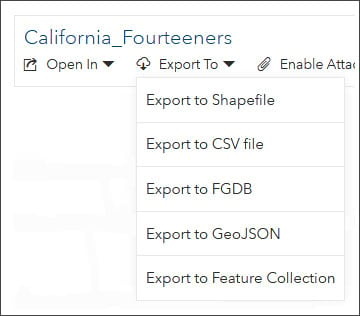 To enable or disable this capability, in the item pages click Settings, scroll down to the Feature Layer (Hosted) Settings section, then check or uncheck Allow others to export to different formats.

Eliminate comments
Comments can be useful in getting feedback from users of your maps and other items. For example, Esri's Imagery with Labels web map currently has 46 comments:

The comments range from questions about the service to suggestions for improvements. But suppose you don't want any comments at all? As an organization administrator you can disable comments by clicking My Organization > Edit Settings. In the Item Details tab check or uncheck the ability to add comments.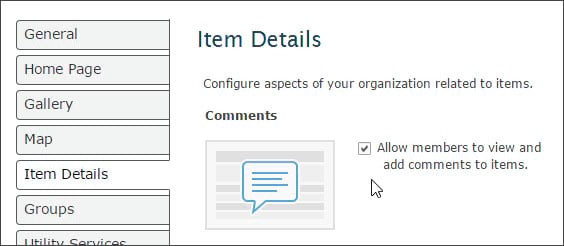 More information
For more information see Item details.
This post was originally published on January 10, 2014, and has been updated.
Commenting is not enabled for this article.