Voxel layers were first introduced in ArcGIS Pro 2.6. A voxel layer represents multidimensional spatial and temporal information in a 3D volumetric visualization. For example, you can visualize atmospheric or oceanic data, a geological underground model, or space-time cubes as voxel layers. Access to volumetric data about the world provides  higher accuracy analysis  and a  better understanding of  conditions that you can't physically experience.  At the ArcGIS Pro 2.7 release we continue to add new functionality for voxel layers, let's take a look!
Animation
    Voxel layers provide powerful analytic and visualization capabilities. If the voxel layer includes a time dimension you can further visualize your voxel layers across time slices. For example, you can visualize ocean temperatures throughout the year in an animation. At ArcGIS Pro 2.6, you could visualize the voxel layer in animation but not all items were supported in an animation. At the ArcGIS Pro 2.7 release, isosurface, sections, and slices are now supported in an animation.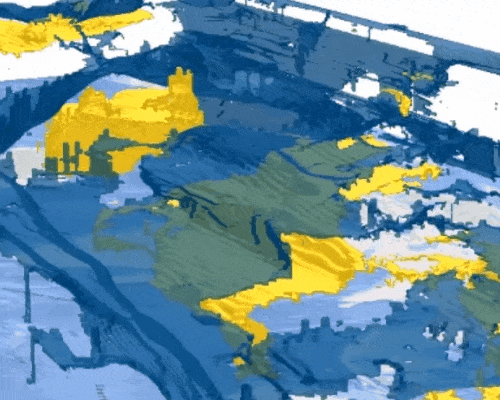 ArcGIS Pro SDK
    With the ArcGIS Pro SDK for Microsoft .NET you can extend ArcGIS Pro. Develop add-ins and solution configurations to create a custom Pro UI and user experience for your organization. With the new Voxel Layers API available with 2.7, developers can create and manage voxel layer slices, sections and isosurfaces, control voxel layer lighting and rendering. Check out ProConcepts Voxel Layers for more information on voxel layer capabilities and SDK code snippets to use.
OpenGL
    OpenGL is a popular cross-platform API used in the rendering of 2D and 3D visualizations. ArcGIS Pro by default uses DirectX but this can be switched to OpenGL depending on the GPU your machine has. At the ArcGIS Pro 2.7 release voxel layers are now fully supported on OpenGL to provide more organizations support whether you are using desktop machines or a cloud environment to run ArcGIS Pro.
Symbology
    Small yet key enhancements were added to symbology for voxel layers at 2.7. In the symbology pane for variables visualized with a stretch renderer, there is now an Advanced symbology options tab which allows you to format labels in the symbology and contents panes. For example, change numeric labels to scientific notation and adjust the rounding and alignment of your labels.
    For variables visualized with unique values, the maximum number of symbol classes is 255. Unique values are dynamically loaded until no new unique values are discovered. To add additional symbol classes, click
Add unlisted values
 to open a table in the 
Select values to add
 pane. This table lists all values not currently symbolized. Click 
Options
 and click 
Add new value
to type a new value. You can make this change in the 
Symbology
 pane or in the 
Contents
 pane.
Getting started
Want to check out voxel layers but don't know where to start? Check out some of our help documentation and learn lessons to get started using voxel layers in ArcGIS Pro!
Visualize social distancing across California
Interpolate 3D oxygen mesurements in Monterey Bay
Ecological Marine Units example dataset
What's next?
We know that there is a lot of requested functionality around analysis and sharing of voxel layers. We are excited to bring you these capabilities across the ArcGIS platform and you can expect to see the following in the coming releases:
Voxel layers in the web
Voxel layer cache
New geoprocessing tools such as exporting isosurfaces to multipatch
Please continue to provide feedback on your experience and log ideas for any new functionality you would like to see!