The 2019 Esri User Conference (July 8-12) is almost here. We here on the Raster Analysis team are busy practicing and polishing our presentations and are looking forward to showing you what we've been working on since last summer.  If you do any kind of raster or multidimensional analysis, please look at the guide below to help you plan out your time with us.
Expo hall
Visit the UC Expo to meet with us and with several amazing exhibitors. The UC Expo Hall has extended hours on Thursday this year, meaning more time is available for you to come by and get your questions answered.
Tuesday, July 9th         9:00 AM – 6:00 PM
Wednesday, July 10th  9:00 AM – 6:00 PM
Thursday, July 11th      9:00 AM – 4:00 PM
Technical Workshops and Demos
To help target your areas of interest, we've categorized workshops and demos relevant to raster analysis with Spatial Analyst into different groups.  In each group, you will find the general purpose of the sessions within the group, followed by the specific session titles in chronological order. Repeat presentations are also listed, in case you are not able to attend the first offering. Finally, remember to check out the Road Ahead sessions for a peek into the future.
1.     Raster Analysis
The ArcGIS platform offers many capabilities for raster analysis, data management, and spatial modeling.  Attend the introductory sessions to get a broad overview of the capabilities for raster analysis.  If your interest is more for specific types of analysis, such as suitability modeling, cost distance modeling, or hydrological modeling, we offer many sessions more specifically focused on those areas.
2. Raster Analysis using Python
The integration of Map Algebra with Python via the Spatial Analyst ArcPy module offers a broad range of capabilities for raster analysis, data management and automation workflows. With the arcgis.raster module in the ArcGIS Python API, you can perform raster analysis on very large raster datasets in the server environment. Various Python packages also let you extend your analytical power though custom tools, as well as machine and deep learning.
3.     Raster Analytics using ArcGIS Image Server
The Raster Analytics capabilities offered by ArcGIS Image Server can be used to enable cloud computing, which applies distributed computing and distributed storage technology to analyze and process large raster data collections.  The following sessions will introduce the capabilities of this product, describe the architecture, detail the deployment options, and identify the performance benefits offered by distributed processing.
4.     Scientific Multidimensional Data Analysis
The ArcGIS platform has great capabilities for the ingesting, management, visualization, analysis, and sharing of scientific multidimensional data.  If you would like to use netCDF, HDF or GRIB data for doing spatial and temporal analysis, the following sessions will be of interest to you.
5.     The Road Ahead
Come join us for the Road Ahead sessions to find out what enhancements have been made in spatial analytics and what we are planning for the upcoming year, especially in the areas of machine learning, big data and real time analysis.
Special Interest Group Meetings
Special Interest Groups – or SIGs—are communities within multiple organizations with a shared interest in advancing a specific area of knowledge, learning, or technology. Every year, the Esri UC supports dozens of SIG meetups, both technical and non-technical. SIGs are a great way to network with your peers and learn something new. We encourage you to check out and participate in any of several SIG meetups highlighted below.
Summary, and come see us!
Additional details on these sessions listed above, and much more, is available in the full agenda. Be sure to download the Esri Events Mobile App, too!   (UC content coming soon)
Please come by the Spatial Analyst island within Spatial Analysis & Data Science at the Product Showcase in the Exhibit Hall during the week (Tuesday and Wednesday from 9:00 – 6:00, and Thursday from 9:00 – 4:00.  We'd love to hear about the work you do, any difficulties you have encountered, and any ideas you might have to make our software suit your needs even better.
***Note: All listings subject to change; not every paper or event may be presented here. For the list of the all sessions visit the full agenda page.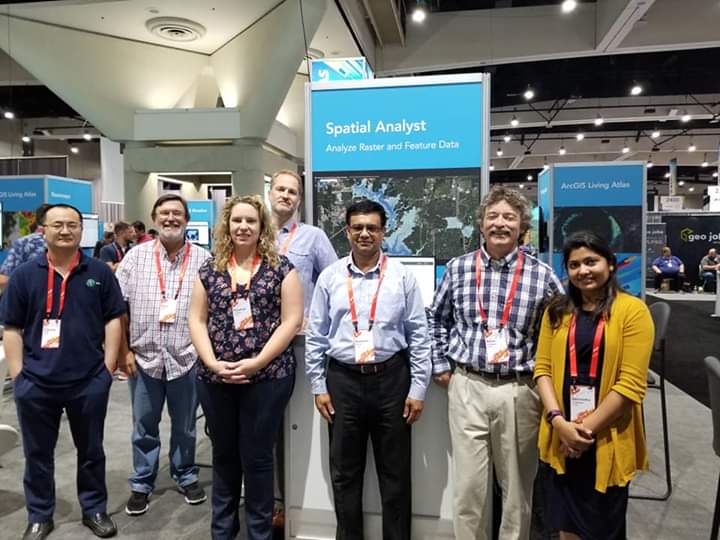 Commenting is not enabled for this article.