Authored in collaboration with SkyWatch team 
Not too long ago, satellite imagery was often used simply to add visual interest to a map. Today, satellite imagery is used as a layer of information in a GIS that empowers users to make informed decisions, address complex challenges and explore the Earth's surface. Whether you want to monitor volcanic activity, detect anomalies in deforestation, assess damage after natural disasters or manage urban growth, satellite imagery is a powerful tool for mapping and visualizing the world.
In ArcGIS, satellite imagery supports a wide range of applications—from observing different spectral bands on the electromagnetic spectrum to gathering images to observe change over time, you can go further than ever before to extract meaningful insights from your imagery. Now, in conjunction with SkyWatch, an Esri partner, accessing massive collections of satellite imagery has never been easier with the recently introduced EarthCache add-in for ArcGIS Pro.
Leverage the power of satellite imagery with a new add-in for ArcGIS Pro
It can be daunting to sort through a range of satellite imagery providers to find content that fits your needs. SkyWatch has simplified this process of procuring imagery content by bringing together data from a virtual constellation of over 400 sensors from leading satellite, High-Altitude Pseudo-Satellites (HAPS), and aerial providers, to amass one of the largest collections of remote sensing data in the world.
SkyWatch makes accessing and integrating commercial satellite imagery intuitive and simple with their EarthCache platform. This solution enables you to browse large imagery archives for historical data or to task satellites to capture new images of your area of interest. Since imagery data needs vary by use case, EarthCache makes it possible to log in, search for images, and buy what you need without worrying about minimum volume commitments or data license agreements.
With the introduction of the EarthCache add-in for ArcGIS Pro, SkyWatch has now made their EarthCache functionality natively available to ArcGIS Pro users. This means that ArcGIS users can order from the archive and task satellites directly, without ever leaving the ArcGIS Pro environment!
The EarthCache add-in will offer ArcGIS users:
A seamless experience for discovering and ordering satellite imagery within ArcGIS Pro.
Access to multiple data sources, including very high-resolution sub-meter satellite imagery
Simple, transparent pricing with no subscriptions, credits, or minimum annual purchases required
Use your existing polygon features as the Area of Interest (AOI) for imagery searches
Receive results pre-processed, pre-cropped and delivered within ArcGIS Pro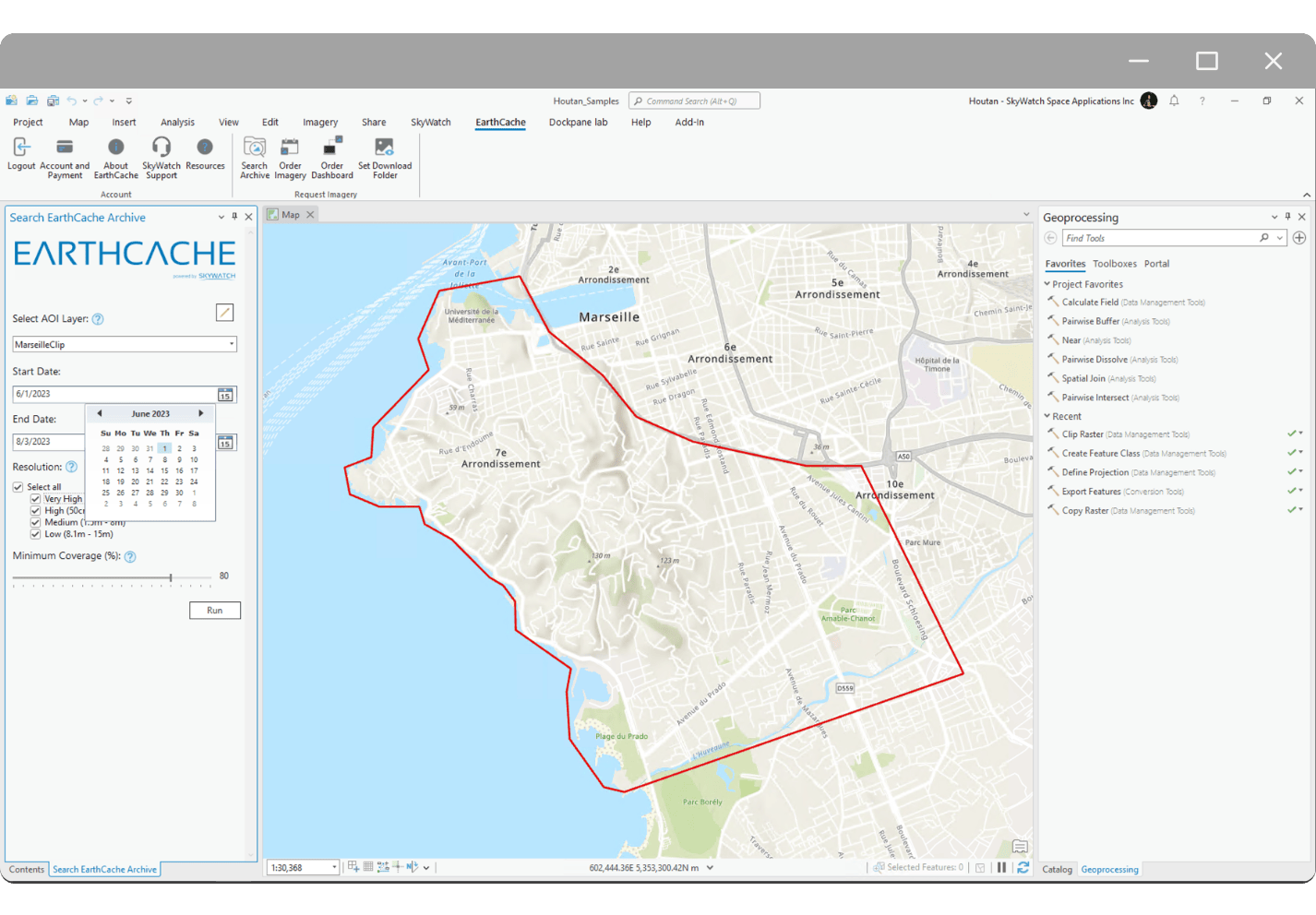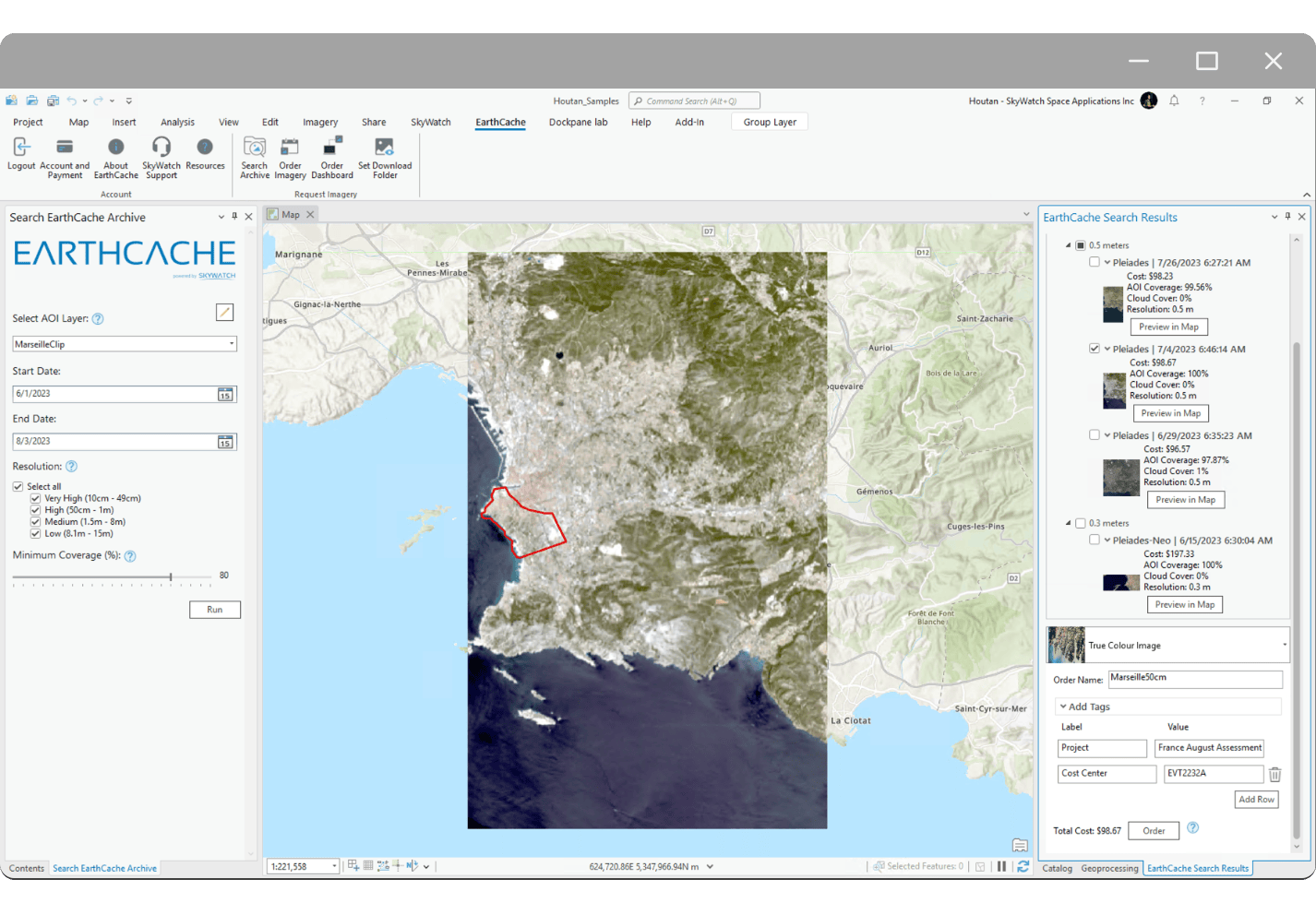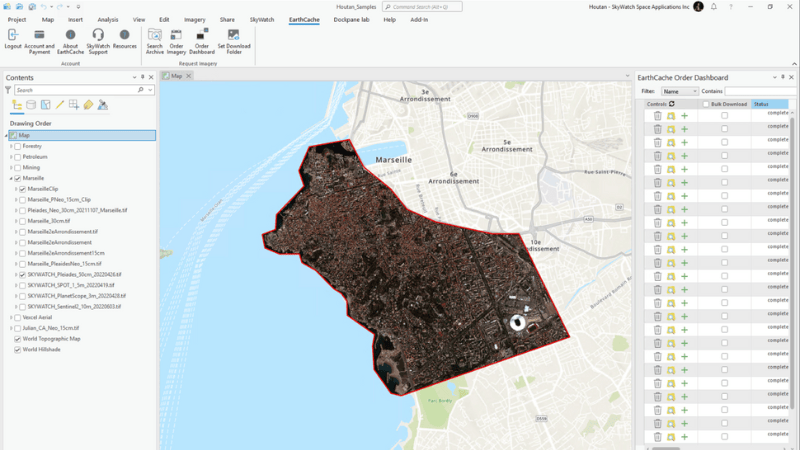 EarthCache offers the world's largest virtual constellation of remote sensing data, making it easier to access the Earth observation data you need. No contracts. Low minimum AOIs. One easy-to-use platform.
With procurement of imagery easier than ever with the EarthCache for ArcGIS add-in, users can now quickly perform analysis to extract features and insights from high-quality satellite imagery. Leveraging this add-in supports various business cases such as urban planning, first responder services, and ecosystem monitoring using capabilities such as AI, time series analysis, change detection, radar analysis and more—all right within ArcGIS.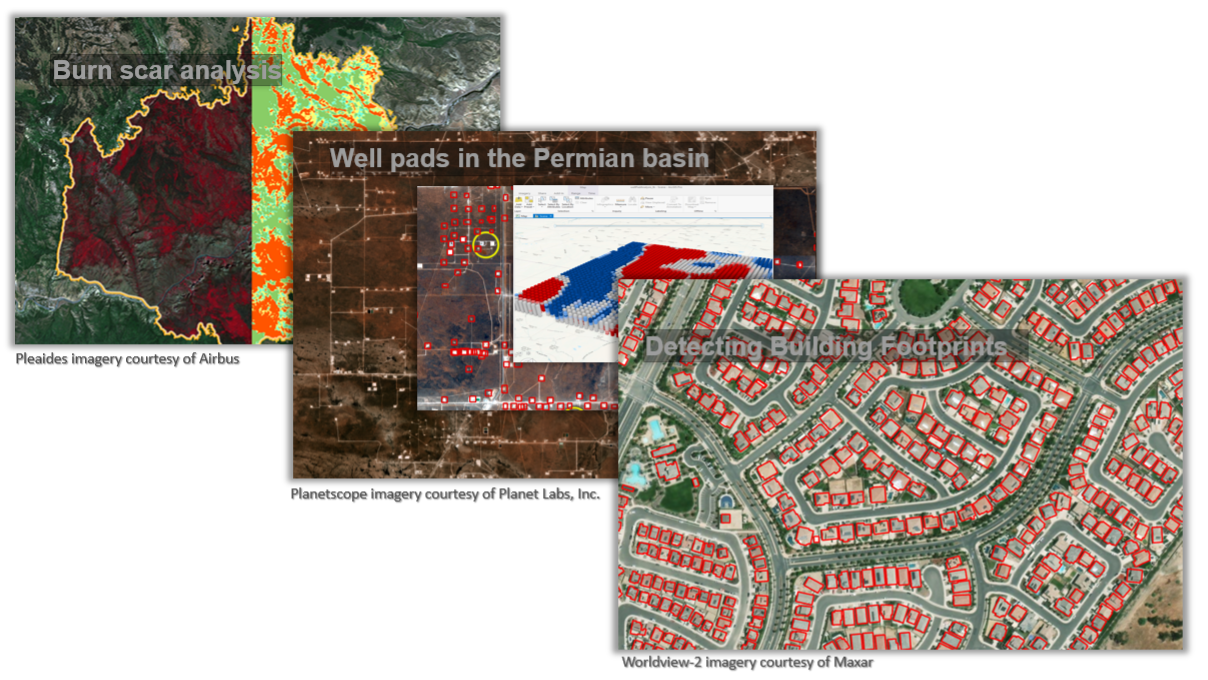 See this integration in action
Check out this video on how to perform change detection in ArcGIS Pro with satellite imagery from EarthCache.
Explore how GeoAI capabilities in ArcGIS and the EarthCache add-in empower users to segment and unlock the potential of imagery in this video.
Get started now
Create your free EarthCache account:
Download the free ArcGIS Pro add-in: https://www.esri.com/en-us/arcgis-marketplace/listing/products/720633ae9a1640989ad322f8ca1c654d
Check out this video on using the add-in to download satellite imagery:
Start accessing satellite imagery in ArcGIS!
Commenting is not enabled for this article.