Seeking a deeper understanding and a more clearly articulated vision for crafting engaging and aesthetically pleasing user experience and user interface designs, were the goals for creating this list. Over time this will be an evolving, living document as expectations of users change. An item to note, this shouldn't be considered a magical checklist, but rather a set of guidelines or tenets.
In no particular order:
Useful, Usable, Compelling
Quite simply, simplify. Decrease confusion and increase productivity by providing useful capabilities that empower people to make and share their work.
Users First – Story centric
Be a user advocate. Focus on common user expectations. Launch your design from stories based on real people and real goals. Make a good first impression.
Content Matters
Demonstrate passion for your design by providing relevant content for the intended audience. In other words, do your homework now to avoid a fire drill later.
Increase Familiarity
Know when to get creative and when not to. Be consistent and deliver information with common design patterns, and try to avoid cookie-cutter designs.
Clarity
Options and actions a user can take, as well as what the results of those actions will be, should always be clear. Avoid causing a dark abyss of frustration.
Empathy for Real People
Acknowledge that the user is not like you. Be an advocate for the target-audience user. Know them and engage them in a clear and honest voice.
Accessibility
Create content that's accessible for the majority of people and devices, not just the one in your hip pocket.
Constant Evolution
Question everything repeatedly. It's better to fail cheaply and early on rather than expensively later. Don't be afraid of change. Trust us, your acid reflux will thank you.
Sustainability
Plan for the long haul. Craft content and information architecture that can be easily maintained in the future. Remember, trends are great, but best left for your wardrobe.
Collaborative Partnerships
Design collaboratively rather than on an island. Iterate together. Be humble. No one has all the answers, not even the person yelling the loudest.
Validate User Expectations through Research
Make research your best friend (but not the friend who's sacked out on your couch). Look for early customer validation instead of releasing products with unknown end-user value.
Continuously Improve
Start by making 90 percent of use cases efficient with the appropriate defaults, and then enhance the user experience where possible. Perform honest assessments to find out what needs to be better. To the moon, then Mars!
Problem Solving Focused on Tangible, Rapid Solutions
Solve user problems over designing the next "cool" feature. Create nimble design over heavy wireframes, comps, or specs. Apply appropriate tools over following a rigid plan.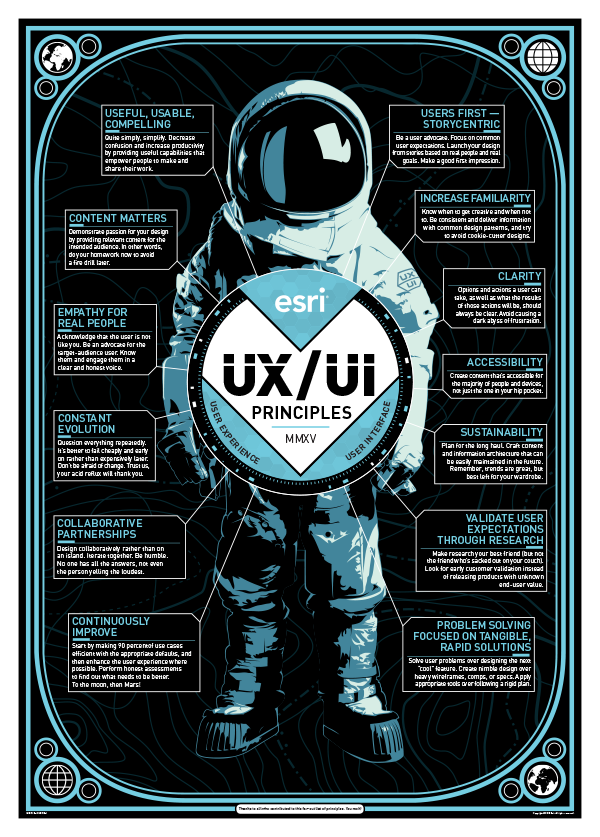 Thanks to all who contributed to this far-out list of principles. You rock! Extra special thanks to Mark Harrower, Steven Nelson, James Hitchcock, David Lauruhn, Patrick Arlt, Cassidy Bishop, and several others.
Commenting is not enabled for this article.