What a ride Hacktoberfest was this year at Esri! 🍂 We saw some awesome things happen, and it's all thanks to our open source community members who were hard at work coding.
Contributors list & winner 🥇
First things first, a huge round of applause to everyone who contributed: Bruno Caimar, Soham Thaker, Estela Extremera, Priyanshu Patel, and Al-Ekram Elahee Hridoy. These individuals are the real MVPs for each taking the time to contribute to some repositories for the very first time!
And then there's Bruno Caimar who really knocked it out of the park! Not only did Bruno contribute across multiple projects, but they also snagged the prize – a free registration to the 2024 Esri Developer Summit in Palm Springs, California! 🌴 Can't wait to see you there, Bruno.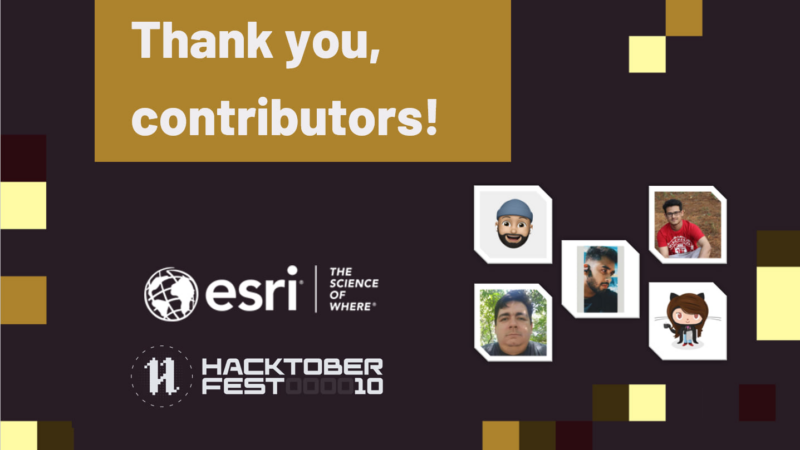 Contribution highlights 👨‍💻
During the month of October, we saw a surge in activity around our repositories with lots of good ideas and dynamic exchanges. While not all projects received the same level of attention, those that did benefited from commendable enhancements.
In total, we received ten pull requests from five new contributors across four different repositories. These include three pull requests to the Esri Leaflet repo, three pull requests to the Esri Leaflet Vector repo, two pull requests to the Calcite Design System repo, and two pull requests to the ArcGIS JavaScript VSCode Snippets repo.
Highlights include major improvements to the ArcGIS JavaScript VSCode Snippets ✂. All snippets underwent a thorough review for a better developer experience, aligning with the latest conventions thanks to Priyanshu Patel. Plus, Estela Extremera created a brand new web interface, the "Snippets Seeker", for exploring snippets, replacing the old, manually updated markdown table.
Noteworthy contributions also came through in our Calcite Design System, with a pull request by Bruno that addressed a specific user interface behavior: ensuring that icons are not shown for disabled combobox items, simplifying the user experience. Additionally, Al-Ekram Elahee Hridoy helped out with an enhancement for creating a reusable utility to adjust internal icon scales within components, to promote consistency across the system.
The Esri Leaflet Vector repository also benefited from a couple of significant updates starting with Soham Thaker's first-time contribution, which upgraded the MapLibre GL JS dependency to version 3.3.1 and confirmed all tests passed, ensuring up-to-date functionality. Moreover, Bruno updated the "Gallery" example to use v2 basemaps, making it more current.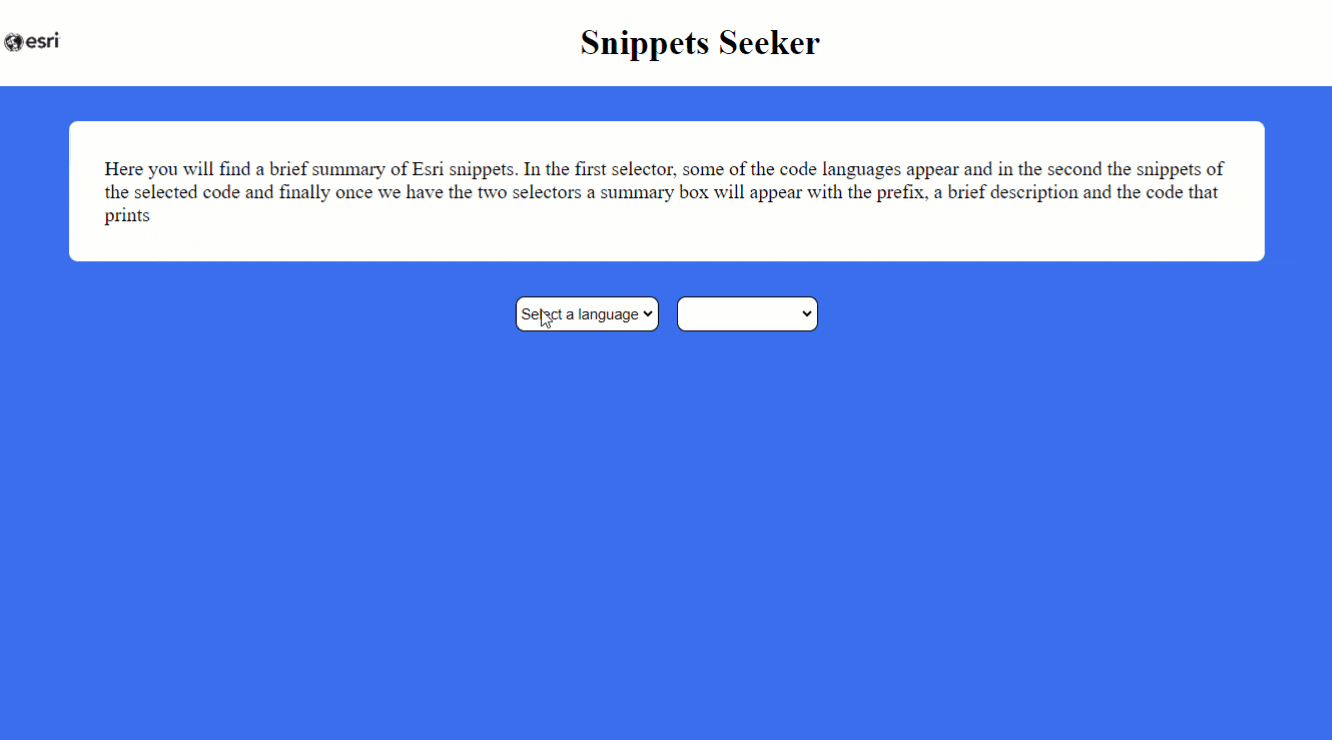 What we learned 🧠
We see this Hacktoberfest as a great success, largely thanks to the feedback from first-time contributors. Their insights allowed us to revise the learning process, simplifying it for new participants. We introduced new templates for issues to streamline reporting and ensure consistency. We refined our contributing guidelines to be clearer and more welcoming for both newcomers and experienced contributors. We also focused on creating more detailed issue descriptions, providing the necessary context and direction, thereby helping contributors understand and address issues more effectively. Finally, we improved our labeling system for issues, simplifying the process for contributors to find tasks that match their skills and interests. These changes not only made the contribution process more efficient but also more enjoyable, setting the stage for a more engaged community collaboration.
Livestreams 🔴
If you missed our Hacktoberfest kickoff or our live learning event, you missed out on a lot of fun. But no worries – you can still watch the replay of the livestreams, learn about many of our open source repositories, and experience some of those 'aha' moments at your convenience. They're definitely worth watching, especially since we're always open to contributions, even beyond Hacktoberfest!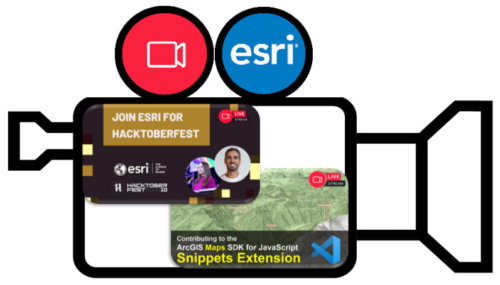 Looking forward ⏩
Now, the challenge is to not let that Hacktoberfest spirit fade away. Let's keep the momentum going all year round! To stay in the loop with our events and updates, follow us on Twitter (X) @esridevevents. Got ideas or suggestions? Please reach out to us at developeroutreach@esri.com.
We invite all developers to stay engaged, look out for upcoming issues, and consider how your next pull request can push geospatial tech forward and keep the open source spirit thriving.
Here's to the progress everyone has made and to all the advancements yet to come! 🎉 Until the next Hacktoberfest, keep coding, keep collaborating, and keep contributing!