ArcGIS Excalibur has many capabilities for exploiting imagery to identify key observations or activity. In Excalibur, these observation-based workflows are seamlessly integrated and easily accessible. So how do you start the process? One of the ways you can start is by opening an imagery project, a dynamic way to organize resources to complete your image-based task.
As an analyst, I have access to a list of shared imagery projects in my organization. I can gain an understanding about each project by seeing its title, who own's the project, the date the project was created, as well as the project summary.
Once I identify the project I want to work on, I can view the Project Details to see additional information such as the imagery associated in the project, any observation layers utilized in the project, and even if a web map is leveraged in the project.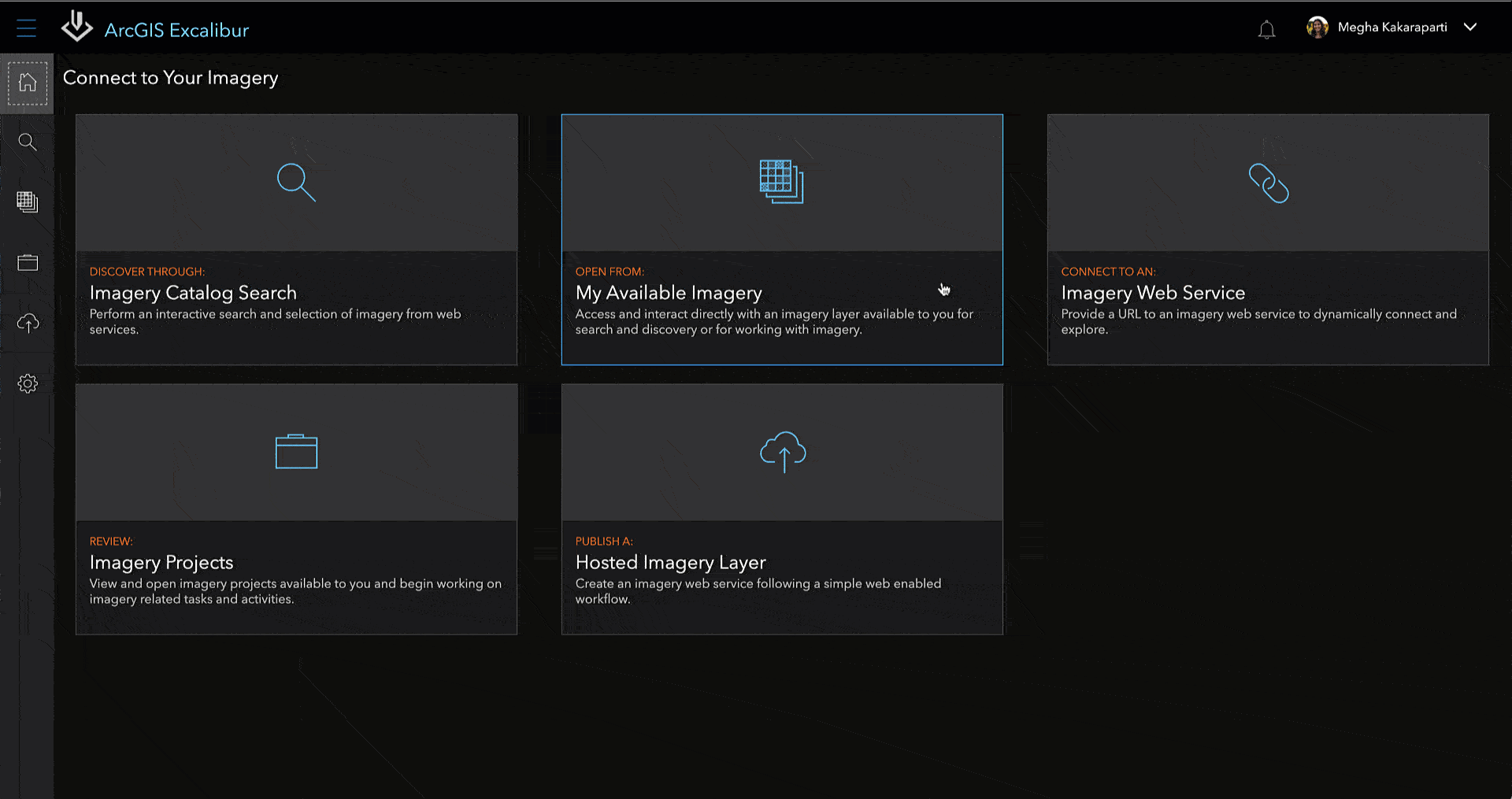 Now that I have identified my project, I can open it to start my work. However, before I get started, I need to know what it is that I am being tasked to perform. How can I find this out? By simply looking at the project instructions to gain a better understanding of what I need to do as an analyst. I can see that my instructions are to collect and record observations of any vessel activity occurring within the highlighted area of interest, which will later be used for downstream analysis.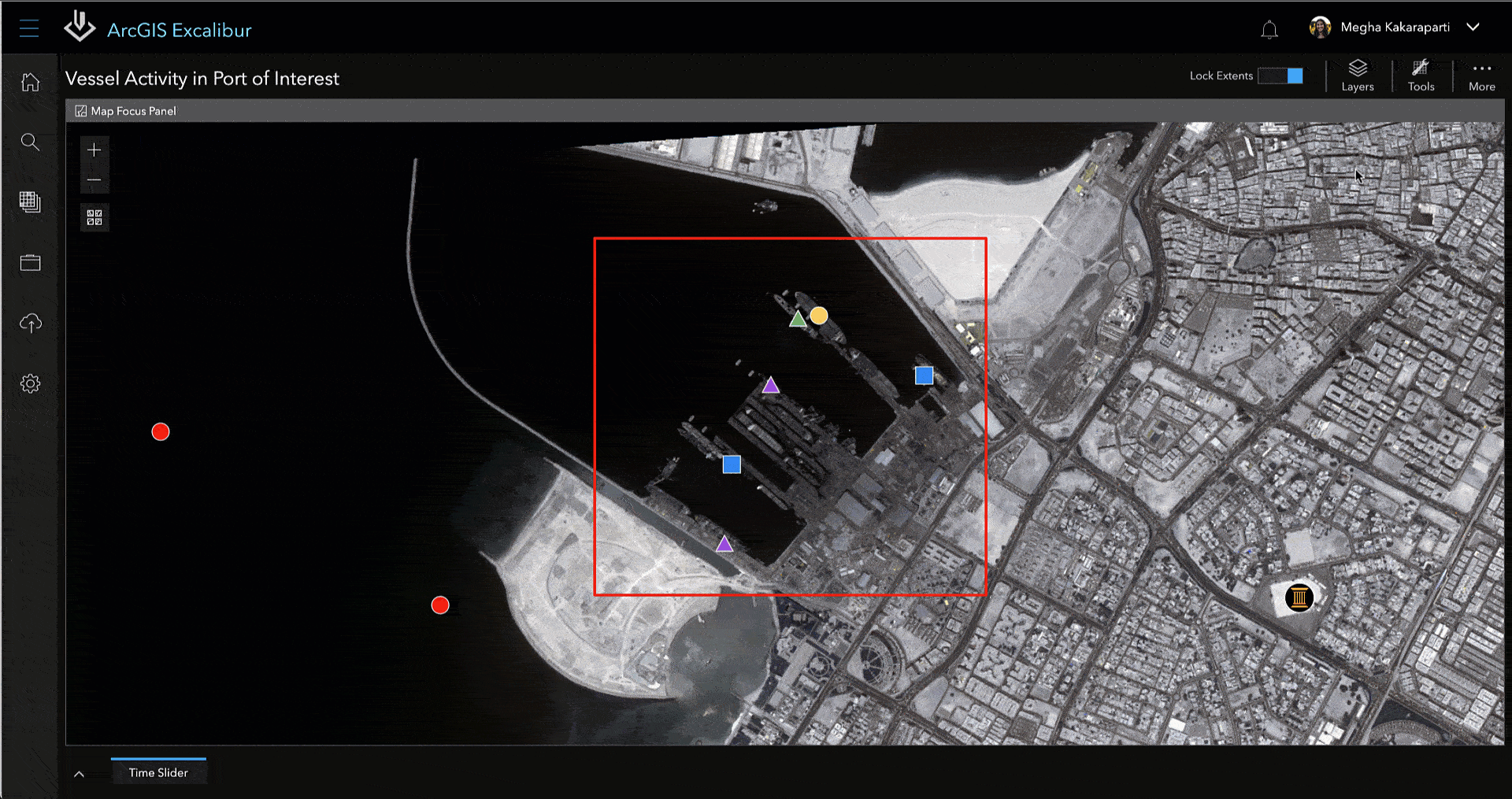 To assist in my observation collection task, it is helpful to gain a better understanding of what previously occurred in the project. I can use the time slider to view previously collected observations in my project, including my area of interest. Using the time slider helps me identify and create future observations since I know what was previously collected.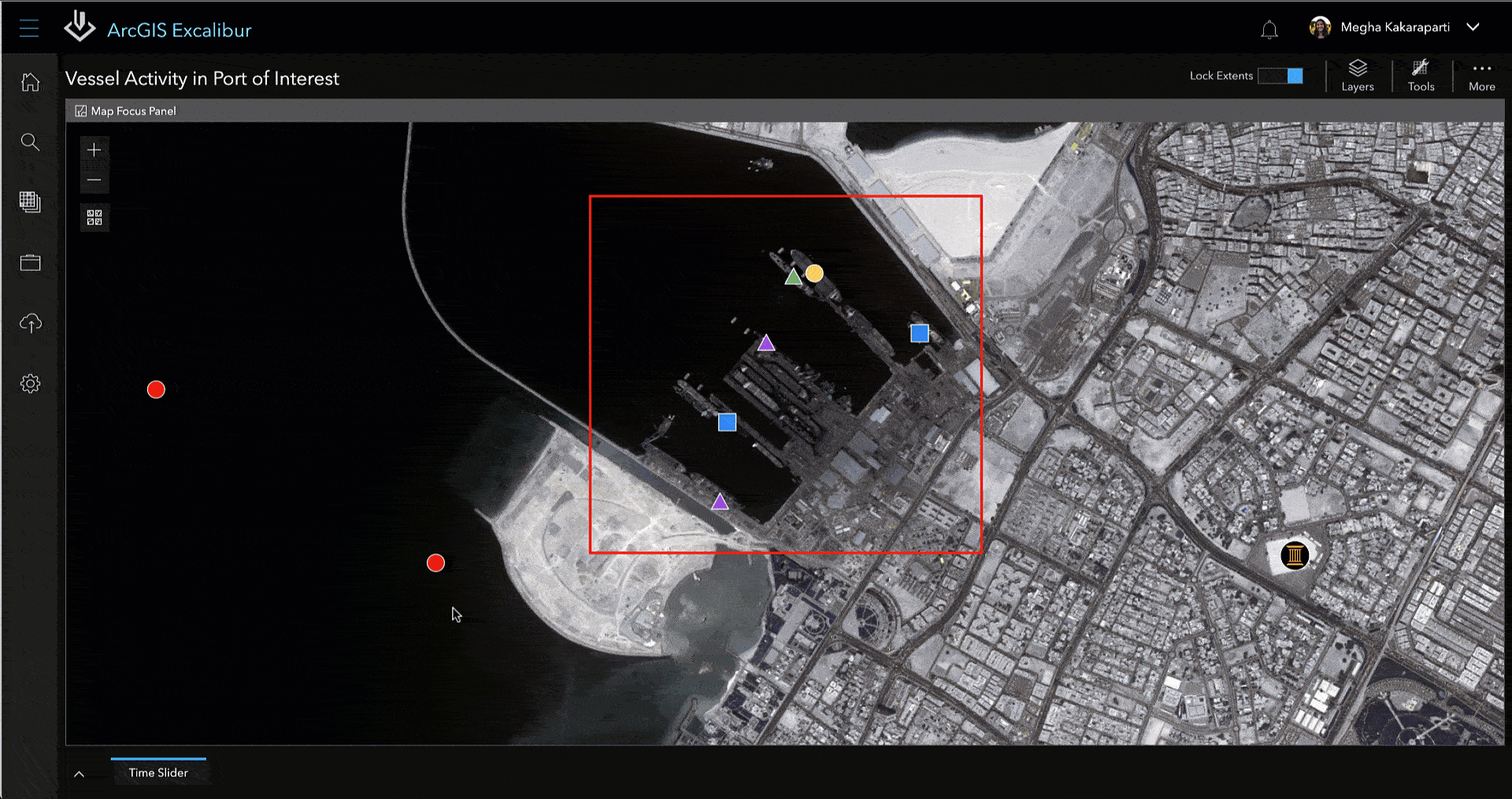 Another tool that will help me analyze my imagery further is the Swipe tool. I can use the Swipe tool to compare my two imagery layers and see changes in the imagery. In one particular area, I can clearly see that the vessel has been loading.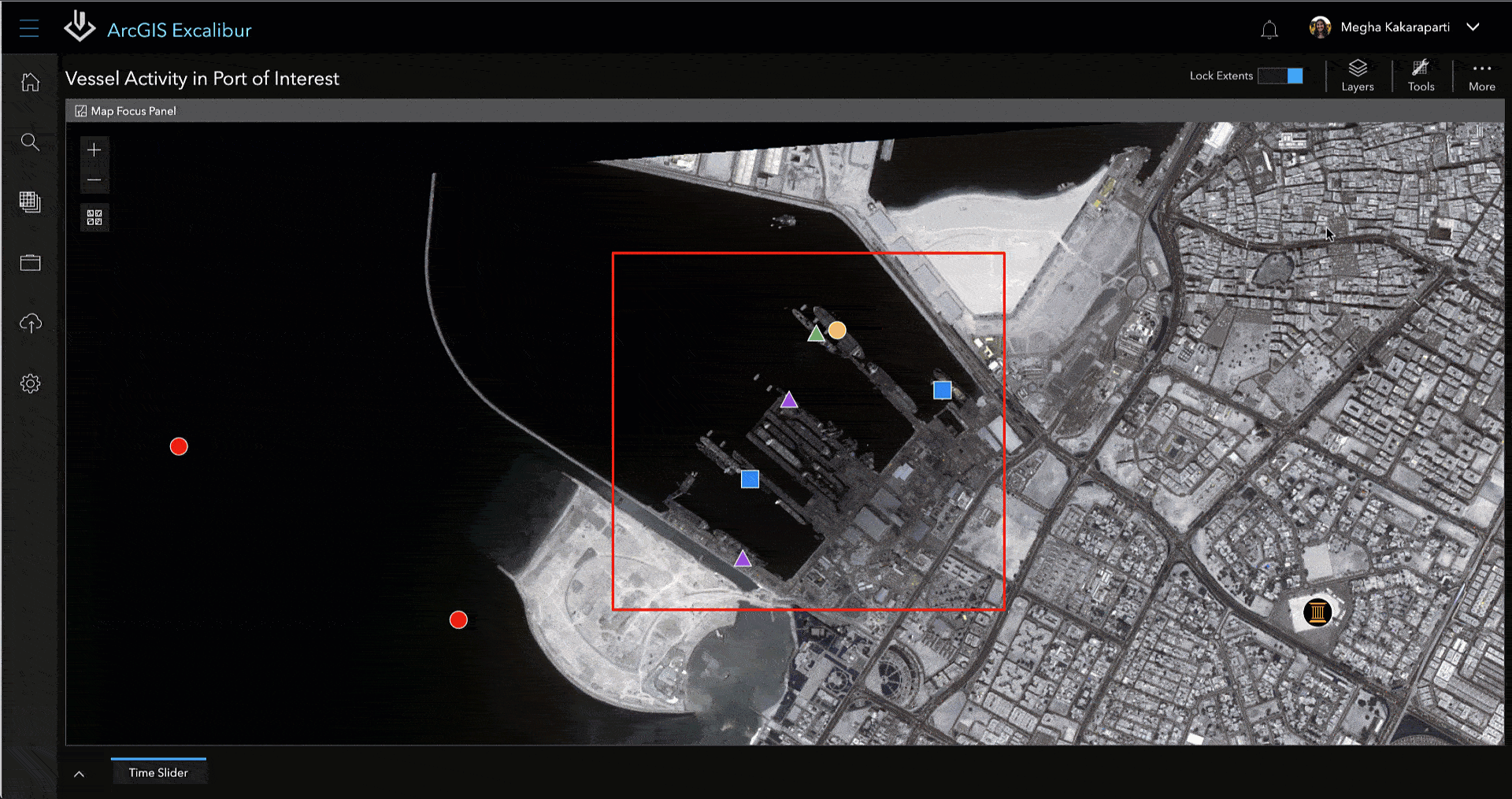 Now, that I have identified new activity, I can use the Collect Observations tool to begin my work. A list of icons displays on different observation types, and specifically different vessel activity such as Arriving, Departing, Docked, Loading, and Unloading. I can use the Loading observation icon from the list and collect it directly on the map.
From here, a form displays to fill out additional, contextual information. I can comment that the vessel is loading and use the pre-populated drop-down menus to fill out the rest of the information such as certainty level and even a pennant number.
In addition to the manual fields that are established by my organization, there are a set of auto-populated fields which are key to observation-based workflows. This allows for easy observation traceability since these fields connect the observation to the specific image. Once my information is entered, I can submit my observation to the system of record.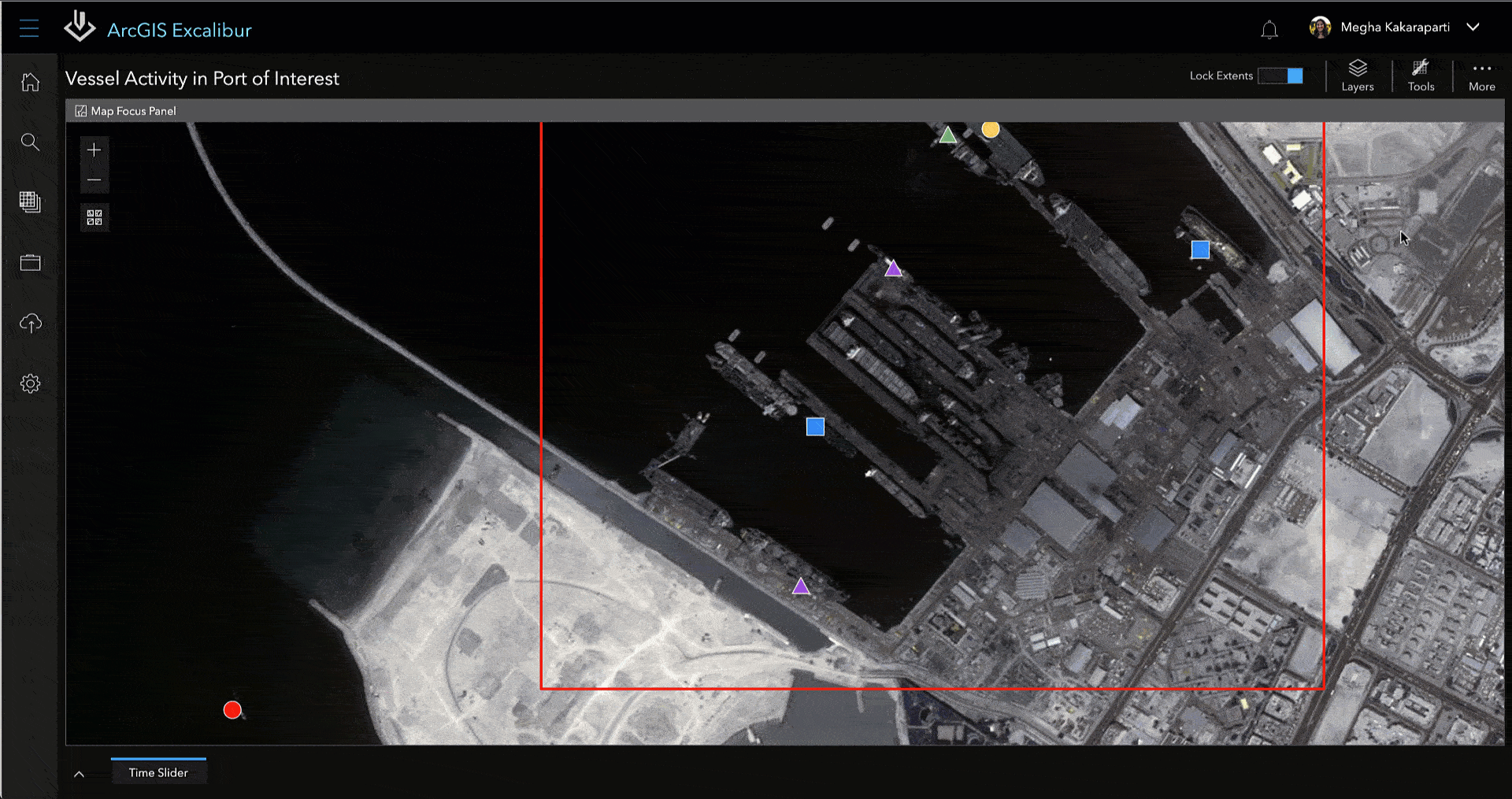 Now you might ask, what happens when a change occurs in the vessel activity? Is it possible to update information for any existing observation? Absolutely. This exact workflow can be accomplished by leveraging the Batch Edit Observations tool. Let's say I received information that two vessels in my area of interest are no longer docked and are getting ready to depart. I can use the Batch Edit Observations tool to update the observations to reflect these changes. I can start by drawing my area of interest, update my analyst comments to say that the vessels are departing, change the observation type to Departing, and edit my certainty level to Nearly Certain. Once I click Update, my changes are directly reflected on the imagery.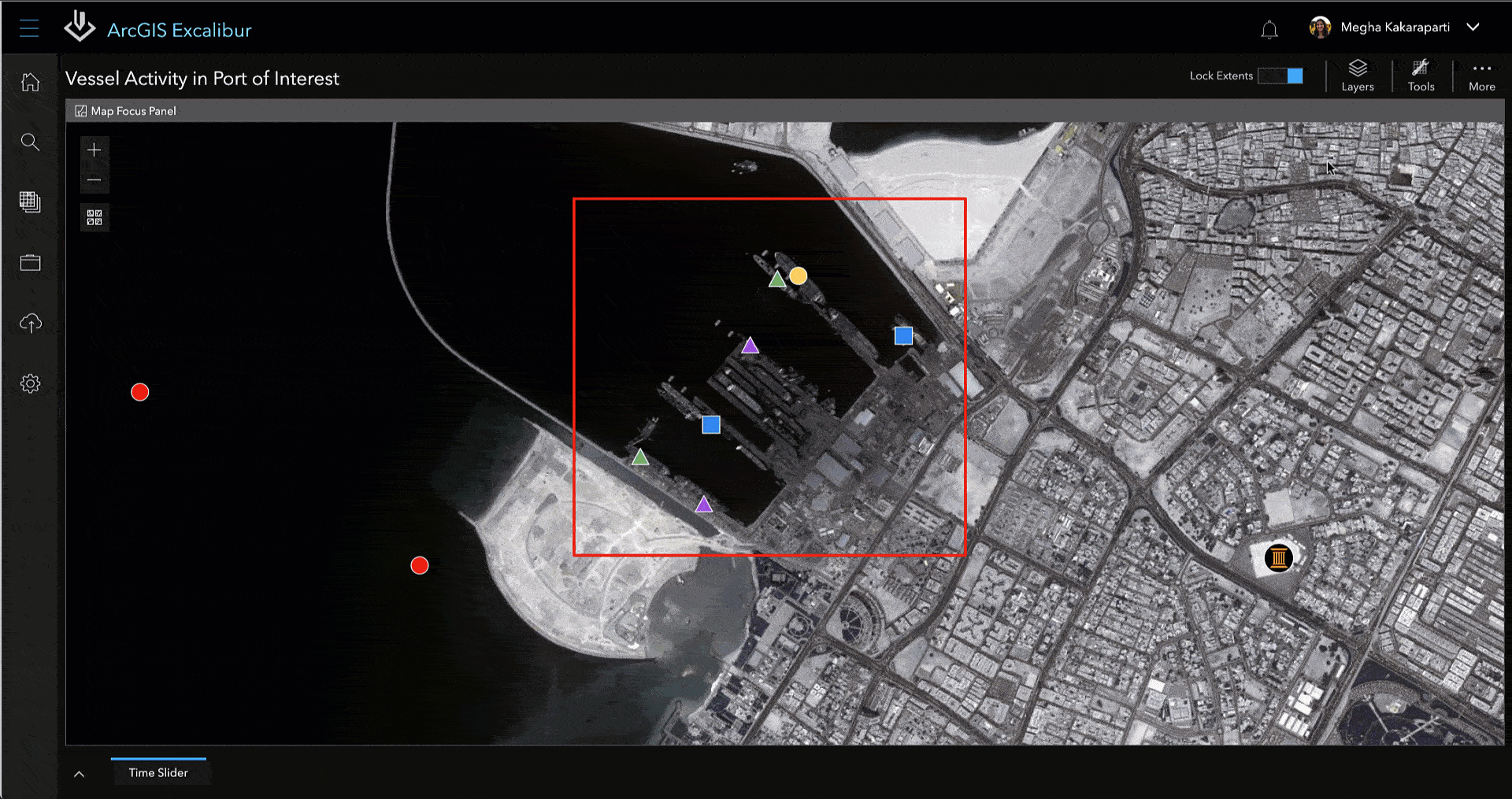 Remember in the project instructions that the observations you were making in this project would be used for downstream analysis? Well, once I update my observations, the changes are made not only in my project, but also in other applications using the same observation layer, such as in my project dashboard.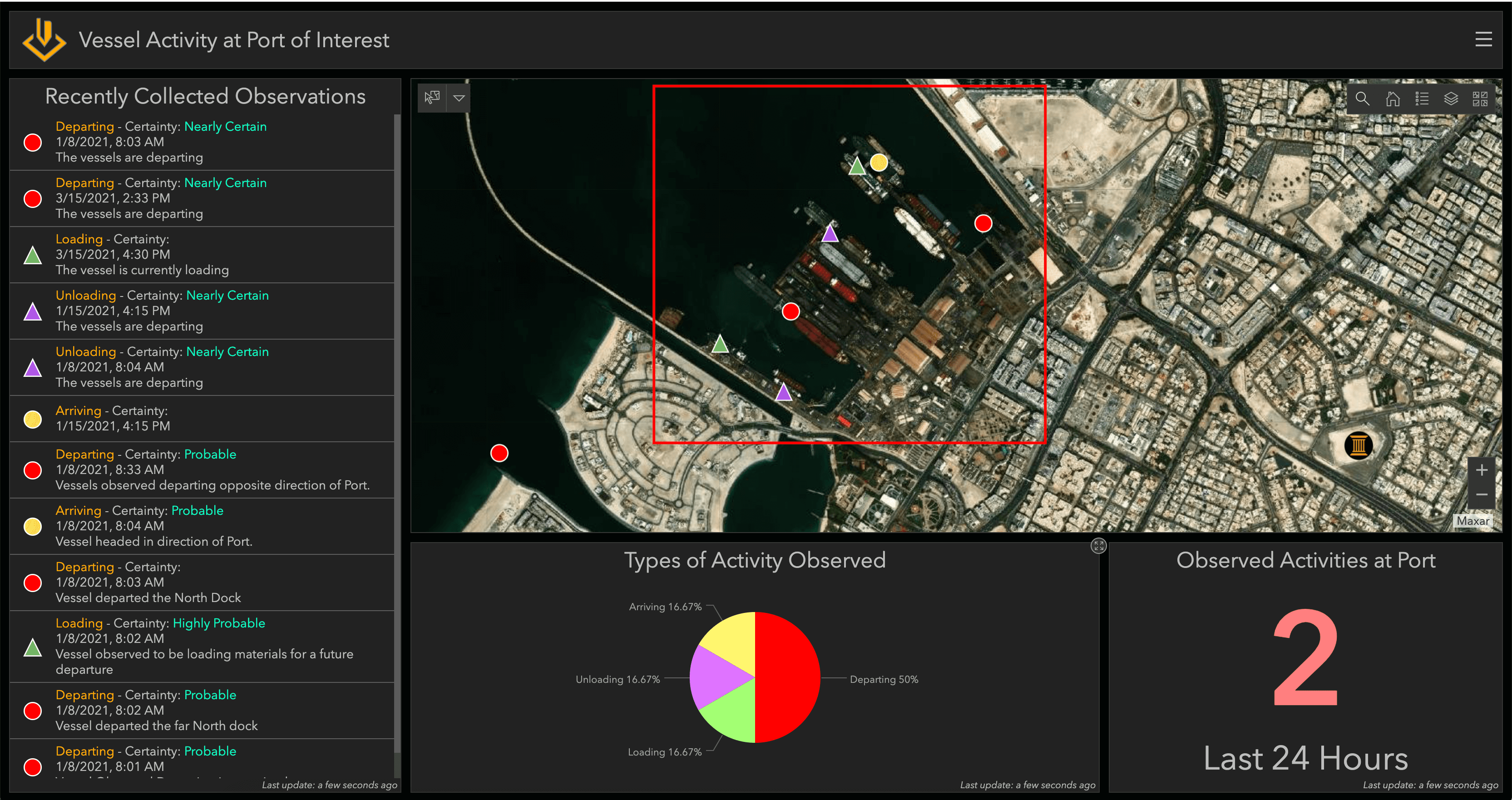 This means that my supervisor can immediately see observations that were collected from me for utilization like you see here in an ArcGIS Dashboard. As each new observation is collected or edited, I will see this information in near-real time. This is just one example of how information created in Excalibur can be leveraged throughout the ArcGIS system.
This workflow is one of the many ways Excalibur can be utilized to identify your key observations when you exploit your imagery. Get in touch with an Esri representative at go.esri.com/excalibur or visit the YouTube Playlist to learn more about Excalibur and add it to your organization's ArcGIS Enterprise deployment.