Save time when creating data collection projects by reusing forms in ArcGIS Field Maps. Reusing forms is helpful for projects involving a variety of maps that share common requirements for data collection.
For example, there may be a district-wide crosswalk inventory project that involves a different map for each city in the district. While there are different maps being deployed, the data requirements remain the same. After building one crosswalk inventory form, it can then be reused for each map in the project.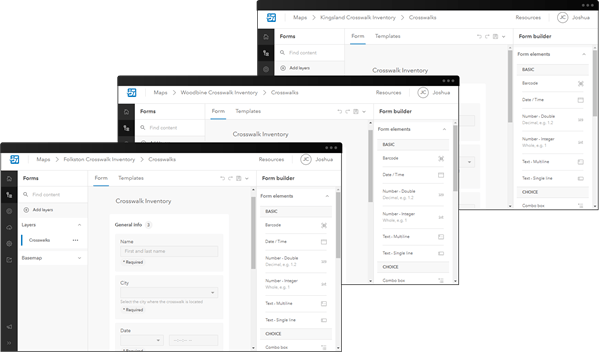 Follow along with this blog post to learn how you can reuse forms in the Field Maps Designer web app. To learn how to build a form in Field Maps Designer, see the Configure the form help topic.
Reuse forms by saving to the layer
When you build a form in Field Maps Designer, you're building a form for a specific layer. For example, the crosswalk inventory form shown below was built for a crosswalks layer: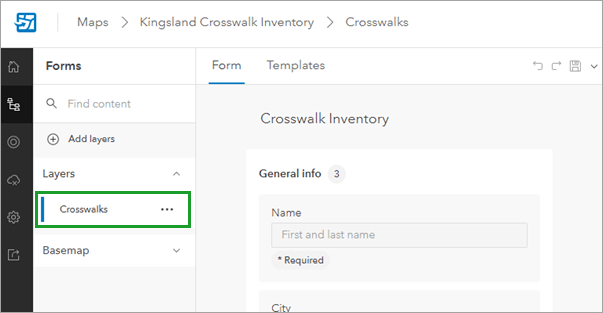 When you save the form, you can either save it to the map or to the layer. Saving to the map (using the Save button) saves the form to the specific map you're working on and not to the layer. Save to the map when you don't plan on reusing the form. To reuse the form across maps, save changes to the layer by clicking the drop-down menu next to the Save button and then clicking Save to layer.

When the form is saved to the layer, it can be reused across other maps that contain the same layer. For this example, the crosswalk inventory form can be used in every city by adding the crosswalks layer (which now contains the form) to each corresponding map.
Learn more
Reusing a form is just one way to increase the efficiency of your field workflows with Field Maps Designer. To learn about more capabilities, such as creating geofences and configuring maps for offline use, check out the Configure the map help topic. Have questions or comments about saving forms to the layer? Continue the conversation on the Field Maps Esri Community page.
Commenting is not enabled for this article.