With a greater number of users integrating deep learning into their imagery workflows, the traditional components of labeling, training and inferencing have become increasingly tedious. With ArcGIS Enterprise 11.0, releasing on July 21, 2022, ArcGIS Image Server will include Deep Learning Studio, a new web application that streamlines the entire deep learning workflow. This web app provides a multi-user, project-based collaborative environment for users to collect training samples, train deep learning models, and run inferencing at scale, all through a web browser with no software installation required.  
In the following video, watch a quick demo of how it all works.
What can you do with Deep Learning Studio?
Bring disparate teams and tasks together
Deep Learning Studio offers a project-based space in which all components of the deep learning workflow, including user groups, are managed efficiently. Users can create/manage assigned collaborators using familiar organizational groups and efficiently allocate work units to complete tasks.  
Work collaboratively to capture and manage training data
One common challenge when building a deep learning model is collaboration. For example, a data scientist in Washington D.C. may be overseeing the project, while interns in California capture training data, and GIS analysts in Houston extract features. To support these cross-collaborative teams, Deep Learning Studio provides a project based approach that enables all of these users to work in unison. Within a shared environment, multiple users can now work together to collect training samples, thereby saving time and reducing effort.
In addition, this web app provides intuitive editing tools and user experiences so no learning curve is required. With an easy-to-understand, minimalistic user experience, users can easily capture training samples and label them. Furthermore, the app even supports importing previously captured training data into new projects, and exporting training data to use across multiple projects. This seamless porting of training data enables users to easily access large amounts of pre-existing training samples to build their own training data repository.  
Finally, interactive dashboards display a holistic view that monitors the status of training data collection. All statistics related to the training data, such as operators, work units, and the number of training samples captured can be reviewed through this dashboard. Subsequently, administrators can "Review Training Samples" to view the labeling progress and ensure quality and accuracy, by approving or rejecting them.  
Easily train deep learning models
Deep Learning Studio enables users to train their own models or fine tune existing models. The web app currently supports models that perform object detection, pixel classification and object classification tasks.  
A history of all the trained models is maintained in the project and these iterations can be accessed through the wizard. Training parameters can be adjusted as needed. This environment also provides you with additional model metrics, (i.e., model name, backbone, accuracy, training and validation loss), associated with each trained model. Once done with model training, users can publish their trained model to their ArcGIS Enterprise portal.  
Distraction-free viewer to run inferencing
The final step in the deep learning pipeline is inferencing. Deep Learning Studio provides a dedicated viewer in which users can pick their deep learning model, imagery of interest, and area of interest, to run the inferencing process. The results are written to the portal and can be visualized directly in the viewer.  
How can you access Deep Learning Studio?
Deep Learning Studio requires the following software:
ArcGIS Enterprise
ArcGIS Image Server
Once you are logged in using your ArcGIS credentials, navigate to your app launcher. The Deep Learning studio app will be automatically populated and ready to use. We hope you get a chance to try it out!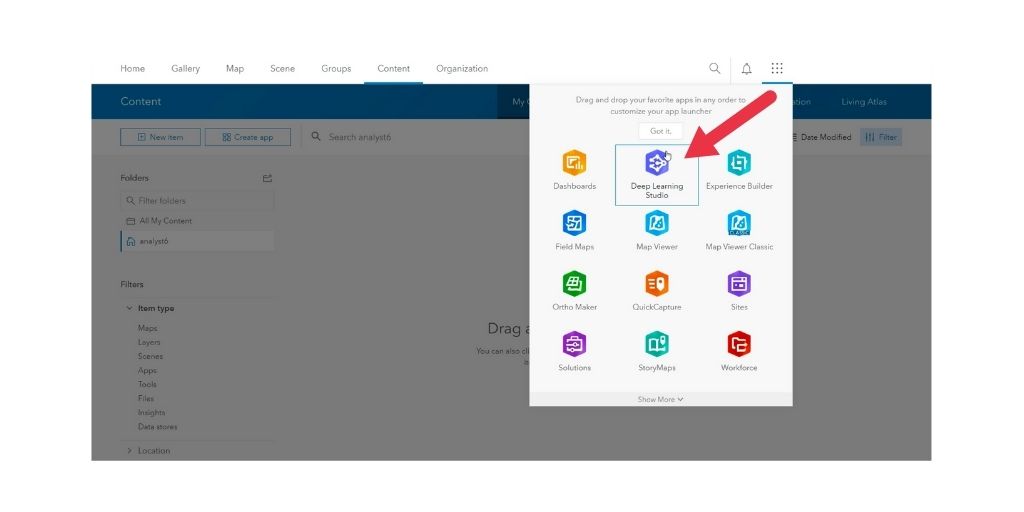 We'd love to hear your feedback. Reach out to deeplearningstudio@esri.com and share your questions and comments.