Updated December 8, 2017:  The Esri Vector Basemaps were recently updated to a new version (v2). The best way to access them in ArcGIS Online is through the Esri owned Vector Basemaps group, which contains the latest set of web maps and tile layers. See What's New in Esri Vector Basemaps (December 2017) for information related to this update.
—
We kick off the month of May with a bunch of updates to the Esri Vector Basemaps. These changes include new features displaying in many of our map styles, improvements to existing map displays, and new content across dozens of community contributed areas of the map. Stay up-to-date on announced changes to the Vector Tile Basemaps through this summary of our blogs.
–
New Features
One of the biggest changes to many of the vector styles is the addition of a coastline at smaller scales of the map.  This subtle change improves the cartographic appearance of the maps from their previous depictions. If you're using one of the styles in which the coastline is now included, you also have the ability to customize the specs of this and all the other features in the map. This example shows Topographic and Streets web maps with the new coastline feature.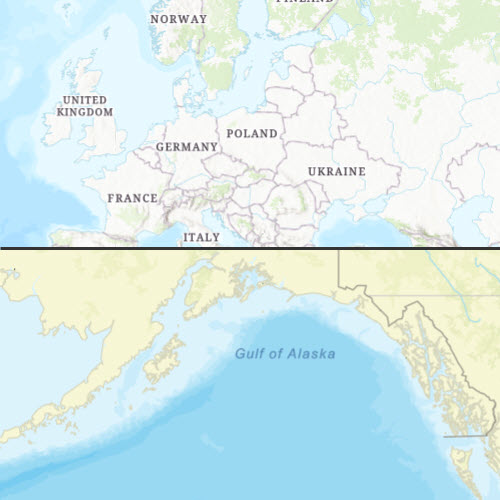 Another addition is spot elevations added to the Terrain with Labels style. By default, the elevations are in feet in the contiguous US and meters across the rest of the world. Through customization of the style, you can change the spot elevation units to display as either all meters or all feet around the globe.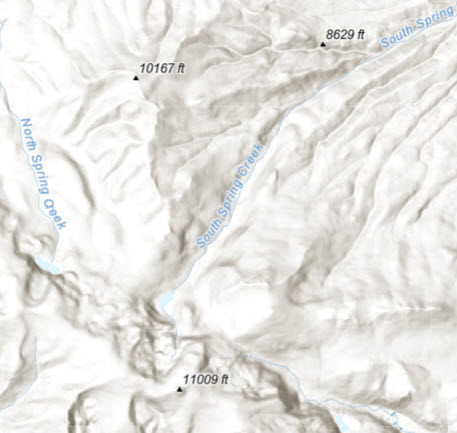 Additional changes to the Terrain with Labels web map is the splitting into a separate base and reference layer.  This allows for better map presentations when adding data to this style. For more details on the new Terrain with Labels web map and Terrain Base and Terrain Reference vector tile layers, see this blog.
–
Improvements to Map Styles
We continue to make improvements to the Vector Basemap styles. Some present more of an impact than others (see coastline addition above), but even seemingly minor changes will provide a better user experience when using the maps. A few of the notable changes in this latest round of updates: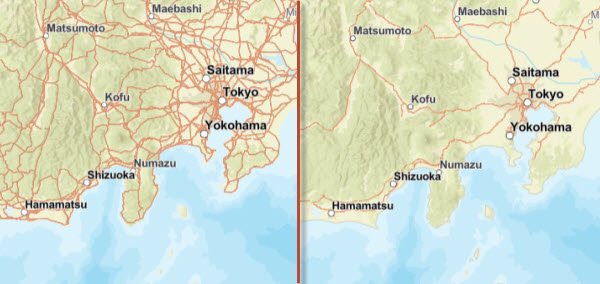 Improved display of road classification to emphasize network with additional roads appearing at larger scales. (See Japan sample above for before | after)
Change in label spacing to improve legibility at certain scales .
Expanding the display of Points of Interest out to smaller map scales.
Improved disputed boundary classification to allow for customized map displays.
These and other map specifications are provided in more detail in the Esri Vector Basemaps Reference Document.
–
Impact of Style Changes
Because this round of updates makes changes to the map styles, there may be some impact in your use of the maps. These three scenarios will help define what, if any, impact the most recent changes will have.
Are you using one or more of the Esri Web Maps?
Are you using one or more of the Esri vector Tile Layers?
If you are using Tile Layers, did you make any style customization to the root.json file?
Web Maps



If you are using any of the web maps from the Esri Vector Basemaps group, you won't have to do anything differently to be able to use new vector basemap styles. The web maps include the latest tile layers with updated data, features and styles.
Tile Layers



If you are using one of the vector Tile Layers in a map you created, your map will continue to work with that tile layer. The new features and style changes will display in your map.
Customized Tile Layers



If you are using a tile layer copied from one of the Esri vector Tile Layers, whether or not you made any customization to the root.json, your maps will continue to work and will display the new data updates. The one difference is your copy or customized layer will not take advantage of the updated styles (such as the new coastline feature and others as listed above). We recommend you update any tile layer copies with the latest vector tile layers. Any user customization will need to be reapplied in the root.json style now associated with this style layer.
–
Contributed Data Additions
These communities had new and updated data added to the vector basemaps since we last blogged about vector map updates:
Aberdeen, SD
Aiken County, SC
Antioch, CA
Baton Rouge, LA
Bay County, FL
Berea, KY
Bexar County, TX
Bozeman, MT
Brigham Young University, ID
Butte County, CA
Chesapeake, VA
Colton, CA
Conway, AR
Coos Bay, OR
Dona Ana County, NM
East Baton Rouge Parish, LA
Fairfax County, VA
Fargo, ND
Finland
Florence County, SC
Geauga County, OH
Granville County, NC
Hagerstown, MD
Hattiesburg, MS
Henry County, GA
Hernando County, FL
Iceland
Iowa
Jacksonville, FL
Johnston County, NC
Kankakee County, IL
Livingstone Shire, Australia
Manatee County, FL
Marin County, CA
Mesa, AZ
Mountlake Terrace, WA
Naperville, IL
North Bend, OR
Old Dominion University, VA
Ontario County, NY
Port of Long Beach, CA
Rock County, WI
Rockwall, TX
San Diego County, CA
Stafford County, VA
Teton County, ID
Tulsa, OK
Univ. of Minnesota, St. Paul, MN
Vermont
Virginia Beach, VA
Walla Walla, WA
Winfield, KS
Through Esri's Community Maps Program your organization can contribute its local geographic content to Esri's Living Atlas of the World. The data will be published and hosted by Esri as part of ArcGIS Online maps and layers. We produce one vector tile set which is then displayed through our 9 core map styles. This allows the contributed content to appear not only in the World Topographic vector basemap, but also all the other styles such as Streets at Night, Dark and Light Gray Canvas, and Navigation.
Aberdeen, SD (previous on left, new contribution displayed in Streets on right)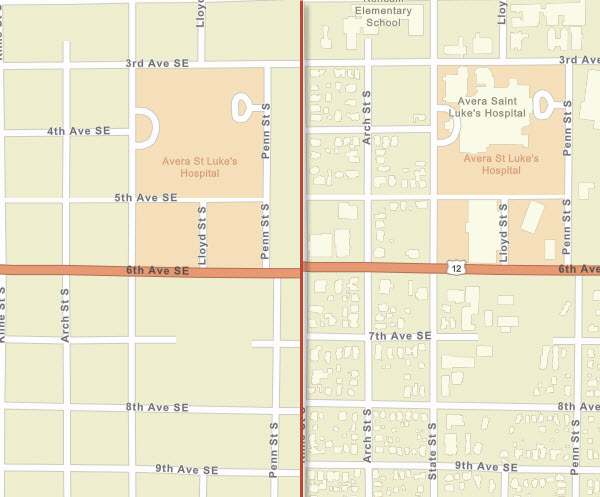 North Bend, OR (previous on left, new contribution displayed in Streets at Night on right)