Are you ready to take your dashboards to the next level? The June 2023 update of ArcGIS Dashboards is here, packed with a range of enhancements that will transform the way you create and interact with dashboards. Join us as we delve into the captivating new features introduced in this update!
Author dashboard mobile views
With ArcGIS Dashboards, you can now create a single dashboard with two views: a desktop view and a mobile view. Each view is optimized for its respective device, ensuring a seamless user experience when a dashboard is opened. When you open a dashboard, the optimal view automatically loads based on the screen size of the device used.
A dashboard's mobile view is designed to complement the desktop view, delivering key information to viewers on the go. When you create a mobile view, you can easily copy over elements from your desktop view, or if a visualization is too complicated, you can configure a different, more optimal element to save space or present the data differently. Whether you choose to include the same elements as your desktop view or configure new elements specifically for mobile, it's essential to consider which visualizations are relevant for on-the-go viewing. On the mobile view, interactivity is designed to be touch-friendly across navigating through elements, filtering view selectors, and using map tools. Filtering on mobile views is done using selectors or the map extent.
Learn more about mobile views in the Getting started with dashboard mobile views article. Additionally, you can learn more about best practices on designing mobile views by visiting the ArcGIS Dashboards documentation.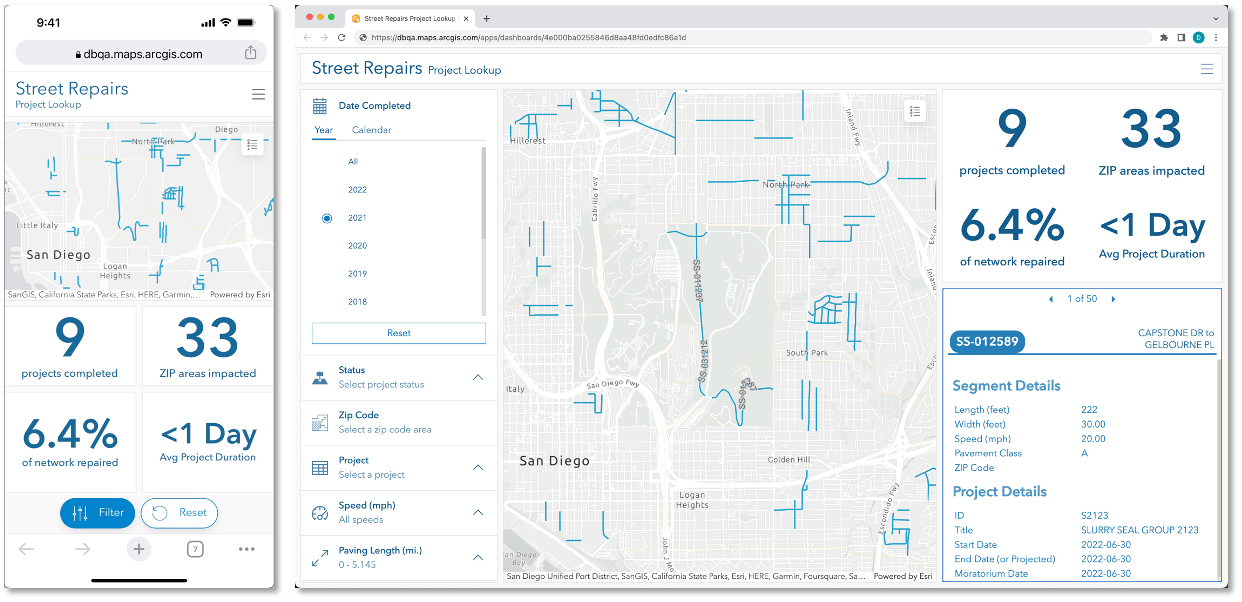 New map options: Find my location and Compass
We've introduced two new options for the map element.
You can now enable the Find my location option, allowing viewers to quickly zoom the map to their device's approximate location. Additionally, you can enable the Compass option to display the rotational angle of the map and allow viewers to easily reorient the map to point north.
These new map options provide viewers with more intuitive and interactive map exploration.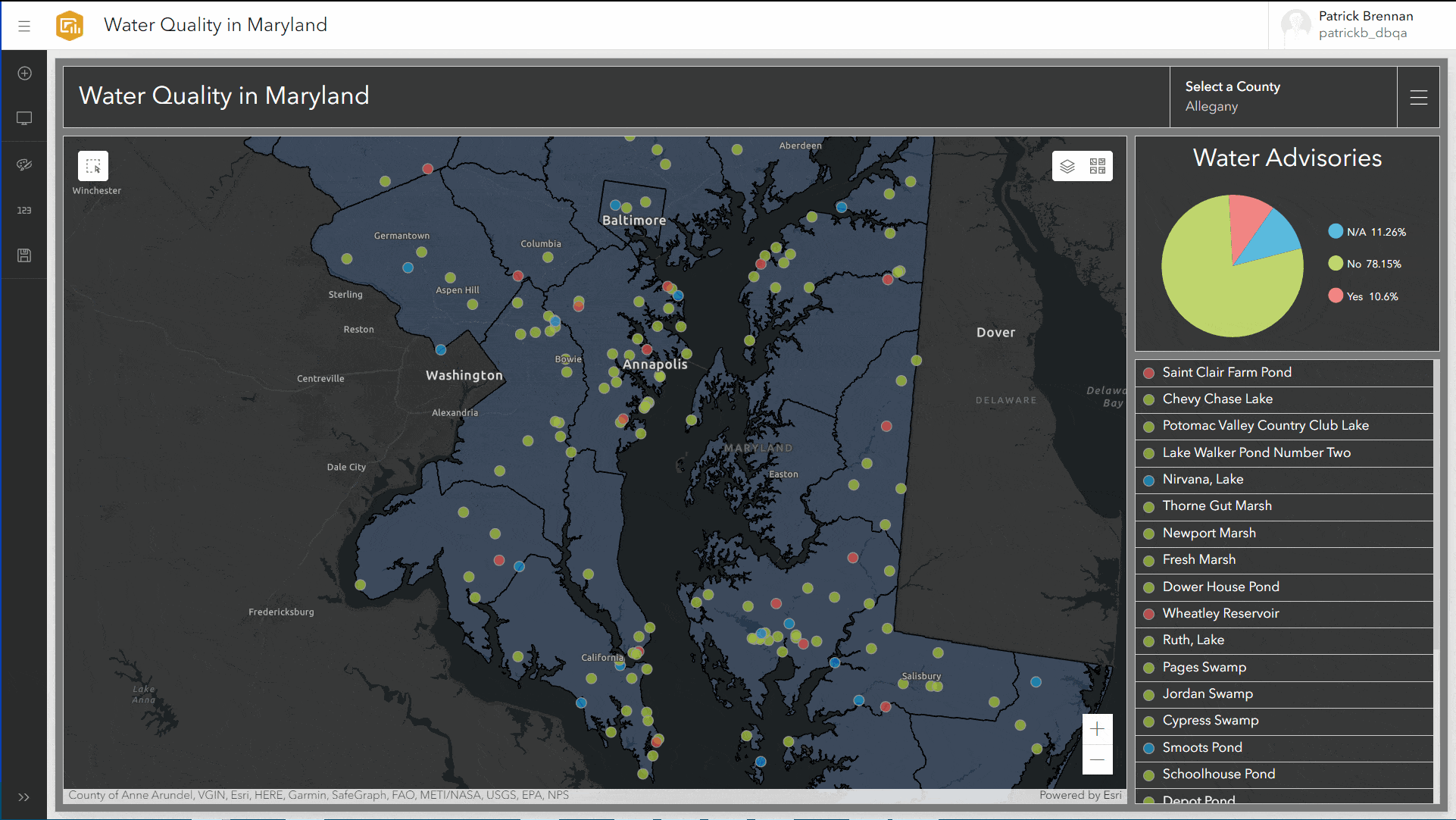 Simplified map selection
Selecting features on a map's layers has been simplified. When using a dashboard, you can now initiate layer actions by clicking on the features, eliminating the need for separate selection tools. When layer actions are configured, clicking features on the map will automatically trigger any configured actions. Additionally, you can use the Shift key to add to an existing selection, and clicking on the map, away from any features, clears the selection. Dashboard authors can also configure an optional rectangle or lasso select tool to allow for more flexibility when selecting multiple features.
Learn more about map selection improvements in this blog on the Esri Community.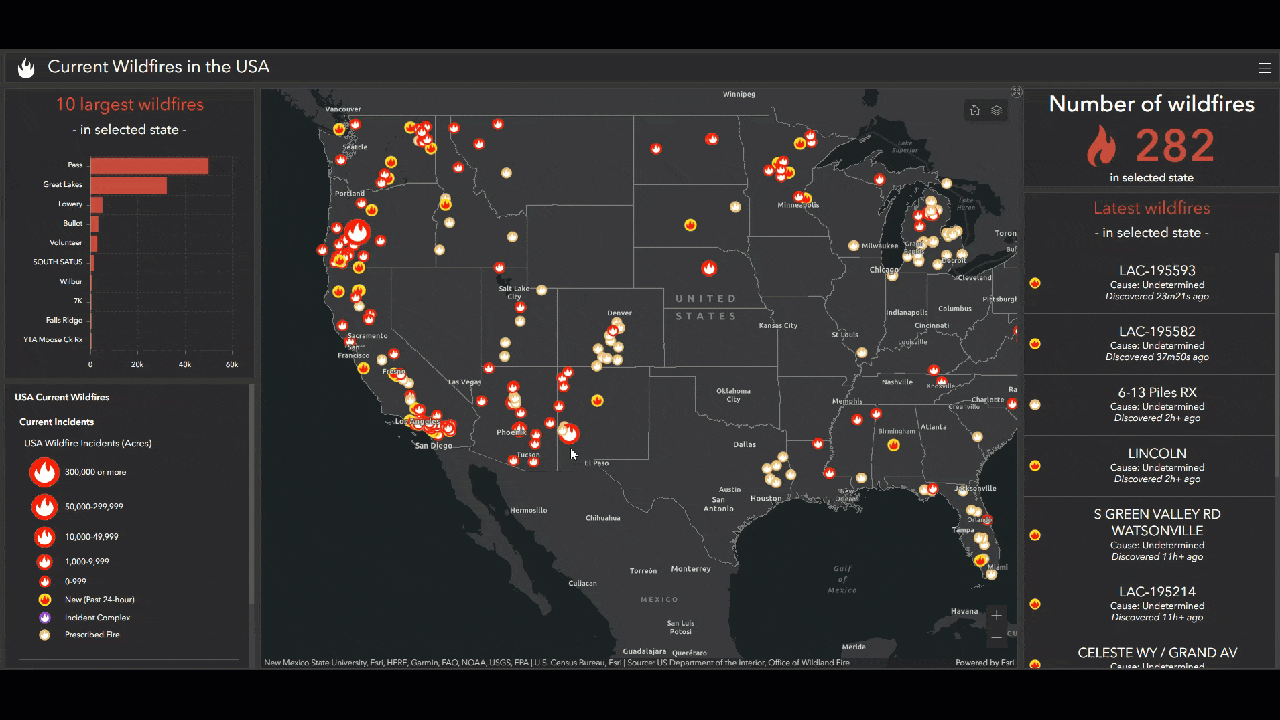 Unauthenticated data download
With the June 2023 update, dashboard viewers no longer need to sign in to an ArcGIS account to download source data from data-driven elements on publicly shared dashboards.
Improvements to accessibility
We are committed to making dashboards accessible to everyone. With the latest update of ArcGIS Dashboards, we have made significant improvements to enhance the accessibility of your dashboards.
Navigating the dashboard using a keyboard has been made effortless and consistent. Keyboard tab stops have been added for each panel, element, and tab, allowing predictable navigation through a dashboard. Interacting with links, buttons, and selectors is now more intuitive, with the focus indicator seamlessly moving throughout the view. Dashboard viewers can perform actions like downloading data and interacting with selectors using a keyboard.
Support for screen readers has also been improved. There is now more consistency and predictability with what is read aloud when using screen readers. Additionally, you can now configure the accessible name for each element on your dashboard, which determines what is read aloud when using a screen reader. All elements have an accessible name that is set by default, based on the type of element. Dashboard authors should configure the name to align with the content and visible text.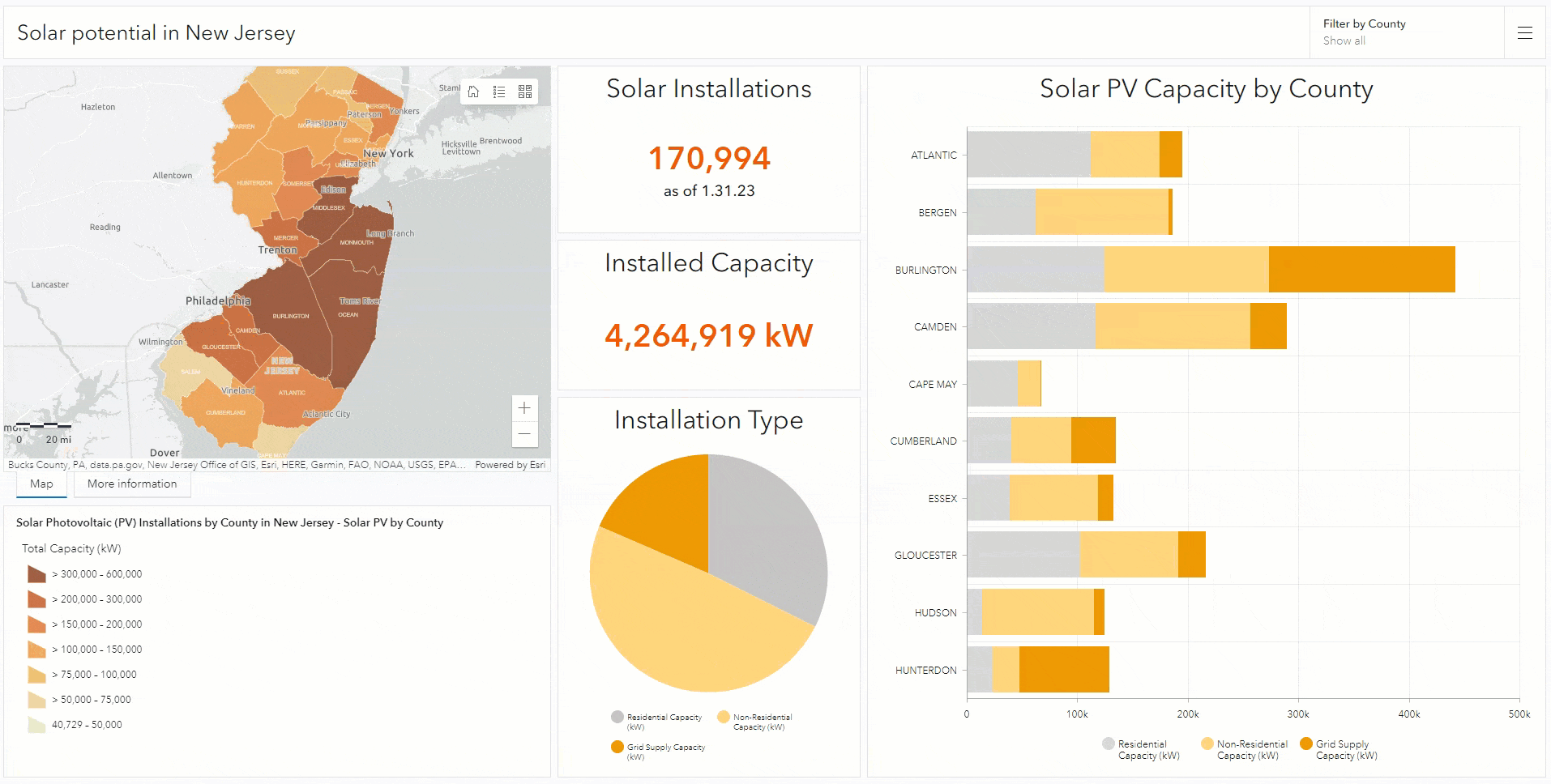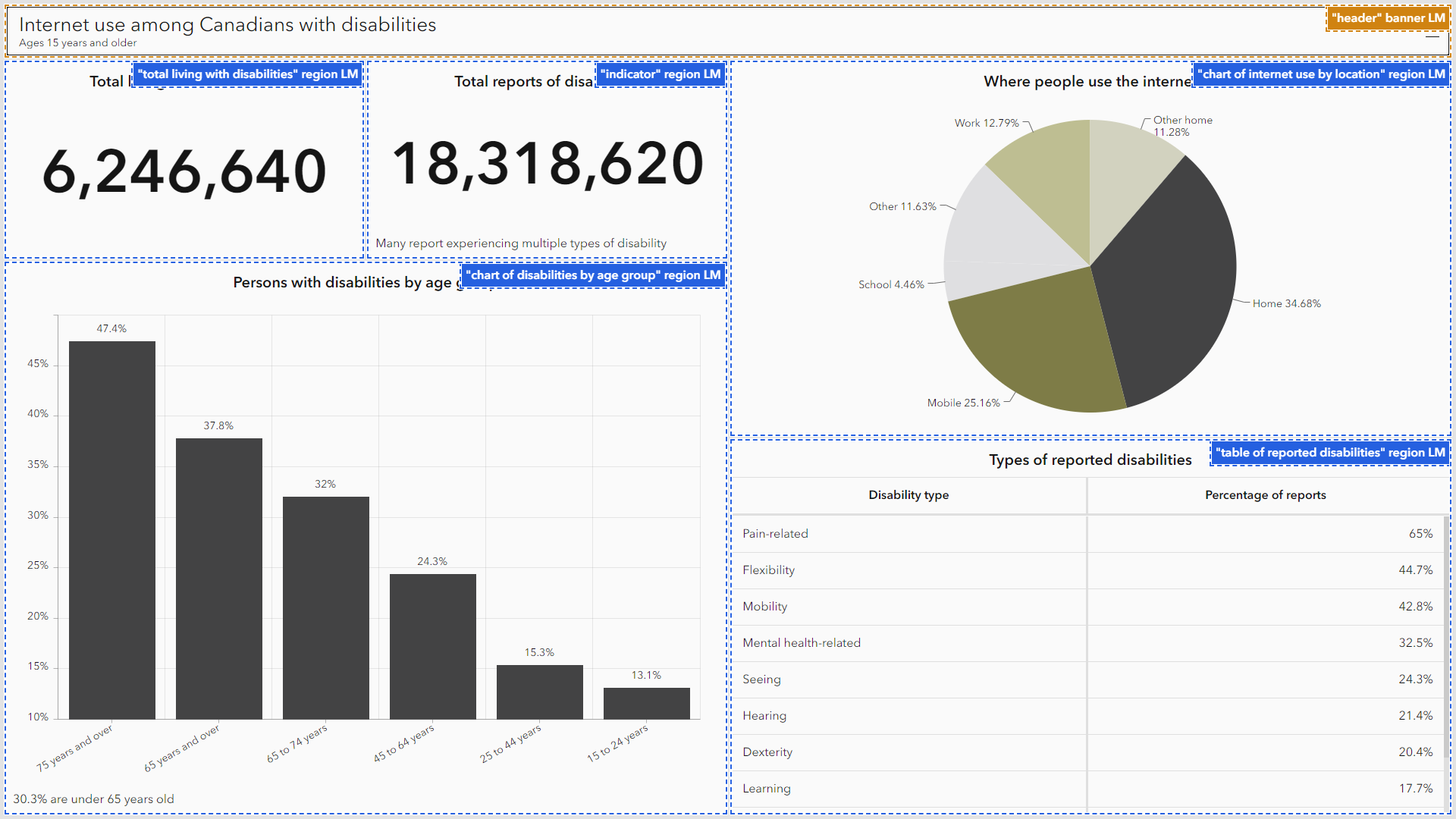 Start exploring the new features today!
We're thrilled to announce that all these enhancements are now available in ArcGIS Dashboards. Whether you're creating your first dashboard or working with existing ones, it's time to unleash the power of these new features. We can't wait to see the stunning dashboards you create! Share your creations with us on Twitter and LinkedIn using the hashtag #ArcGISDashboards. Start exploring the possibilities today and elevate your data visualization game with ArcGIS Dashboards.
Commenting is not enabled for this article.