Esri expanded and enhanced its location services offering available to developers via ArcGIS Platform, offering exciting features for application development. The new services include Places, Data Hosting, and an updated Basemap Styles service.
In today's digital landscape, users expect applications and solutions that deliver personalized and location-aware experiences tailored to their individual preferences and needs.
ArcGIS Platform empowers developers to create solutions that surpass user expectations by harnessing the capabilities of maps and location services.
Challenges faced when developing location-aware solutions
Software developers, product leaders and organizations are looking for affordable and flexible location-focused PaaS solutions to help them bring location innovation into their products, solutions, and systems quickly and efficiently. To meet their needs, these solutions must fulfill a set of requirements.
Seamless integration of location-based features such as mapping, geolocation and routing into their apps and business systems.
A comprehensive and high-quality location services, data, and mapping tools.
Solutions that give them the freedom to build with their mapping libraries of your choice or no-code options.
How ArcGIS Platform addresses these challenges
Esri's ArcGIS Platform gives developers the power to integrate location into their apps and business systems with the most comprehensive and high-quality set of location services, data, and mapping tools available. Developers can build with the mapping libraries of their choice or use Esri's full range of mapping libraries and no-code options that reduce time to market and promote creative design. It provides a comprehensive solution with a range of services, including geocoding, routing, and data enrichment. It has been further enhanced with the addition of the following new services and enhancements:
Places service
Data Hosting service
Basemap Styles service (v2)
Here is an overview of what developers can do with the new services and enhancements:
Access high-quality global places and points of interest data with Places service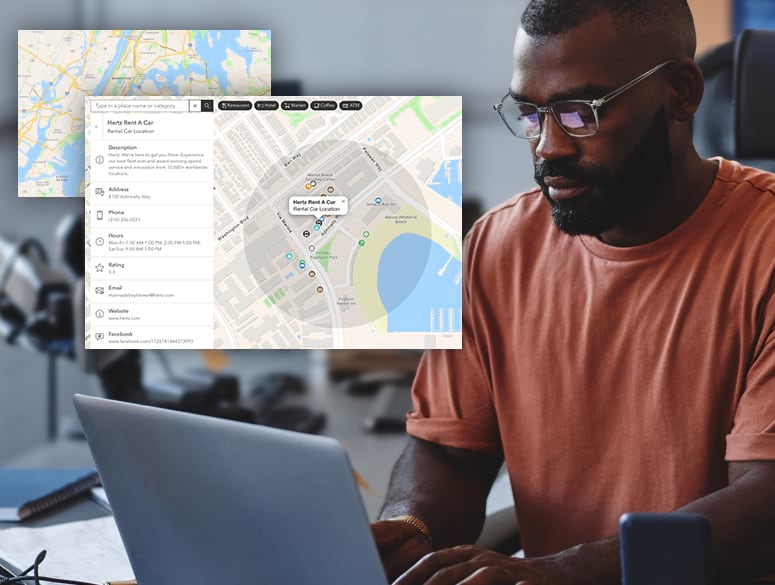 The Places service provides access to over 1,000 categories of points of interest (POI) describing features in earth's natural and built environments. Regularly updated, high-quality data means less time sourcing, licensing, and preparing data. This allows developers to spend more time creating valuable applications. Developers can create applications to find places that are near a location, within a bounding box or get detailed information about places.
Learn more about this service in the "Bring Places Data into Your Apps with the New ArcGIS Platform Places Service" blog.
Securely store, manage and access data with the Data Hosting service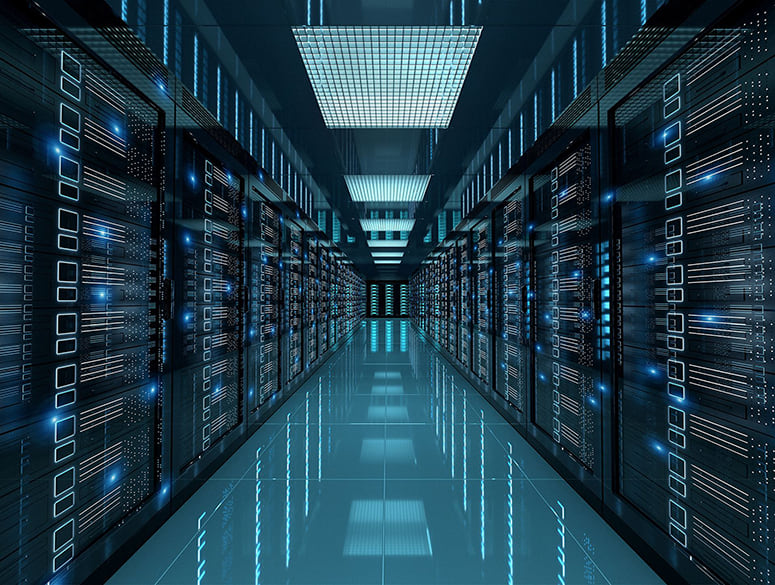 The new Data Hosting service provides developers with a simple and secure solution for storing, managing, and accessing their location-based data. Developers can create hosted layers and data services from their data, so users can query, edit, and analyze through their applications. Additionally, developers retain ownership of their data and can have confidence that the service will scale as their applications grow.
Learn more about this service in the "Unlocking the Power of Spatial Data with ArcGIS Platform's Data Hosting Service" blog.
Customize maps with the new release of Basemap Styles service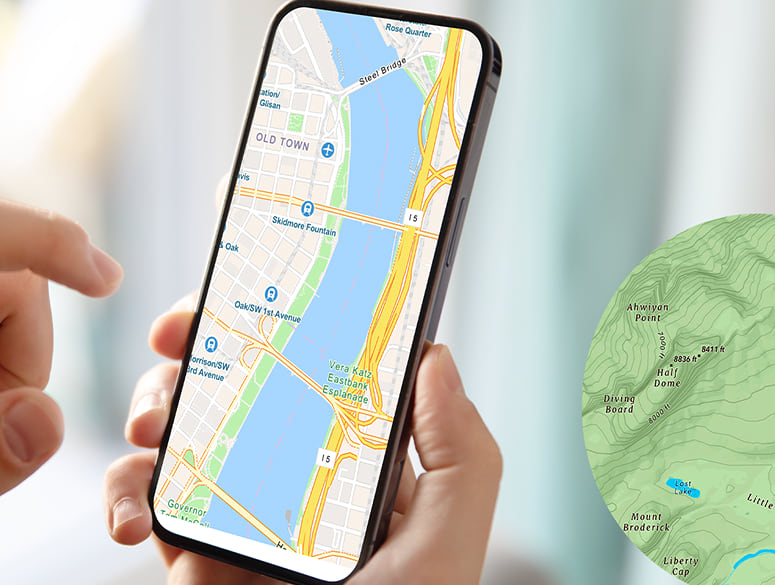 The latest release of the Basemap Styles service allows developers to choose from a wide variety of styles. Basemaps are interactive and authoritative, including styles that represent topographic features, road networks, footpaths, building footprints, water features, administrative boundaries, and satellite imagery. Developers can seamlessly embed these maps directly into their applications and solutions which are optimized for web, mobile and desktop applications. They can customize a map with the colors, patterns, and labels that meet organization's unique needs. Additionally, developers have the option to select from over 40 languages and localize place labels for any basemap style in their preferred language of their choice.
Learn more about this service in the "Discover the Latest Release of ArcGIS Platform's Basemap Styles Service" blog.
All these capabilities are offered to developers with a simple and easy to use pay-as-you-go business model, so they only pay for what its consumed. Get started for free.
Access comprehensive, high-quality location services  
In addition to the new services and enhancements, developers can leverage the Geocoding service to enable users to search for specific addresses or places, and the Routing service to create routes that guide users from one point to another. For more advanced applications or solutions, developers have convenient access to demographic data, which provides detailed information about specific areas, including both places and the people residing in those areas.
Companies leveraging ArcGIS Platform to build custom solutions
Major companies like SAP, Salesforce, and IBM have placed their trust in Esri to incorporate location-based components into their business systems. However, it's important to note that ArcGIS Platform is useable by everyone. Many popular applications have been developed around location-based elements, such as the outdoor app from Relive or for specific events like the Red Bull X-Alps adventure race. You can explore the complete stories to learn more.