By Aileen Buckley, Research Cartographer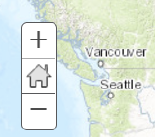 Quite some time ago, I wrote a blog post about the zoom levels used for web maps. Since these have been expanded to include even larger scales, I am updating them here. There are now 23 levels that range from a global scale (zoom level 0 at about 1:591,000,000) to a local scale (zoom level 23 at about 1:70).
I don't have time right now to update all of the info in the original post, but you should be aware that a lot of it needs to be updated! In the meantime, at least this info is now up to date! Hope this helps those of you who need this!
Scale is the RF 1:XX 
Levels of Detail: 24
Level ID: 0

Resolution: 156543.03392800014
Scale: 5.91657527591555E8
Level ID: 1

Resolution: 78271.51696399994
Scale: 2.95828763795777E8
Level ID: 2

Resolution: 39135.75848200009
Scale: 1.47914381897889E8
Level ID: 3

Resolution: 19567.87924099992
Scale: 7.3957190948944E7
Level ID: 4

Resolution: 9783.93962049996
Scale: 3.6978595474472E7
Level ID: 5

Resolution: 4891.96981024998
Scale: 1.8489297737236E7
Level ID: 6

Resolution: 2445.98490512499
Scale: 9244648.868618
Level ID: 7

Resolution: 1222.992452562495
Scale: 4622324.434309
Level ID: 8

Resolution: 611.4962262813797
Scale: 2311162.217155
Level ID: 9

Resolution: 305.74811314055756
Scale: 1155581.108577
Level ID: 10

Resolution: 152.87405657041106
Scale: 577790.554289
Level ID: 11

Resolution: 76.43702828507324
Scale: 288895.277144
Level ID: 12

Resolution: 38.21851414253662
Scale: 144447.638572
Level ID: 13

Resolution: 19.10925707126831
Scale: 72223.819286
Level ID: 14

Resolution: 9.554628535634155
Scale: 36111.909643
Level ID: 15

Resolution: 4.77731426794937
Scale: 18055.954822
Level ID: 16

Resolution: 2.388657133974685
Scale: 9027.977411
Level ID: 17

Resolution: 1.1943285668550503
Scale: 4513.988705
Level ID: 18

Resolution: 0.5971642835598172
Scale: 2256.994353
Level ID: 19

Resolution: 0.29858214164761665
Scale: 1128.497176
Level ID: 20

Resolution: 0.14929107082380833
Scale: 564.248588
Level ID: 21

Resolution: 0.07464553541190416
Scale: 282.124294
Level ID: 22

Resolution: 0.03732276770595208
Scale: 141.062147
Level ID: 23

Resolution: 0.01866138385297604
Scale: 70.5310735