ArcGIS QuickCapture is Esri's rapid data collection app. If you are not familiar with QuickCapture and are wondering how you can use it in your field data collection workflow, a QuickCapture template is the perfect starting point.
On our Gallery page, you will find a collection of ready-to-use QuickCapture templates. Each template is a minimum viable solution that aims to address a real-world problem. Over the past few months, we have released more templates that cover a broader range of industry use cases. To try them out, simply follow the steps below and download the sample projects.
Download the QuickCapture mobile app (it's free).
Scan the QR Code below to get the project.

Roadkill Removal – Streamline roadkill reporting and roadkill removal workflows for departments of transportation with ArcGIS QuickCapture.

Recycling Contamination – QuickCapture helps recycling haulers to easily report violations and contamination observations.

BioBlitz – Use QuickCapture to document plants and animals you see in your designated area for the BioBlitz!
MapSAR – ArcGIS QuickCapture assists search and rescue teams to leverage efforts during missing-person searches.

Run, Walk, Have Fun – Want to organize a virtual race? Use ArcGIS QuickCapture to record participants' routes and photos along the way.

Occupancy Counter – Count the number of individuals entering and exiting a given site with ArcGIS QuickCapture.

Photo Inspection – Perform photo-based inspections with ArcGIS QuickCapture. View photos from any angle at any location.

QuickCapture templates are also available in ArcGIS QuickCapture Designer for you to start a project effortlessly. These solutions can be quickly deployed to your organization. A QuickCapture template usually contains a QuickCapture project, hosted feature layer(s), a web map, and dashboards for visualizing submitted data. All these items are fully functional and ready-to-go once they are successfully deployed. You can use the template as it is without starting from scratch, or add your own customization to fit your organization's needs.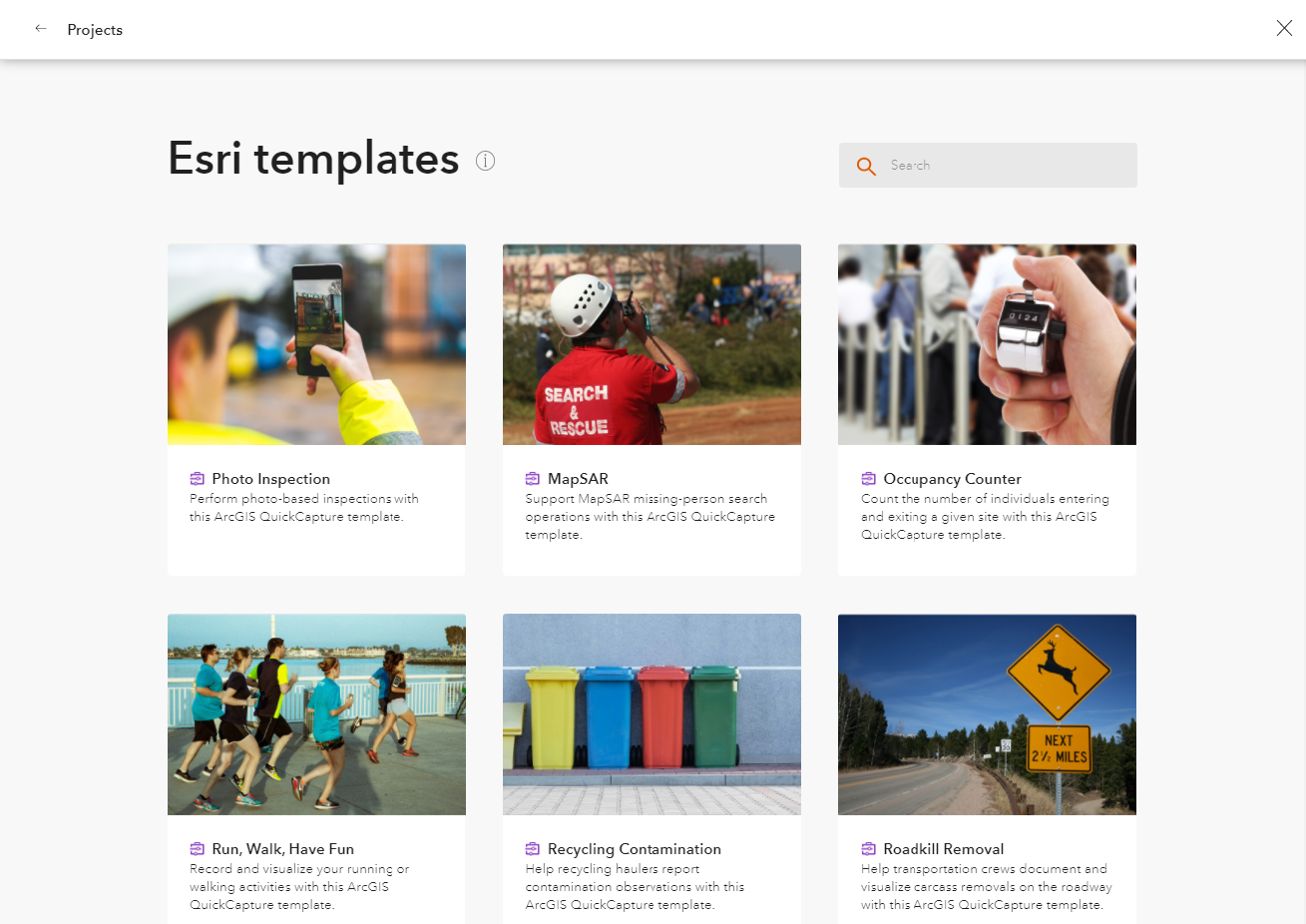 Ready to create your own project now? Try Create a project from a template.