Site Scan for ArcGIS, powered by the SURE for ArcGIS meshing engine, is a powerful cloud-based tool for quickly generating accurate, city-wide photorealistic 3D meshes. Site Scan ingests imagery taken by drones and uses a photogrammetric process to turn those images into 2D and 3D data products. These data products can be used not only for updating basemap imagery, but now with the enhanced 3D meshing technology, these datasets can be used to create a digital twin of a city in a low-cost time effective manner.
To test this, Esri and Esri business partner, Wingtra, began a proof of concept: use the WingtraOne Gen II to map a large section of Zurich, Switzerland, and process the data in Site Scan for ArcGIS using the newly integrated SURE meshing engine.
Capture
Collecting drone imagery to create these digital twins requires camera angles and fields of view that not only have enough overlap but also capture the facades of any vertical buildings or natural features. This ensures that the meshing engine has enough texture and detail information so that the models generated are complete and high resolution.
Using the Site Scan flight app and a supported quadcopter, the best flight mode to use is "Crosshatch Survey." This flight mode creates a north-south-east-west flight pattern with the camera angle defaulting to 35 degrees. These flight paths allow better reconstruction of the 3D data because every other flight line is looking in the same direction creating a stereo effect that enhances the reconstruction.
When capturing a large area, it can be more efficient to use an airplane-style aircraft vs. a quadcopter. Wingtra has just announced the next generation of their VTOL, or "vertical take-off and landing" aircraft, the "WingtraOne Gen II." This vehicle has an upgraded camera that is mounted at an oblique angle combined with a wide field-of-view lens to capture the facades of the structures of the city without requiring multiple passes.
The flights over Zurich were planned over eight sections. Data acquisition was completed in only six hours of flight time.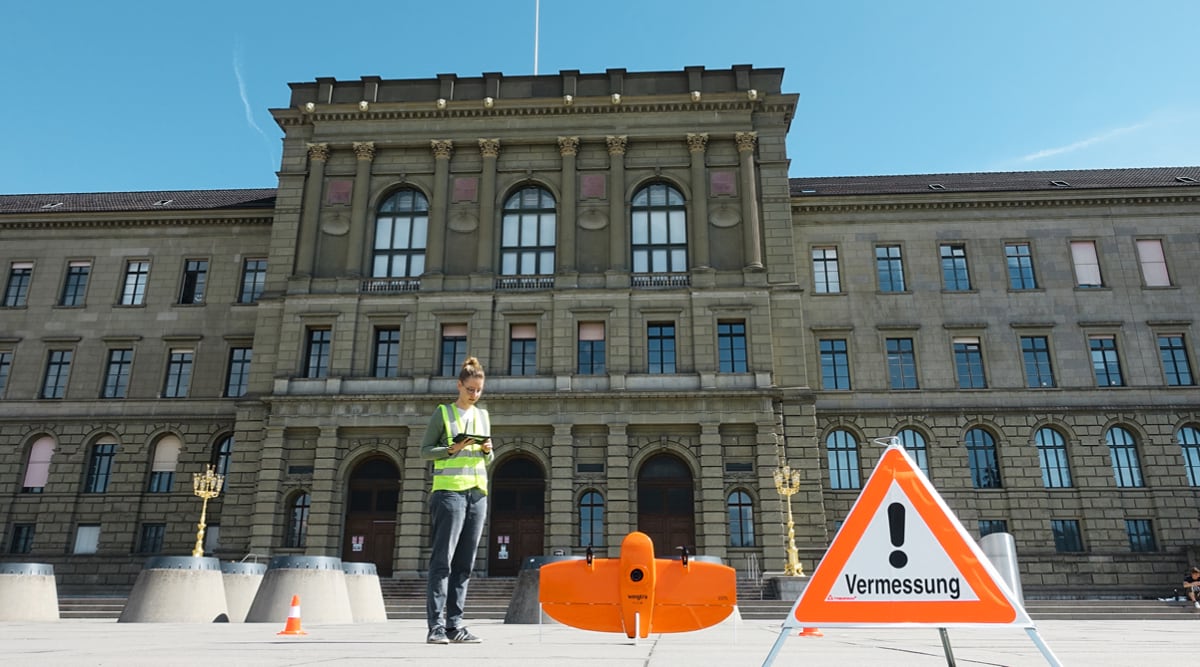 Process
After the flights were completed, the first step was to post-process the GPS data using a "post processed kinematic," or "PPK,"method and geotag the raw images taken using this higher-accuracy location information.
After the images' GPS information was updated, the images were uploaded to Site Scan for ArcGIS for processing. Each flight section was uploaded separately. These sections can either be merged to be processed together or kept separate to be brought together after processing into a single map or 3D scene. Ground control points, or "GCPs," were added and tagged as checkpoints to verify the accuracy of the PPK GPS data after processing. 
Each section was processed simultaneously in the cloud, thanks to elastic processing capabilities that allow each dataset to process in parallel with the other datasets. A city's worth of datasets were processed and available within hours of uploading.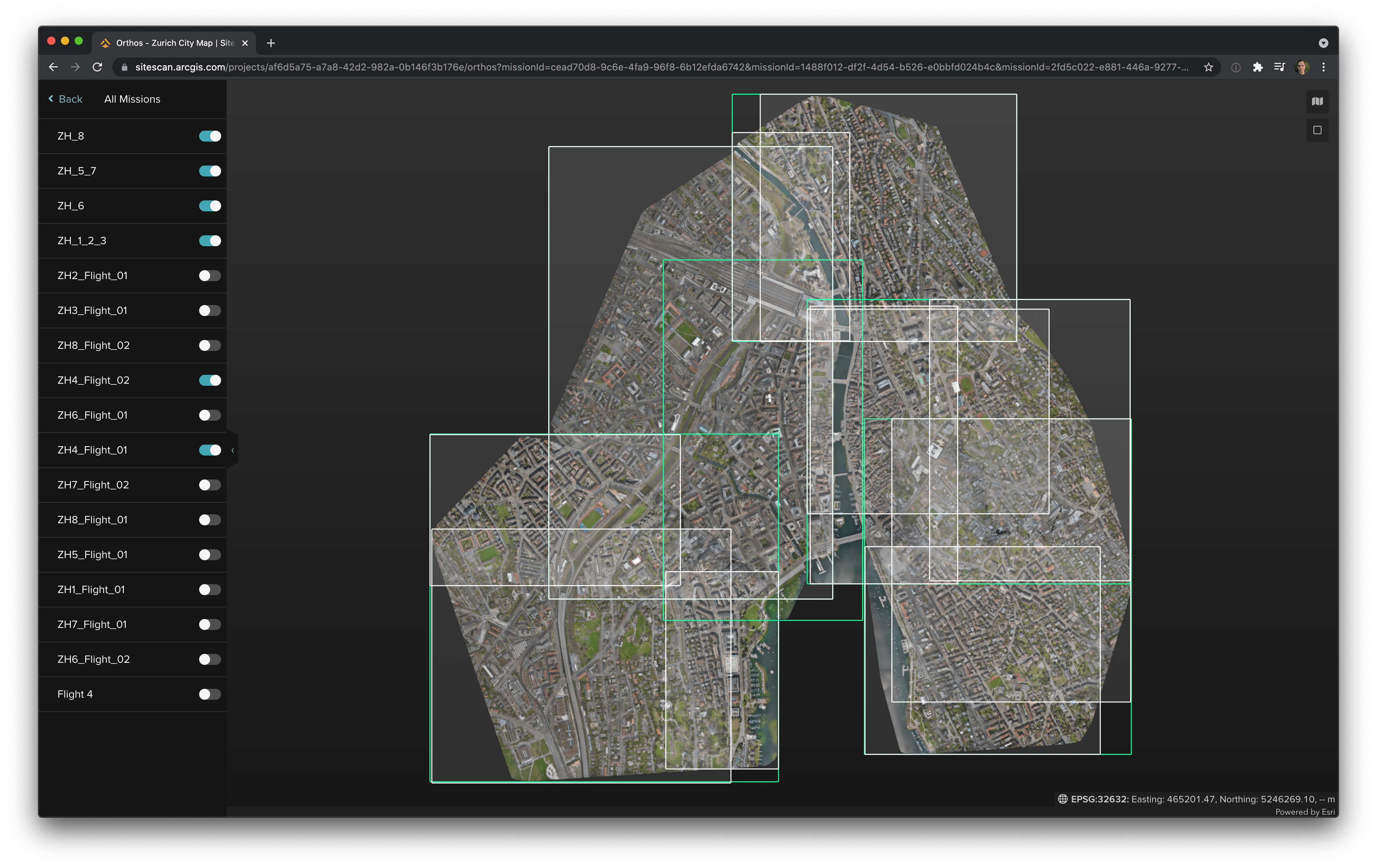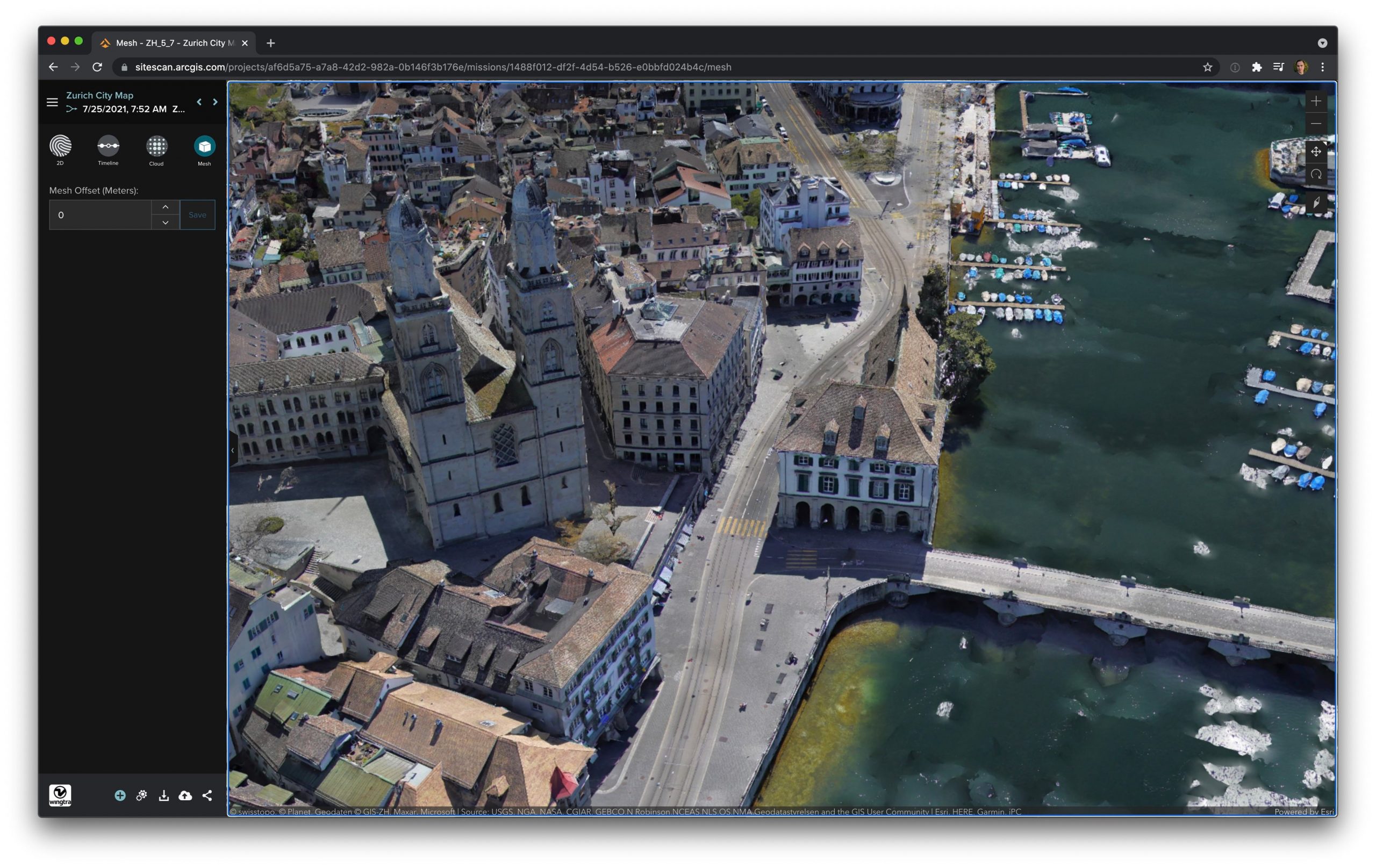 Share
The resulting datasets of the city are quite large due to the high-resolution Wingtra imagery. It would be impractical to download these datasets to a local machine only to re-upload to ArcGIS Online or an Enterprise Portal. 
For this reason, Site Scan includes a direct-publish button. This button automates the creation of hosted layers directly from Site Scan to Online or Portal. For the Zurich datasets, simply clicking this button and directing the publishing task to a folder and/or group was all that was needed to add the data to the ArcGIS organization. These 3D meshes can be brought into a Scene to allow high-definition streaming of this data over the internet that is so lightweight it can even be viewed on a mobile device.

Conclusion
Mapping an entire city at the resolution Zurich was mapped was a daunting task in the not-to-distant past. Technological advancements in drone technology with the latest generation of the WingtraOne VTOL combined with image processing in the cloud with Site Scan for ArcGIS makes a project like this a single and simple workflow: capture, process, and share.
Learn more about Wingtra and the WintraOne Gen II here, and Esri's Site Scan for ArcGIS here.