The next 5 years will bring more change to utilities than in the previous 50. New entrants from the tech giants will bring severe competitive pressures to telecoms. That's not all.
The workforce will rapidly evolve. Skilled workers will retire at an alarming pace. Electrification of transportation will mushroom. Renewable energy and carbon reduction regulation will erode revenues for energy companies. Infrastructures will age faster than replacement. Climate change and severe weather patterns will increase. Customer demands will climb rapidly.
To meet these challenges utilities and telecoms must rethink processes, technologies and employee approaches.
Location Matters for Utilities and Telecoms
Location plays a key role in their work. The good news is they have a solid base of geospatial experience. They have used GIS to support asset management and network planning. There is a strong partnership between executive sponsors and IT. Executives recognize the value of GIS.
Yet many utilities and telecoms have not fully embraced GIS.
Many still view GIS as a niche solution. Utilities and telecoms rely on static and paper maps. This hinders interaction to and from field crews. Data accuracy degrades the quality and timeliness of coordination. Latency is high. That means that as situations change in the field, companies are slow to process those transactions into their GIS. That suggests that data is not completely accurate nor current. In a recent survey by Energy Acuity, nearly 25% of respondents reported that latency exceeds 30 days. While 23% of respondents report high confidence in their GIS data, most reported significant error rates.
The Complete Platform
ArcGIS is a complete platform. It is a system of record for maintaining the assets and a system of insight. It reveals hidden patterns and relationships. This is critical for rapid decision making. It is a system of engagement. Keeping people informed as situations change quickly.
The ArcGIS Utility Network is an integral part of ArcGIS. It plays a role in the system of record, insight, and engagement. Esri designed it to support the challenges facing the industries. Networks are becoming more complicated. The Utility Network substantially increases the precision and completeness of network modeling. It provides additional visualization and analytics. Immediacy of access that society has experienced from social media enhances communication, collaboration, and coordination.
ArcGIS Utility Network Is a Step Change in Network Management
What is the ArcGIS Utility Network?
A comprehensive framework for modeling utility assets and networks. This simplifies the integration of corporate OT systems such as ADMS. It provides a quantum leap in network representation in 2D and 3D. It closely represents assets as the appear on the ground.
An encapsulation of business rules and logic to maintain an accurate geospatial representation of assets and networks. Data errors will be dramatically reduced.
A data type within the geodatabase, including a transaction model, attribute rules, and editing tools, exposed as RESTful services. Services architecture delivers network functions to any device, anytime and anywhere.
A creation, editing, managing, analysis, visualization, and sharing network information system through user-focused maps and apps. This provides the most flexibility ever available to utility and telecom users.
An ArcGIS Utility Network Service user type extension. This provides secure access to content and system capabilities.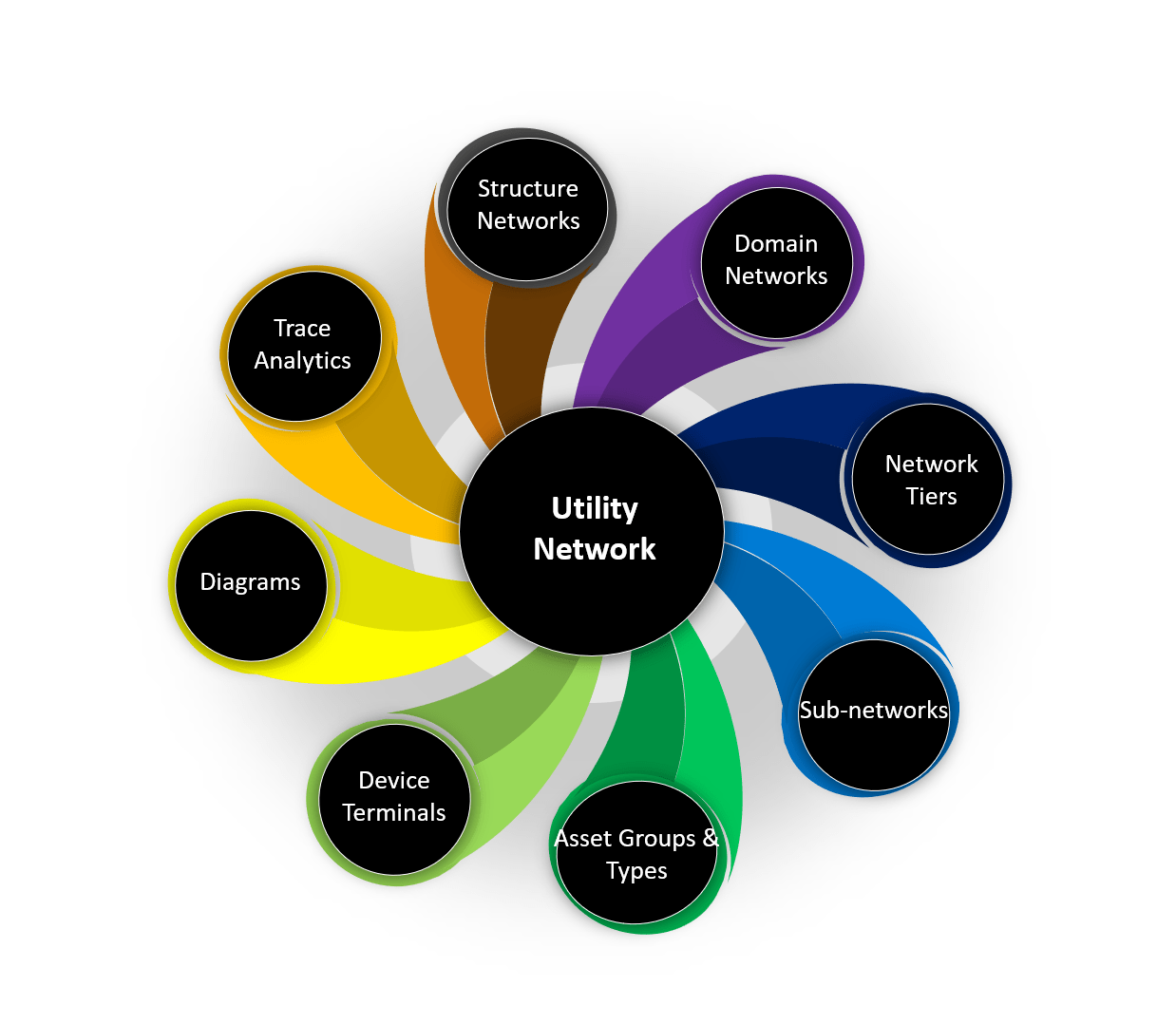 Features of the Utility Network
Structure network – structures such as duct banks, conduits, trenches, poles are modeled completely. As in real networks, structure networks can be shared by multiple domain networks. Now telecom and utility networks that share common structures, such as poles can be shared in the Utility Network
Domain networks – electric, gas, telecom, water, district heating networks are all modeled. Users can even create their own specialized network models.
Network tiers and subnetworks – networks can be tiered according to, for example, voltage or pressure levels. Portions of the networks, such as electric feeders can be treated as individual entities.
Diagrams – utilities and telecoms use schematic representations of their networks for planning and outage management. These representations are automatically created.
And more
How to Start
A common question is what if I want to convert my current GIS to the utility network, but don't have the data for a more comprehensive model? Can I start? Yes. Even if users do not take advantage of the precision modeling of the ArcGIS Utility Network, they can migrate from their legacy GIS (whether Esri or not) easily, then over time add more precision models. When they do that, they can take advantage of the web services architecture. Users can then perform network functions on any device. They can process their as-builts in near real-time. Users will be able to create and visualize network traces in the field, on their dashboards and web maps. They can add attribute rules to improve data quality. And have the most modern and comprehensive data editing environment anywhere.
One way to start is to perform a proof of concept. In this way, users can gain a full understanding of the capabilities of the Utility Network. They can start with Esri provided sample data.
Final Words
Utilities and telecoms are transforming rapidly. Their challenges are overwhelming. They will need the best technology to improve their processes and empower their employees and contractors. Much of their work relies on the notion of where. The ArcGIS platform including the Utility Network modernizes network management and lays a solid foundation for the future.
To learn more about the utility network and how best to begin the ArcGIS Utility Network journey, please join the utility and telecom team on the first of three webinars, beginning July 8th at 9:00 AM Pacific Time. To register, click here.